Hi there!! It is time to share ideas and inspirations using the Spellbinders Kits of the Month – June 2021.
Spellbinders Kits in this post
Small Die – Spellbinders Kit of the Month June 2021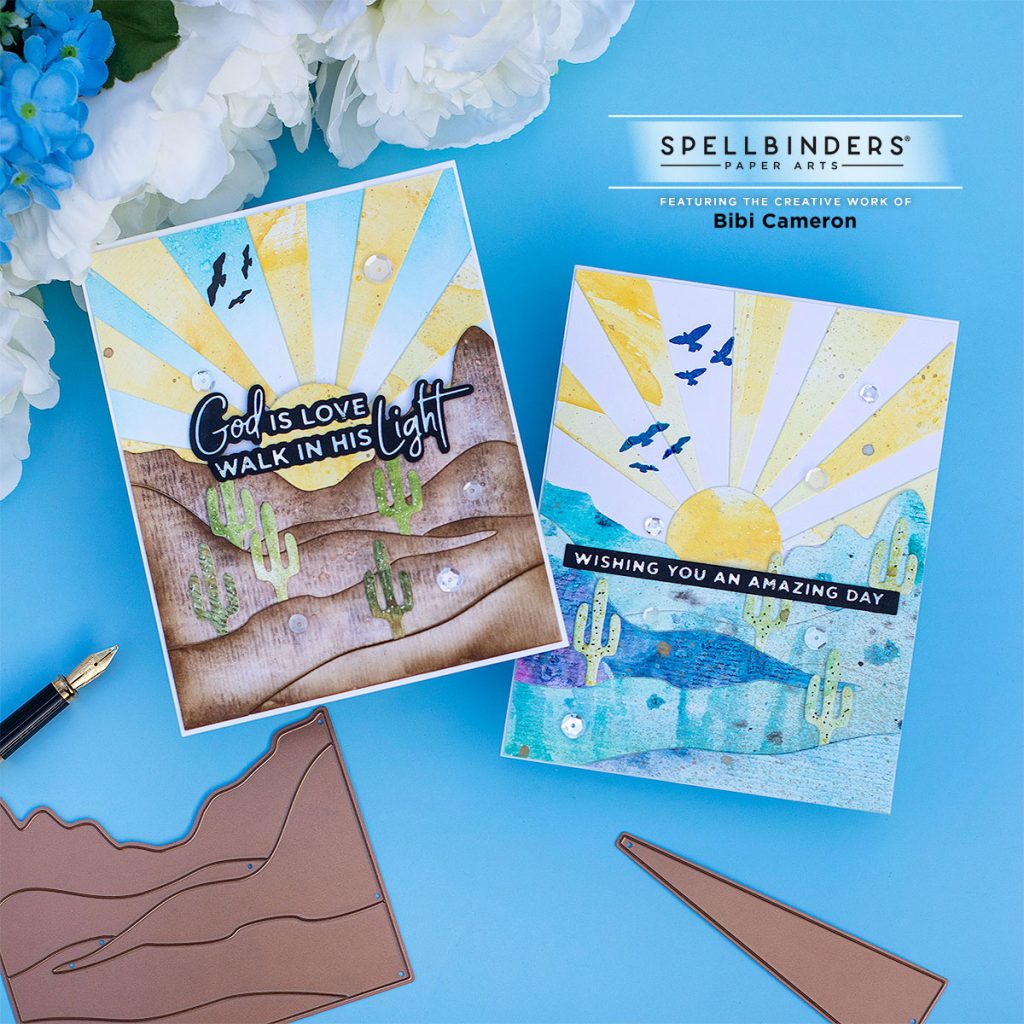 The Small Die of this month is called Colorblock Landscape.
It contains 6 dies that can be used individually to create different scenes or compositions and it coordinates with the Stamp of the Month.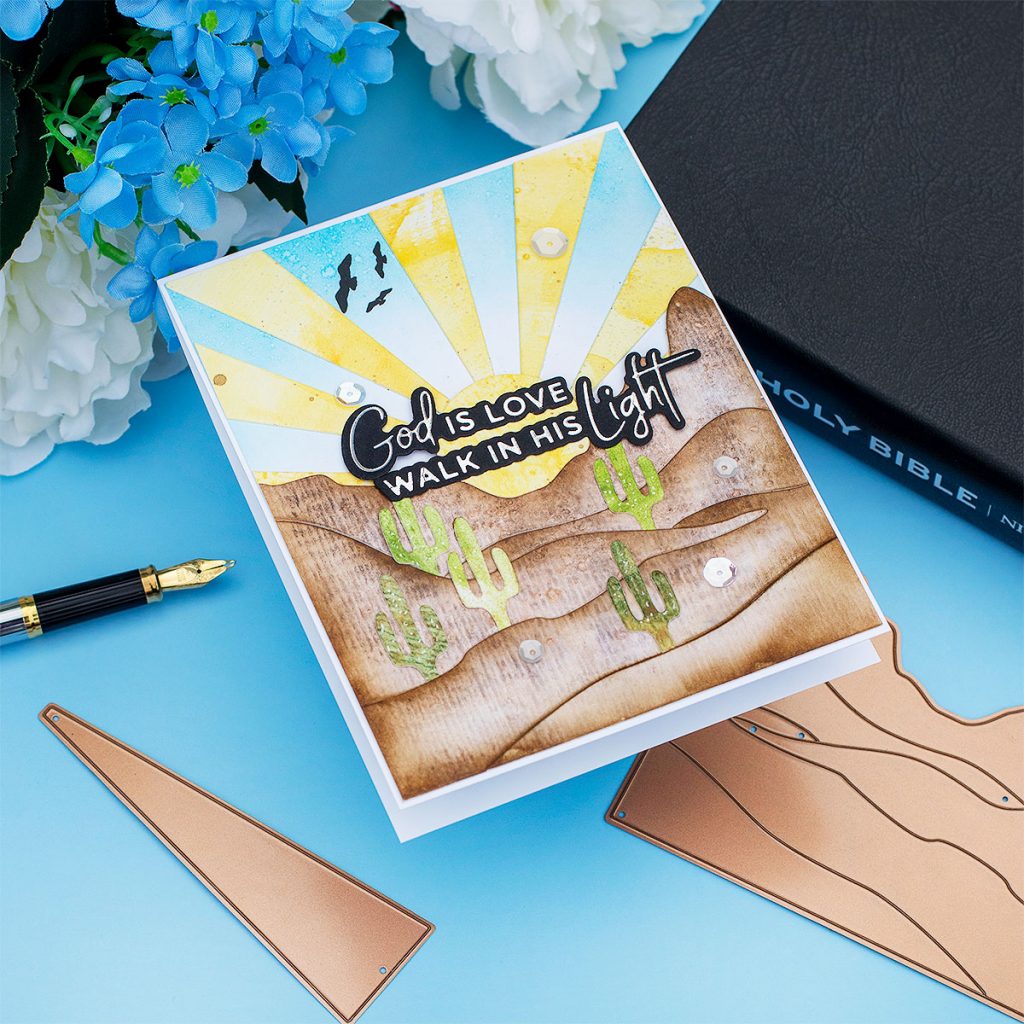 Once again I used my DIY watercolor paper to make this super simple C6 cards.
I added hot foiled sentiments to both cards using :
Large Die- Spellbinders Kit of the Month June 2021
Colorblock Circles & Stripes is the name of the Large Die of this month includes dies that will cut geometrical shapes and longs stripes of paper.
I decided to die-cut several long stripes of paper using the larger die in the set to then weave a large multicolored panel.
I couldnt avoid it. This made me remember my years at the primary school when we waved the paper to make table mats in the craft class.
The stripes of paper created by the die will allow you to create a 10×10 inches weaved panel that you can die-cut to create any size project. You can get very creative doing paper weaving. I hope to be able to share a tutorial and more ideas soon.
This slimline card measures 8-3/4″ x 3-3/4″ inches.
I used slimline frame dies to die-cut the finished waved panel and to make the panels of this card.
For the sentiment, I used the Glimmer Hot Foil of this month
APG Spellbinders Kit of the Month June 2021
The APG this month is the intricate option for the Spellbinders kits this month.
It is called "Victorian Splendor Slimline" and it includes dies that will cut, emboss, deboss and stencil.
I made a slimline card and a C6 card to show you the die cut shapes and to share ideas.
I paired the Amazing Paper Grace with Rolling Alone die set ( Bike and flowers) to be able to add a decorative accents to these cards.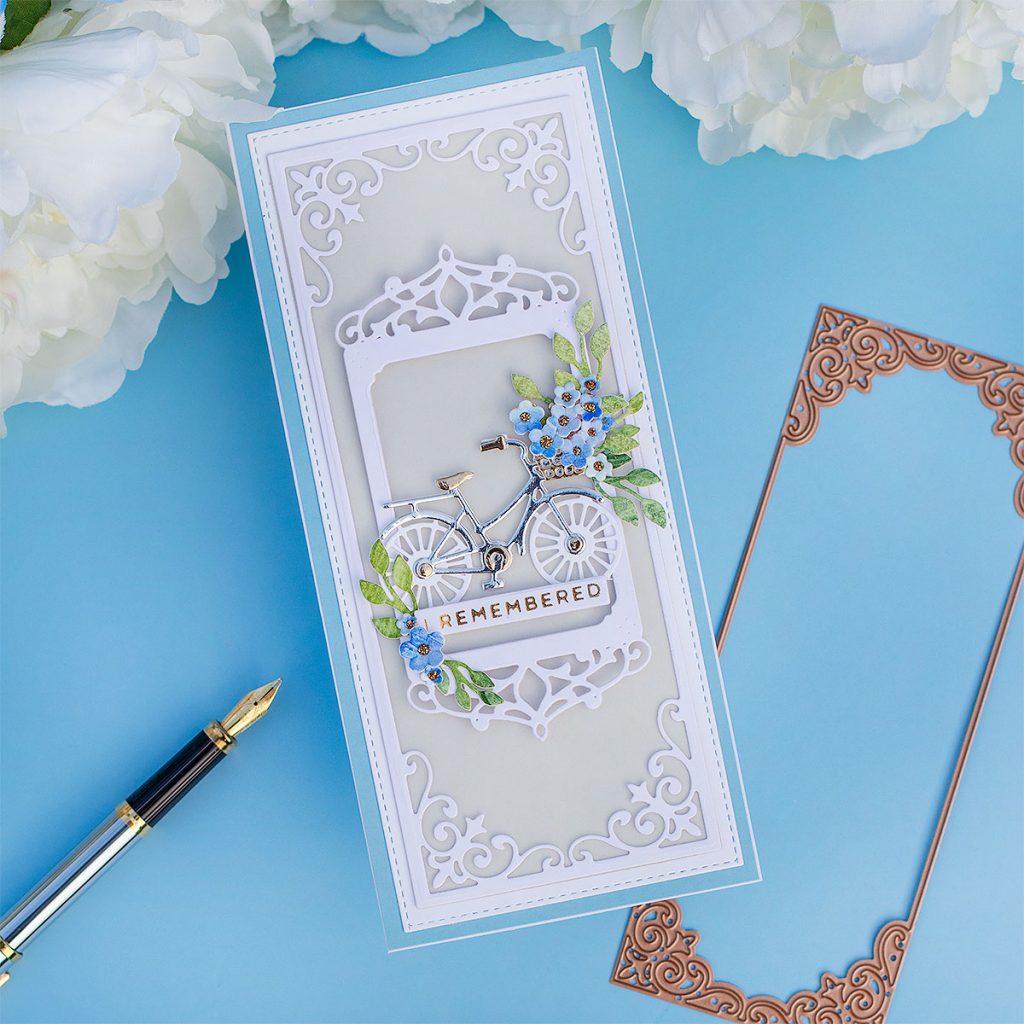 For the card above I partially die cut a backing panel using slimline frame dies.
I also added hot foiled sentiments using the Glimmer Hot Foil this month.
For the card below I also used dies included in the Small Die of this month to add a backgrond layer of die cuts that are framing the bike and the sentiment.
Spellbinders Card Kit of the Month June 2021
"Wild Hello" , the card kit of this month is beautiful and it includes:
4 PCS Border Words Die set.
Stamp set.
6×6 inches paper pad ( 40 sheets – 20 designs, 2 sheets each design).
Die-cut shapes
Stickers
Cardstock.
Adhesives.
Card bases and envelopes.
Sequins.
These C6 were made only using supplies in the kit plus some sequins from my stash.
Spellbinders hot foil June 2021
Extremely hard to photograph this slimline card ( 8-1/2″ x 3-3/4″ inches) is all about shine.
It features the Glimmer Hot Foil and also the Large Die of this month
Value KITS
Spellbinders also offer kit bundles [ Spellbinders Value Kits] that will allow you to save up to 25% on your kits.
THIRSTY FOR MORE ?
That's all for today.
I hope you enjoyed my Spellbinders monthly inspiration.
Happy Crafting.
X Bibi
SUPPLIES LIST
Affiliate links applies at no extra cost to you. Thanks for your support.