Hi everyone, last December Arteza sent me a box of their Expert Coloured Pencils !!
WOW! I didn't need to use them more than once to totally love them.
I strongly believe that Arteza colored pencils won't disappoint you and that these are the most competitive high-quality colored pencils out there in terms of price vs quality.
Enjoy 10% off at the Arteza Shops
CODE BIBICAMERON4 (valid until June 20 /2020)
So What Are These Pencils?
Artist Quality.
Non- Toxic
Acid-Free.
4 mm lead.
Wax-based.
8 mm barrel
Break-Resistant.
Highly-pigmented.
Vibrant and Intense Colours.
Labels with name, colour code and lightfastness.
Available in sets of 48, 72, 120 pencils.
Pre-sharpened.
Arteza Coloured Pencils Are a Certified Product
Lightfastness Tested (ACMI Certified Conform to ASTM D-4236)
FSC certified ( 100 % made out of Wood from the well-managed forest)
PA Certified (Non-toxic product)
CE (meet health, safety, and environmental protection standards for products sold within the European Economic Area (EEA)
Other Key Features
Soft texture ( Allows to easily lay down lots of colour quickly).
Creamy.
Semiopaque – Works well on black and colored cardstock
Easy to layer.
Great for different skill levels.
The pencils are well packaged in a metallic tin.
Add- on Arteza pencil case available.
Unbeatable price vs great quality.
General Coloured Pencil Pros
As this is a dry, linear medium, it is great to draw hair and fur or do hatching.
Great to add details to images
Can be combined on artwork made using other media.
Fine detail is possible.
Near realism or photographic artwork if wanted.
Go back to do coloring on a piece every time you can with minimum fuzz.
No drying times required.
Portable.
It is easy to identify the colors as the body of each pencil has been lacquered with the color of the core pigment.
The colours on the paper won't be identical to those in the barrel of the pencil but very close and this is a great visual aid.
Why lightfastness is important?
Fade-resistant grade of a pigment ( source here)
Lightfastness = durability = resistance of pigment to fading when exposed to light or weather (humidity).
Lightfastness tests tell us how fast a pigment might fade, change hue or vanish.
According to ASTM ( American Society for Testing Materials), none of the Arteza colored pencils has been rated less than 3 stars according to the table below.
+ Excellent – over 100 years
++ Very Good – 50 up to 100 years
+++ Good – 15 to 50 years
Anything equivalent to one or two stars is considered to be archival = resilient to the environmental elements that commonly degrade and erode dye molecules shortening the life of your artwork.
So, I actually was very surprised to know these pencils have been tested for lightfastness. I have only seen this done on very expensive brands.
The Colours
There are 120 colours in the Arteza colored pencil range.
In the 120 coloured pencils set you will also find metallics.
Are these pencils for kids?
Oh, yes! The unbeatable price and quality make them a great choice for parents who wants to encourage their children to do more coloring. After trying these pencils, I bought a set for my kids and they totally love them.
Ad- On Pencil Case
I decided to treat myself with this awesome pencil case to store the pencils and to carry them around.
Available in 2 designs.
It has 64 slots.
You can fit three 8mm pencils in each slot.
So that you can fit 205 pencils.
Get your pencil case at
Arteza UK – Europe here or the Arteza USA here
+ Free Shipping
The Paper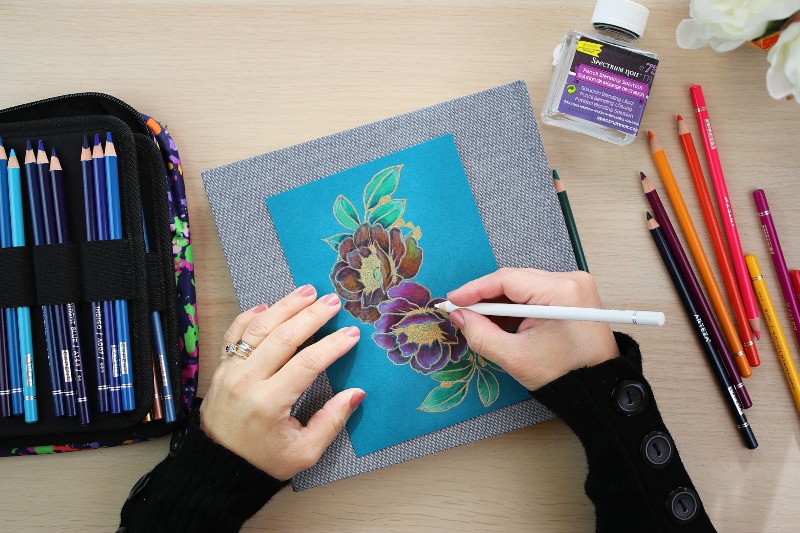 Any paper with "smooth" surface can be used with Arteza Coloured Pencils.
I use:
Arches Hot pressed watercolor paper 300 grams.
Strathmore Bristol Smooth 270 grams.
Bristol Toned Tan 118 grams + Mix Media 300 grams.
Bristol Toned Grey 118 grams + Mix Media 300 grams.
240 coloured cardstock.
The Arteza Sketchbook – Dry media it is awesome for practicing!
Note : Textured paper can be used too. This depends on what kind of artistic work you are doing but it could be hard to get the pencils into the valley of the paper.
I'm a Stamper What Ink should I Use with Coloured Pencils
Any ink will be ok.
If you are going to add solvents, I'll advise using Memento or Distress (water-based) if you will add solvents or colour pencil blending solutions.
For no-line colouring, you can also use clear ink.
4 Techniques
1. Layering
Layering is when we overlap different colour shades to build up the colour or to create different colour tones.
For this technique is essential to apply very little pressure.
2. Burnishing
Burnishing is when we apply gentle pressure to press was and pigments together creating a polished finish. Smooth and richer in colour.
3. Blending
You can dry blend coloured pencils using paper blender stumps.
You can also blend the coloured pencil pigments using a blending solution such as:
Baby Oil.
Alcohol.
Surgical spirit.
Colorless alcohol marker – blender pen.
Colour Blending Solutions such as spectrum noir or Gamsol.
Baseline.
Nail polish.
My Top Fav Blending Solutions
Baby oil
Spectrum Noir – Coloured pencils blending solution.
4. Sponging
Save your pencils shavings.
Apply over them a few drops of your preferred blending solution.
When softening use sponges to apply the pigments to your artwork.
You can use stencils to add textures.
Top Tips
Keep your pencils sharp.
Rotate the pencils while coloring to keep the tip pointy.
Use a good pencil sharpener.
Use a sand block to sharpen your pencils.
Use a battery eraser to rescue whites and apply light colours over the erased areas.
You can heal broken wax base pencils ( see below)
Healing Wax Colored Pencils
When your colored pencils have fallen down onto the hard floor or when they have suffer some mistreat during storage or manipulation the lead can break when sharpening.
The pencil's lead can also brake when you exceed pressure so be gentle with your pencils all the time.
If your pencils are braking during sharpening there is an easy tip to heal your pencil:
Find a "dry", "low heat" way to gently and slowly heat up the pencil.
The wax binder will melt and when cool down it will solidify again, healing an unhealthy lead.
Once the pencils have cooled down you can [roceed to sharpened them.
"Anything warm that feels nice to the touch" will be good to heat up and heal your pencils.
Be aware!!! High temperatures cause damage to the wood so be extremely careful!
Ideas to heat up your wax pencils:
You can use a heat tool (or a hairdryer) in low heat. Put the heat tool away from the pencil but allowing the pencil to receive gentle heat.
Place them near a radiator or heating system.
Inside your hot car during summer for a few minutes.


That's all for today.
I hope you find this post useful and inspired you to try Arteza Coloured Pencils.
Discover more Arteza products and applications on my blog post:
Supplies List
Just a note to let you know that when you buy through the links in my blog I get a small commission at no extra cost to you.
Thanks for your support!