Hello everyone, I'm sharing a fun idea to apply easy see-through watercolor elements to cards that can be also used to make shakers.
Today, I'm also joining a blog hop to celebrate a new exciting Simon Says Stamp Release called Lucky to Know You.
I'm featuring Crocus Flower Wafer Die + 4 easy die-cutting ideas
Isn't it gorgeous?
Crocus Flower Wafer Die
Crocus Flower Wafer Die will also allow you to create windows and the negative space will allow room for shakers, paper piecing or coloring
For this card, I also made my own DIY textured paper.
I applied a simple technique to achieve the look and feel of Watercolor Cauliflowers. I love that texture!!
To achieve it, I used Nuvo Aqua Flow pens. You can try any other liquid, high pigmented, water-based pigments you might have.
I also have 2 short videos techniques with tips one in my Youtube channel Here and one on my Instagram here
See Through Watercolour Shakers and Paper Piecing
Cauliflower Texture Technique
Apply Nuvo Aqua Flow ink on a non-porous surface.
Spray water over the ink.
Place a piece of watercolor paper over the inked water.
Using a heat tool "semi-dry the paper"
Do not dry the paper completely!!
Dab the paper again on the inky surface.
Repeat until achieving the desired look.
1. Make a Shaker
2. Simply Watersolour
For this card, I did some paper piecing.
The flower and leaves were die cut out of my DIY Nuvo Aqua Flow cauliflower effect watercolor paper.
I also used the Cauliflower effect of watercolor paper.
Note: I tried to use Zigs to achieve the cauliflower texture as people have been asking me if is possible to use them to do this.
Sadly they do not perform the same as the Nuvo Aqua Flows but if that's all you got. Just try to use them.
You can see the little piece of paper made using Zigs on the edge of the card.
So, I was determined to do something simple for you today, something easy with a lot of texture, character and great finishing.
From the wide variety of ideas that crossed my mind, I first started with a very easy layout that reminds me of my first makes.
3. Simple Multicolored die-cut Cards
First, I cut the flowers out of the three different paper colours.
Then, I run the die through the die cutting machine hoping to get all the pieces together.
I carefully removed the die cuts from the machine and added washi tape at the back of the flowers to keep all the pieces together.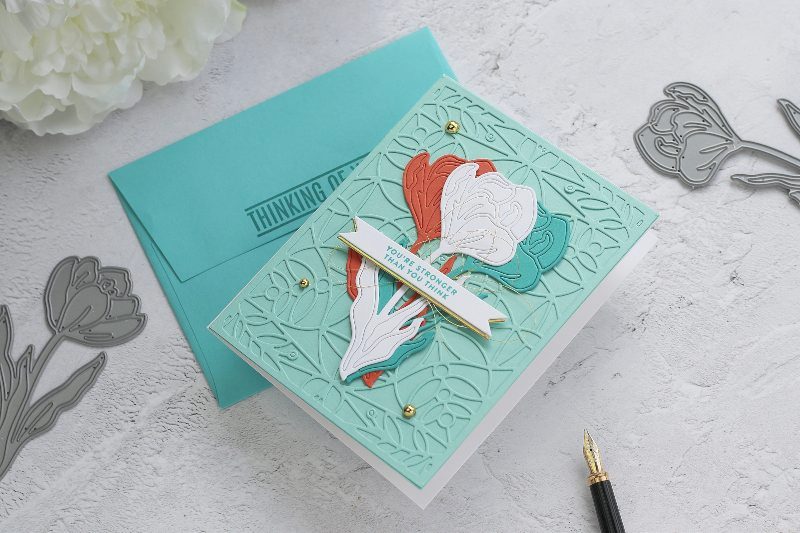 All the "tiny words stamp sets" by Simon Says Stamp are a great addition to your stash .. they are so super useful.
Watch 2-minutes video on Instagram to show you how I made this card!
I also stamped the envelopes using Greetings Mix a stamp set that includes 24 different sentiments, in different fonts and sizes.
4. Die Cut Background Pannel
I managed to add various flowers on the main panel to create a very simple composition.
The sentiment is from Bunny Kisses Wafer Die and I framed the little composition using A2 Double Stitched Frame dies By Honey Bee Stamps.
I also used the new Stitching die by Simon Says Stamp to add texture to the background. I only pass it through the machine once, hoping to only create an impression on the paper.
To fully cut a panel with this die I would advise using it in with a metal shim and run the die through the machine a couple of times.
Blog Hop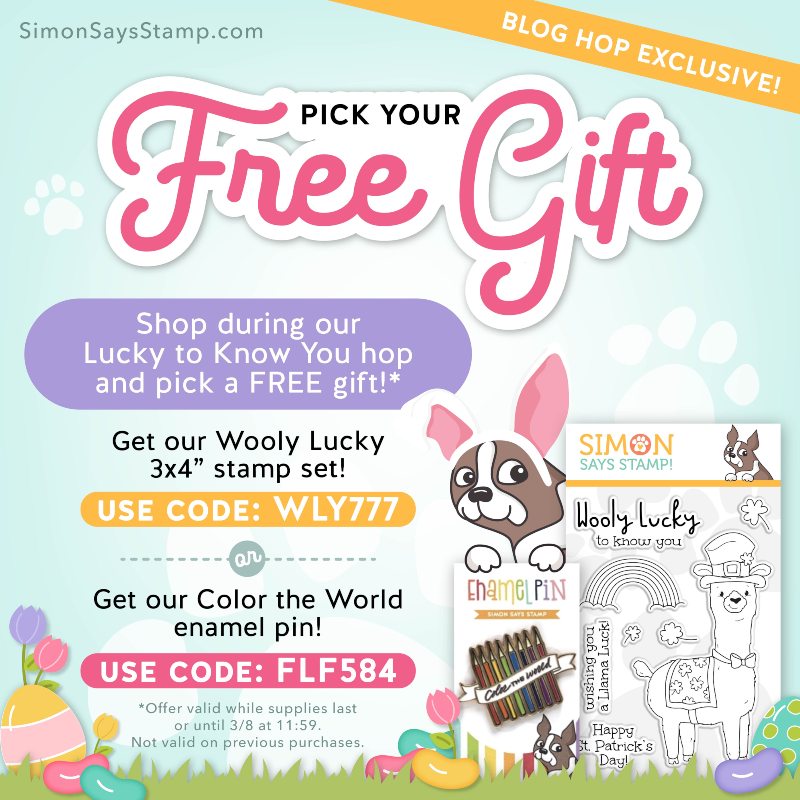 The next in the hop is the amazing Gayatri Murali.
Happy hopping !!

For more inspiration make sure to visit Lucky to Know You Gallery.
Make sure to subscribe to my blog or come back later to see other ideas I'll be sharing using goodies from this release!!
That's all for today. Thanks for stopping by!
Happy Crafting
x
Bibi
Giveaway
Simon Says Stamp is giving away a $25 coupon to every stop on the hop from the blog comment section.
Winners will be chosen over the weekend and post on our Simon Says Stamp blog on Wednesday, the 11th of March.
Supplies List
Just a note to let you know that when you buy through the links in my blog I get a small commission at no extra cost to you.
Thanks for your support!