You might think I'm crazy suggesting to die cut your precious artwork but why not? This is super fun and you will combine the art of die cutting with your original creations.
Yesterday, I was testing Bright Rosa dies in the post hereand they inspired me to use my new Arteza watercolor paints as well.
In this post I'm featuring :
• Bright Rosa – Love Words die set [ craftstash.co.uk ]
• Bright Rosa – Love Words set | [ craftstash.us ]
If you love cardmaking, I hope you can find this idea useful as it suggests an affordable way to craft and a way to develop new skills.
Watch 2- minutes speed painting video just to have an idea of what I did.


I'm not good at drawing but I find it easy enough to trace onto watercolor paper any design. I use a lightbox to do that but shhh! don't tell anyone.
There are endless free designs available online or on botanical books that you can use to experiment and remember this doesn't need to be perfect. we are not doing scientific work but enjoying creativity.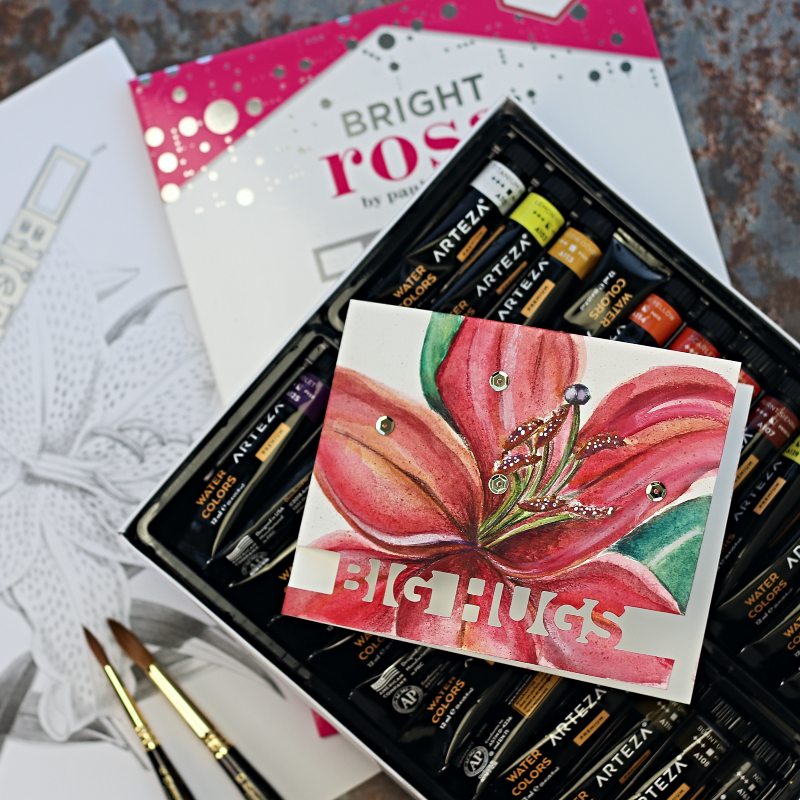 I also used Arteza watercolor paper. This is a beautiful 300 grams paper and it does not wrap easily so that makes it a winner for cardmaking.
Although when making this little project I was testing my new watercolor paints, I really loved the vibrant colors and the paints expand and blend nicely over wet areas. So I thought it was worthy to share.
As I was a bit impatient I spoiled a wee bit the final result. I only wanted to see how the idea of die-cutting this panel will look -lol!
Bright Rosa Word dies are simply stunning! they cut a C6 panel across … so modern and cool!
Explore Bright Rosa Papercraft Products
CraftStash USA – CraftStash UK
To add extra texture to the flower petals I applied salt when the paper was still wet but even when I know that I shouldn't rush out the drying process!!! I used a heat tool. Bad Bibi!
So I got very little texture from adding salt. To solved I splattered red paint over the petals. Voila!
Splattering is my way to fox everything.. it works! it really does!
oh! Last but not least I also used Escoda Reserva – Kolinsky Watercolour Brush #6 here .. love them!
For fine details, I used a Watercolour Sable Brush Round Size 0.
That's all for today. I hope you like these projects and ideas.
If you ever want to share your work with me please tag me on Instagram (#bibicameron).
I'll be thrilled to see your makes.
Happy crafting!
Supplies List
Just a note to let you know that when you buy through the links in my blog I get a small commission at no extra cost to you.
Thanks for your support!