Hello everyone,  today I'm featuring a large sunflower die set! It is HUGE and perhaps one of the coolest floral die sets I have ever tried!
I'm talking about "Sunflower Band"  by Bright Rosa : available in the  USA here and in the UK here!
Incredibly innovative and extremely versatile, this set will allow you to create home decor items,  toppers for any papercraft project, pop-up elements,  shaped cards,  borders and windows, and more.
Have a look my video to have a better idea of what this awesome tool for papercraft can do.
Bright Rosa also offers similar die sets but instead a sunflower they do have other shapes such as snowflakes, other flower designs, butterflies, Christmas circle bands. I added them to the supplies list below so you can have a look.
The price point is incredible for a die set this size and this design. I tested them, I tried them and I highly recommended them!
 SUNFLOWER BAND KEY FEATURES
This is a 16 pieces die set.
Ideal to cut thin materials such as paper, felt, chipboard, and even leather and fabric ( using a metal shim)
It will allow you to create shaped cards,  borders, bands and you can also add pop-up elements.
The dies can be used to create home decor elements and large 3D flowers made out of other materials.
Includes die to create a large flower (5 -1/2 inches) and a small flower ( 3-1/2 inches). 
Good to create dahlias or similar flower designs as well.
Create 6x 6 inches cards or larger flowers using the larger die in the set.
The small flower dies will allow you to create C6  ( US standard card size)  or A6 (Uk standard card size) or smaller.
SUNFLOWER WatercoloUr Die Cuts and Pop-Up
WATERCOLOUR DIE CUTS
As I wanted to add texture to the flower petals I used Arteza watercolor paints and gouache to add colour to the paper.
This is a 6×6 inches card.
I first applied the watercolor paints on watercolor paper using a large brush.
While the paint was still wet I applied nail polish remover using a cotton bud and I also sprinkled salt, (these two supplies distress the watercolor creating cool effects.)
You can remove the salt once the paper is dry and then splatter the paper with Arteza gouache (I used brown, blue, white gouache colors to do this)
To add shimmer I also splattered the paper using a Nuvo shimmer pen, a Nuvo Midas pen and Kuretake Gansai Tambi Gold Watercolor paint.
I then die cut the paper using dies in the set.
To make a flower you only need 3 or 4 dies cut
You can simply overlay the die cuts starting from the largest to the smallest one. However, you can also different flower designs depending on how you layer the die cuts. 
SUNFLOWER POP-UP
Pop Up
To create the pop up all you need to do is to cut a piece of paper using the large or small flower band dies.
Score and fold the die-cut in half
Grab the card base and open it.
Align the scoring line of the die-cut band with the central fold of the inside of the card.
Stick the flaps of the band while the scoring lines are aligned.
Once the band is glued in place, glue the die-cut flower on the left side of the pop-up element facing the front of the card.
The pop-up is done!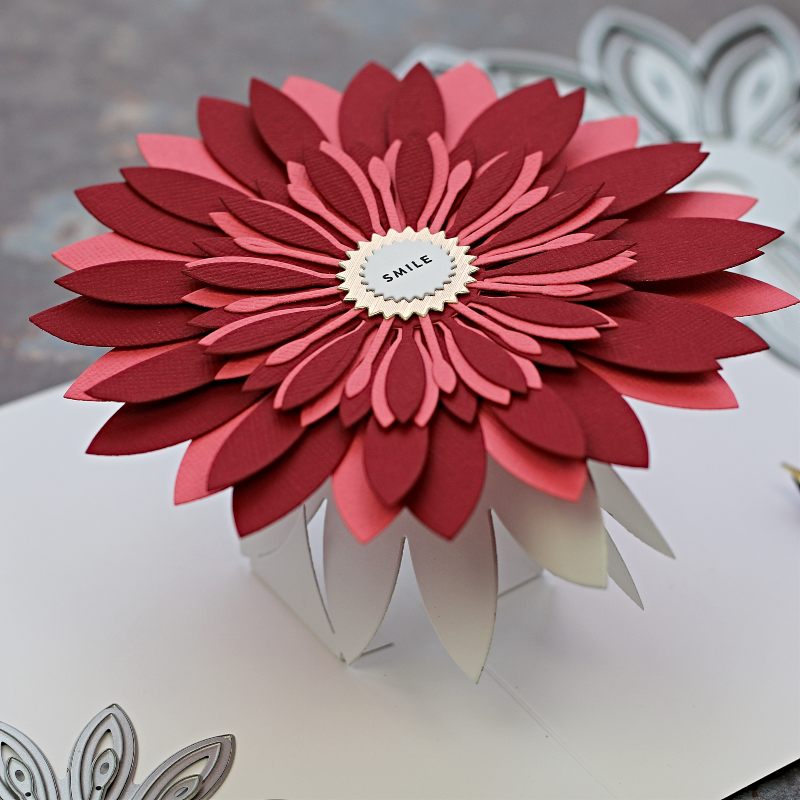 I also tried to make these large pop-up elements.
To do this you will need a 6×8 inches card base or album.
Although the pop up in the picture above was an experiment, I still wanted to share a visual as you can see the flower in another color.
By themselves, these die-cut flowers are stunning.
SUNFLOWER BORDERS AND EDGES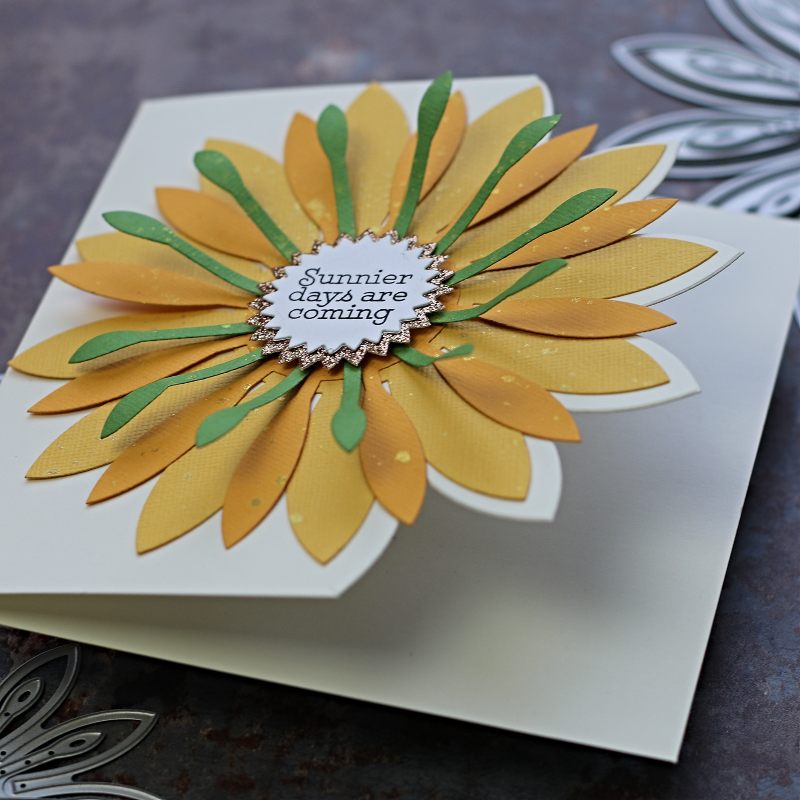 You can create small and large format cards with shaped edges using different dies in the set.
To make this quick and easy 6×6 inches card, I used textured cardstock by Tonic Studios.
Using the large band die I die cut the border of the card by applying a partial die cutting technique.
Next, I cut the 2 layers of petals and the stamen and glued them together.
I finished up using the scalloped circles and adding a stamped sentiment on the center of the card.
 SUNFLOWER BAND AND SEE-Through Floral Window
The die set includes dies designed to create bands for any craft project and other floral dies you can use to create different shaped floral windows.
This is a C6 card ( 5-1/2″ x 4-1/4″ inches).
Depending on the material you are die cutting you can also use them on candle making, boxes, cards, jars or anything you can wrap around with this beautiful decorative element.
You can also create windows on your card panels and overlap floral die-cuts as I did for this car, or you can also make shaker cards as well.
The die set includes centerpieces ( scallop circles) that you can use at the back of the windows to give them a nice finishing touch (as shown in the video above).
Decorative Elements
You can combine the die cuts produced for this set to make flowers in any material for any craft project!
Phew… I wish I have more time and winter energy to make more samples for you but I had to stop and move on to the next project lol.
I have so much to share … I hope you like these ideas and supplies!!
That's all for today.
Hugs.
SUPPLIES LIST 
Just a note to let you know that when you buy through the links in my blog I get a small commission at no extra cost to you.
Thanks for your support!