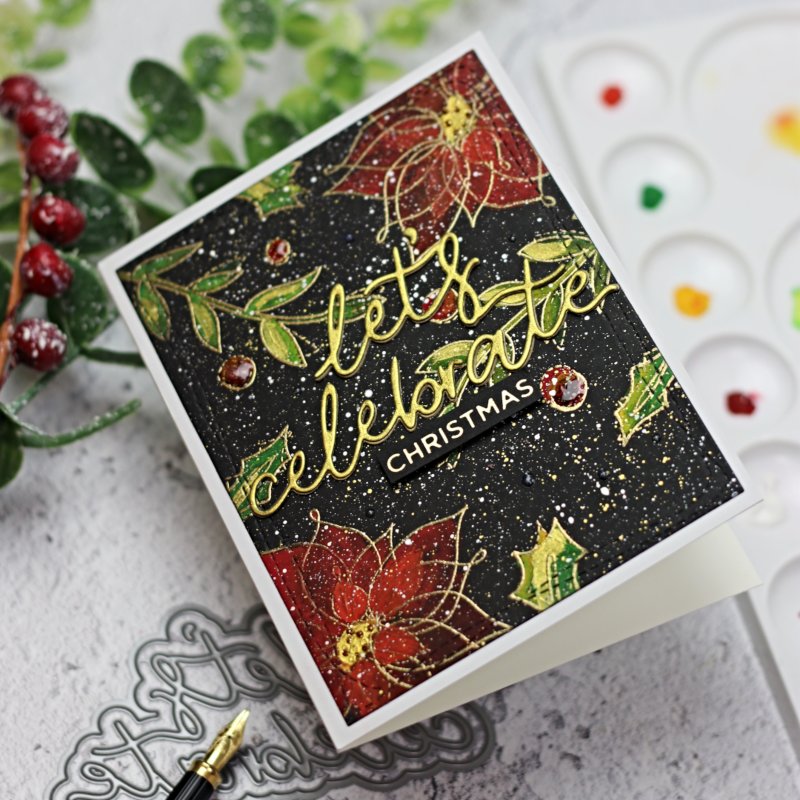 Hello everyone, today I'm sharing a very simple Christmas card made using Winter Flowers stamp set and by Simon Says Stamp and Scripty Let's Celebrate wafer die by Simon Says Stamp.
I love those poinsettias and leaves with stitched patterns around the petals!
To colour the images I used gouache on black mixed media paper. This is an easy way to create an artistic looking composition!
The Cardmaking Process
I first heat embossed the images using gold embossing powder.
Then, I applied two layers of gouache over each image. There is nothing fancy regarding colour application, I just covered the images with the paint.
Allow each coat to dry before applying the next.
Note: You can use any gouache paint you might have. I used 5 colours of Arteza gouache: a bright Red, a dark red, yellow, green and white.
Once I finished painting and the paint was dry I wiped the excess of gouache over the heat embossed lines with a dry kitchen towel you can also use a dry cloth.
Then, I splattered the panel with White Gold and Champagne Gold from the Zig Kuretake Gansai Tambi Starry colours set.
I also applied strokes of gold metallic watercolour paint over the images to add shine.
To make the golden sentiment, I painted a piece of black mixed media paper using White Gold metallic watercolour paint to then die cut it using Scripty Let's Celebrate wafer die.
I adhere the sentiment to the panel using Nuvo Deluxe Adhesive.
I completed the sentiment using a banner I made using a glimmer hot foil plate by Spellbinders… You can see the video to see how I made the hot foiled banner here.
To embellish I used Morning Dew Nuvo Drops and Nuvo Crystal Glaze.
Gouache what is it?
Gouache is a chalky water-soluble paint very similar to watercolour paints but a lot more opaque ( or less transparent) so that the paper won't show through the paint when it hasn't been diluted with water.
For that reason, this paint is ideal to apply colour on dark paper or canvas.
What you can do with Gouache?
This is, in my opinion, a very versatile medium that can be used more often to effortless create background panels for cards, papercraft projects or any craft really as the paint will work over a wide variety of materials such as wood, fabric, leather.
The paint will always activate with water or with any other water-based product so you might need to use a sealer to protect your finished artwork but this is not 100% necessary.
The application is easy and you can cover the images with one coat of paint, I try not to apply more than 3 washes.
You can achieve transparencies by diluting the gouache with plenty of water.
Mix gouache paint with any other water-based mediums.
Blend colours to create new shades.
Use colored pencils over images coloured with gouache to add detail.
Overlap paint colours to add contrast and interest.

Gouache Tips
Apply a light wash of colour over the image. Allow to dry and apply other colours over.
Use a natural hairbrush or a soft brush to apply this paint.
To work on dark paper I would recommend mixing the gouache with very little water to keep the opacity of the paint.
That's all for today I hope you like this project and that I could inspire you to use gouache!
Happy Crafting!
x
Bibi
Supplies List
Just a note to let you know that when you buy through the links in my blog I get a small commission at no extra cost to you.
Thanks for your support.