Hello there, I made 5×7 inches Christmas cards using Tim Holtz Colorize die sets.
I'm also sharing a sneak peek of a new Spellbinders die set that will create a gorgeous die-cut frame and it will be available at the Simon Says Stamps next Monday.
In this post I'm featuring:
Tim Holtz Colorize Die Sets
I have been curious about the Colorize die sets by Tim Holtz for a long time and I finally decided to purchase THEODORE ( the bear) and GERTRUDE ( the giraffe).
Behind each die, you will find embossed the cardstock colour you will need to die-cut using it.
This will allow you to identify the different parts.
With these dies, you can even die-cut the white reflects on the critter's eyes and nose … those are tiny!!!
The Die Sets
THEODORE ( the bear) contains 9 dies and GERTRUDE ( the giraffe) contains 10 dies.
Some of the dies will cut various parts of the animals so you will have more than 9 or 10 die-cuts to put together each critter.
The bear has fewer parts than the giraffe and I found it slightly easier and quicker to assemble.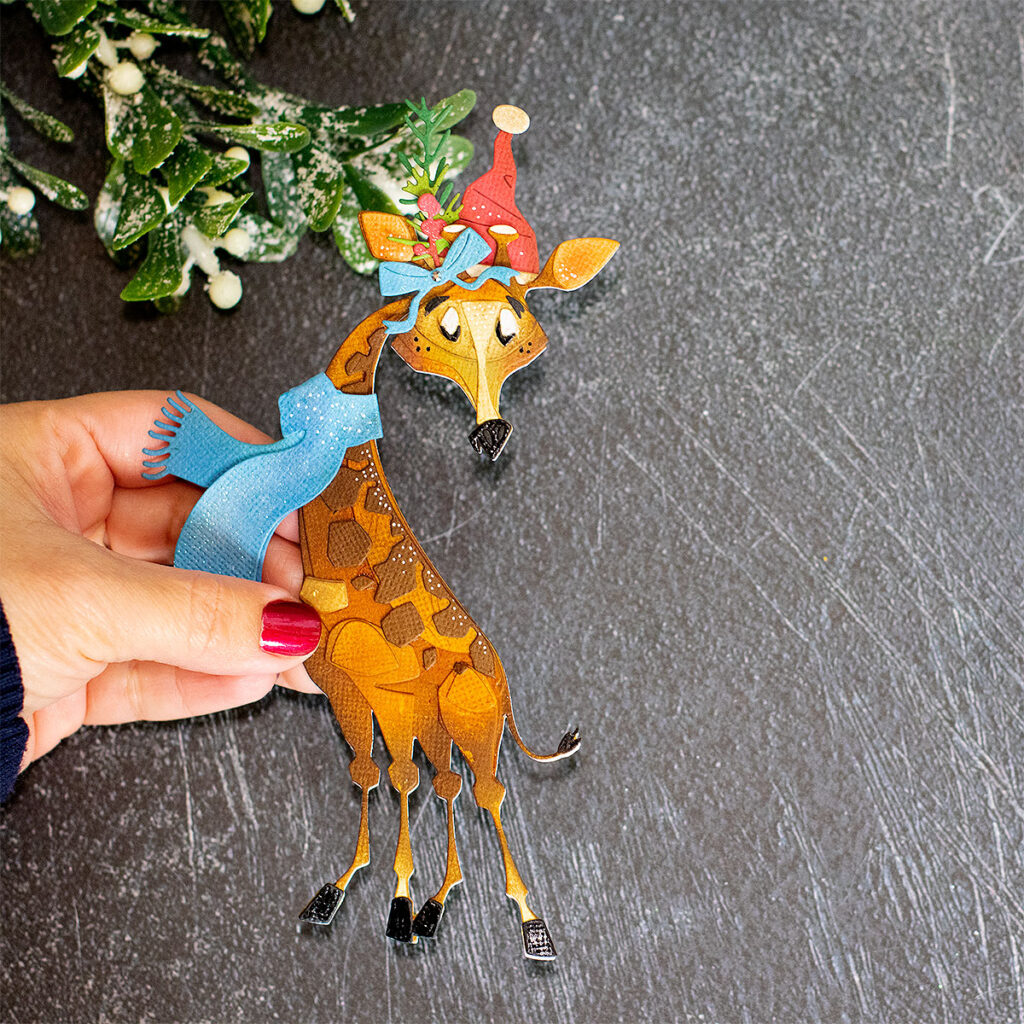 Once I finished, I was shocked…… The level of detail is insane!
The different die-cut layers made out of different cardstock colours add an incredible look and feel.
I totally love them and so did everyone at home.
The Paper
The paper used always makes a difference.
To be honest, I have never loved the wave textured cardstock (240 grams) and I will refrain from using it for card panels or backgrounds BUT to work with Tim Holtz Colorize die sets it is defo a must-have…
It is just fantastic + It really looks pretty!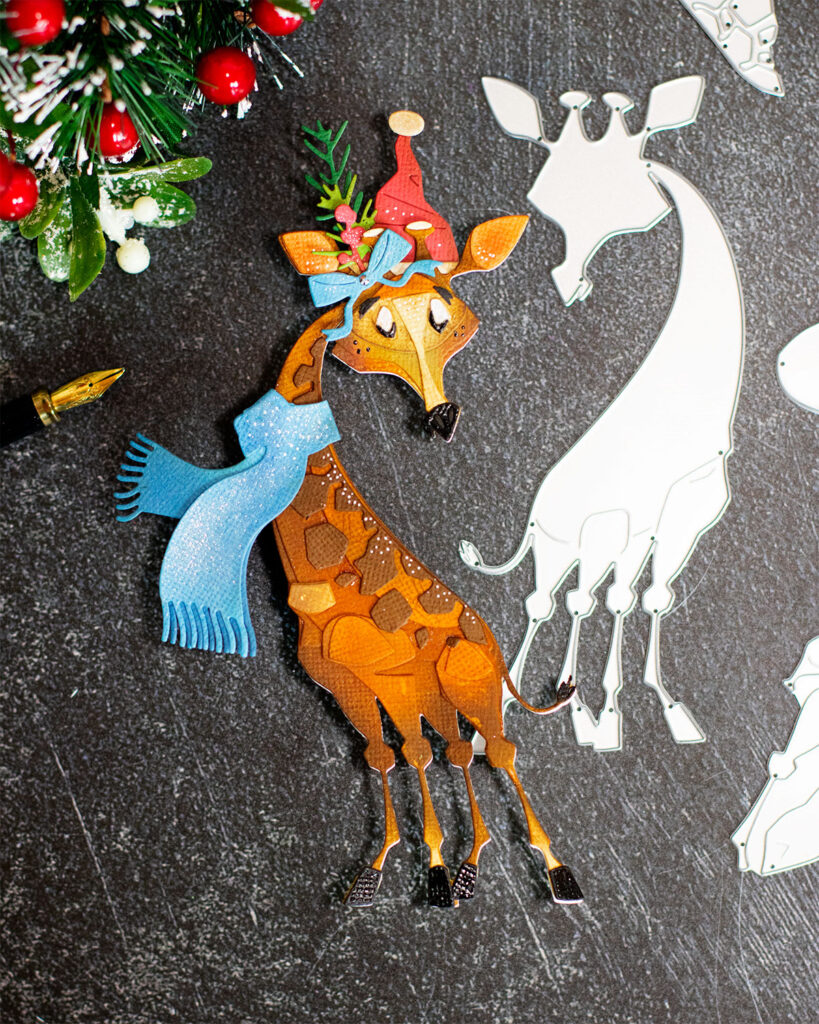 So I decided to use mostly textured cardstock for the bear and the giraffe today.
I used a few colors of textured brown cardstock that I have in my stash, also cream, pink, yellow, black, and white.
As I did not have many shades of brown textured cardstock, I die-cut some pieces out of white or cream cardstock and change the colors of the pieces using different brownish Distress ink colors.
To make the color more even and to add contrast and interest, I applied Distress inks over all the pieces.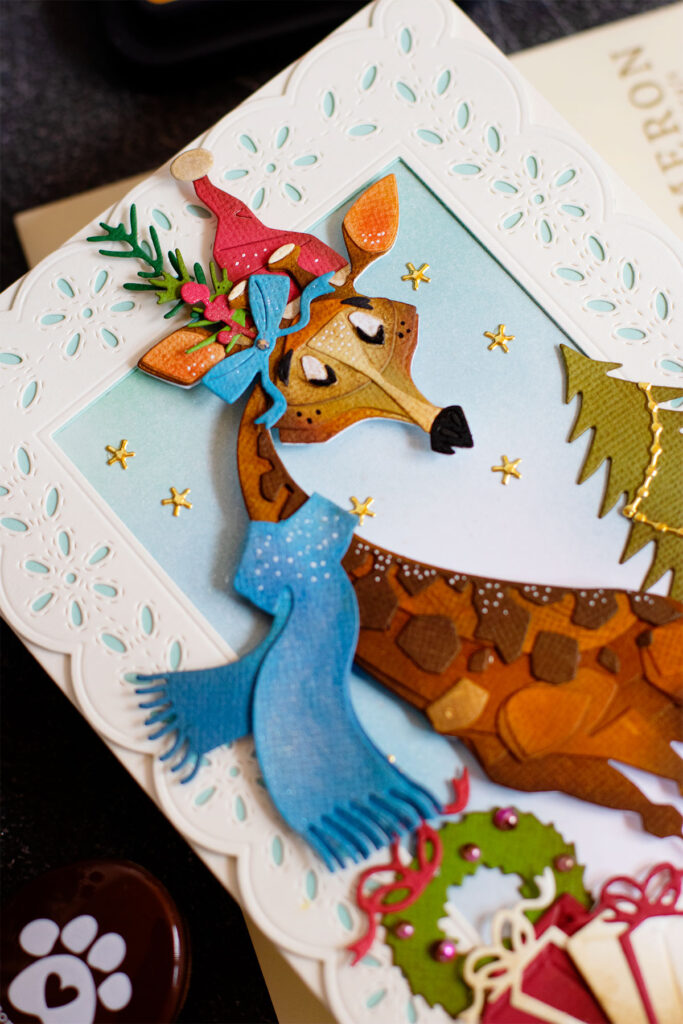 Adding the Xmas Spirit to the Tim Holzt Colorazize die sets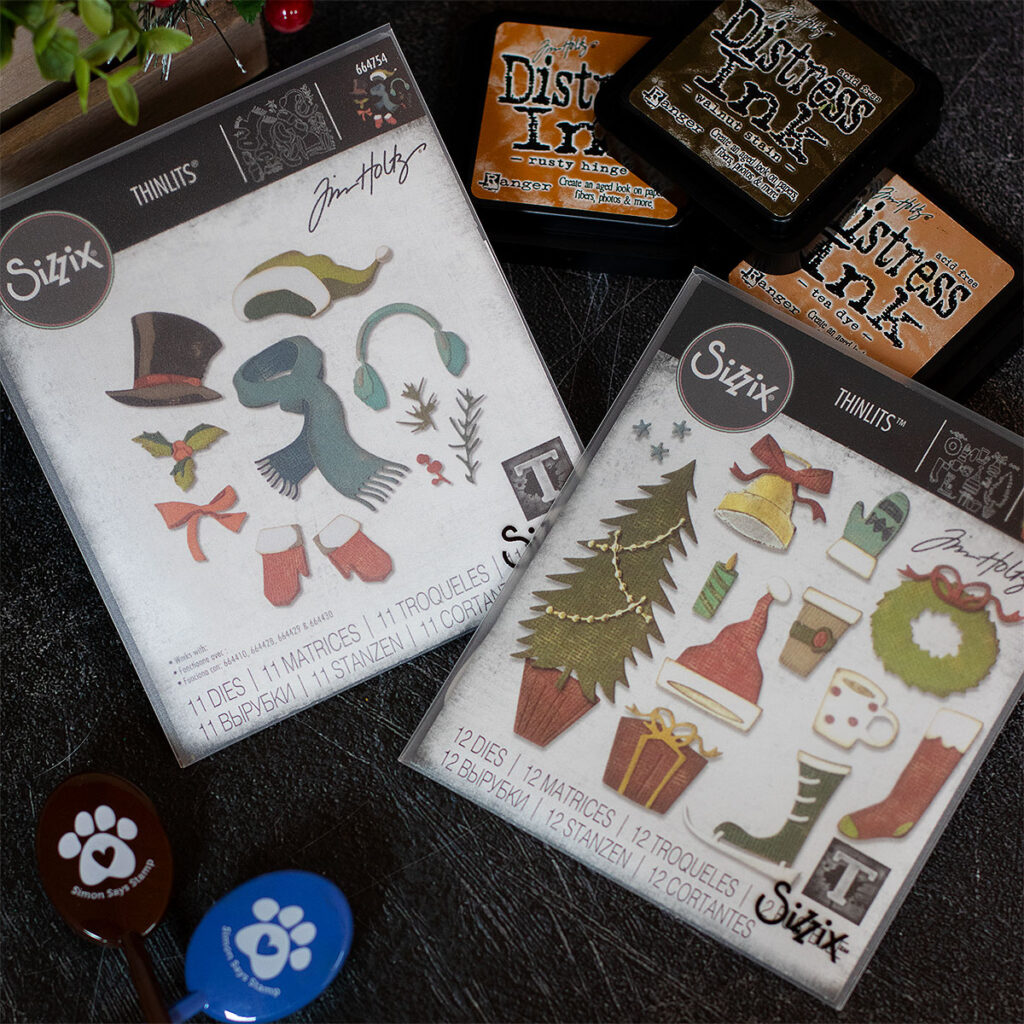 To add the Christmas spirit to the cards today, I also used Winter Wardrobe Die Set and Festive Things Dies Set.
With some of the dies included in these sets, I made the hats, scarfs, Xmas trees, presents, little branches, bows, or any other element different from Theodore and Gertrude on these cards.
I had to cut and shape the scarf to fit them to the different critters.
As I used blue cardstock for the scarf, I used Faded Jeans Distress inks to darken the edges.
To do the shadowing on all the other die cuts regardless of their colour, I used brown inks ( Rusty Hinge, Walnut Stain, Tea Dye, Gathered Twigs.)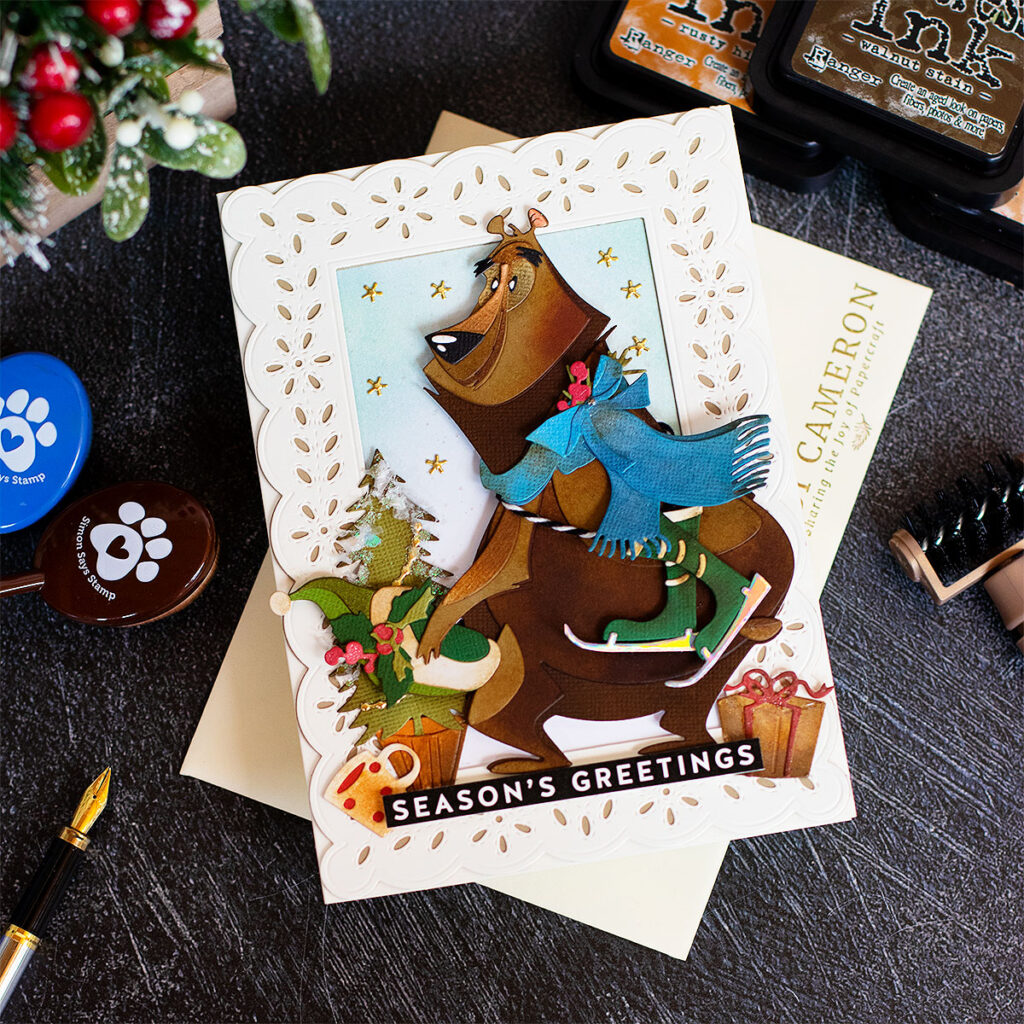 Other supplies used:
Thirsty for more?
That's all for today.
I hope you like these cards.
Happy Crafting.
X Bibi
Supplies
Affiliate links apply at no extra cost to you. Thanks for your support.