Hi there, welcome to my blog. For today's inspirational blog hop I made super easy Paper Suitcases!
What a topic I have chosen!!
Many of us might be missing traveling but I would invite you to remember that when you do papercraft you can travel anywhere with your imagination.
Let's do something fun using dies from Spellbinders Large Die of the Month + the paper pad, and die-cut shapes included in the Spellbinders Card Kit of this month.
No worries if you don't have these supplies. You can still create this with any similar supplies you might have or fully DIY these projects.
Mini paper suitcase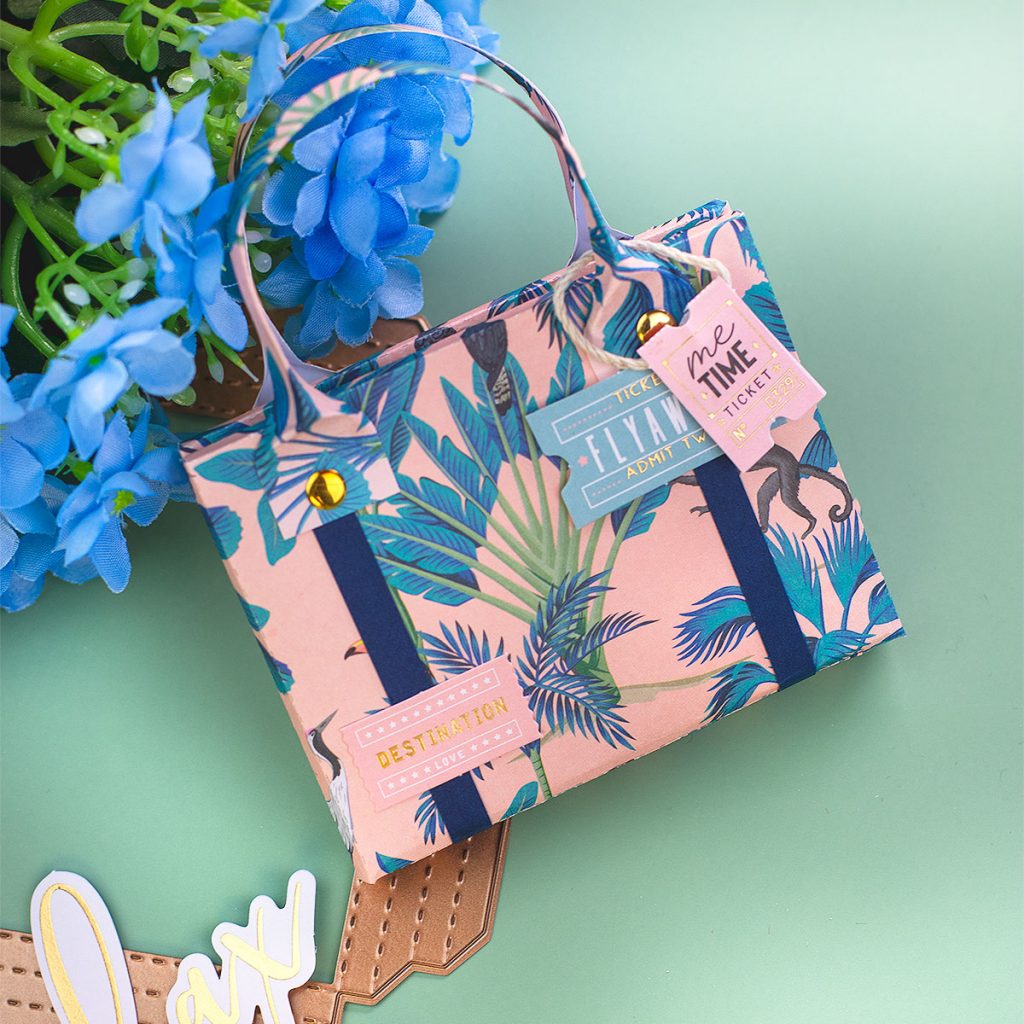 These paper suitcases can make a perfect money/ gif card holder.
Make them in any size and any colour for any occasion.
As the Spellbinders Card Kit of this month is travel themed I thought this was a perfect match! YES!!
The little suitcase measures 2-3/4″ x 3-1/2″ inches x 1/2″ inches depth.
You can add a mini card with money inside, a cheque, or a gift card or small gift.
Use thick cardstock for major endurability… I just love the patterns in the kit paper pad this month. I had to use them!!!
How to make paper suitcases
To make this little paper suitcase I die cut two pieces of patterned paper from the kit pad using die from the Large Die of the Month.
The die has been designed to create a canvas or a mini shadowbox but I used to create the panels of the mini suitcase.
I assembled 2 mini canvas or shadowboxes and I simply placed one on top of the other with the negative space facing towards the inside.
Using a large stripe of cardstock I affix the 2 boxes together.
In the picture below you can see that the navy blue decorative stripe of paper is holing the box together.
I added DIY handles and to embellished using die-cut shapes included in the Spellbinders Card Kit of this month.
Easy peasy!
add a lining to these paper suitcases
You can also add lining to the inside of the mini suitcases as you see in the picture below.
To do this I cut a rectangular piece of patterned paper 5 – 8/8 x 3″.
To keep the box closed simply add a glue dot. Keep it simple!
Blog Hop
Spellbinders Blog
Nichol Spohr
Tina Smith
Carrie Rhoades
Bibi Cameron You are here!!
Jenny Colacicco
Laurie Willison
Joy Baldwin
Michelle Short
Jean Manis
Hussena Calcuttawala
Jill Hilliard
Virginia Lu
Ilina Crouse
Varada Sharma
Henriëtte van Mierlo
find more inspiration using the kits
giveaways
For your chance to win $25 gift certificate to the Spellbinders Shop please leave a comment below.
The winner of the giveaway is "Larissa Heskett"!
Congratulations and thank you very much to all those who have participated.

2. To celebrate this release, `Spellbinders is giving away a $50 gift certificate to 3 lucky blog readers – selected from the comments on their blog here.
That's all for today.
I hope you enjoyed this post and subscribe to my blog for more ideas and inspiration
Happy Crafting.
x
Bibi