Hello crafty friends, today I'm passing by to share 9 ideas using Color Burst Watercolor Powders for cardmaking.
Many of you might have them in your stash or might be looking for a versatile/ affordable and last lasting medium so this post is all about them.
Color Burst Watercolor Powders
Color Burst Watercolor Powders are American highly concentrated microfine colourants and once diluted with water can be applied on porous surfaces.
Each bottle has a fine tip applicator and contains 6 grams of powder.
Key features
Translucent.
Fully blendable while wet or prior to application.
Highly pigmented.
Semi-Permanent / Semi-staining ( strongly anchored to the paper but can be lifted or blended after dried)
High diffusion
Non-Toxic.
Made in the USA
Bright Color Burst Swatches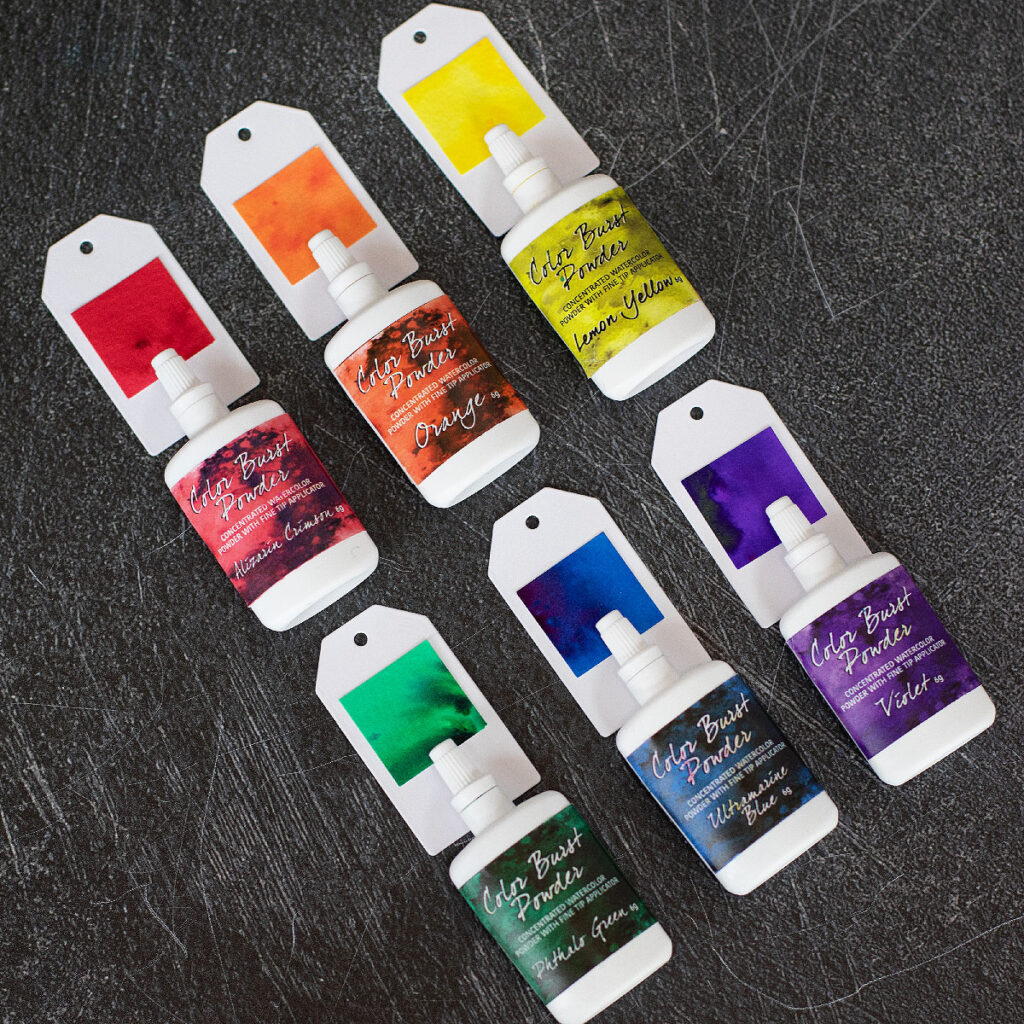 These swatches were made by mixing a little bit of the powder into very little water so that the colours are intense.
For lighter colours simply mix the powders with more water.
To create any shade simple mix different colour powders.
Color Burst 9 ways.
Colouring
DIY sprays
DIY Markers
Shimmery Watercolours
Custom Paper
Die-cutting
Stamping
Stencilling 2 ways.
1. Coloring
Mix Color Burst Watercolor Powders with water to create paints.
As with any other watercolour paint, Color Burst Watercolor Powders should be used on watercolour paper. However, it can be applied on smooth cardstock with some limitations.
Read Bird and Coffe Card Post here…
2. DIY Pigmented Water-Based Markers
You can also add the Color Burst Watercolor Powders into water brushes to create your own water-based markers.
This will allow you to do watercolour with easy bearing in mind that the pigments could stain the paper when applying them to dry paper and it will be hard to blend once dried.
3. DIY Sprays
You can also add the Color Burst Watercolor Powders in spray bottles filled with water to create spray paint.
4. Shimmery Watercolor Paints
Mix Color Burst Watercolor Powders with white mica powder to create shimmery watercolour paints, sprays, or markers.
5. DIY Coloured cardstock
I love to make my own custom-coloured cardstock using different mediums and the paper can be used in many different ways on papercraft projects.
You can use watercolour paper, mixed media paper or photographic paper.
Here are 3 ways to create coloured cardstock using the powders.
Coloured Paper with a texture
Simply tap the bottom of the powders bottles to sprinkle the powder on wet paper to create different textures.
Colored Paper – Smooth Finish Technique 5
To achieve vibrant solid cardstock colours, mix the powder(s) with water and apply them on wet watercolour paper.
It is key to use a soft blending brush (make-up brush type) to apply the liquid paint onto the paper, and to achieve a smooth finishing.
Ombre Colored Paper
You can create an ombre effect by applying the powders previously diluted in water, using a blending brush, over the wet watercolour paper, and in rainbow order.
The DIY colored watercolor paper made using Color Burst Watercolor Powders can be used in a wide variety of ways. Die-cutting and Stamping are at the top of mind for cardmakin.
6. Adding Colour to die-cut compositions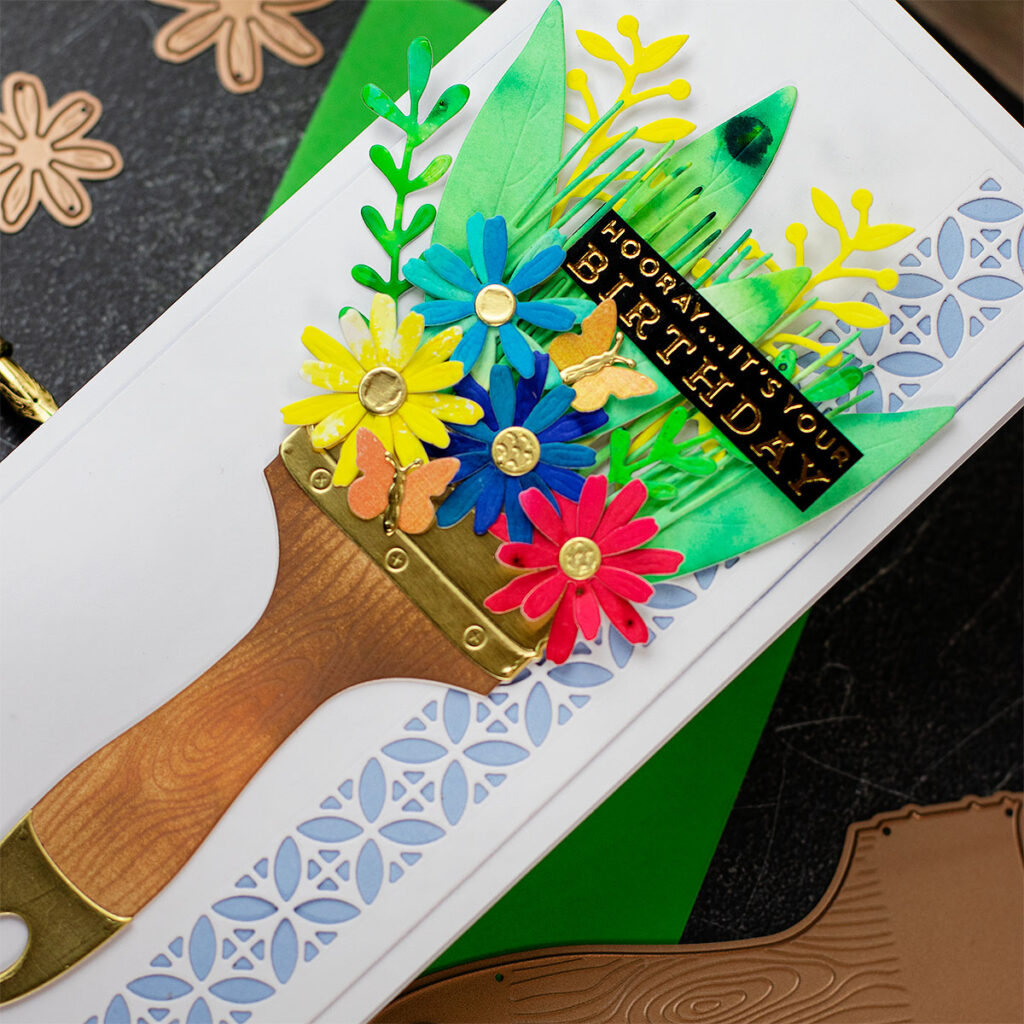 Simply, die-cut out of your DIY paper different decorative elements for your projects.
Read Paintbrushes Blog Post here…
7. Stamped Paper Piecing
This is an easy way to add fun accents and colour to your stamped projects.
Here are some project samples made using Color Burst Watercolor Powders and stamped paper piecing.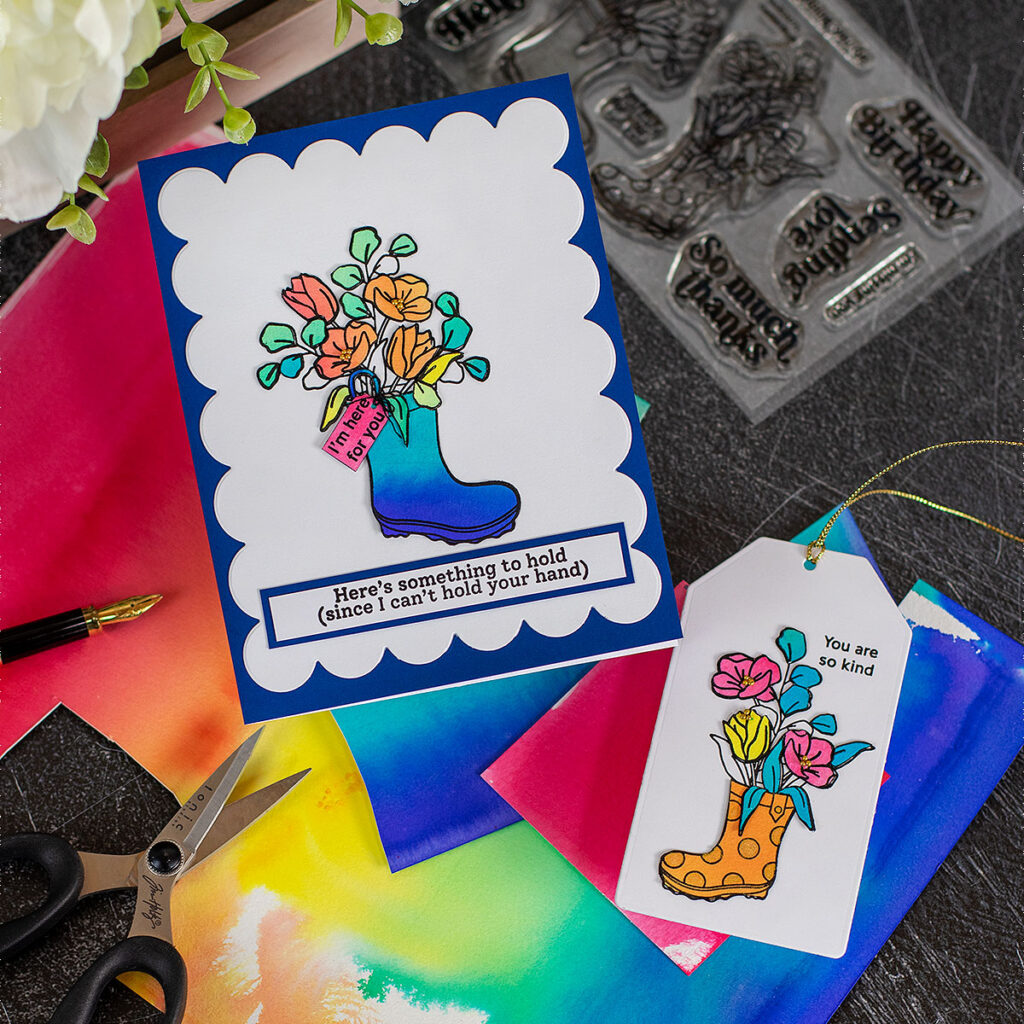 Read SSS Boots Garden Post here | Read AALL & Create Filament and Feather Arty Cards here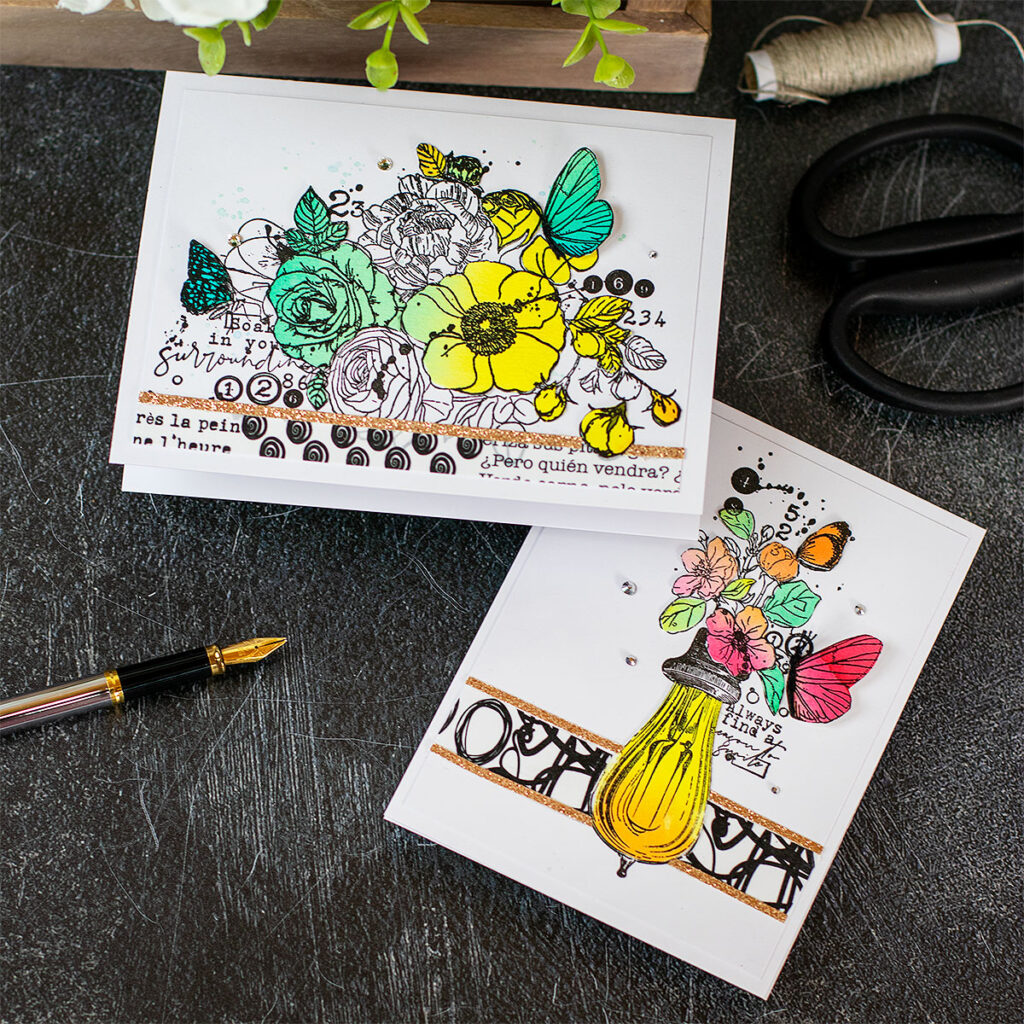 8 -9. Stencilling
Detailed Watercolor Stencilling Idea
To do stencilling using Color Burst Watercolor Powders, there are 2 very important things you need to bear in mind:
First, you will need to mix the powders with water.
Apply through the stencil using a slightly inked blending brush ( The brush needs to be almost dry, and you need to avoid excess moisture to avoid the colour zipping underneath the stencil)
Coloured Paste – Idea
You can also mix the powders with white pastes to alter their colours.
That's all for today, I hope you enjoy this post and the video
Thanks for stopping by.
Bibi.