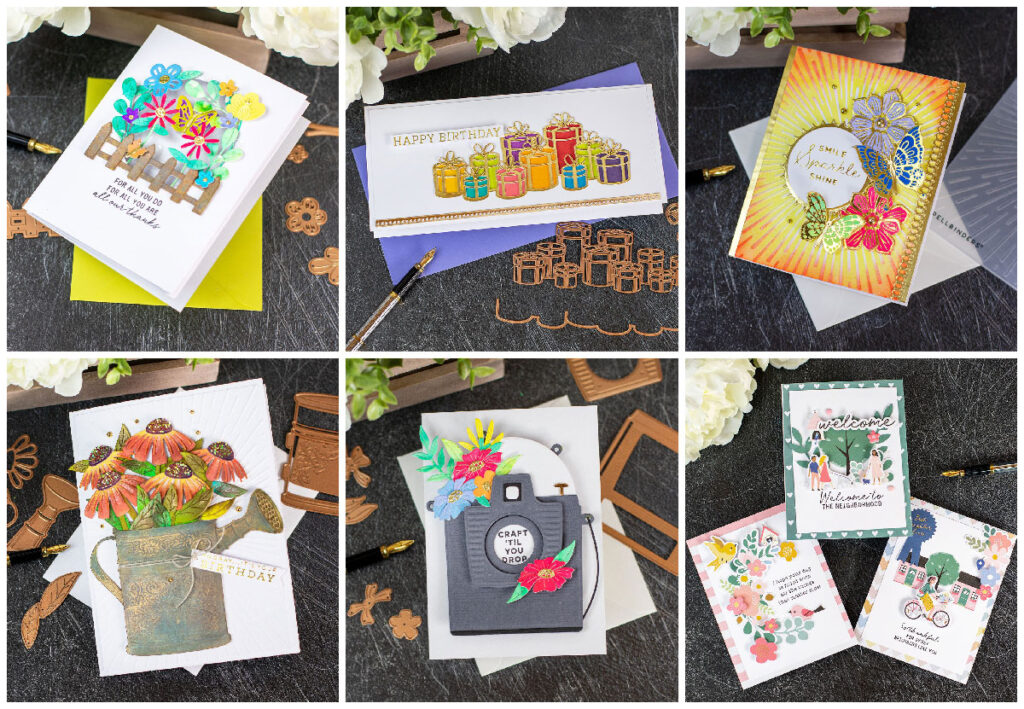 Hello crafty friends, today I'm sharing 9 simple ideas using the Spellbinders kits of April 2022 listed below:
**** The subscription can be canceled anytime.
UK local delivery service now available from £2.50
** All supplies used are listed at the bottom of this post.
A note for my readers
Each kit is always a surprise and it leads me to try different things. However, I have been unable to craft with the same energy for about 2 months.
To make it possible, I have to keep it simple.
My 6 years old son ( Harris) is autistic and we are facing challenging behaviour.
He is adorable and very calm with a very happy attitude BUT for 6 weeks he refused to wear clothes (this means we were not able to go out, and he is not going to the school.)
After trial and error, we found what pieces of clothing he tolerates. For 2 weeks he has been wearing a T-shirt and boxer pants ( it got to be the same T-shirt and the same boxer pants tho – We got duplicates).
We also managed to encourage him to go out. He would wear a long jacket over his T-shirt and boxer pants + rain boots (no socks) so we are still fighting the "Trousers On Battle".
Harris being at home demands time and energy. It is mentally challenging to try to think of different ways to keep him active and interested in different things.
Sometimes the simple thought of him being at home and not having the right education is very hard to accept.
Oh well! we will get there. No crisis lasts forever and I still hope this post to be inspiring.
Spellbinders LARGE DIE April 2022
The Large Die of the month is called "Say Cheese" "
This is a 28 pieces die set.
Designed to create a die-Cut Camera.
I found a super-easy way to add a spinning wheel to the die-cut camera.
So the message changes when you move the wheel …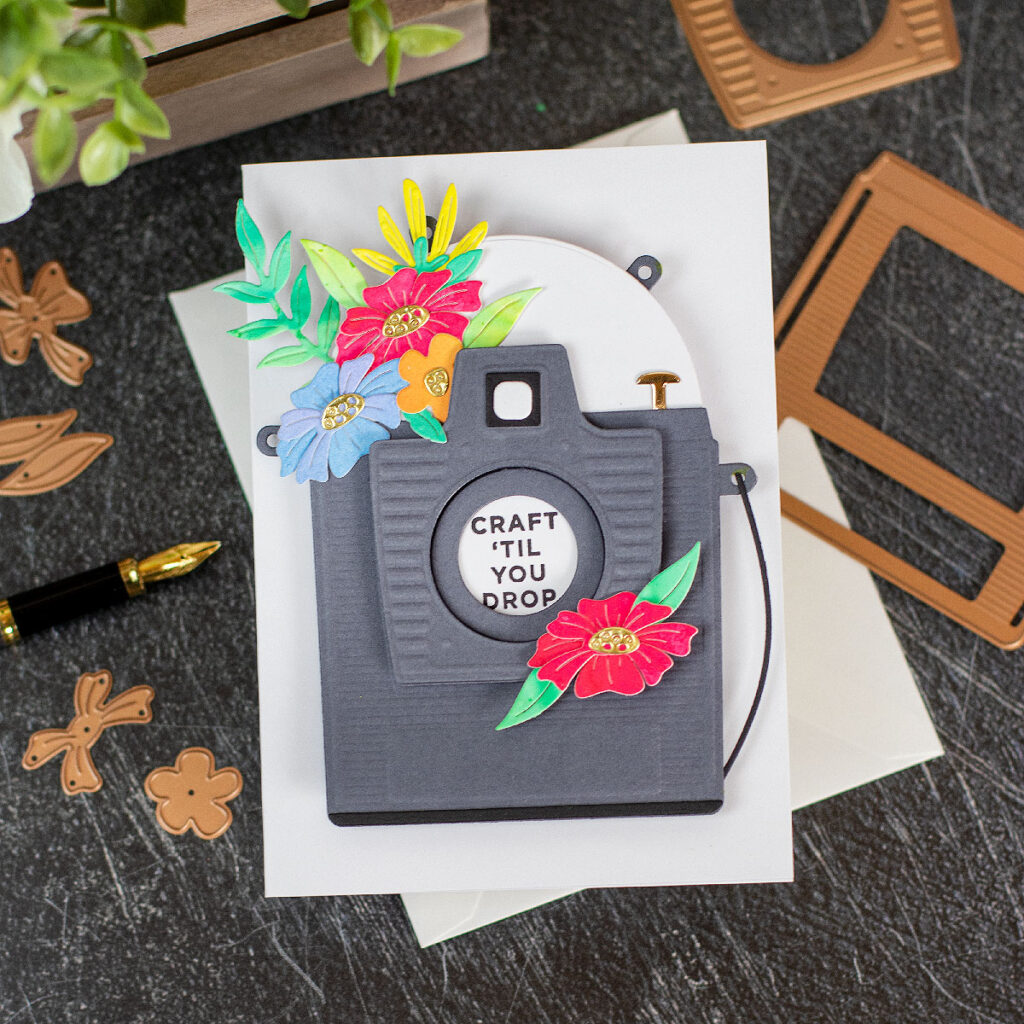 To do this, I die-cut a circle using the larger circle die included in the kit ( designed to make the camera flash).
Then, I punched a hole in the centre of the die-cut circle and another hole in the top/centre of the main die-cut piece to make the camera.
Using a brad I attached the wheel behind the other die-cut piece.
Next, I used the Misti and sentiments from the We All Dance Clear Stamp Set to stamp the circle die-cut through the circular aperture.
I also die-cut little parts that I used as tabs on the spinner wheel to be able to rotate it with ease.
Using dimentionals, I affix this onto a card base ( I did not use dimensional on the spinning wheel).
To decorate I made some flowers using dies in the kit.
Small Die April 2022
I love this die set, it is so clever as it will cut an inlaid shape that can be used as a border.
I keep it simple and after die-cutting the front panel of this slimline card, I adhered to different cardstock colours behind each present.
Then using a combination of dies, I die-cut the outline presents out of gold cardstock and I glue them on top of the inlaid die-cut in the front panel for a nice finishing.
The sentiment was hot foiled using Polished Brass hot foil using a glimmer plate from the We Dance Sentiments Glimmer set.
I also used a slimline border die from the Create a Slimline Border die set.
Amazing Paper Grace April 2022
The Spellbinders Amazing Paper Grace (APG) this month is called "Pop Up 3D Vignette Watering Can Bouquet".
It includes 15 cutting dies.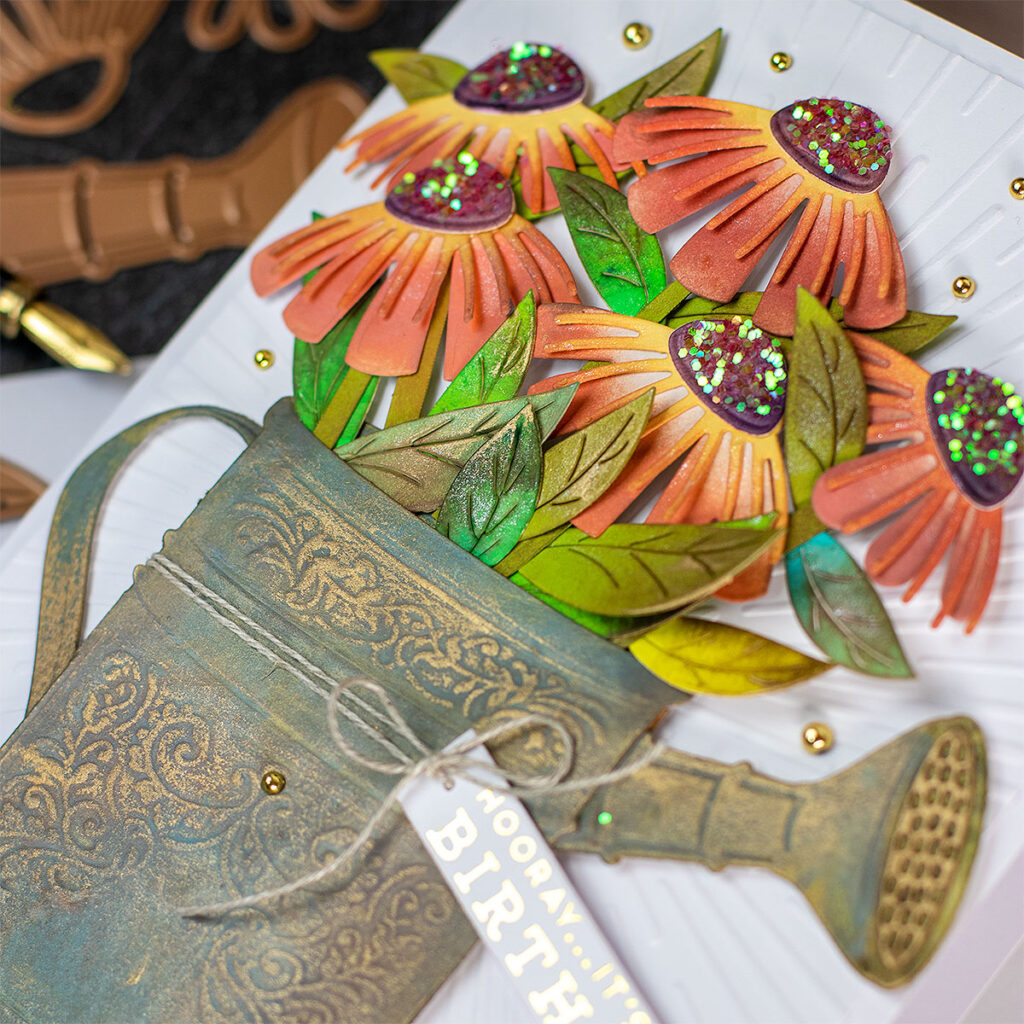 The APG this month will create a tridimensional card but I decided to make a topper for a card or a box.
I didn't realize how big the die-cut shape could be ( about 5×7 inches).
So I needed a large card base and to add some texture I embossed a backing panel using the "Embossing Folder of the month – April 2022"
The sentiment was hot filed using gold foil and a glimmer plate from the Sentiments Every Day Glimmer set
To add colour to the die cuts I used the Distress inks listed below:
embossing folder April 2022
I simply applied Spun Sugar and Shaded Lilac Distress Oxide Ink over the stencil and I placed the cardstock over to be embossed.
The sentiment was made using stickers included in the Card Kit of the Month.
Glimmer April 2022
To make this card I used Polished Brass hot foil, little die cuts and foiled images using from Flowers Glimmer and Butterfly Glimmer sets.
Card Kit April 2022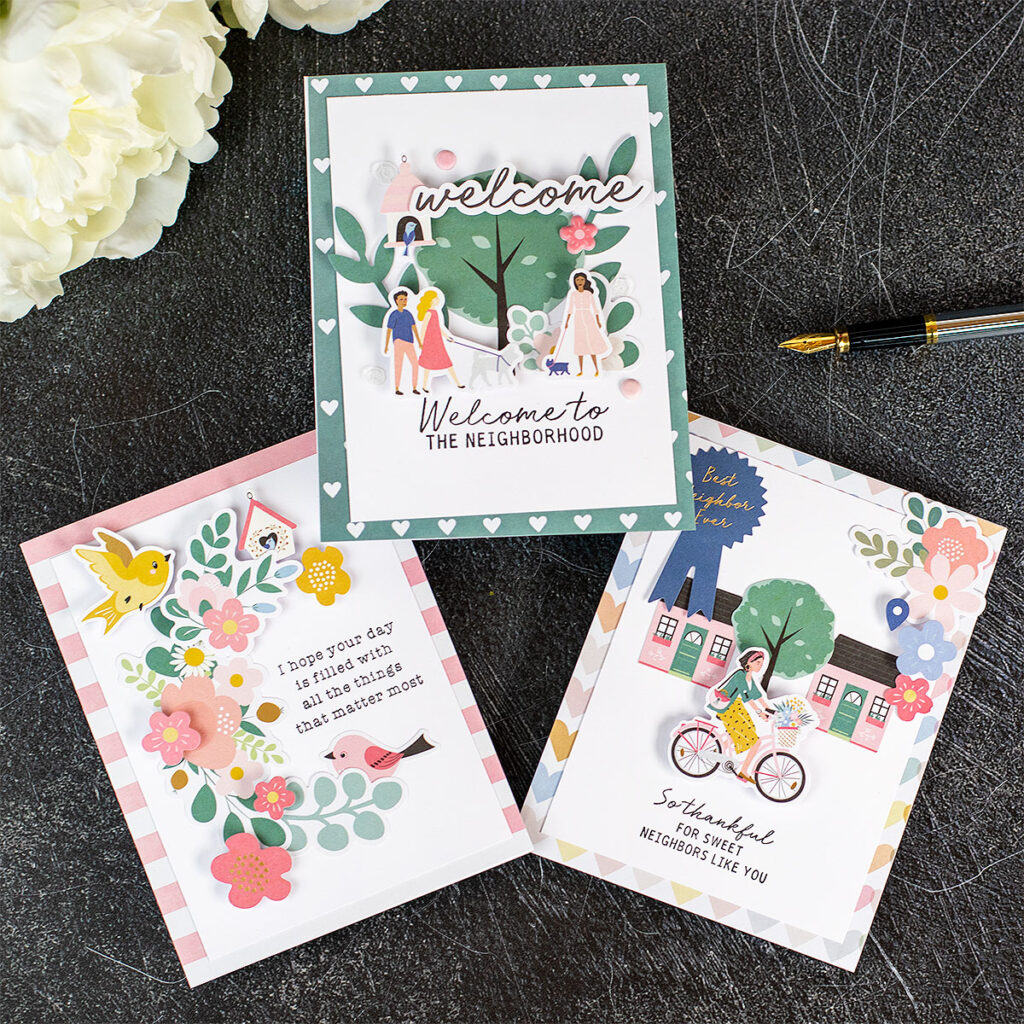 The Card Kit of the Month is called "Picket Fences" and it includes:
Die set – 12 cutting dies
6×4 stamp set.
6×6 inches paper pad ( 40 sheets – 20 designs, 2 sheets each design).
Die-cut shapes
puffy Sentiments
Chipboard embellishments
Cardstock.
Adhesives.
Card bases and envelopes.
Sequins
I made 3 super easy cards using the Die-cut shapes, the stamp, the paper pad, and the card bases included in the Card Kit of the Month.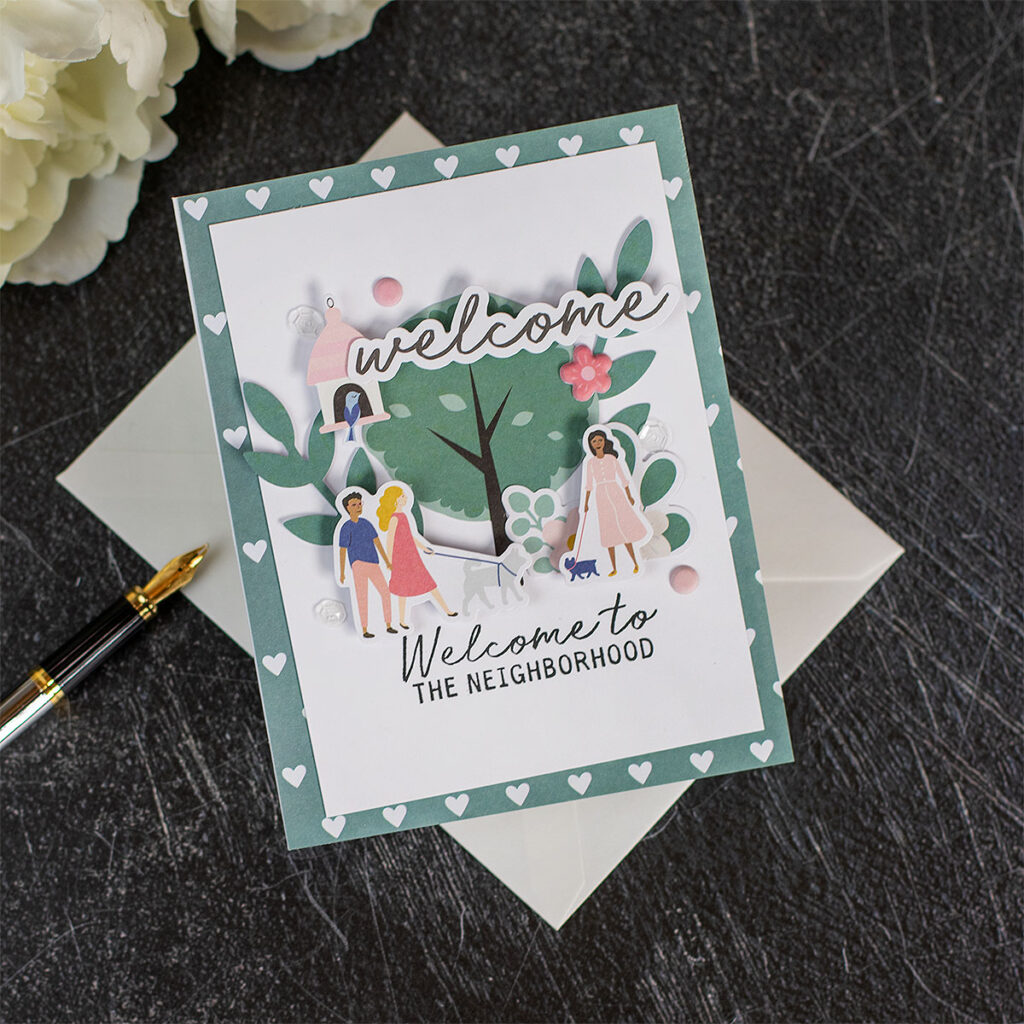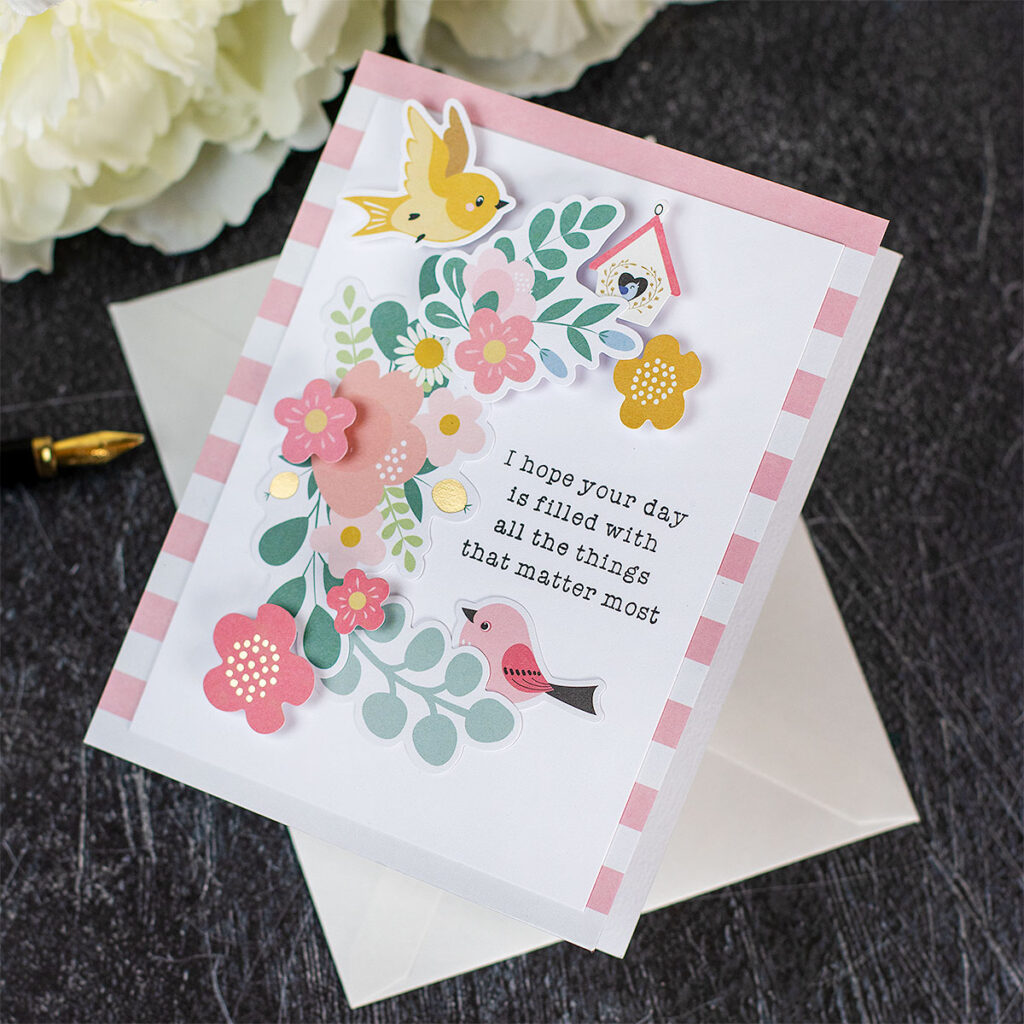 I also made the easy C6 card below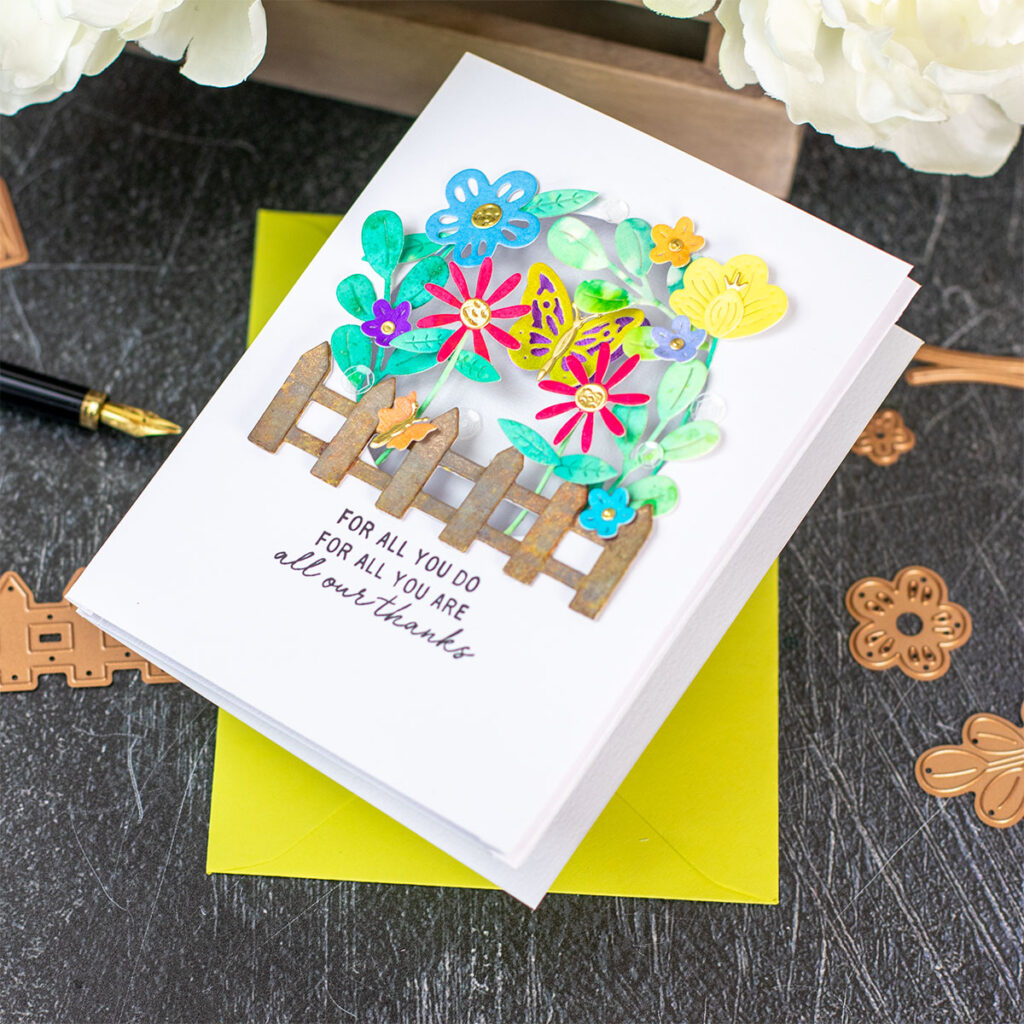 This simple card has a collapsable font panel. This adds dimension and it is easy to mail.
To do this, I simply attached a piece folded like an accordion to each side of the front panel and then glued the according to the card base.
In the video below I show how to do this using different supplies.
Below you can see more collapsable frames ideas
Value KITS
Spellbinders also offer kit bundles [ Spellbinders Value Kits] that will allow you to save up to 25% on your kits.
THIRSTY FOR MORE?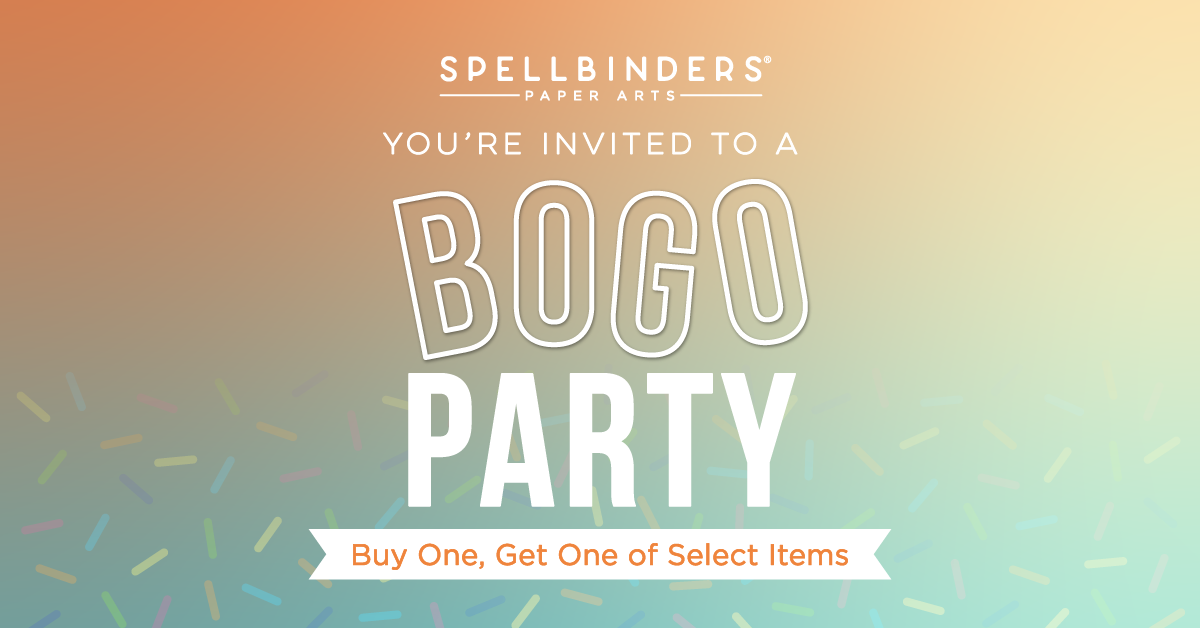 That's all for today.
I hope you enjoyed my Spellbinders kits monthly inspiration.
Happy Crafting.
X Bibi
SUPPLIES LIST
Affiliate links apply at no extra cost to you. Thanks for your support.