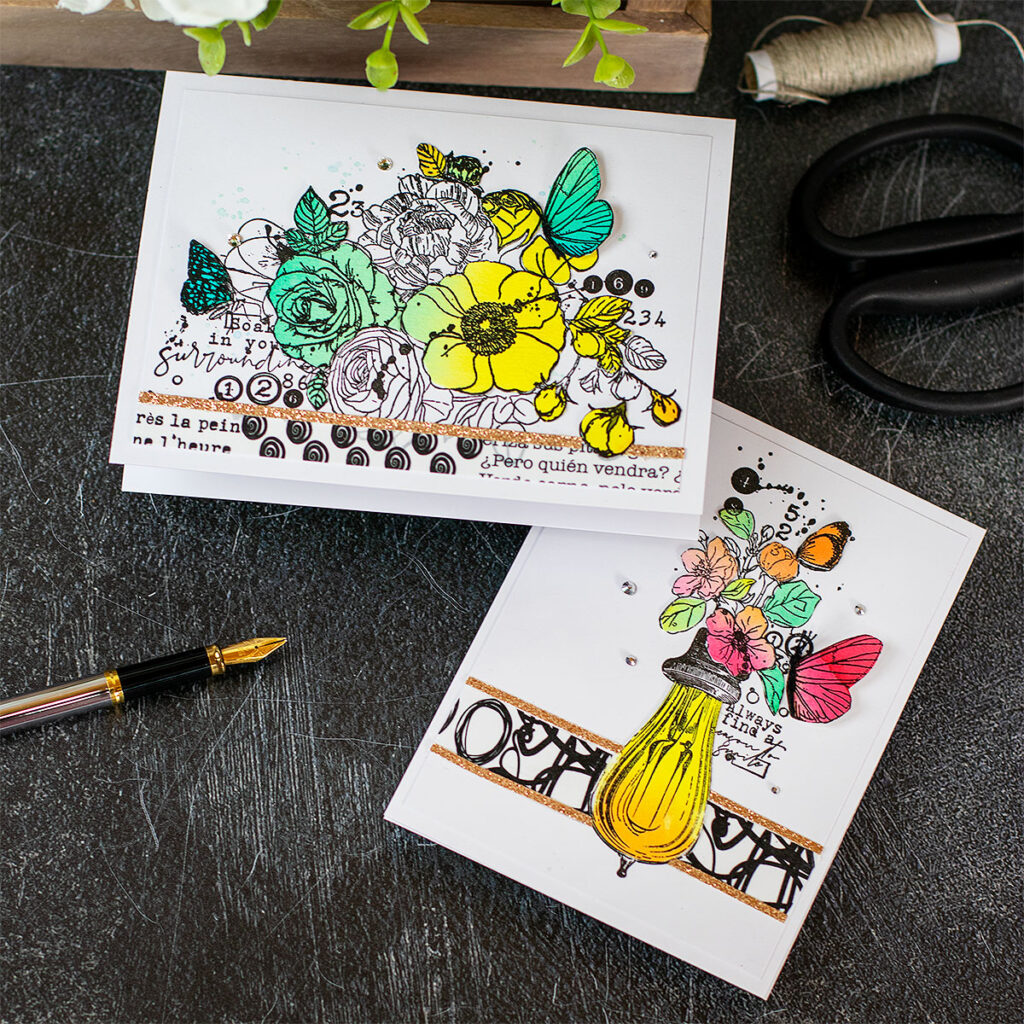 Hello crafty friends, today I'm featuring the new #621 Filaments & Feathers stamp set by AAll & Create.
I wanted to incorporate stamped paper piecing and washi tape borders into these cars to give you extra ideas.
Paper piecing is an easy way to colorize any composition and using washi tape will allow you to add quick and easy decorative borders and interest.
Main Products in This Post :
AALL & Create #621 Filaments & Feathers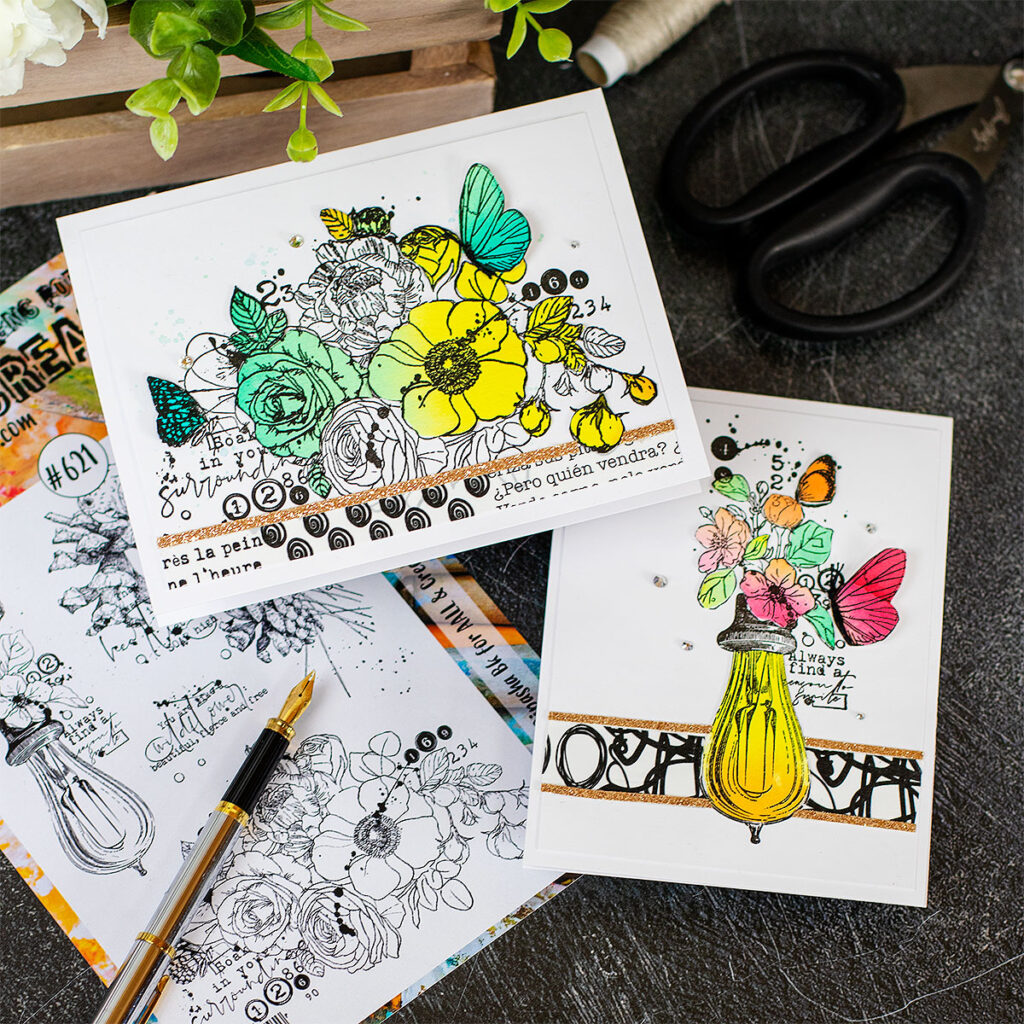 #621 – Filaments & Feathers stamp set is an A5 stamp set ( 8×6 inches) designed by Bipasha BK.
It includes 3 large images that will fill up the front of a C6 standard American card base ( 5-1/2″ x 4-1/4″) or an A6 standard British card base ( 4.1″ x 5.8″ inches).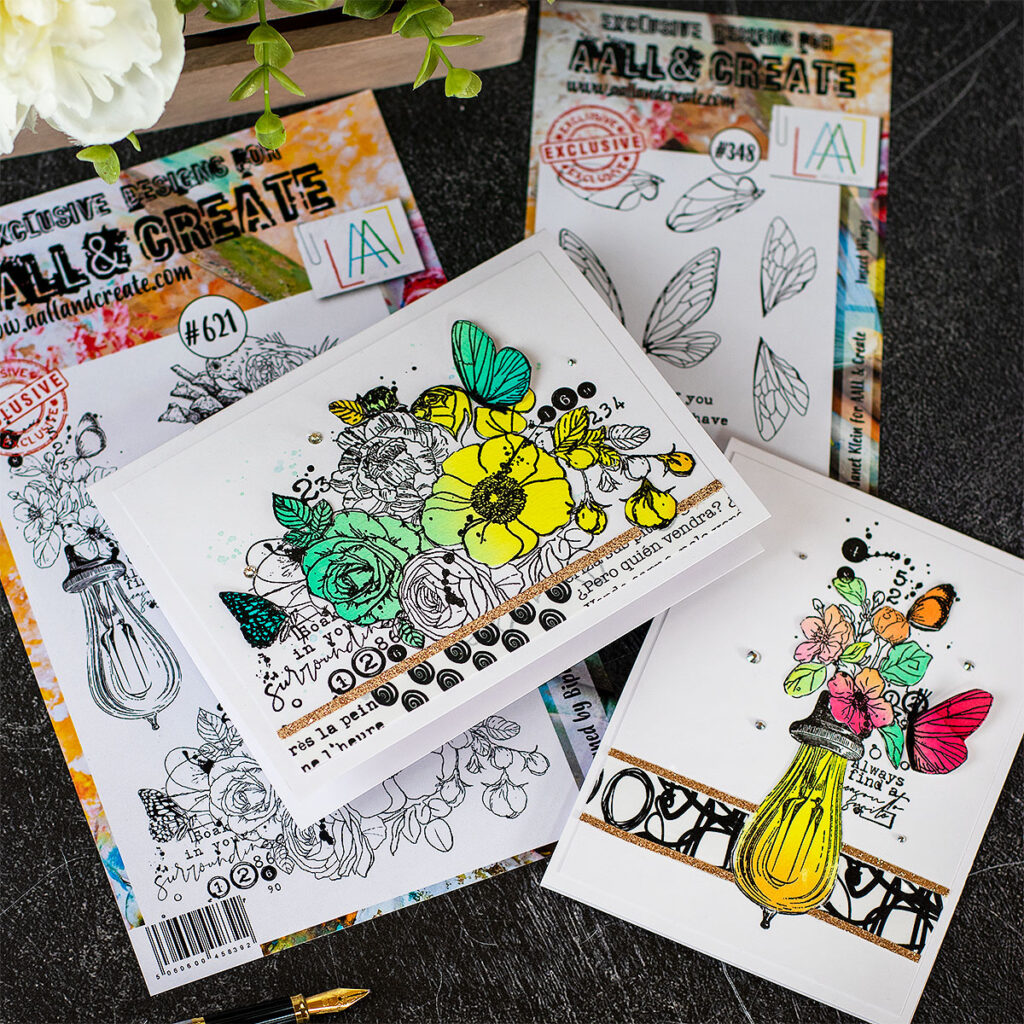 I was experimenting with the images from #621 – Filaments & Feathers stamp set.
First, I stamped the images using my Misti on Arches watercolor paper and regardless of how many times I stamped them, the details got lost due to the texture of the paper.
They are very intricate and to achieve a very crisp stamped image you will need smooth cardstock or smooth watercolor paper.
Smooth cardstock is great for alcohol markers but not to use with water-based mediums and I defo wanted to use watercolors and the paper I have available.
So I decided to try paper piecing.
Stamped Paper Piecing
To do stamped paper piecing, all you have to do is to stamp a solid image over a piece of smooth cardstock.
Then, stamp the image on a patterned paper or you can also create your own costum cardstock by adding any ink or any paint over a piece of any paper quality.
To add colour, I used Ken Oliver Colour Burst Powder diluted in water over watercoloor paper.
Allow drying and then stamp over the patterned or painted paper the images.
I like to use Versafine Onyx Black ink, because it provides a very dark and sharp image.
To finish you need to fussy cut the images and glue them over the solid stamped image on the other piece of cardstock.
you dont need to cut all the pieces but just a few to add a hint of colour.
Voila! You will be done.
Note:
You can also add complementary images to create a larger composition.
I added a butterfly wing to each project in this post using an image from the #348 – Insect Wing stamp set
To add interest, I added a washi tape border and a stripe of gold glitter cardstock.
I used Washi Tape #18 – Poets for both cards but you will think that I used 2 completely different tapes. iIsn't amazing… That is a very versatile and beautiful washi tape!
To embellish I used Spellbinders Silver Gems.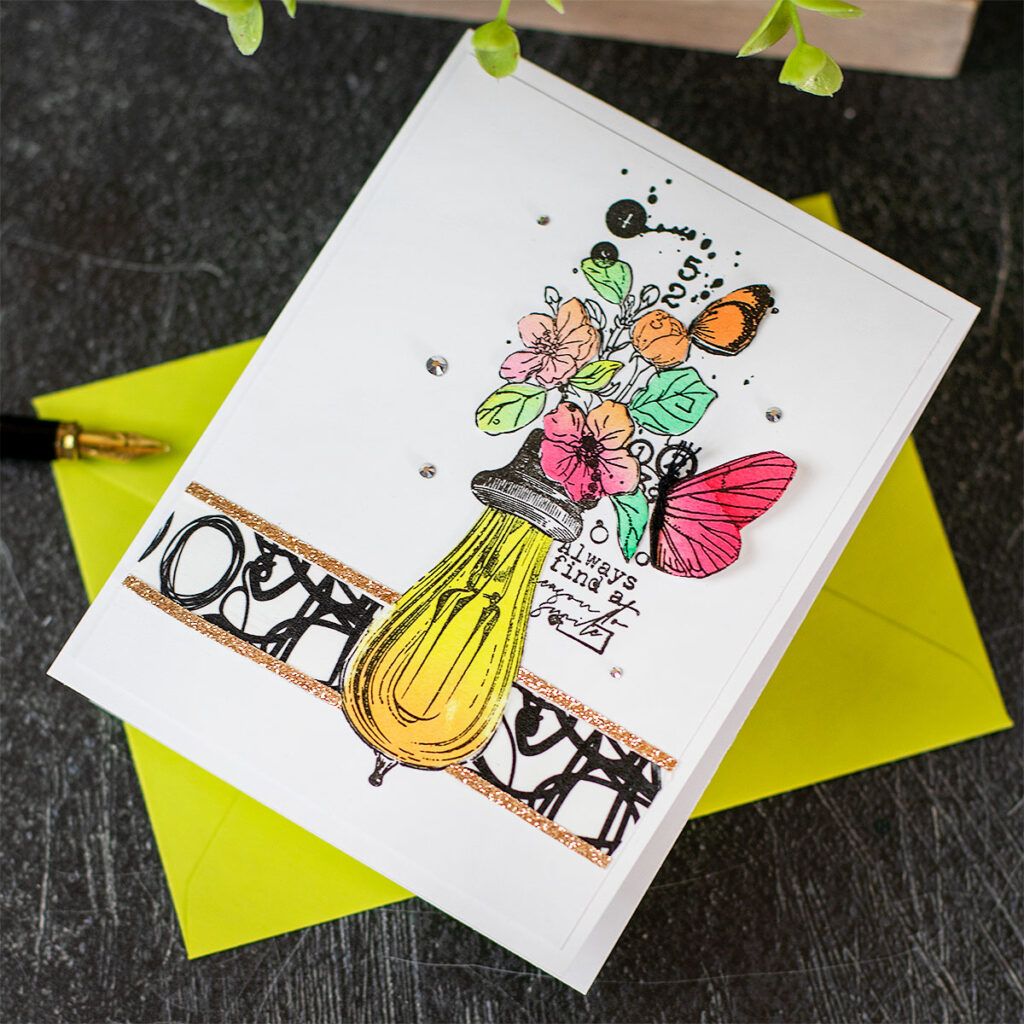 Thirsty for more?
That's all for today.
Thanks for stopping by.
x Bibi Cameron.
Supplies
Affiliate links apply at no extra cost to you. Thanks for your support.