Hi there, Welcome to Simon Says Stamp Diecember inspirational Blog Hop Day 2! For today I'm sharing an idea to make easy crepe sunflowers using Sunflower Petals die set in combination with leaf dies from Detailed Rose die set.
I hope you enjoy the 3 easy and quick projects I made for you today.
WHITE CREPE SUNFLOWER SLIMLINE CARD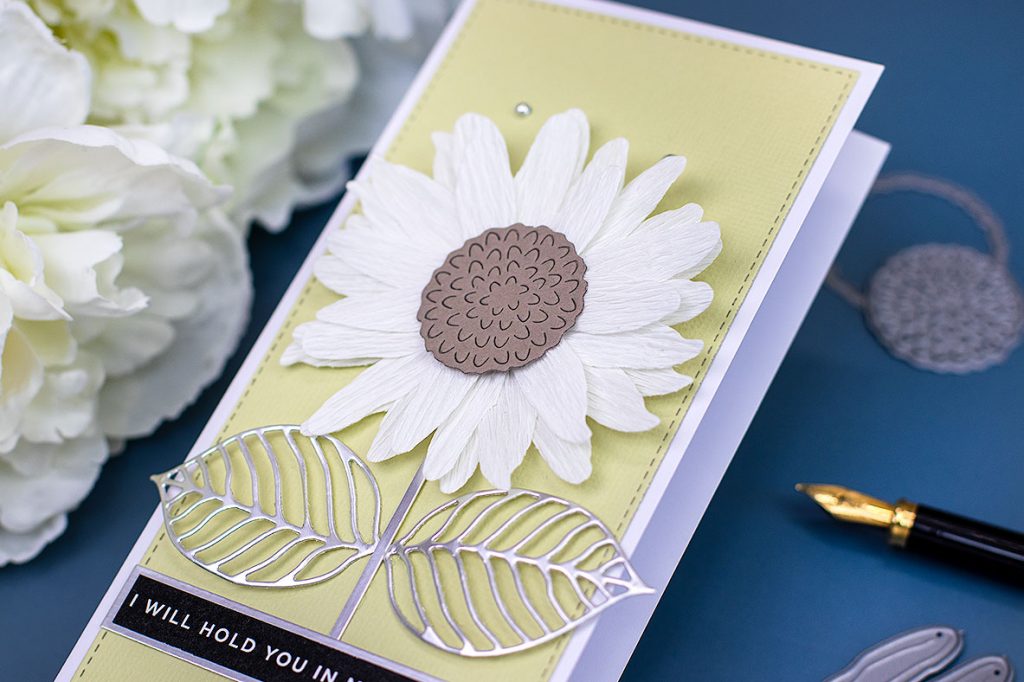 To add a softer look to the white sunflowers, I used Italian crepe paper instead of traditional cardstock.
After trying different colour combos to make these projects, I thought this neutral mix was refreshing and I used the same shade for all my projects.
CREPE SUNFLOWERs TAG
How to Make the Flowers
The top tip I can share with you today is to die cut a circular centerpiece and glue over the first layer of petals.
Allow to dry and then glue over another layer of petals and repeat one more time.
Then, you are going to need to die cut the center of the flower and die cut it over.
You can add as many layers of petals as you want and make the flower on any colours. It doesn't need to be a sunflower tho, it can be a Margarita or a Gerbera or any similar flower.
CREPE SUNFLOWER GIFT BOX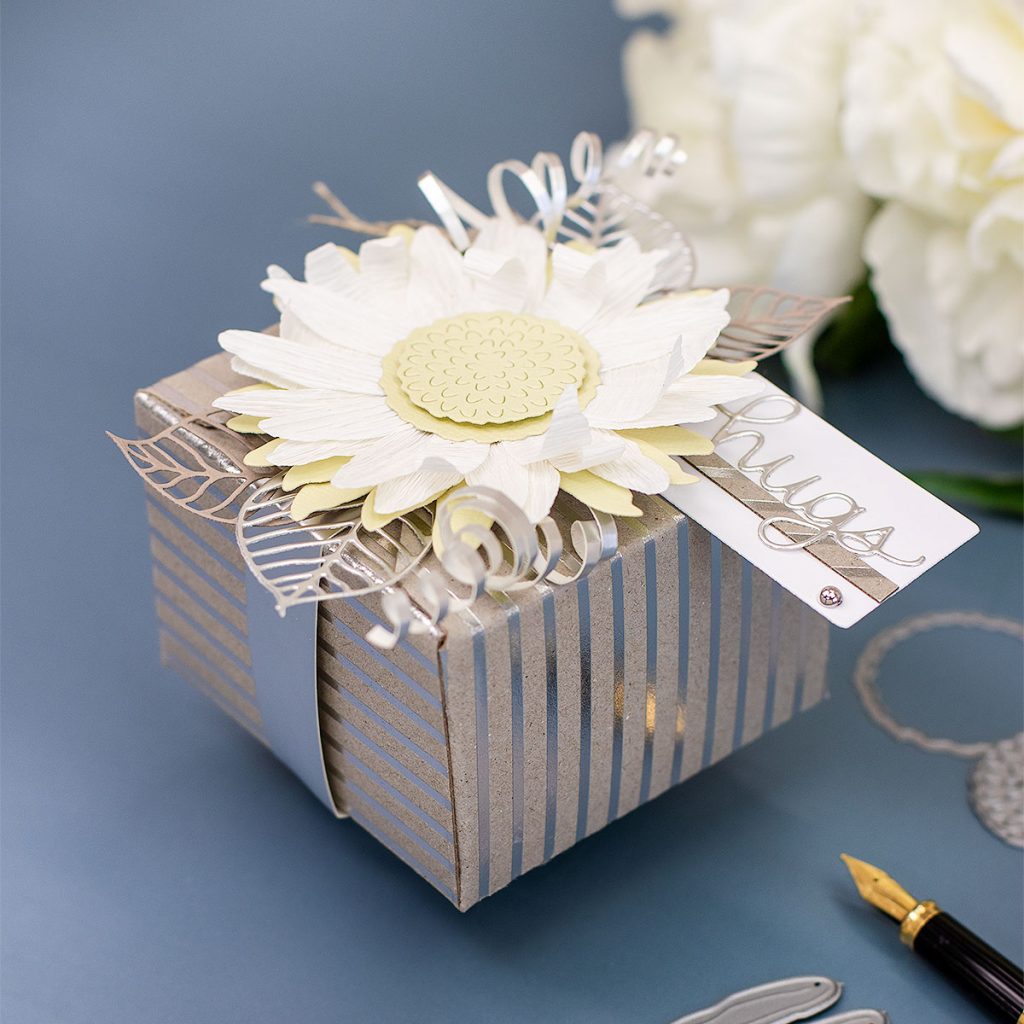 To make this box I used the envelope punch board.
I used a piece of Silver Stripes cardstock that measures 8-1/4″ x 8-1/4″ inches.
Then, I punched and scored at 2-1/2 " inches around the 4 corners to shape the box.
To finish the box, I assembled and glue the corners in place.
Next, I cut a 3/4″ x 11″ striped of Frosted Silver cardstock and I wrapped it around the box to create the band.
To decorate, I added a sunflower, leaf die-cuts made using Detailed Rose die set, and my DIY and super cute curled paper strings.
The little tag was made using a sentiment word from Small Script Trio Wafer die, and the smaller tag die from the must-have Nested Tags die set.
To make the curled strings all you have to do is to cut a narrow and very long piece of cardstock and roll it tightly over the tip of a pick tool or a stick and then release it.
In the video here ( minute 2:42 I show how to make the strings)
Hop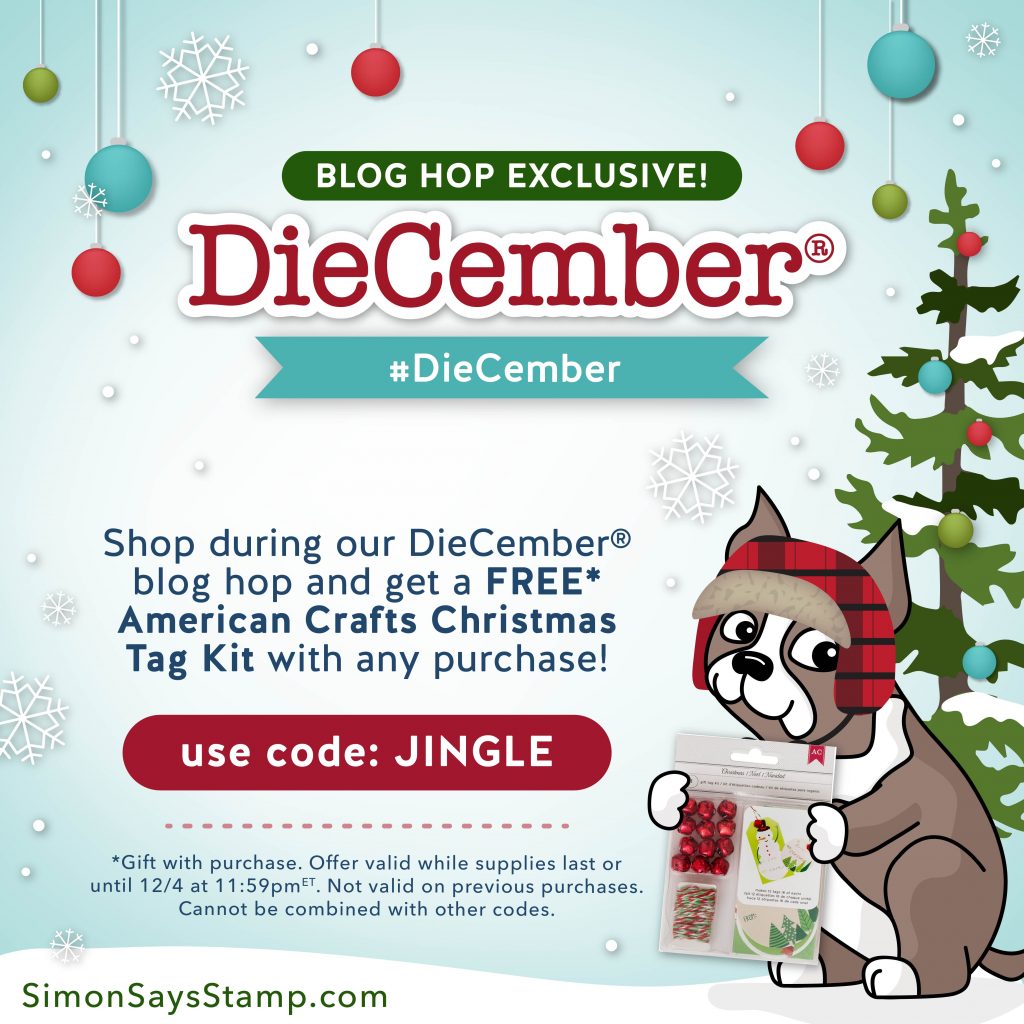 The next in the Hop is the super talented Anna-Karin Evaldsson. Make sure to keep hopping to discover beautiful inspiration.
GIVEAWAY
Simon Says Stamp is giving away a $25 coupon to every stop on the hop from the comment section.
Winners will be chosen over the weekend and post on our Simon Says Stamp blog here on Wednesday, the 9th of December.
That's all for today.
I hope you are enjoying the hop and this beautiful release by Simon Says Stamp!
Hugs
Bibi
supplies list
Affiliate links applies at no extra cost to you. Thanks for your support.