Hi there! Xmas time requires a lot of packaging so here is an idea to create a pretty handmade Xmas Snowflake Gift Box with a bow.
To decorate it, I used:
XMAS SNOWFLAKE GIFT BOX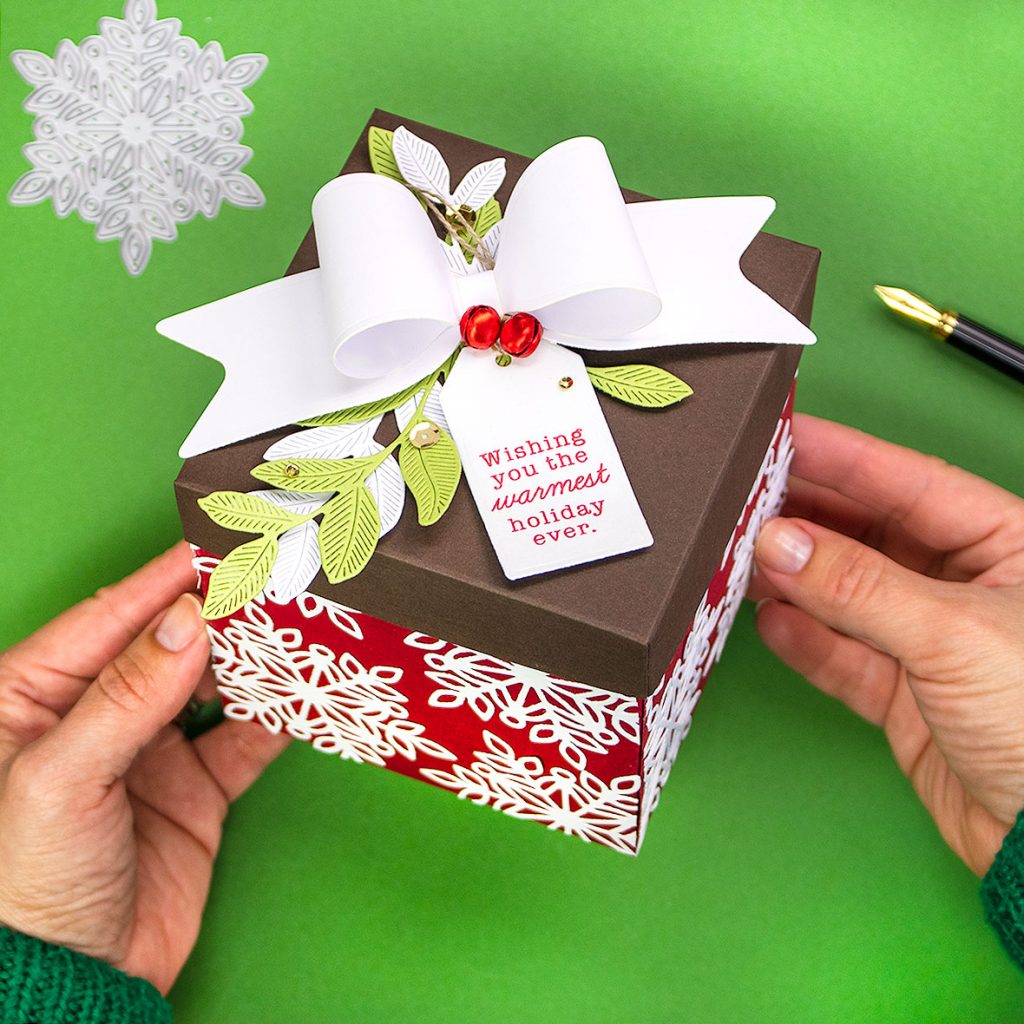 This Xmas snowflake gift box measure 4″ x 4″ x 4″ inches.
To make you will need:
A 12 x 12 inches sheet of red cardstock. Then scored it 4 inches all around the edges fr the body of the box.
For the lid you will need a 6-1/16 x 6-1/6″ piece of brown cardstock and scored it at 1″ inches all around the edges.
Then you will need to trim the corners to create the box flaps and glue in place.
Note: you can decorate the body prior the assembling or after. I did it after.
XMAS SNOWFLAKE GIFT BOX TOPPER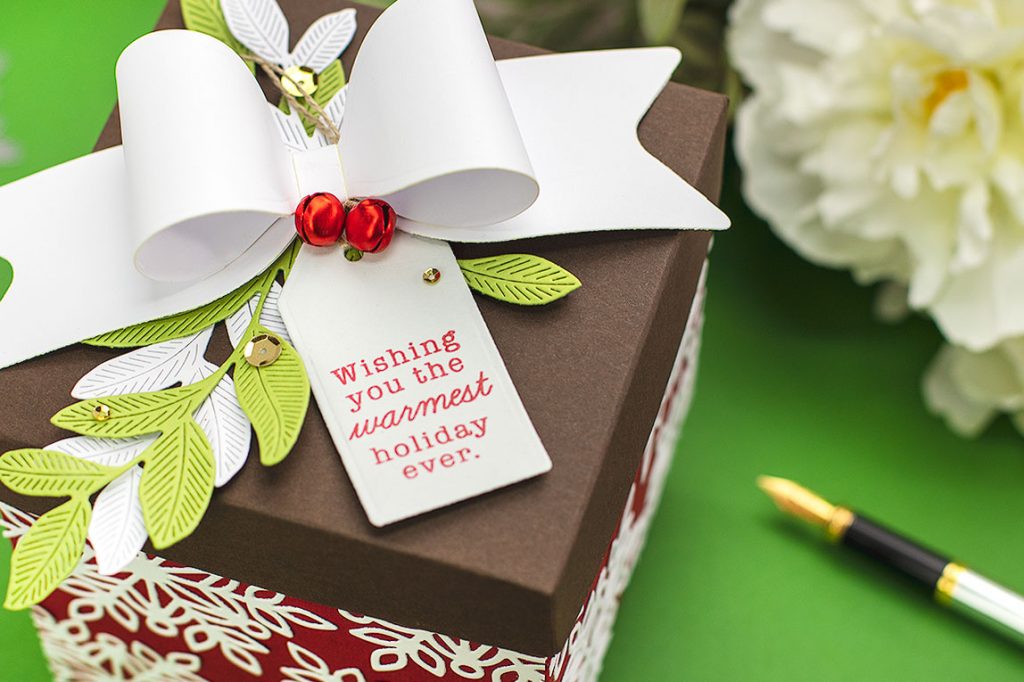 I think that large paper bow was a nice addition to this box and I know that bow is calling your name!
This bows are available in 3 different sizes. I accidentally ordered the larger bow and I accidentally fell in love with it as well. It is super pretty!!
The large bow will be the perfect, easy, and quick box topper for any occasion project.
It measures about 5 -1/2 "x 1-1/2″ x 1" inches.
MUST- HAVE BOWS DIE SETS AVAILABLE
Mini Bow – The finished bow measures about 3- 1/2 x 1″ x 1/2″ inches.
Baby Bow – the finished bow measures about 1.3/4 x 1/2″ inches.
Create a Bow – Used for this project creates a bow that measures about 5 -1/2 "x 1-1/2″ x 1" inches.
I got the larger bow and it is so easy to put together. Check my video here to see how to do it
Snowflakes and laurel leaves die cuts
You can personalize your gift box using different die cuts and you can fit any small gift inside it. As we are close to Xmas, I decorate the box body using Marie Snow Flake die cuts.
Any Snowflake die set or stamp set by Simon Says Stamp will do the work!
For the lid, you can uses leafY dies. I used Laurel Leaves as they were the perfect size for this project.
You can also add extra elements. A tag is always a good thing so I used the smaller tag die from Nested Tags die set to die cut a mini tag out of fog cardstock.
The sentiment is from Christmas Kitties stamp set . It was the perfect size for the tag plus I couldn't find a cutter message.
I love playing and mixing and matching shapes and supplies and that is a big part of the creative process.
Finding new ways to enjoy papercraft and to share those ideas with you is awesome!
If I have managed to inspire you, do not forget to tag me @Bibicameron on your projects over social media so I'll be able to see them and share them.
That's all for today.
Happy Crafting and Happy Black Friday!
X
Bibi.
simon says stamp crafty parcel is back!!
THIRSTY FOR MORE IDEAS? OH YEAH!
supplies
Affiliate links applies at no extra cost to you . Thanks for your support.