Hello from the very north of Scotland, Today papercraft artists from all over the world are joining "United We Craft".
This is a Simon Says Stamp online party organized to share the joy of papercraft during the quarantine and we want to encourage you to do more crafts during these challenging times.
We all know that crafting is therapy and it help us to keep the focus on positive vibes.
Please join us over the social media with the hashtag #SSSUnitedWeCRaft
Egg-shaped Treat Box
So for today, my 6 years old daughter Emma and I want to share a super duper easy egg-shaped easter box.
We used the next to die sets to create it:
First
We first die cut all the pieces… this was the longest part as we got chatty!!
I really like small die-cutting machines for my kids. In the picture, you see the PRIZM by Spellbinders (sadly discontinued).
Although you can't cut bigger shapes with these machines they do small die-cutting work a joy.
They are lightweight and very easy to use.
They will allow your little kids to discover the magic of die-cutting.


This is really awesome and effortless you and your kids can create beautiful perfect die-cut words, shapes, letters, numbers and much more!! No fussy cutting involved.
I'm a professional crafter so I easily forget the learning curve that took me here. I take no time to get die cuts out of the dies or to die cut something.


It was funny to see Emma concentrated on taking the little die cuts from the die. It took forever!!!


I told her let the die fall on the glass mat and the die cuts will come off quickly but she was worried as she thought she could brake something.


For the records, is almost impossible to brake a die although I know people that have done it lol.
The glass mat is tempered glass so it won't break that easily neither.
By looking at my daughter doing this, I just remembered how great papercraft work is to develop fine motor skills.
Absolutely awesome!!
Dad sat next to her because according to him the pick tool could be dangerous!


We need to be careful when crafting with kids as we have some pointy and sharp tools but we soon learn to use them and to avoid accidents.
I'm very relaxed about all this but dad?
Dad was breathing on her shoulder all worried. Arg!
So we force him to do his 3 seconds of craft this year and stay calm.
Well, he actually said this was the longest he has crafted all his life !! LOL
Ok so, when you have all the pieces ready for your project, All we needed to do is to glue them together.


There are ways to glue things that easy the process.



Assembling the Box
We didn't measure anything when creating but I measured the pieces later on.
The long striped of paper to make the body of the box measures: 7″x 2 " inches
I scored it at 1/2 inches along the larger side to create the flaps.

Then I trimmed a "V shape" between flaps.
Next, we glued this piece to one of the egg-shaped panels created with

Faberge Egg die set

.

We trimmed a long piece of paper that becomes the box handle.

Using a punch I punched holes to attach the handle to the box with brads.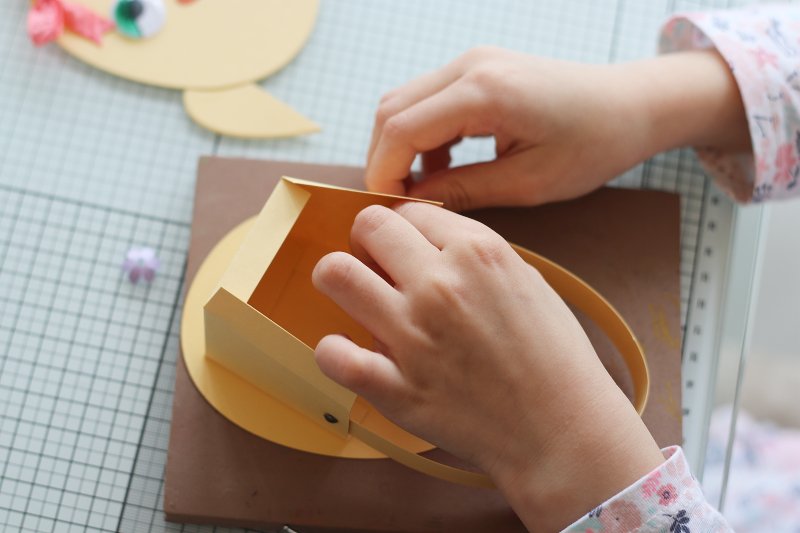 The handle measures about 9″ long . You can make this in any size.

We decorated the front panel and glued it on the box flaps!!
Emma is a Nuvo drop lover and although she still needs to learn to do a perfect Nuvo drop dome, she doesn't care. She just enjoys adding drops to everything.


She was careful this time. I stopped her from adding drops all over the box!!


I hid my Nuvo drops as the other day she almost emptied several bottles to make a whole big draw.


I need to take my time to find it and share it. It is impressive, not for the beauty but just because of the amount of product she used! PLOP!!


Actually, she could be the founder of the Nuvo drop coloring movement lol.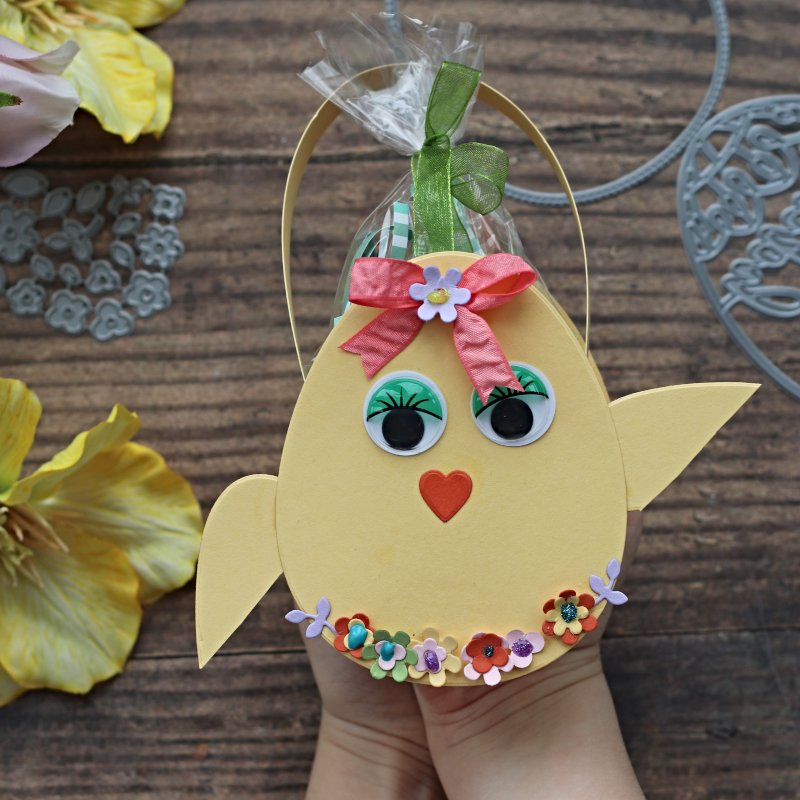 Anyways, this project took very little time.


I manage to keep her away from Minecraft and the telly in something she actually enjoys!
We believe you can upgrade this box to create projects for other occasions.
For example, you could create a penguin for Xmas or an owl for a birthday treat box!
While thinking about it, I also made my own easter treat box to share with you.


The wee lamb is looking funny but when crafting with kids, creating funny staff is the best you can do!
To see 99 papercraft projects visit Simon Says Stamp's Super-Special United We Craft Party !!!
That's all for today.
I hope you like these projects.
sending hugs.
x
Emma and Bibi.
Supplies
Just a note to let you know that when you buy through the links in my blog, I get a small commission at no extra cost to you.


Thanks for your support!