I have to confess that I stock a large amount of mirror cardstock. I found it super nice for die cut sentiments… I do love it! BUT when it comes to cardmaking apart from using it on the background of an intricate die cut or behind something, I don't know what else to do with it?
I feel my neurons can't connect when I see a glossy surface… I'm so used to the neutral and subtle colours and I do love to apply a striking saturated colouring but I can't do any of that with mirror cardstock! Nooo… it takes me so out of my comfort zone.
So the other night I sat for over 5 hours !! Yes… FIVE long hours staring at my pile of mirror cardstock, touching it and experimenting with it. I said to myself: come on Bibi you can do this, let's use mirror cardstock more often.
I played motivational music and I prayed to heaven for inspiration! I tried so many things and I failed!!
So I made the decision of not standing up from my chair until I could do something that I was happy with using the shiny paper and I challenged myself to make sure this paper would be the mainfeature of my next project! Great idea Bibi.
Now the papercraft heaven is filled with those attempts that never became a card, a tag or a box and again I had to remind myself that sometimes less is more and that some supplies are not designed to dwell upon.
So I was a bit desperate when I spotted Outline Snowflake Background Stamp by Simon Says Stamp and gosh did it save the day!! Voila…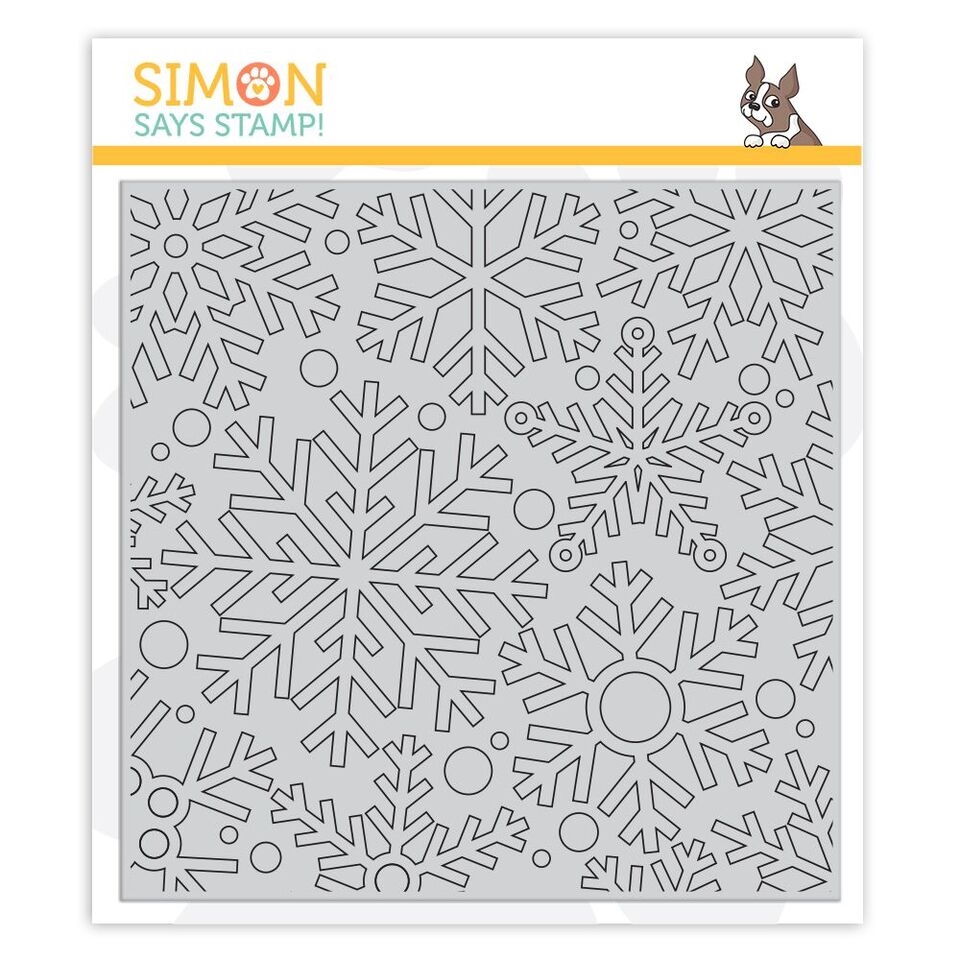 Then one thing came after another. Sometimes you just need the right supplies, the right inspiration and a good combo.
I grabbed sparkling embossing powders and the Stamping Platform and I started stamping a bunch of mirror cardstock pieces… I loved the results every time.
I thought of little boxes and Christmas crackers to put on the dining table and things got a lot easier…
I also picked the beautiful Simon Says Stamp Snowflake Tag dies a two piece die set.
One of the dies creates the negative image of the snowflake and if you overlap them you get a beautiful effect.. you can make tags in seconds with this combo.
I also made little banners for all the projects in this post.
I used sentiments from Tiny Word Christmas stamp set and I heat embossed them using white embossing powder on Scarlet Organza mirror Card and to add extra cuteness and a fun touch I stamped the tiny snowmen from the Little Snowman Agenda Stamp Set on smooth white cardstock using memento black ink and I added colours with Copics.
I used Nuvo Crustal Glaze and Nuvo Drops to embellish and any other supply is listed below.
For this box I stamped the image from Outline Snowflake Background stamp on Craft Perfect Scarlet Organza satin mirror card with Simon Says Stamp clear ink and I heat embossed it using Wow Gold Sparkle embossing powder.
This box measures 4″x4″ and I only used a scoring board and scissors to make it.
Top Tips:
Use the stamping platform for precision stamping. When usingmirror cardstock the inked stamps tend to slide on it! Noooo… eliminate the risk and get the benefit of multisampling to get crisper images.
Do not use a bone folder directly on the paper to go over the scoring lines. This can cause the embossing powder to move a little bit or can tear the paper.
I found high gloss paper to be the best for these kinds of projects as the satin finished paper could crack a wee bit on the scoring lines area. I think the plastic coat of the glossy finished paperkeepsthe paper fibres together.
Avoid overheating the mirror cardstock. You will notice that when heat embossing this paper it will lose the gloss a wee bit but it will be still shiny and beautiful.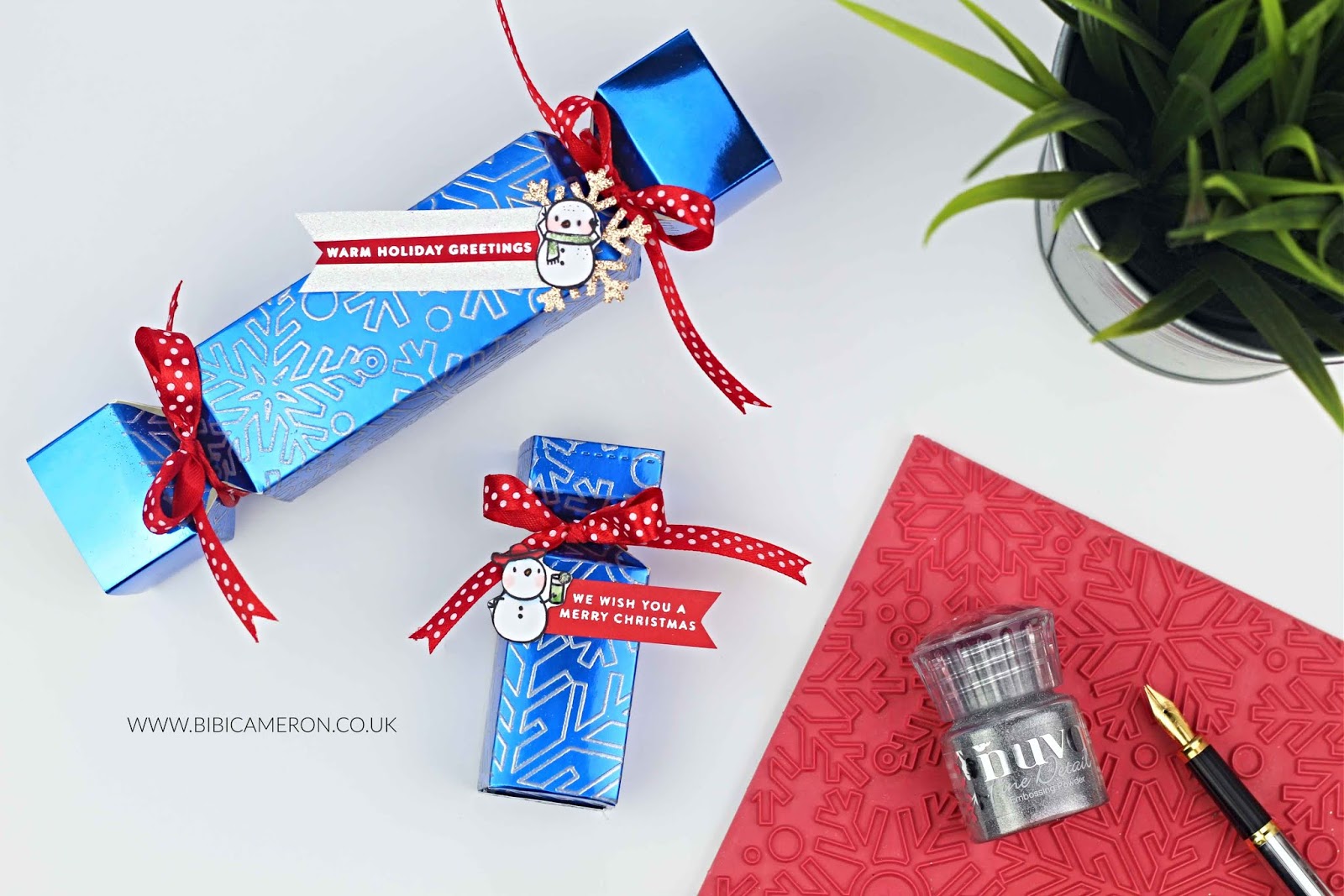 For these crackers, I stamped the image from Outline Snowflake Background stamp on Craft Perfect Imperial Blue mirror card using Simon Says Stamp clear ink and I heat embossed using silverembossing powder.
These crackers are super easy to make using an envelope punch board. I 'm preparing a very short video to share over my Youtube Channel the process of making Christmas crackers in any size!
The large cracker the picture measures 7-1/2″ x 1-1/2 inches
The small one measures 3- 1/2″ x 1-1/4″ inches.
For this box I stamped the image from Outline Snowflake Background stamp on Craft Perfect black gloss mirror card with Simon Says Stamp clear ink and I heat embossed using white embossing powder.

This box measure 2-1/4 " x 2- 1/4″ but you can make it in any size using the envelope punch board.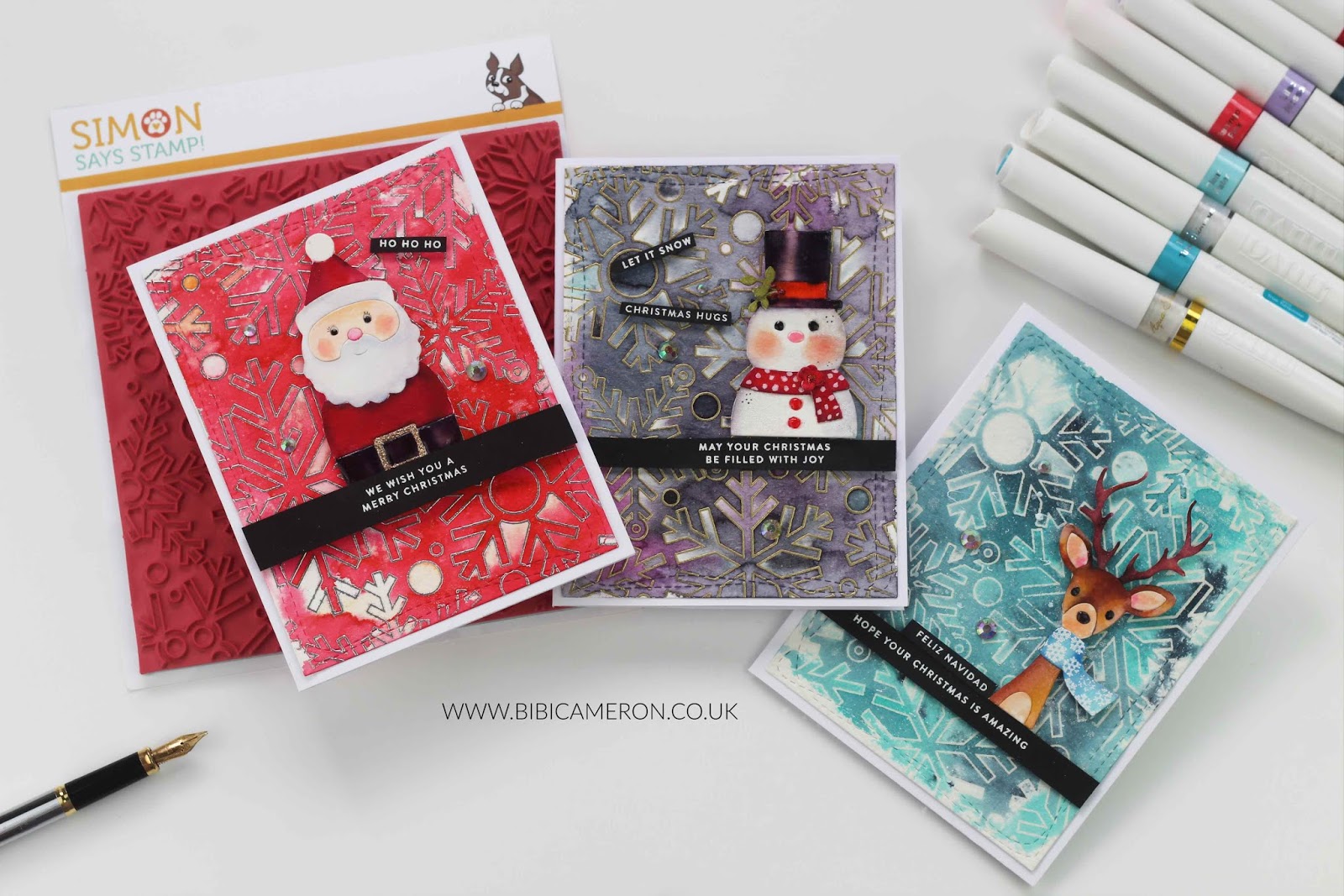 I also made a previous post using Outline Snowflake Background stamp. For more inspiration have a look here !
That's all for today!
Thanks for stopping by and for your kind comments, I always read them all and I'm happy to answer any questions.
Subscribe to my blog here! or my Youtube Channel here! To receive notification when a new post or videos go live.
Happy Crafting and many hugs
x
Bibi
Supplies
Just a note to let you know that when you buy through the links below I get a small commission at no extra cost to you. Thanks for your support.