Hi there, I'm back with another Colorado Craft Company blog post. This time I'm featuring images from Lovely Legs Mothers & Daughters stamp set.
Isn't this stamp set adorable? I love it.
It contains 10 individual stamps to make cards for mothers or daughters all year round. So you can celebrate the joy of having a mother or a daughter's any time.
Having a good mother or a good daughter is better than winning the lottery!
I have been blessed as I couldn't have a better mum and my daughters never give me the headaches I gave to my mum. lol
3 years ago, when my mother was diagnosed with Alzheimer's my eldest daughter Paula (23) wanted to make sure that she will understand that even though she could forget everything she will never be forgotten.
So Paula got a tattoo with my mother's name on her arm!! I begged her not to get a tattoo at all and so did my mum but Paula didn't listen.
I think that this very small act of love allows you to picture the tender feelings my mum can inspire and the beautiful soul of my eldest daughter as well.
My mum shoes
Anyways…Back in the '80s, my mum had a blue and a red pair of shoes. I played with them all the time.
So that I used these colours for the card below.
This stamp set made me feel sooo nostalgic.
Stamping and easy copic colouring
To make these cards I simply stamped the images using Memento Black Ink on a panel of white Neenah Solar Crest 110Lb cardstock and I applied colours using Copic markers.
You can colour the images with any of your coloring mediums you might have and you can apply different skin tones.
Use a white gel pen or a white Posca marker to add details to stamped images.
Use Nuvo Shimmer Pens to add sparkle. I used a Nuvo Midas Touch for my cards today.
Using Elegant Twist Rectangles by Becca Feeeken I die cut the images and also a couple of panels out of kraft cardstock.
I simply glue the white panels with the images over the die-cut kraft panels and then I adhered them onto a C6 card base.
To finish, I added Nuvo Crystal Glaze over the shoes to make them shiny.
free your self from colour references
I would love to invite you to free yourself from colour references.
Grab 3 or 4 shades of colour that look alike and blend them.
Start applying the darker shade in the area you want to have shadows and blend lighter shades in the opposite direction.
Repeat until you are happy with the result.
That's all you need to know about blending alcohol markers. Any brand word the same.
I hope to have inspire you to create something special for your mother or daughters today.
Sending love,
Bibi
Supplies list
Affiliate links apply at not extra cost to you. thanks for your support.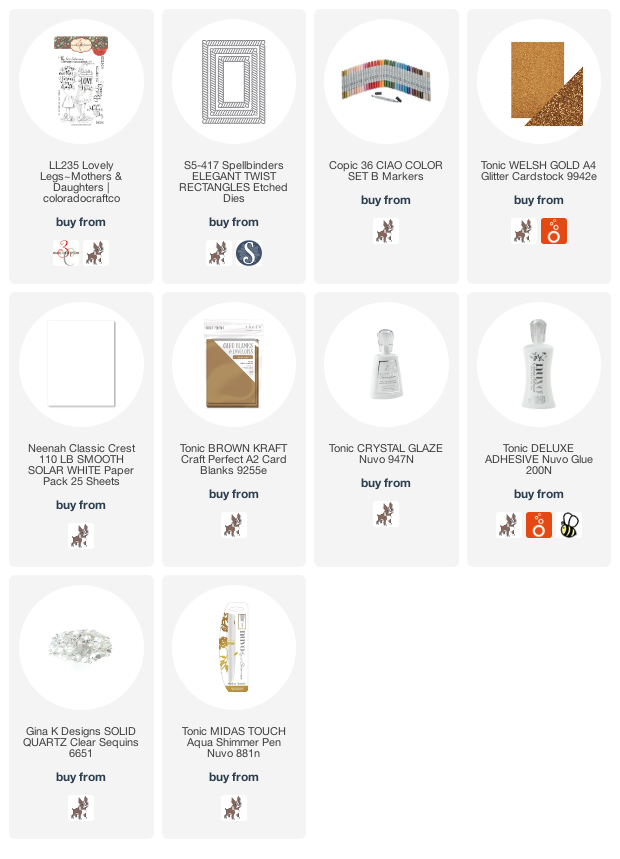 Check more colorado craft post below