Hello everyone, welcome to my blog! I hope you are doing well.
Today, I'm sharing a card made using the absolutely gorgeous Big & Bold~Perfume Bouquet stamp set by Colorado Craft Company.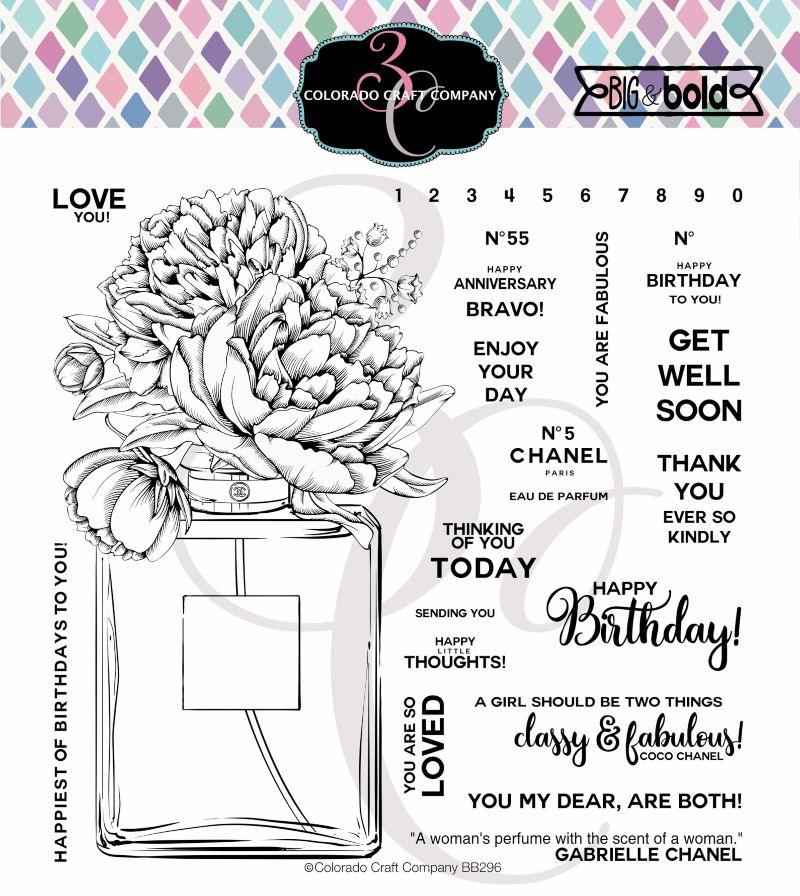 This is a 6×6 inches stamp set.

Include 28 stamps.

Price: $19.99
Postage to the UK is only $5 from the USA at the Colorado Craft Company here!
Last year, have the chance to join Simon Says Stamp Stamptember's collaboration with Colorado Craft Company in my post here since then my heart started beating for these stamps.
Early this year, I saw on Instagram a card made by one of my crafty divas and good friend Yana Samakulausing this set. I just wanted it so badly but sadly it was sold out after I saw Yana's creations!!!
I was patiently waiting for it to come back to stock but it wasn't happening and then my dear and talented friend Daniel West send me a happy mail and this stamp was in it!! Bless him!!!
This set is from the Big and Bold Collection and I also love the "Lovely Legs collection here"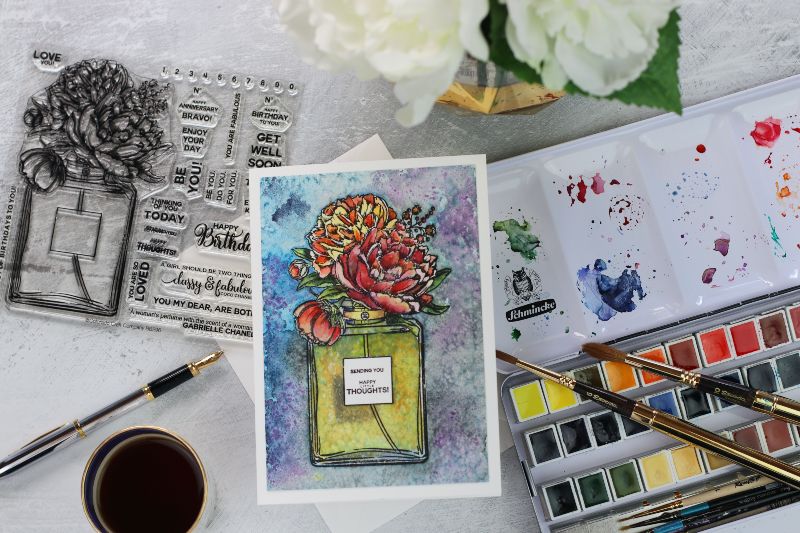 I decided to dedust my Schminke watercolor paints to add colour to this beautiful image.
Schmincke are considered the top best watercolour paints available and so the price could be from 5 and up to 10 times the price of other paints I got in my stash.
Regardless of the price, I love them just as I love all the coloring mediums I share in my blog.
The color intensity of this pain is great but what makes a huge difference from others is the dispersion and granulation of this paint. It is simply incredible!!!!!!
These paint also have the highest possible lightfastness rating (4 and 5 stars). This means that when the pigments are exposed to light or weather, they could last from 50 to100 years or over.
You can use any medium to add your personal touch to this image. I wanted to do something arty so that water-based mediums are always a good choice.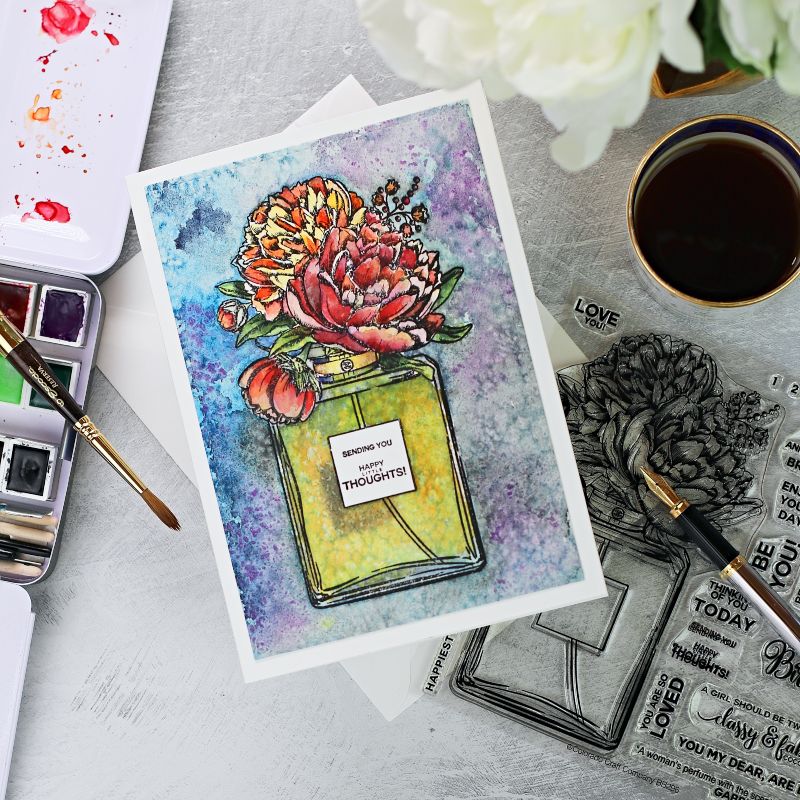 The Cardmaking Process
I stamped the image using Versafine Black Onix Ink on 300 grams Arches cold-pressed watercolor paper.
I then added a couple of quick colour washes over the flowers.
To make the background, I simply added washes of blue and purple paint around the image (masking fluid wasn't necessary)
When the paint was still wet I applied salt ( kitchen salt).
I allowed the panel to dry with the salt over until the next day and I removed it.
I finished painting the bottle just by adding a wash of yellow paint over and a shadow for the label.
Using the stamping platform, I stamped the small banner on smooth cardstock, I fuzzy cut it and glued over the center of the image.
The sentiment says: "Sending you happy little thoughts" … The letters are so tiny and still crisp and clear over the paper. I'm really impressed with the high quality of this stamp set.
Loving the texture created by the salt too!
Supplies Used
That's all for today.
I hope you like this project.
Happy Crafting!
x
Bibi
Supplies
Just a note to let you know that when you buy through the links in my blog, I get a small commission at no extra cost to you.
Thanks for your support.