Hi there, I hope you are doing well and stay safe. I enjoyed colouring the beautiful images from Be my Valentine stamp set by Simon Says Stamp while trying for first time Altenew watercolours paints.
The gorgeous roses in the set and many of the sentiments can be used all year round to make cards for any occasion.
For the background, I used Deco Diamond Background Stamp. I love this stamp, you can see other card samples using this background stamp here!
Be my valentine stamp set
Be my Valentine is a massive (6×8 inches) stamp set. It includes 26 individual stamps.
It also includes 14 love/friendship, congratulations sentiments.
2 large roses and foliage you can easily stamp to create all sources of compositions.
Minimum easy masking needed.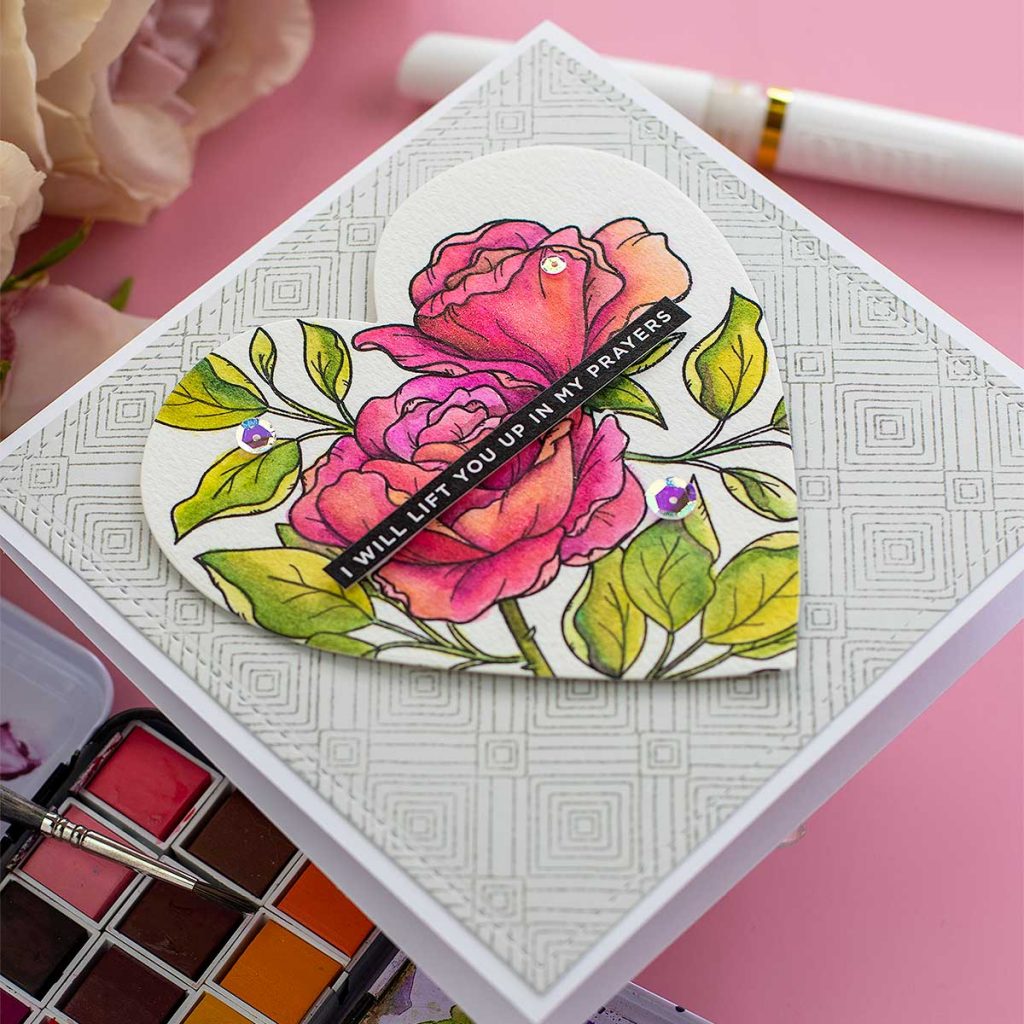 sentiment strips
I'm also loving Simon Says Stamp pre-printed sentiments. They are easy to use and very convenient as you can quickly and effortless add the perfect greeting to your cards.
For this card I used Sentiments strips Reverse Love…
I also use the sentiments strips in my post here, here and here!
Simon Says Stamp offers other pre- printed sentiment strips packs:
• HAPPY • SYMPATHY • MOM DAYS • GRAD • ALL THINGS HAPPY • MISS YOU • LOVE YOU MORE • CHEEKY LOVE • CHRISTMAS • WINTER• BIRTHDAY• THANK YOU • BESTIE•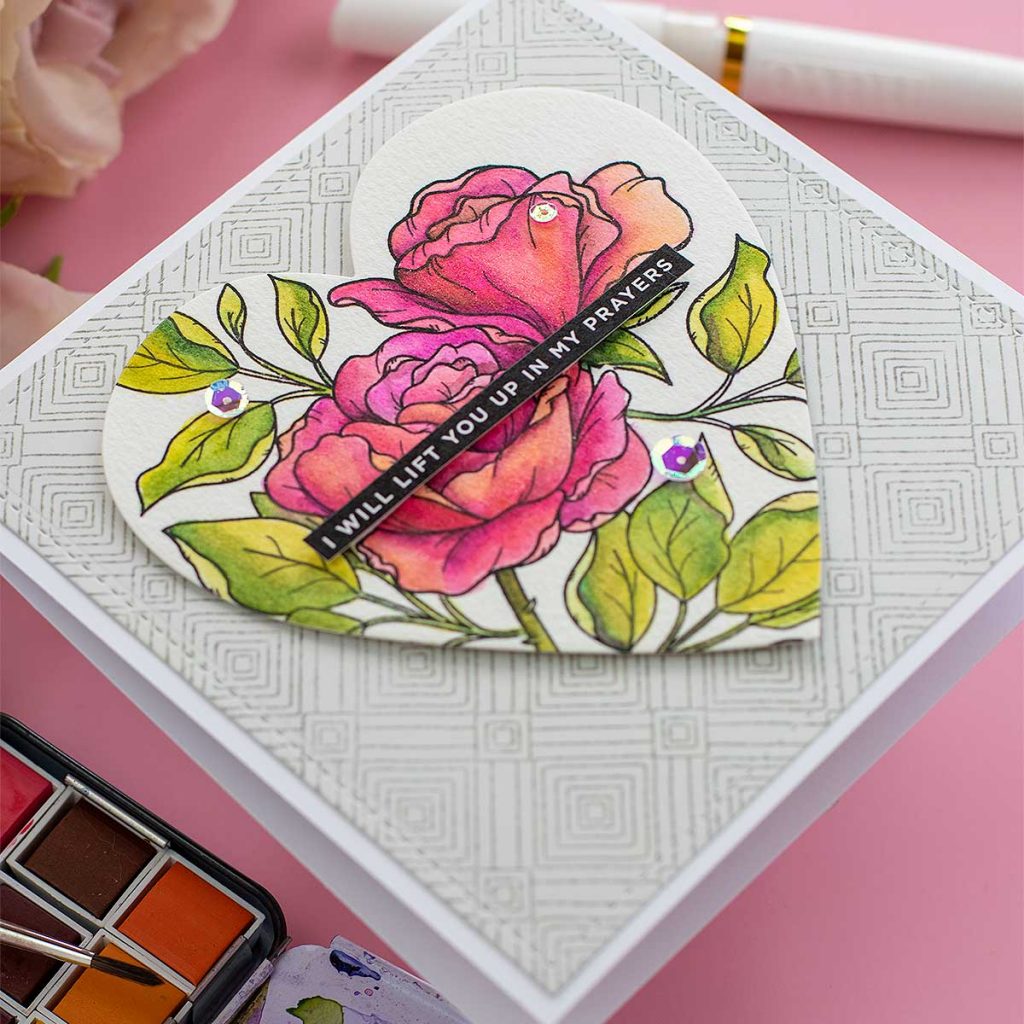 the card making process
So I first stamped the images using Versafine Black Onix ink on Arches watercolour paper.
I used a stamping platform for precision stamping.
Next, I applied colours using Altenew watercolor paints and I die cut the coloured panel using a heart die.
I die cut the background using a square die and I stamped it using Deco Diamonds Background stamp and grey ink.
altenew watercolour paints
I have so many different sets of watercolor paints in my stash. From inexpensive to Schmincke. I think that all of them give me different benefits.
Schmincke lightfastness is superior and the artwork coloured with this paint will last up to 100 years.
For cardmaking, spending £250 in a set of 36 half pans sound a bit eccentric but a couple of years ago I treat myself with one of those and I also wanted to have a reference to review other paints.
Now, this might sound a bit crazy but in terms of colour application, my unexpensive paints does the same= they works.
I loved Altenew watercolor paints vibrancy and transparency from the first stoke. Their lightfastness rating of 4-5 ( blue wool rating, I guess) means that some of the pigments will preserve the colour and vibrancy from 15 up to 50 years. For the price, I defo will recommend this product!
Something I noticed and I loved the most about Altenew watercolour paints is: 'the pinks"
the pinks
None of my watercolour paint sets includes ready to use pink and bright purples as the set Altenew 36 pan set.
This is so remarkable as mixing colours to achieve certain shades of pink can be challenging for beginners.
I used those brights pinks and purples to colour the roses in my card today.
That's all.
I hope you enjoy this post.
Happy Crafting
Supplies
Affiliate links apply at no extra cost to you. Thanks for your support.