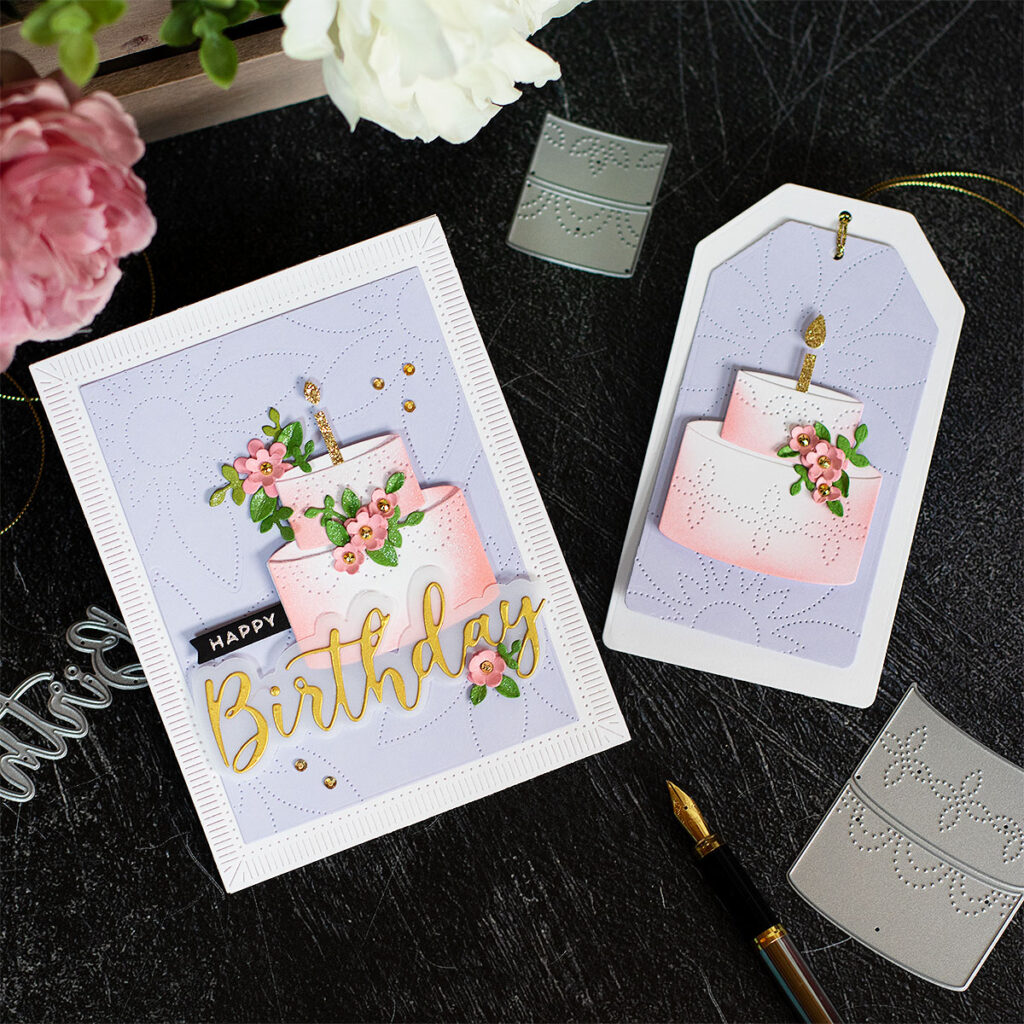 Hello there, I've made a couple of projects using the new Decorated Cakes and Birthday Wafer Dies from the new "And Back Again" Simon Says Stamp release.
And Back Again is a Birthday/Love/friendship stamping release and you will find heart-themed dies, stamps in different shapes and sizes (I'll be using some of them in my next posts).
Decorated Cakes Wafer Dies
This cute die set will allow you to easily create two-tier die-cut cakes for papercraft projects of different sizes.
Decorated Cakes Wafer Dies includes 2 dies.
Each die will cut 2 pieces with different decorative dotty patterns.
When running both dies through the die cutting machine, you will get 4 die-cuts.
You will need those 4 die cuts to create one single two- tier cake.
A set of die-cuts will be the front of the cake and the other will go upside down at the back so that it gets that bidimensional shape at the top of each tier.
The cakes assambled measures about 2″x2″ inches.
Decorated Cakes Birthday C6 Card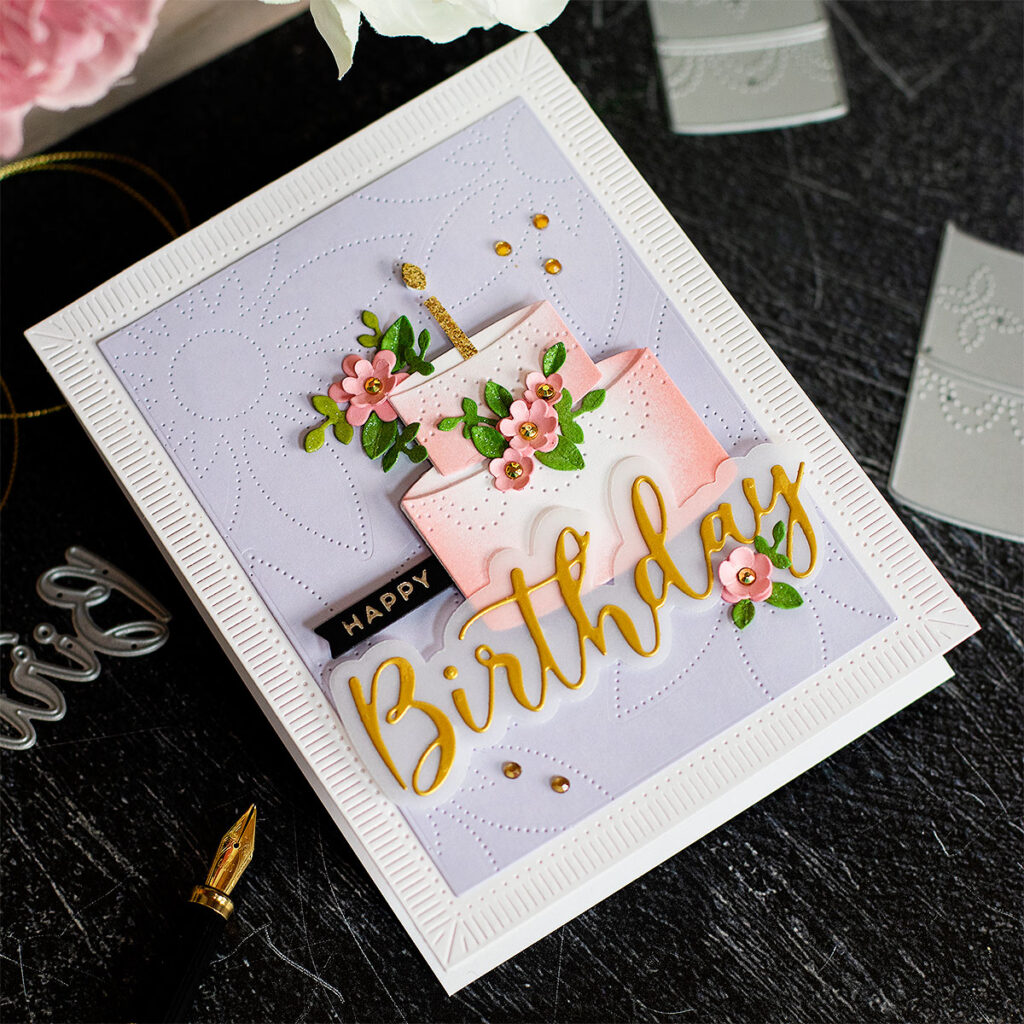 Dies used to make this C6 Card: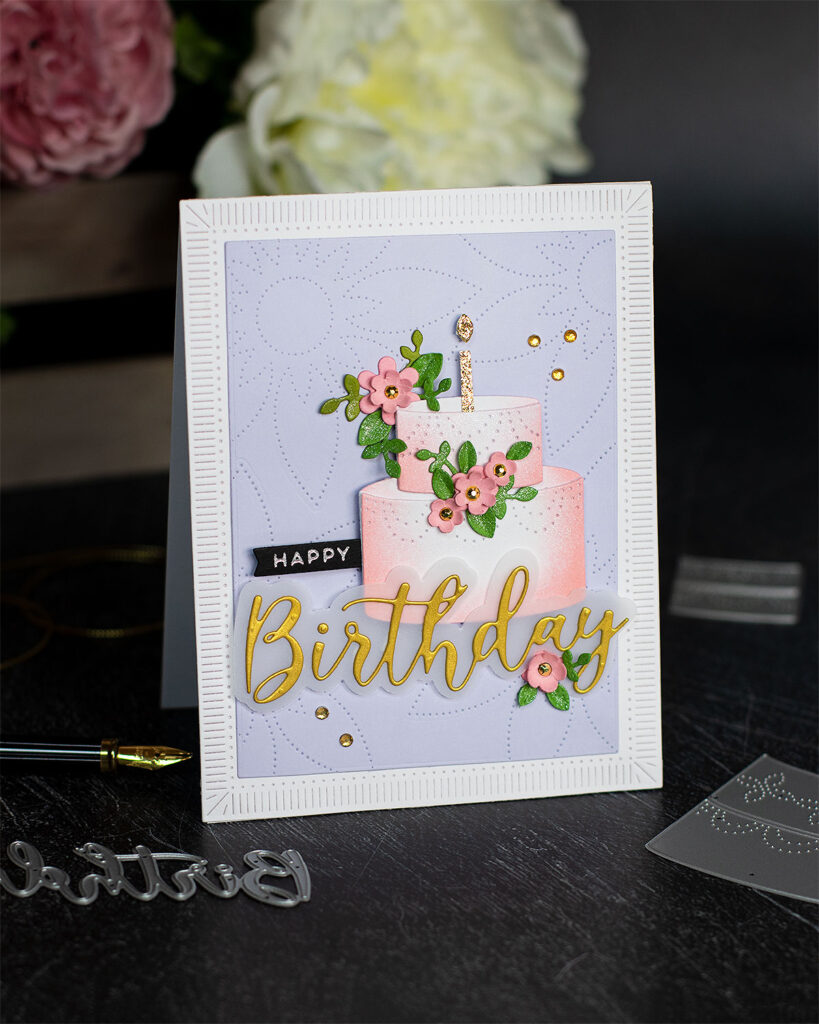 The backgorund Pieces
Use stitched dies to add patterns to your papercraft projects
One key idea for you today is to use dies such as Stitching Sunflower Wafer Dies by SSS to die-cut a pattern in the background pieces of your projects.
I think it really makes a difference and it could add value to any simple composition.
The dotty inlaid die-cut created by the Stitching Sunflower die is also similar to the patterns created by Decorated Cakes.
So I also would like to invite you to look at your dies to find compatibility and coordination between them all the time.
Decorated Birthay Cake Tag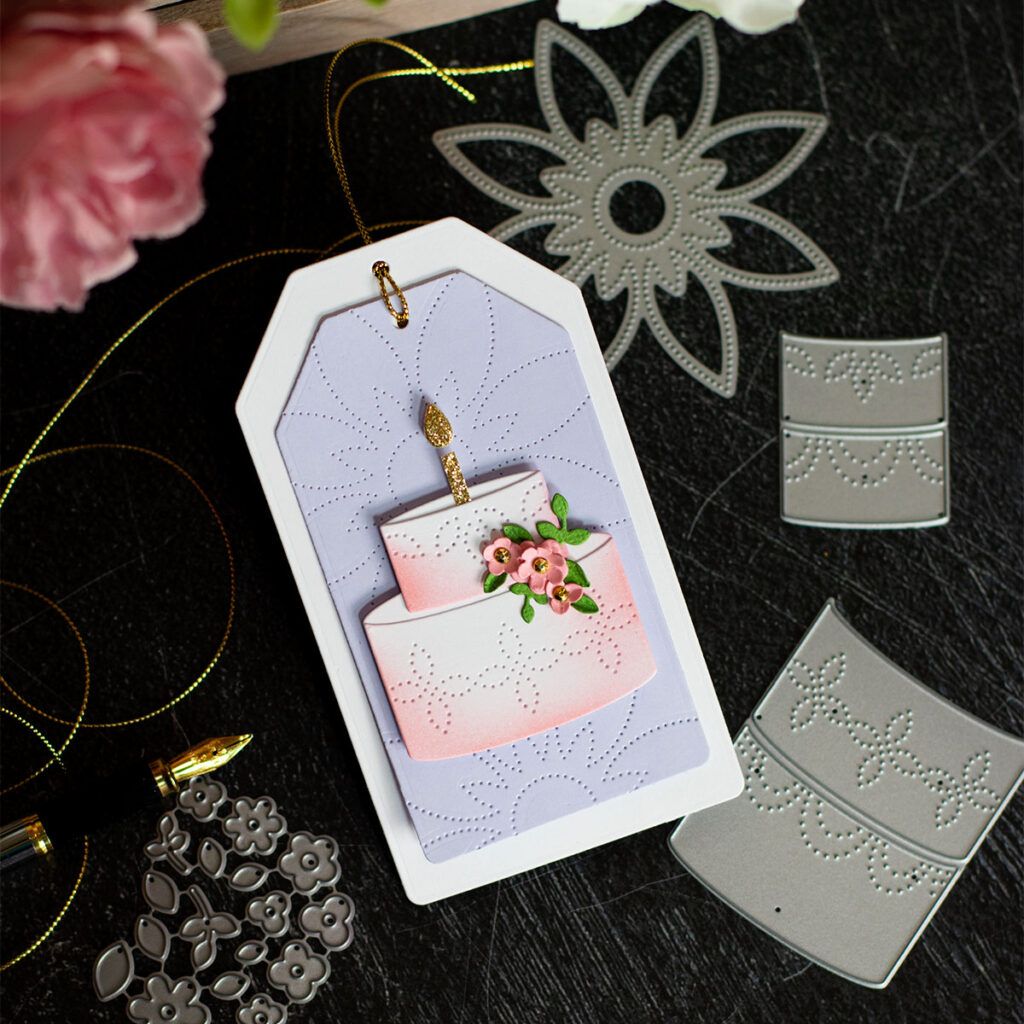 I also made a tag to give you an idea using Decorated Cakes Wafer Dies by SSS in smaller projects.. but as always the sky's the limit.
As the cake measures, 2″x2″ inches this tag is a medium size ( 4 x 2-1/2″ inches) but it could be smaller if you need to and the tag can be any shape as well.
Anyways, after die-cutting the tags using Nested Tags by SSS our of white and lilac cardstock, I used Stitching Sunflower Wafer Dies to add a pattern to the Lavender Cardstock ( lilac) tag.
To finish, I stuck the die-cut cake to the tag using adhesive foam pads, I added little flowers and a DIY candle.
Dies used to make this tag
*** Click on the image below to find all the products included in the new "And Back Again" Simon Says Stamp release.
Thirsty for more?
That's all for today.
Thanks for stopping by.
x
Bibi
Supplies
Affiliate Links apply at no extra cost to you. Thanks for your support.