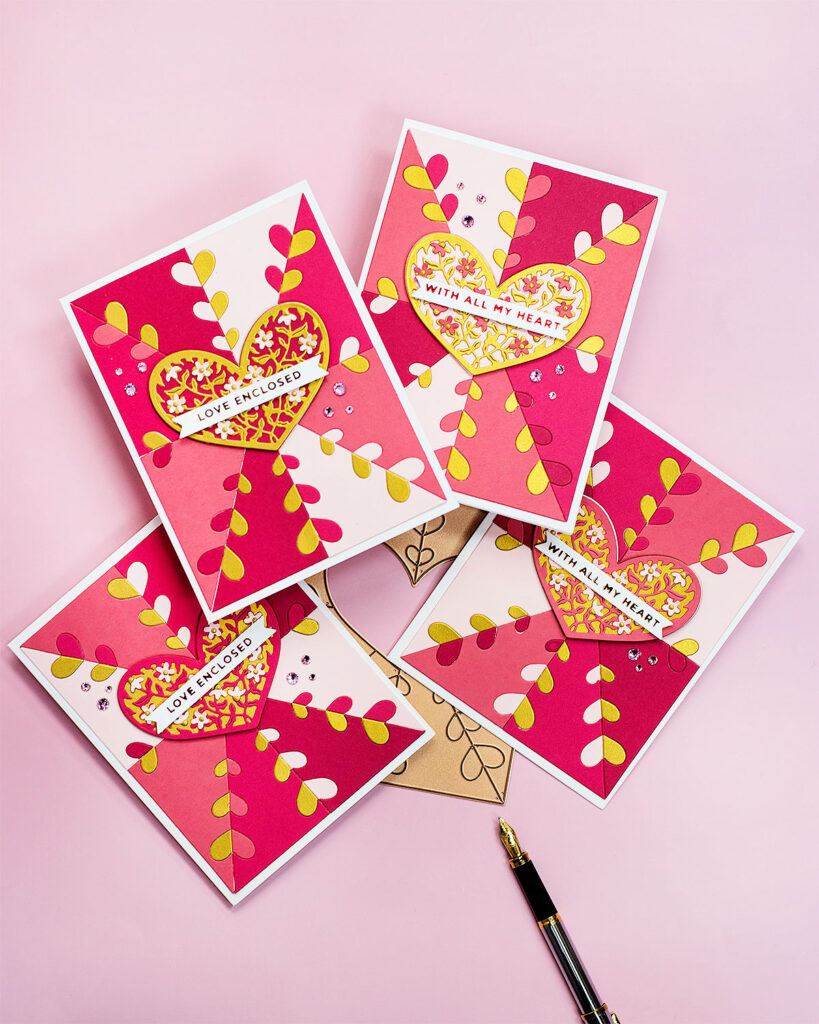 Hi crafty friends, I have some paper piecing tips for you using The Spellbinders Small die this month.
The beautiful die set is called "A Lotta Heart" and it will make the most gorgeous die-cut background.
Paper Pieceing Tips – video Idea
Click on the image or click here to watch a speedy video on my Instagram
Once you run background dies like the Spellbinders Small die this month and your cardstock through your die-cutting machine, the die-cuts might tend to stay together.
This will allow you to quickly add adhesive at the back to make a speedy monochromatic composition like the one below.
However, as soon as you start removing die-cuts from the background, all the pieces might start falling apart and you will be left with many little pieces all over the place.
Paper Piecing Tips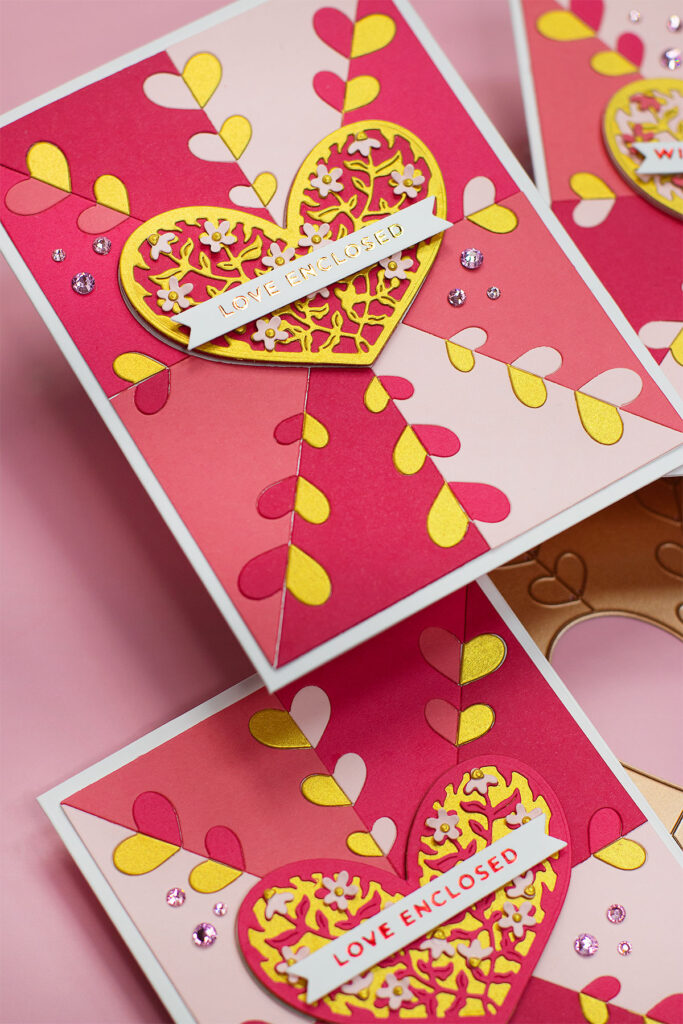 Tip 1.
To save time assembling this type of background, I have been sharing an effective paper piecing idea using Pressn' Seal at the back of the cardstock prior to die-cutting to hold the die-cuts together.
Alternatively, instead of Pressn' Seal you can also use fabric + temporary spray adhesive as shown in the video here.
Pressn' Seal or Sticky Fabric are great paper piecing aids especially to work with small die-cuts.
The only downside of using Pressn' Seal is that sometimes it could be a little bit tricky to remove some die-cuts from the film.
This does not happen with the fabric tho.
Nevertheless using any of these aids is totally worthy, time-effective, and mess-free.
Tip 2.
To make this type of project it is also very helpful to emboss the paper using the die you are using to die-cut the background or the image you will paper piece.
The embossed image can be used as a guide to adhere the pieces in place and as aligned as possible.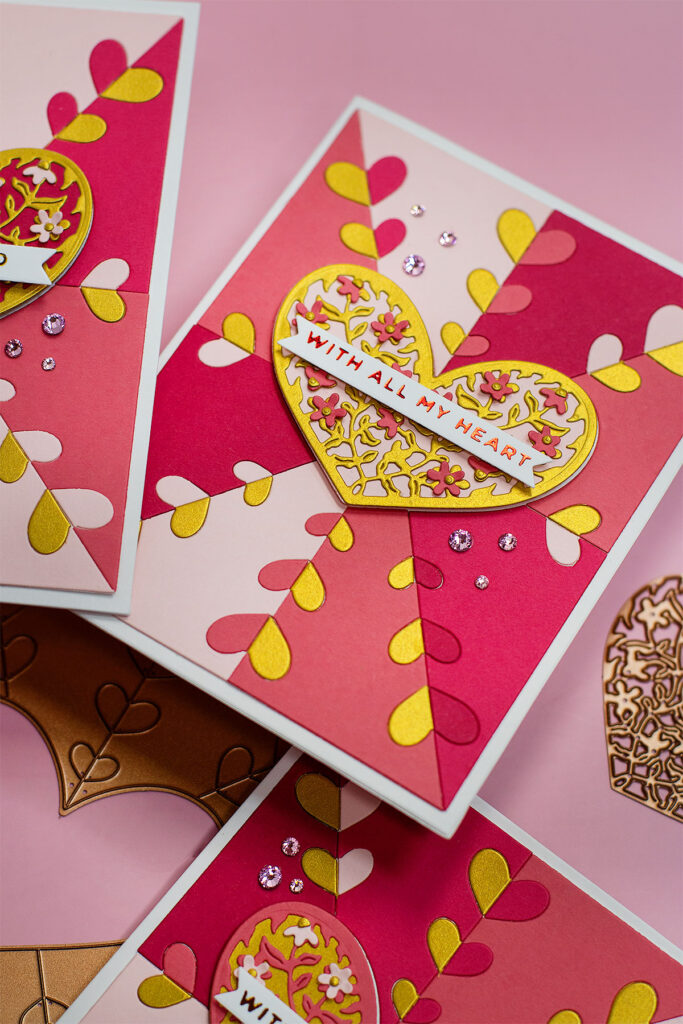 I also added to these cards hot foiled banners made using Spellbinders Specialty Glimmer Cardstock, the Glimmer Hot Foil of this month called "Love Enclosed" + red hot foil and Polished Brass hot foil.
To die-cut the banners, I used a die included in Stamp of the month + Coordinating Die ( January 2022 Sold Out)
You can find a similar die banner on the Mini Everyday Sentiments Glimmer Hot Foil Plate & Die Set.
Spellbinders MOntly Kits Subcriptions
Spellbinders offer a variety of monthly kits and also kits combos at special price ( value kits)
Spellbinders Value Kits
*** Any of the kits can be bought on a one-off purchase or a subscription that you can cancel anytime.
SPELLBINDERS CLUB KITS ARE NOW AVAILABLE IN THE UK WITH A LOCAL DELIVERY SERVICE!!!
This means that the cost for joining any of the Spellbinders Club Kits in the UK has gone significantly down.
These are great news for crafters in the UK that can access the kits without extra international shipping costs!!
Local UK delivery service from $3USD / £2.20 ( Fees January -2022)
THIRSTY FOR MORE ?
Have a look at other projects made using the Spellbinders Kits of this month.
SPellbinders Small Die January 2022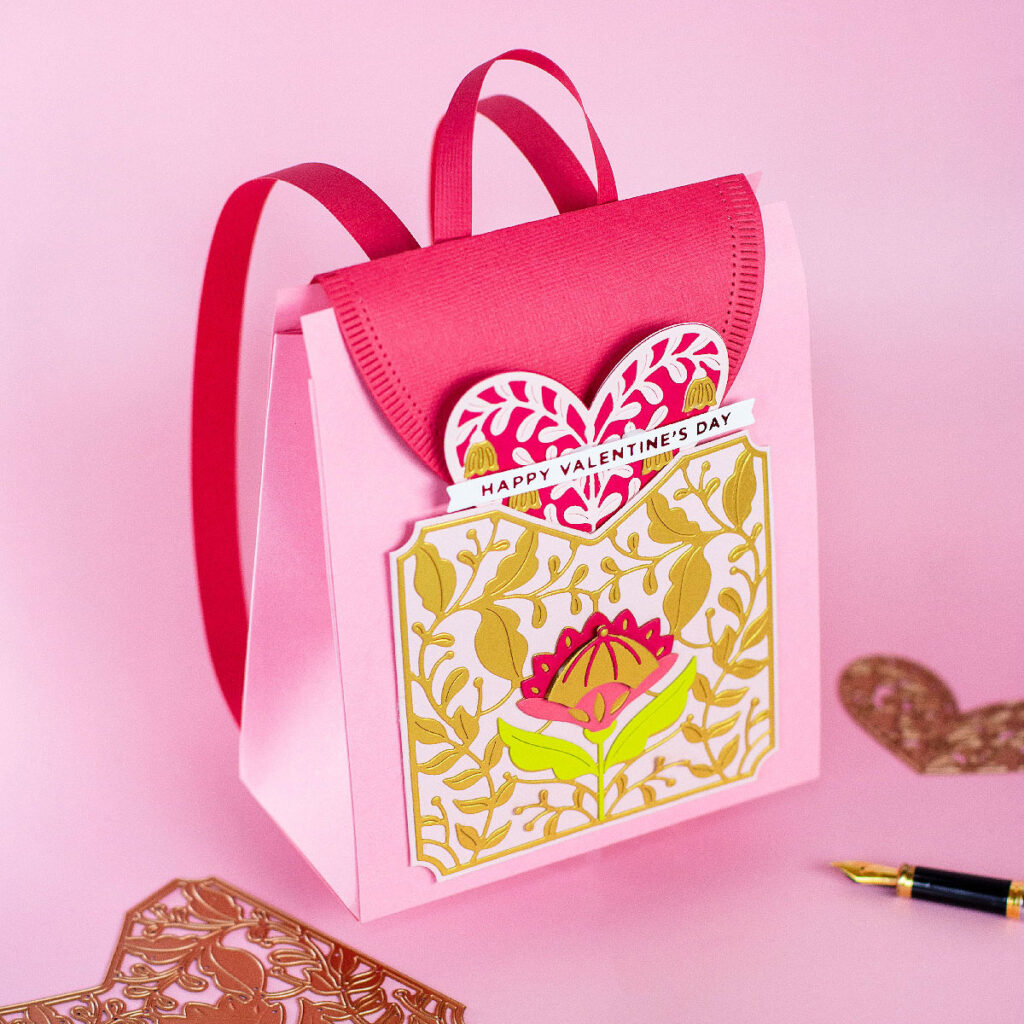 APG KIT OF THE MONTH – January 2022
Check More kits inspiration
That's all for today.
I hope you enjoyed my Spellbinders monthly inspiration.
Happy Crafting.
X Bibi
SUPPLIES LIST
Affiliate links apply at no extra cost to you. Thanks for your support.