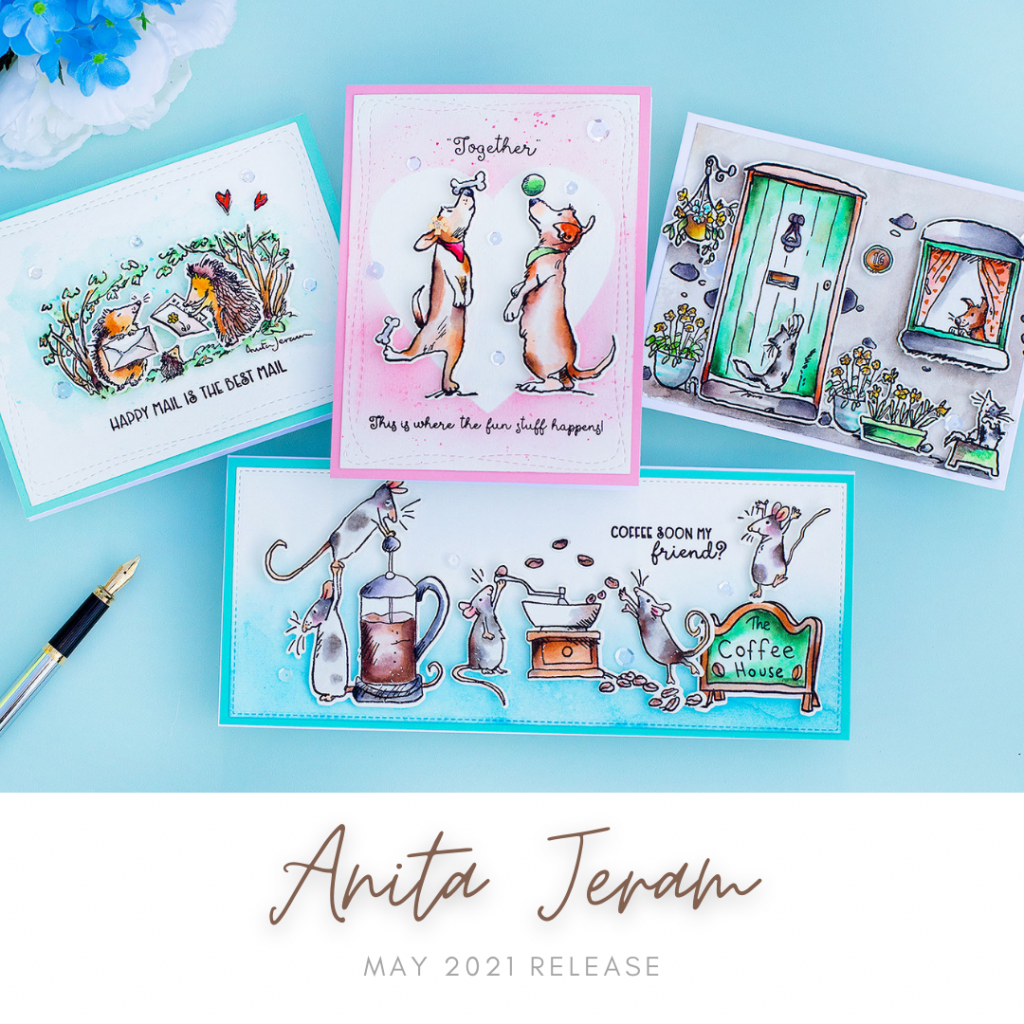 Hi there, welcome to my blog and to a new Anita Jeram release Blog Hop by Colorado Craft Company.
Four new gorgeous stamp sets and coordinating die sets are available now at :
FREE and discounts on SHIPPING
****Offer valid on the 17th & 18th of May (ENDS THE 18TH AT MIDNIGHT MST)
Use my codes to enjoy FREE USA Shipping – CODE FREESHIPPINGBC
For $5.95 off the international flat rate of $15.95 use the : CODE CCCBC
What is new ?
All the stamp sets in this collection include an image of a whole scene or with various elements and also include individual stamps of the scene components.
The dies sets include dies that will cut the whole scene and also the smaller individual components included in the stamp sets.
This allows you to easily die-cut images to layer them up for a tridimensional look and to easily add colour to the background panels.
I made samples with each set in this release to provide ideas and inspiration.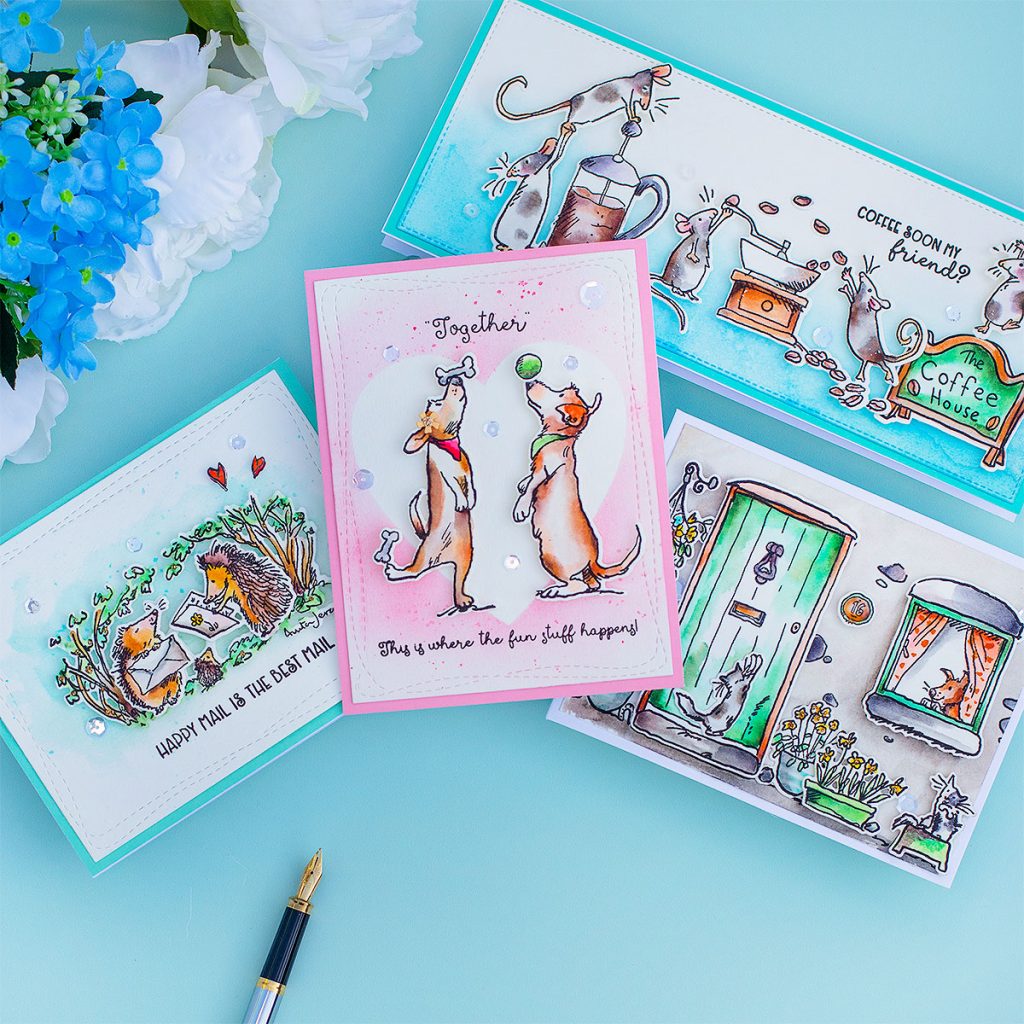 The Cardmaking Process
The Misti ( stamping tool) was essential to make all the cards in this post since I stamped over watercolour paper.
Home Sweet Home – Anita Jeram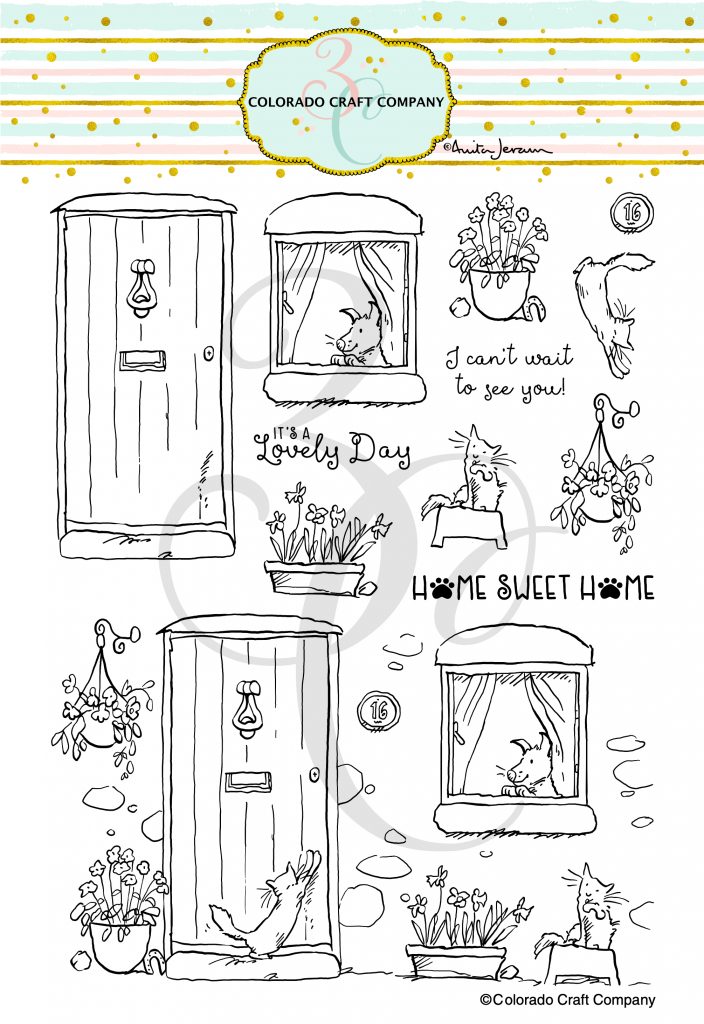 Home Sweet Home Stamp Set [ SSS – CCC ] – Home Sweet Home Die Set [ SSS – CCC ]
This is a 6×8 inches stamp set.
It offers a 5-1/2″ x 4-1/4″ inches stamp with a whole scene and also individual stamps of the scene components.
You can use the images to create any size projects.
For these cards, I stamped the image on the background panels and I added colour.
Then, I used using dimensional foam pads to stick the die-cut/coloured images over the panels.
Watch This- ANITA JERAM DOGS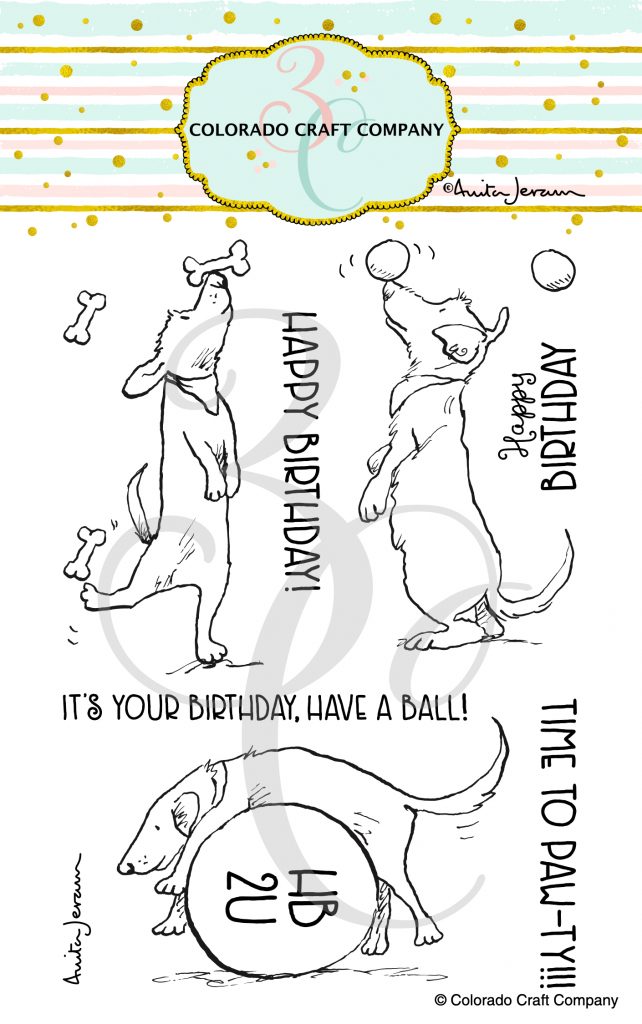 Watch This stamp set [ SSS – CCC ] – Watch This die set [ SSS –CCC ]
This is a 6×4 inches stamp set.
Although this is a birthday theme stamp set, you can use its gorgeous illustrations to make cards for any occasion by adding sentiments from other stamp sets.
I used stamps from Anita Jeram Better Togetheer stamp set to complete the card below.
To die-cut the background panel, I used the larger die from Wonky Rectangles.
Then, I used a heart die to cut a mask.
I place the heart mask on the center of the panel and I applied Worn Lipstick Distress ink around it using a small ergonomic blending brush.
With the mask still over the panel. I splattered the same ink colour diluted with water.
Once the panel was dry I stamped the sentiments using Versafine Black ink and the Misti.
To finish, I stuck the die-cut/coloured images over the panels using dimensional foam pads to.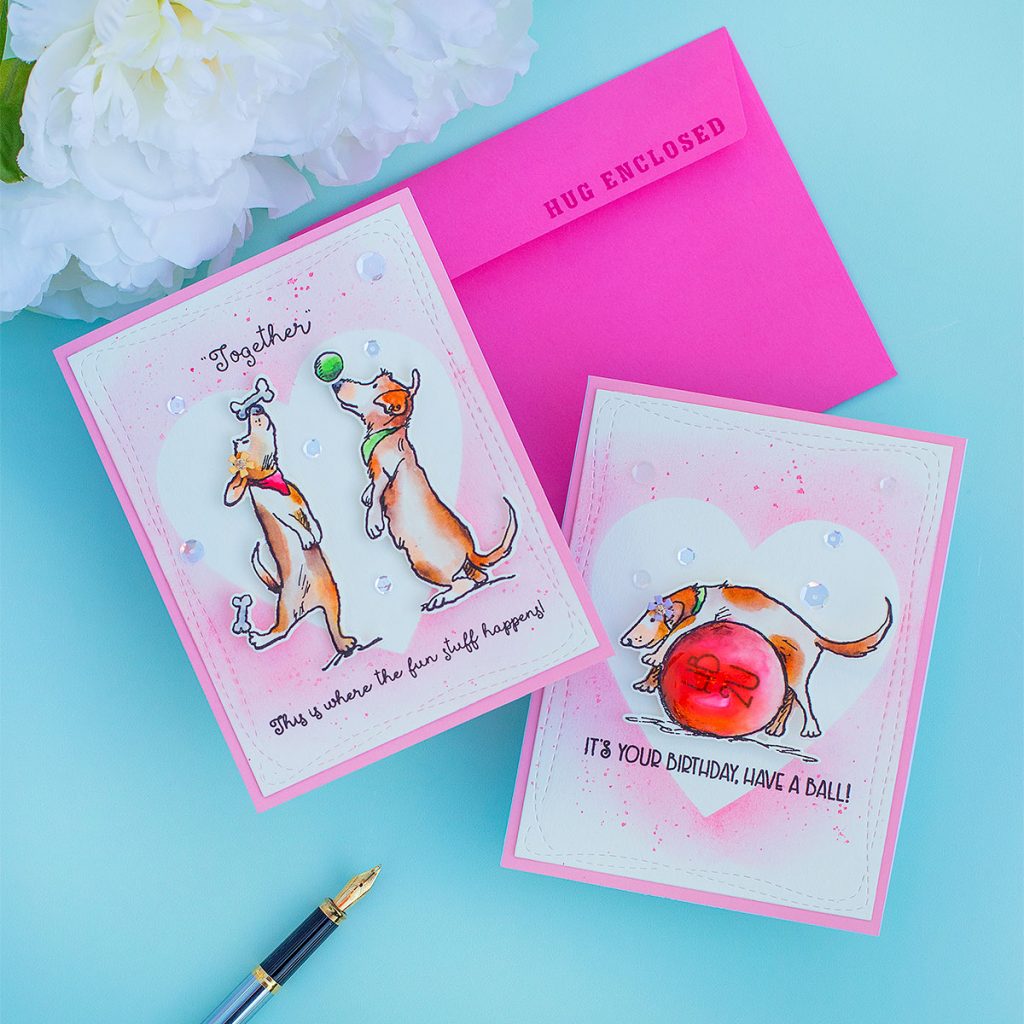 These are C6 cards ( they measure 4-1/4″ x 5-1/2″ inches).
Coffee House- ANITA JERAM mice
Coffee House stamp set [ SSS – CCC ]- Coffee House die set [ SSS – CCC ]
This is a 6 x8 inches stamp set and it is super cute and easy to colour.
Ideal to make a variety of projects includes images that are up to 3 -1/2 inches tall.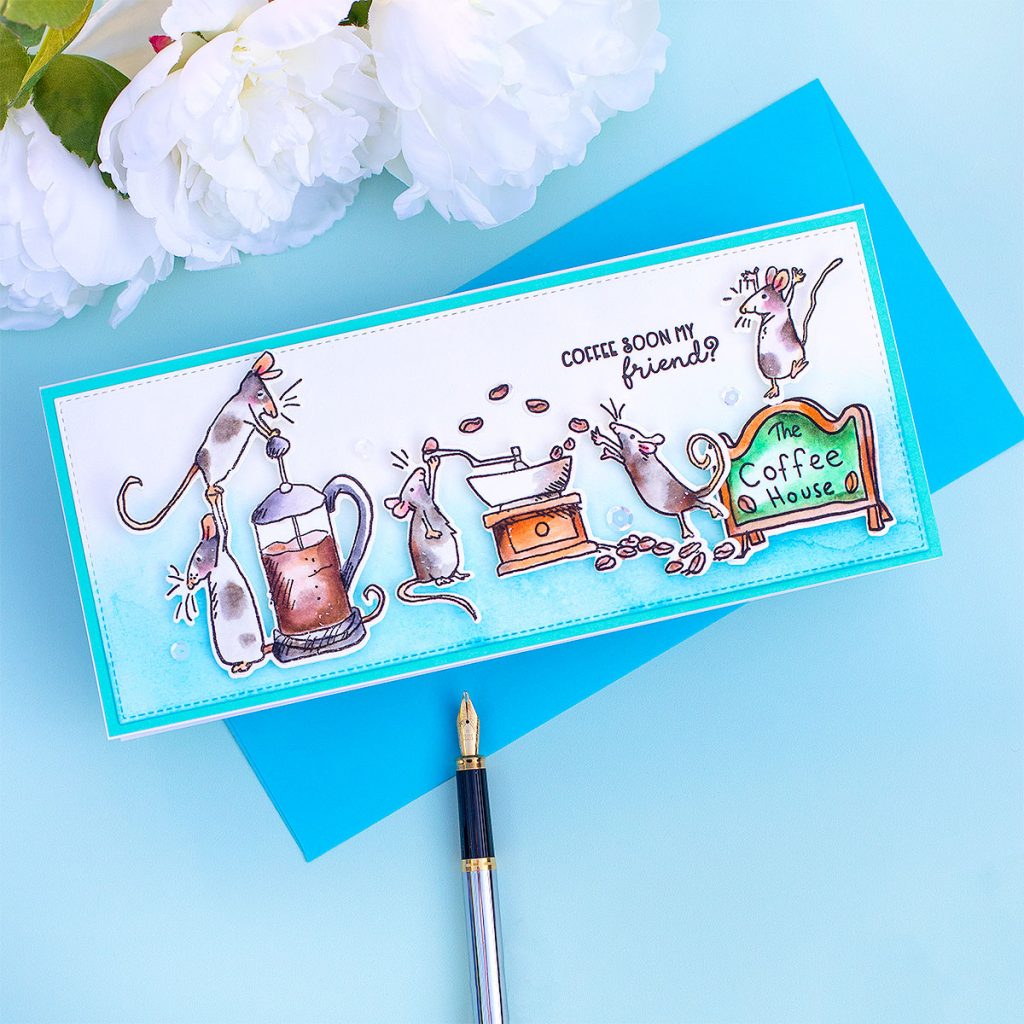 Hedgehog Days- ANITA JERAM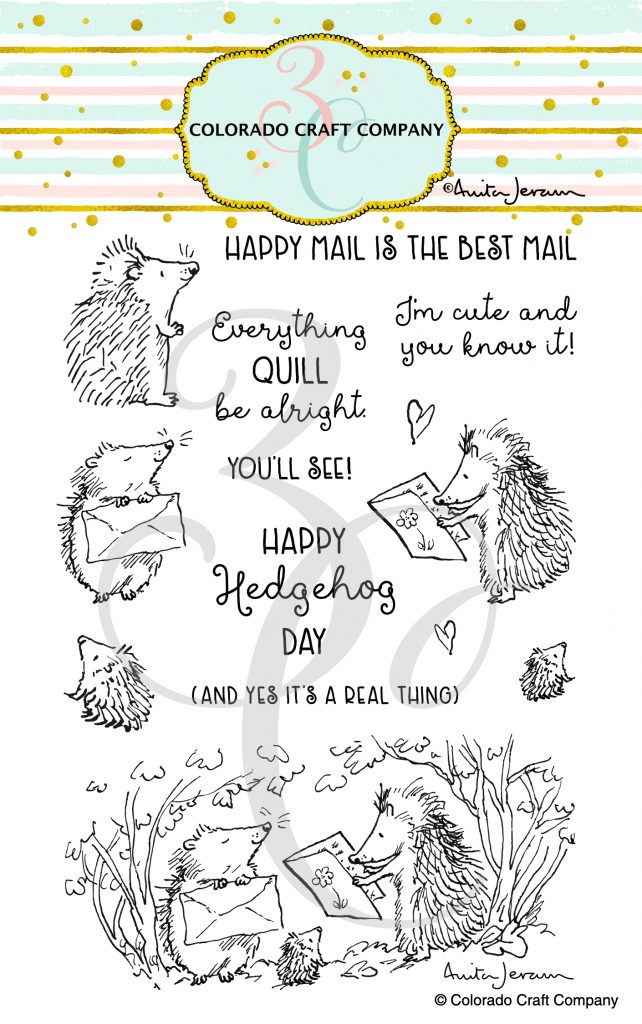 Hedgehog Days stamp set [ SSS here – CCC]. -Hedgehog Days die set [ SSS – CCC ]
This is a 6×4 inches stamp set.
The card below have some dimension, sadly is hard to see in the pictures.
After stamping and coloring the image with the trees, I stamped apart two individual hedgehogs.
Then, I die-cut the small hedgehogs and I stuck them onto the pieces with the trees using dimensional foam pads.
I glued the topper onto the background panel that I previously inked with the ink of a Zig Marker diluted with water.
Anita Jeram Colouring Video Tutorials
Blog Hop
GIVEAWAY
Colorado Craft is giving away a $25 promo code to each stop in the hop.
The winner of my blog giveaway is "Renee VanEpps" a member of the Colorado Craft Company Team will contact them to deliver the price.
Thank you everyone for your kind comments. They really warm my heart and make my hard work worth it.

Thanks for stopping by
Bibi.
X
Supplies List
Affiliate links applies at no extra cost to you. Thanks for your support.