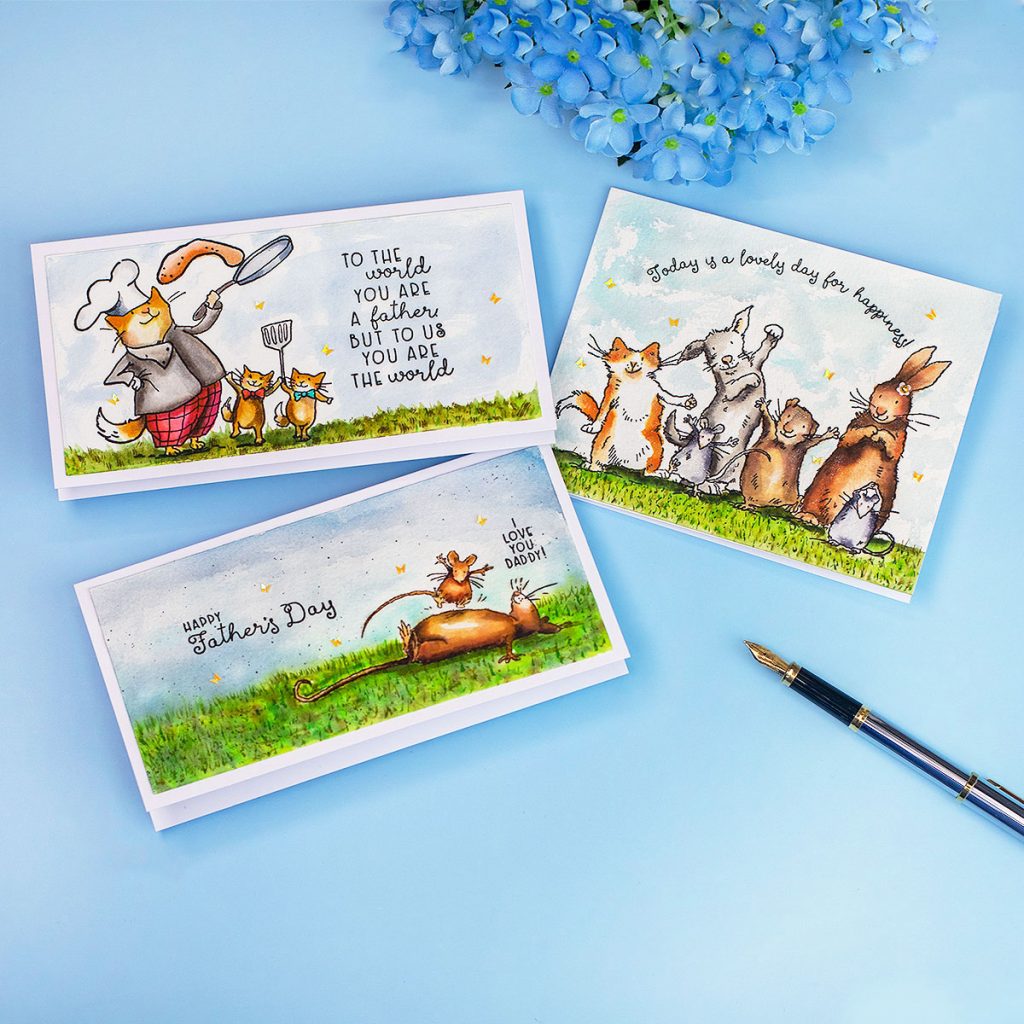 Hi there, today we are celebrating a new Colorado Craft Company release fully illustrated by Anita Jeram.
The release includes 7 new gorgeous stamp sets.
Even though is mainly Father's and Mother's day themed, it includes two stamp sets to create graduation/congratulations, and Love Art/ friendship/ thank you cards.
I'm featuring 3 of the 7 new stamp sets available:
All the images are very versatile and can be used to create projects for different occasions.
Explore complete release
COLOURIG
I have been loving Anita's illustration since the very first release especially because they allow me to enjoy Zig coloring.
It seems that when someone says Anita Jeram, I'm immediately looking for my Zigs as y first reaction. I can't help myself!!
So off course I used the water-based markers to add colours to all the images for the cards today.
Only once, I applied alcohol markers to Anita's illustrations in the post here and although that was easy too, I believe that water-based markers allow me to add a special look and feel to the images.
My fav papers to do Zigs colouring are Strathmore Bristol Smooth, Strathmore watercolour paper, Arches Smooth, Arches fine grain but I used a rough paper today.
In my opinion, textured papers are not ideal to do colouring with this kind of markers but of course we can use them.
zig marker colours used
Browns
Dark Brown
Brown
Beige
Mustard
Greys
Yellow/ Orange for Cats and Foxes
For Grass
Light Green
Olive Green
Bright Green
Dark Green
PROUD OF YOU BY ANITA JERAM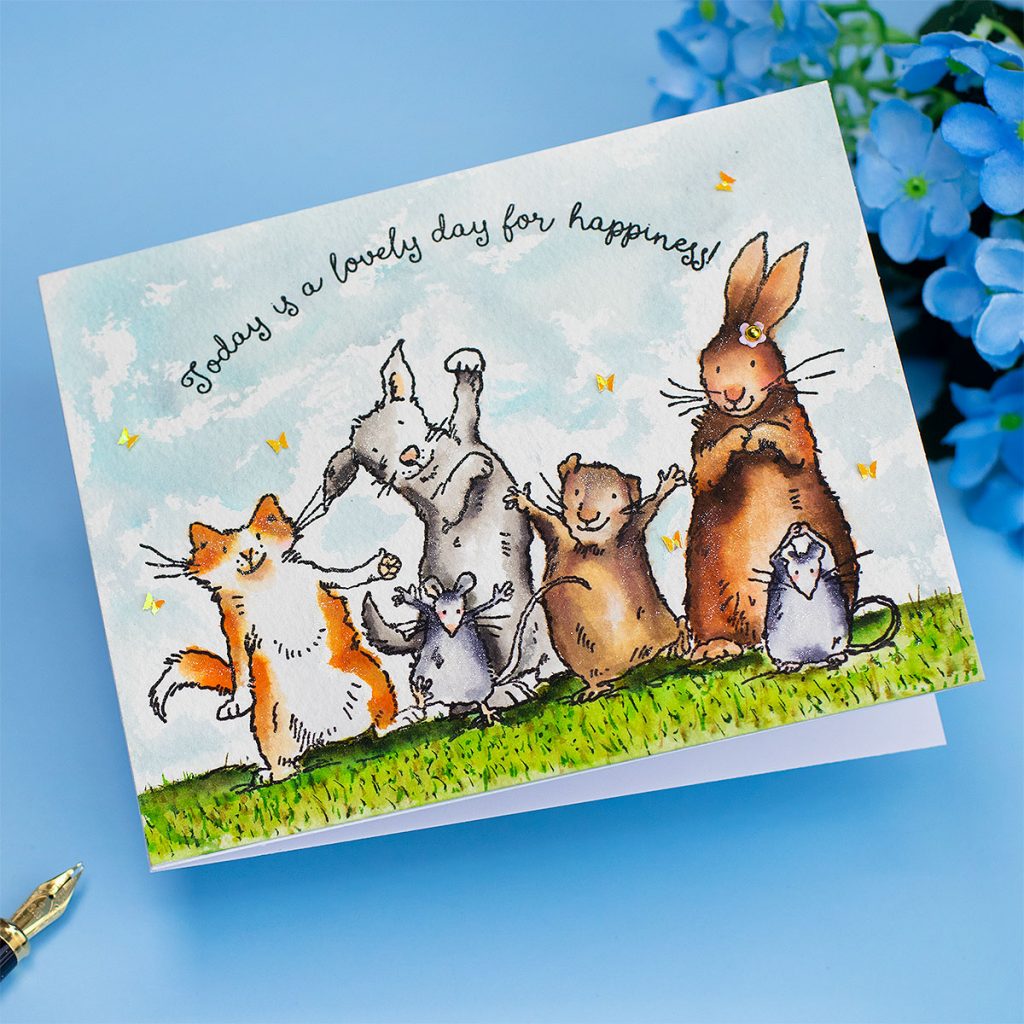 Here is the main image from the Proud of You stamp set stamped on Rough Arches 300 grams using Versafine Onyx ink.
I love it!! This cheerful scene made me smile.
Proud of You is a congratulations/graduation themed stamp set but I stamped a sentiment from the Wishing You Happiness stamp set to make a more generic card.
To stamp the image on this Rough Arches watercolor paper, I used the Misti to do multi-stamping to achieve a sharp image.
The colours and shadows look very intense on this paper even though I applied very little colour to do the blending.
The paper absorbs the Zig's ink very quickly and it can be harder to spread it over other areas of the images than when using smooth paper.
To work on this paper is I like to apply a wet on wet watercolour technique. You can apply a little bit of water over the image and then the marker over the wet area for smoother colour transitions.
This kind of paper takes and requires the use of more water due to its texture.
FATHER'D DAY CARDS
Anita's illustrations are good to create projects in any size as well.
So I also made these Father's Day mini slimline cards that measures 3-1/2″ x 6-1/2″ inches.
To die-cut the watercolor panel, I used the largest die from Mini Slimline rectangles die set by Simon Says Stamp.
You can also get mini slimline envelopes here.
FOR DAD BY ANITA JERAM
I had some fun colouring the grass in this super simple scene, stamped using images and sentiments from For Dad stamp set.
It is evident that I made hundreds of tiny strokes in flicking motion to create the grass.
What is not evident is that once I did that, I then pass over a wet brush to make those lines look a bit blur.
When the paper was dry I repeated the process over and over using different green markers until I got the desired look..
For the sky, I simply applied the marker on my glass mat and using a wet Escoda watercolour brush, I lifted the ink and applied it over the area I wanted to cover as unevenly as possible.
I also used Arches Rough watercolour paper for this card and to stamp the images I used Versafine Onyx Black ink and the Misti to stamp the images.
DAD'S COOKING BY ANITA JERAM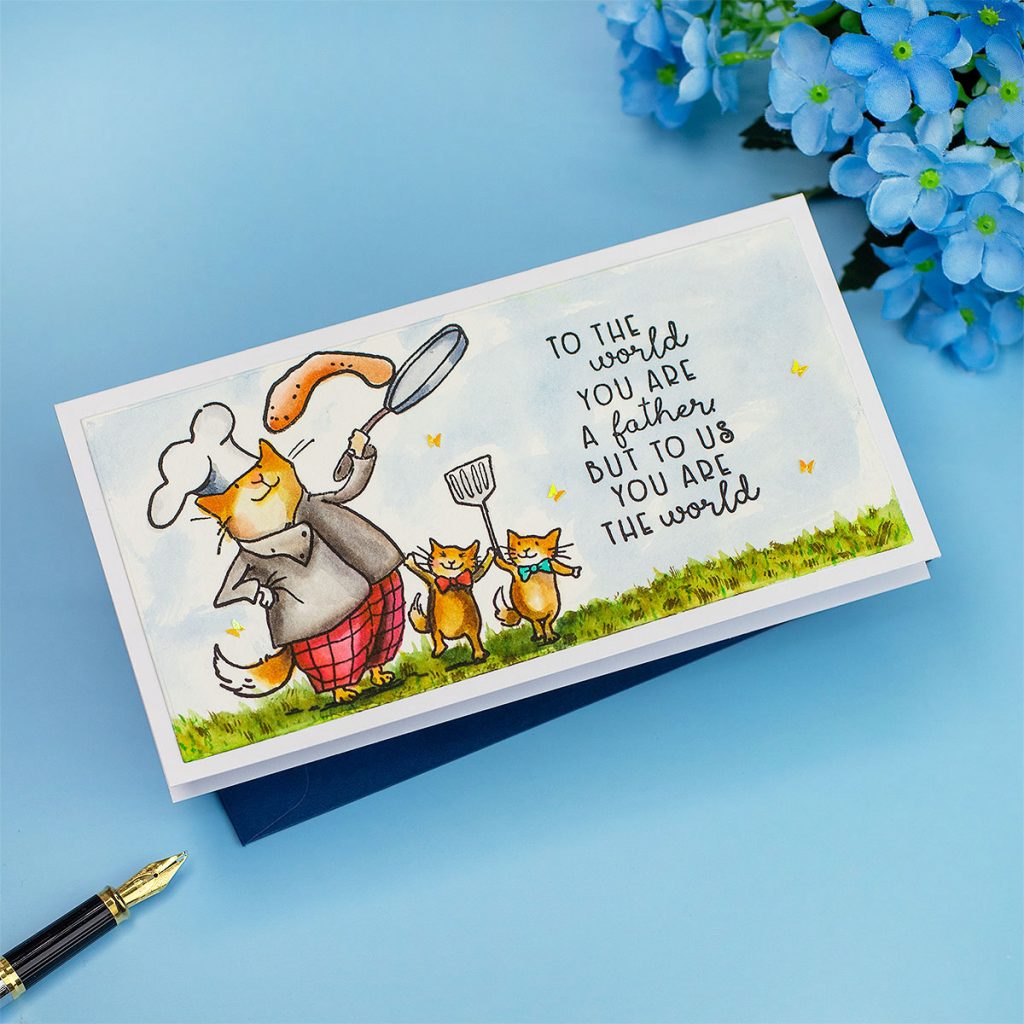 For this card, I used Strathmore watercolour paper that is smooth and the images is from Dad's cooking stamp set also stamped using Versainfe Onyx black ink.
You might spot the difference in terms of colour vibrancy between this and the previous cards stamped on Arches Rough.
Not in vain Arches is the cream of watercolor papers but I still consider Strathmore a good option for an easier coloring process.
You can see other images coloured on Strathmore watercolour paper in the post here or the second video below.
COLOURING ANITAS ILLUSTRATIONS VIDEOS
In the past semester I shared a couple of videos with colouring tips using Anita's illustrations.
I hope you can have a look if you haven't done it already. ( VIDEO 1 – VIDEO 2)
Colouring is a very repetitive activity. I mean that I do the same always to applying colours using this kind of markers regardless of the shades I use.
I may vary what I do for the backgrounds but in sum, I apply a tiny bit of the colour directly for the pen at the edge of the images. Then, using an aqua brush I blend that color towards the center of the image.
I work from dark to light so once I apply the darkest colour I incorporate lighter or more vibrant colours and I blend them using the aqua brush. Also from the edge to the center of the images.
That's all.
April Anita Jeram Release Blog Hop
Today 29 papercraft artists are gathering together to provide inspiration using sweet and beautiful images from this new release.
I can't wait to see what everyone is making….
Giveaway
Colorado Craft Company is giving away a $25 gift card for each stop in the hop. Make sure to leave a comment for your chance to win.
The giveaway ended on April 13th at midnight.
The winner is "Tina Wetzel"
Thank you to all those who participated. Your comments really warm my heart. Love.. Love.. Love!!
That's all for today.
Thanks for stopping by.
Happy Crafting.
X
Bibi

Supplies List
Affiliate links apply at no extra cost to you. Thanks for your support.