Oh, My! Who says that adding humor to papercraft is easy? I attempted to make funny cards to share extra card-making ideas with you today.
I hope they make you smile!
I used fun sentiments from a stamp set called Laugh Out Loud by Clearly Besotted and I paired them with images from stamp sets designed by Anita Jeram for Colorado Craft Company.
***Find the complete supplies list at the bottom of this post.

WHITE AGE COMES WISDOM & GRACE… BETTER LUCK NEXT YEAR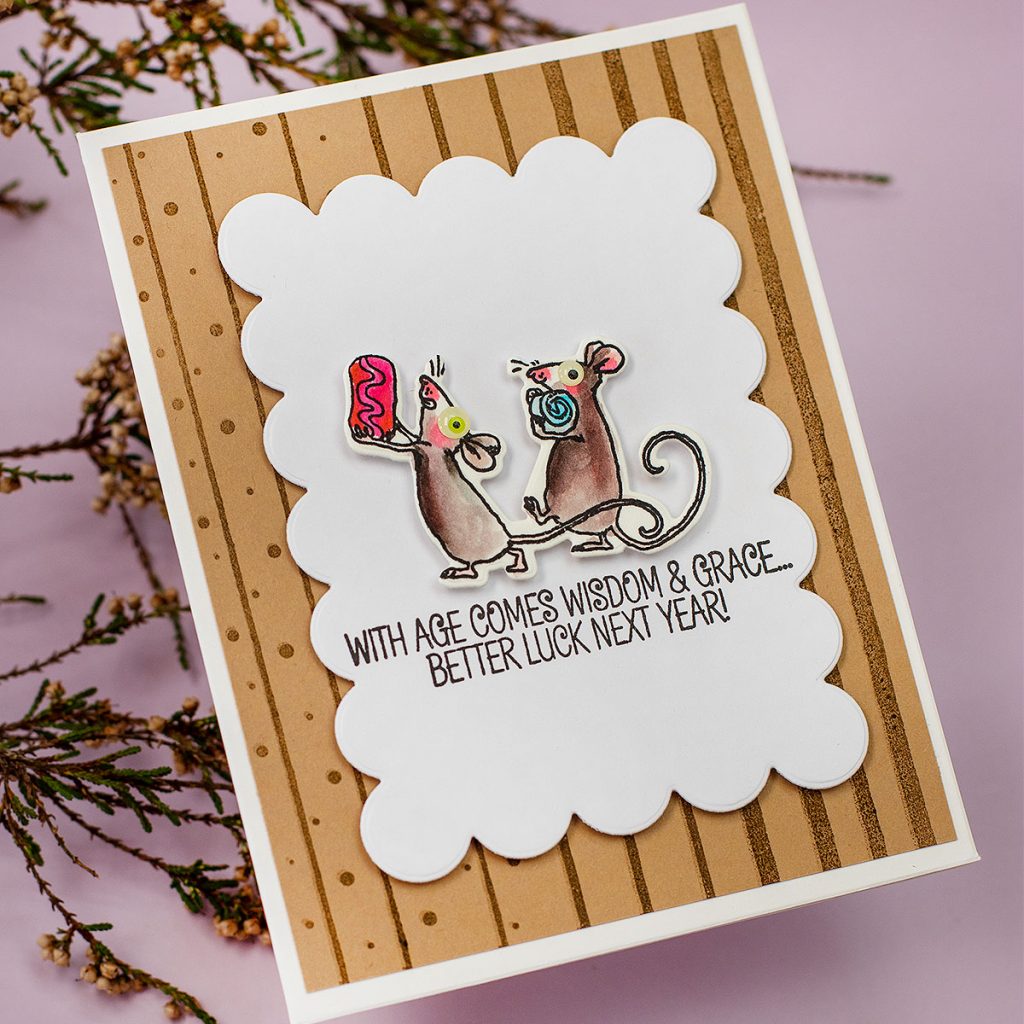 I tried to add a fun look to the little mice…I even tried to make them look ugly or silly by adding pinky noses and sticky or wobbly eyes !!
GROWING OLD IS INEVITABLE, GROWING UP IS OPTIONAL !
For all the cards in this post I did the same.
HAPPY BIRTHDAY THANKS FOR BEING OLDER THAN ME!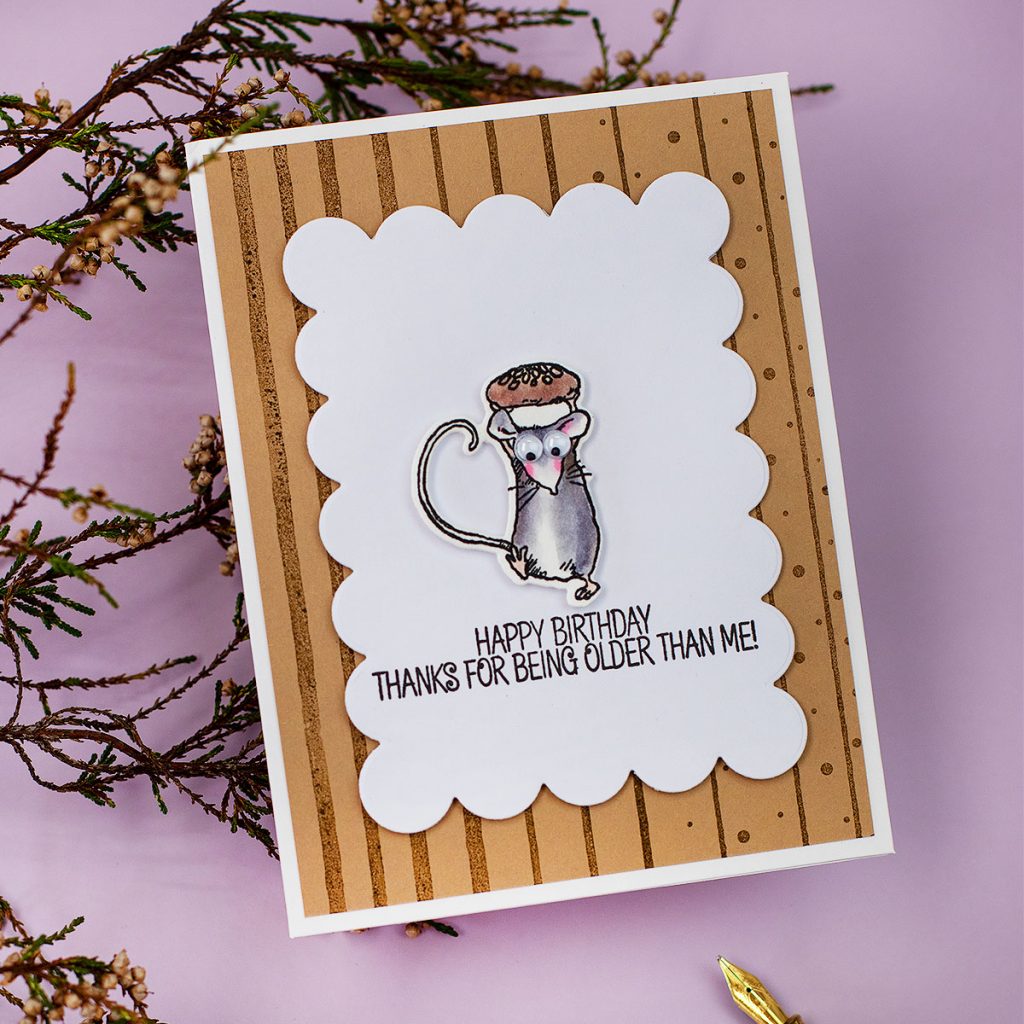 Note: Versafine Onyx Black ink is waterproof and it is my favorite to use with water-based inks and paints.
As it is very juicy it also provides a crisper image on different kinds of paper. This ink is no suitable to use with alcohol markers.
HERES A CARD TO REMIND YOU YOU'RE GETTIG OLDER!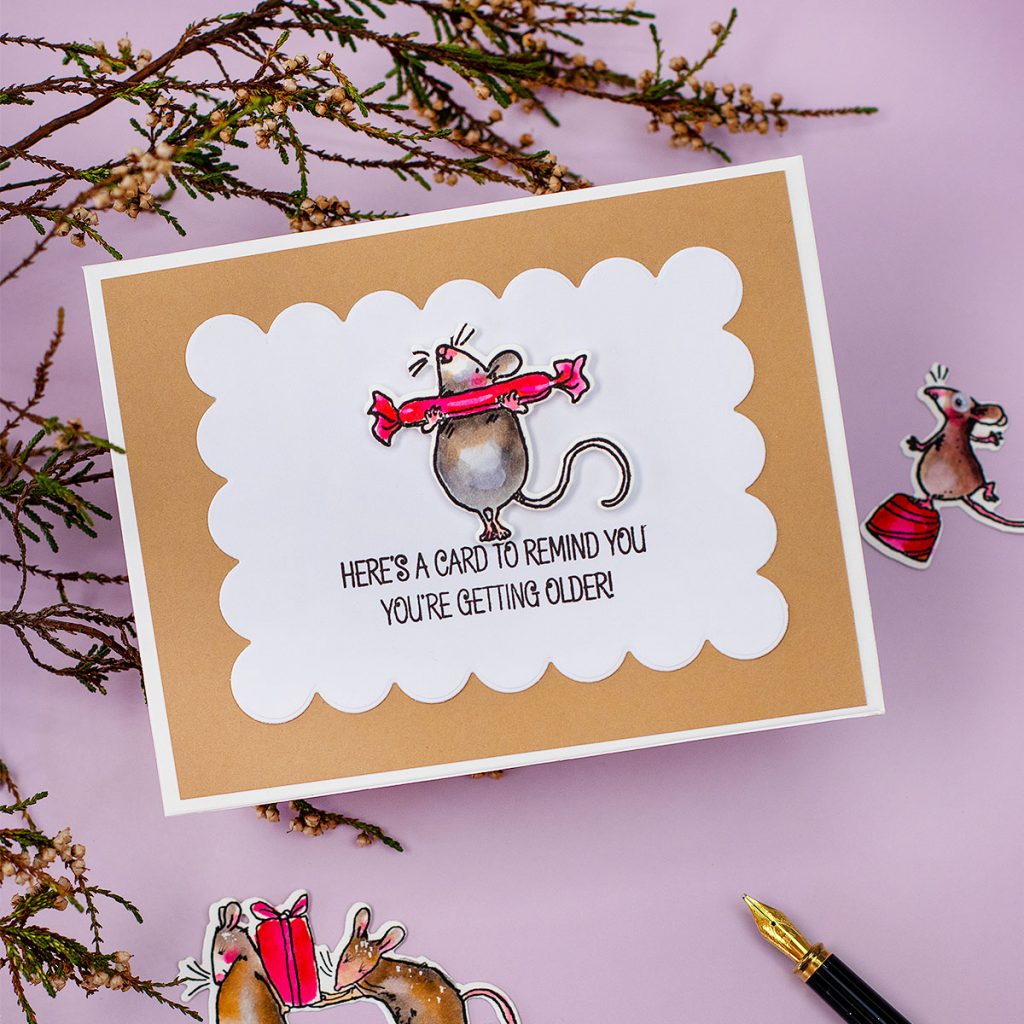 Somewhere I read that Strathmore watercolor paper wasn't good. What a lie!!
I had an unused pad and when I run out of Arches during the pandemic, I had to use it. I'm loving it since then and I bought more!!
Strathmore watercolor paper it is smoother than Arches and it is affordable.
It holds water over the surface of the paper for a little bit longer. You can see little poodles of inky water over the paper for a lot longer than on Arches for example.
I think this is terrific as when you want to apply watercolor pens to the paper you would prefer to have time to do some blending before the paper sucks the ink and gets stained by it. This will allow you to avoid dark patches of color.
When using this or any other watercolor paper for cardmaking I used very little water, my brush is slightly wet and if I use a water brush I never press the barrel while coloring.
We do very small compositions so we don't want the paper overloaded by water. This is not needed.
ONE YEAR OLDER NONE THE WISER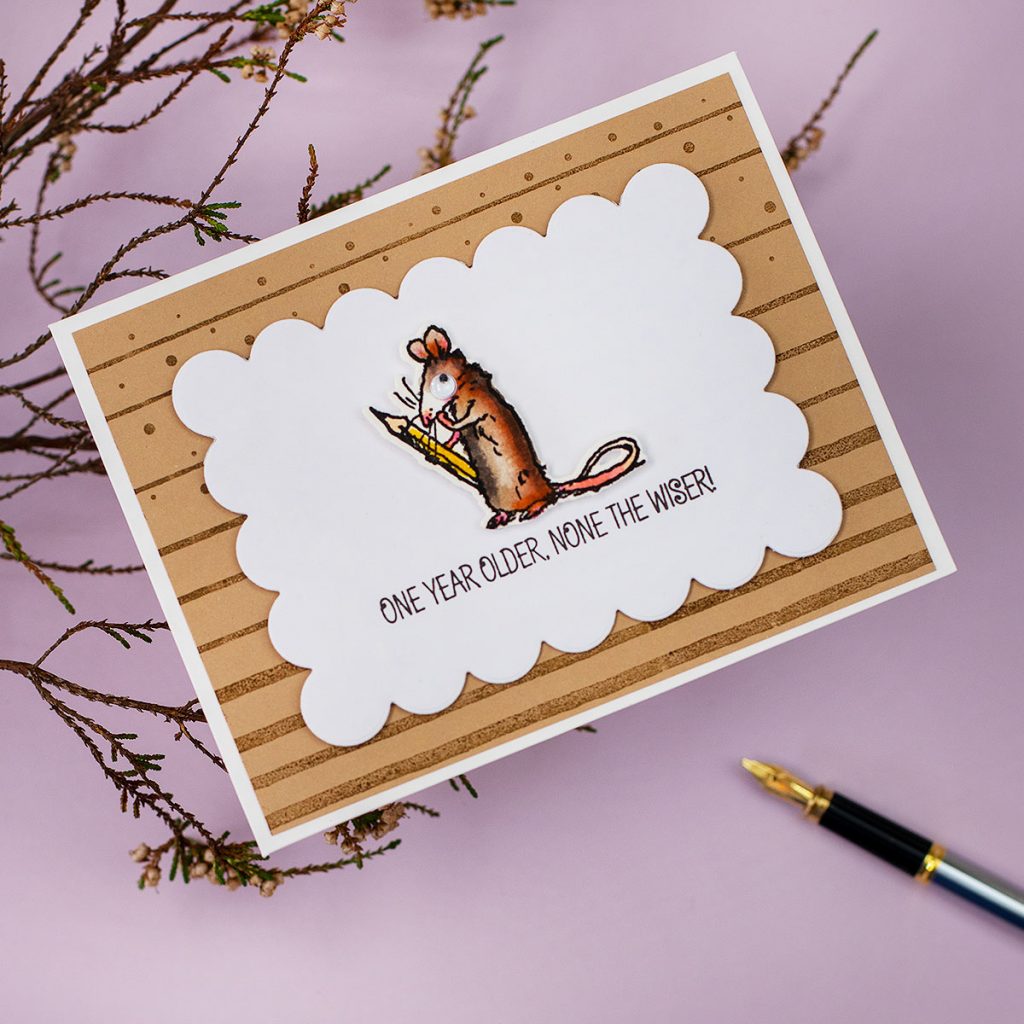 I tried several things, I even made the silly panel below. Adding more elements.
I'm not sure about this panel? Perhaps is to evil? I didn't give him a card as I though it was to naughty and it didn't deserve it- lol …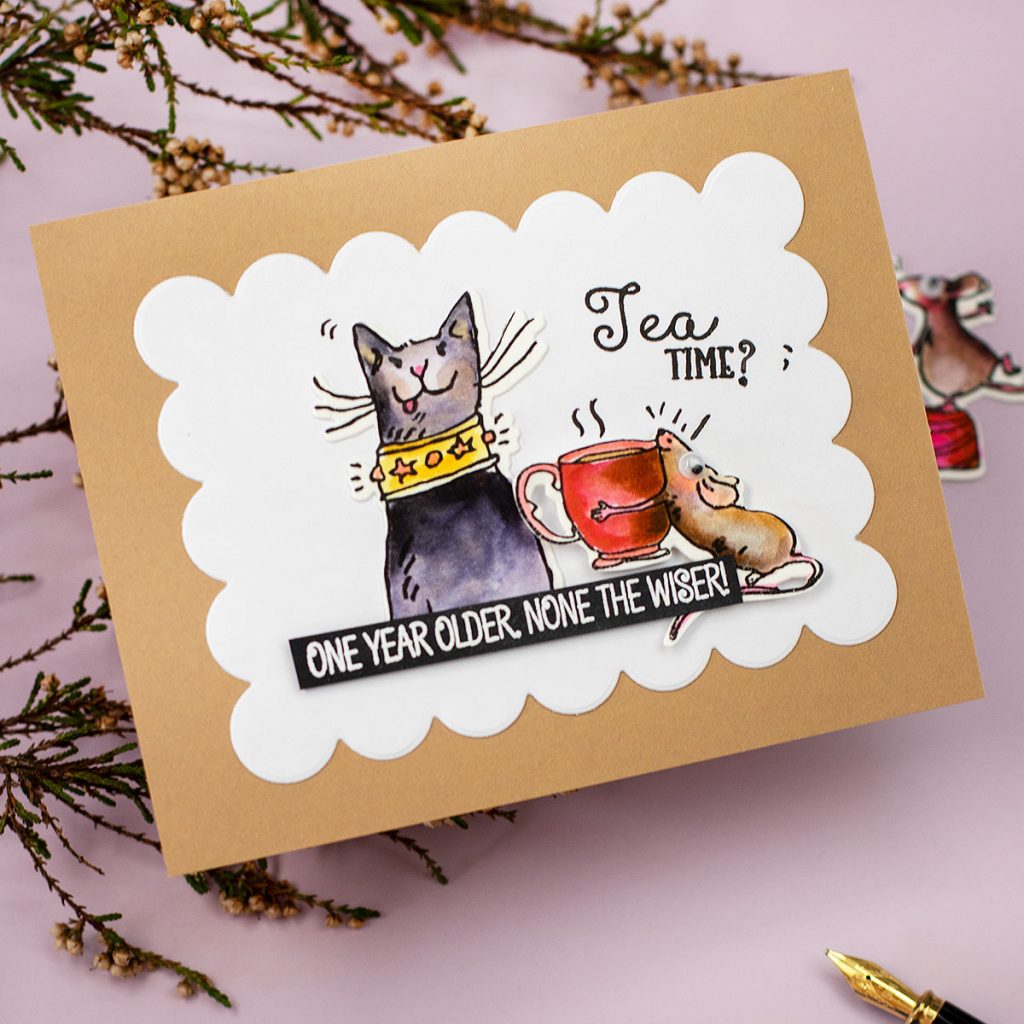 Oh well, the thought of it made me laugh as it made me think of many good people I know. lol.
Some people are too nice and others think they can take advantage of this !! But what is fun is that good don't change their nature and they keep giving.
I'M NOT GOING TO MAKE FUN OF YOUR AGE, I KNOW HOW SENSITIVE OLD PEOPLE CAN BE
THE SECRET TO STAY YOUNG IS TO LIE ABOUT YOUR AGE!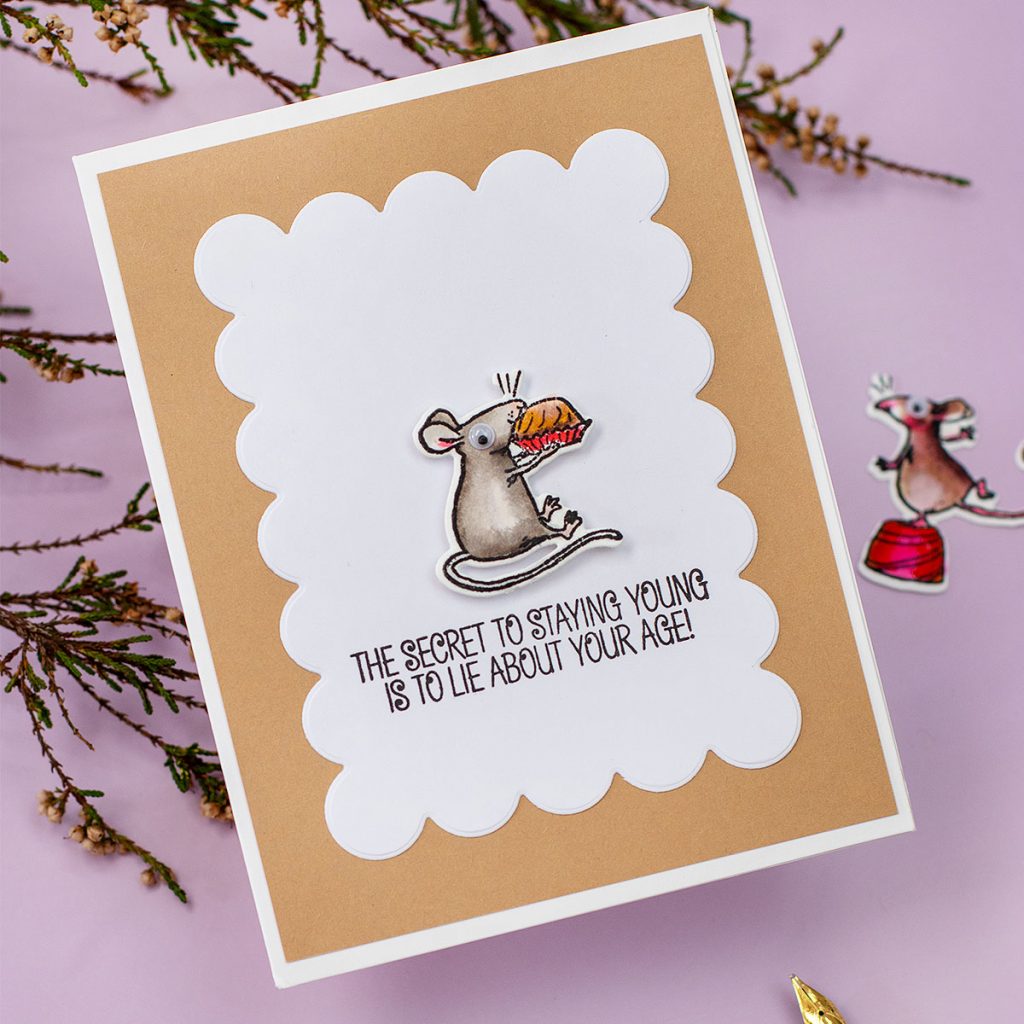 coloring video
Last but not least. Please find instructions on how I applied colour to the images in the video below.
That's all for today
I hope you enjoyed this post!
Happy Crafting.
x Bibi
Supplies
Affiliate list applies at no extra cost to you. Thanks for your support.