Hi there, The new collection Celestial Zodiacs by Spellbinders will allow you to add hot foiled Celestial Signs and constellations to your crafty projects!
It Includes:
The collection is available at:
*** find supplies list at the bottom f this post
To feature this gorgeous collection, I decided to make a couple of simple cards.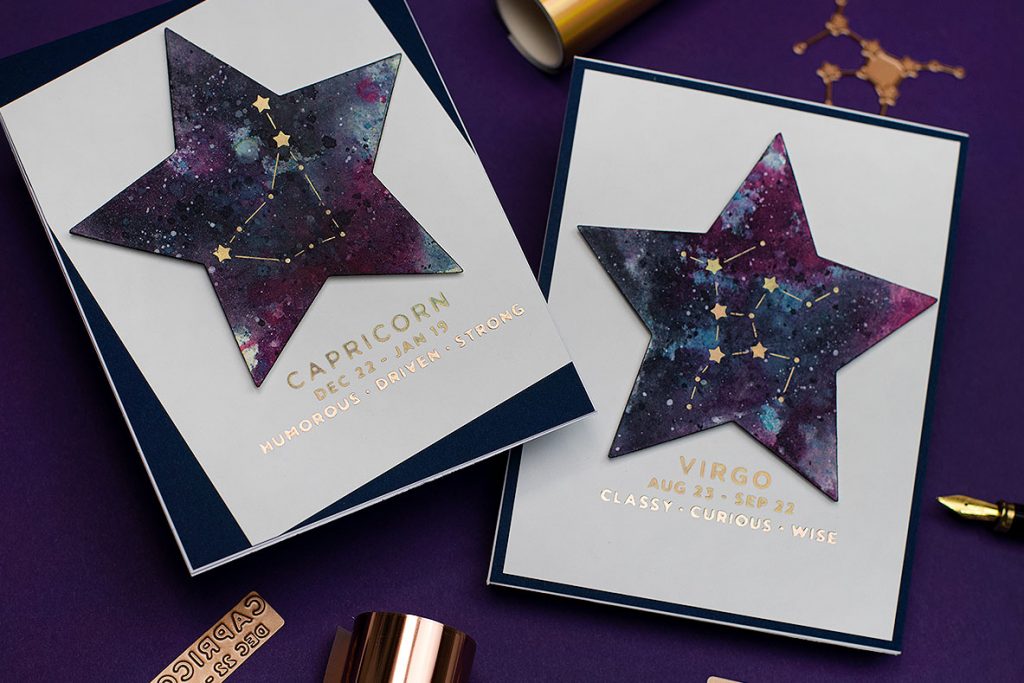 I used Virgo and Capricorn glimmer plates and after testing for a while, my top hot foil colour to use on dark backgrounds is Aura.
To add a little bit of contrast I also used Blush hot foil for the bottom part of the sentiments.
Sadly the foil colours are hard to catch in pictures.
How I did it
This cards measures 4-1/4″ x 5-1/2″ inches ( C6).
first, I die cut stars out of this paper to create the toppers.
Next, I foiled the constellations on the white smooth cardstock.
To add colors, I used Nuvo Aqua Flow pens. I simply added the ink of a purple, a dark, and a light blue pen over the glass mat, I mixed the ink with water and I dabbed the paper on the mix.
Using a heat tool I dried the paper and I repeated the process using pink and black Aqua Flow pens.
I also splattered the die-cut starts with Peacock Feathers Stain, Old Paper Oxide Sprays and white acrylic paint dilutes with water.
With a dry paper towel, I remove any ink over the foil.
I added another die cut start at the back of these starts to make them flat after such treatment with inks. After all, this paper is not designed to use with water.
I foam mounter the start over the panels that I hot foiled using glimmer plates from this collection.
To add contrast I added a backing layer of Hero Hues navy blue cardstock.
Notes and Tips
Do the foiling first if you will apply an ink smooching technique.
Use washi tape to hold plates and foil in place.
Neenah 80Lb worked the best with these glimmer plates.
I found that running the plates fast and steady on the die-cutting machine allowed me to get better impressions with these plates. I usually do it slowly.
To remove over foiling, I used a Kneaded Putty Rubber to gentle remove over foiling. Use a sand eraser to do this if necessary.
Spellbinders Hot Foil System
To use the glimmer plates in this collection. I also used the Spellbinders Die-cutting machine and Glimmer Hot Foil System.
PIN ME
supplies
Affiliate links applies at no extra cost to you. Thanks for your support.