Hello there, my 7 years old daughter Emma and I made Among Us themed DIY cards to share with you today!!
We want to inspire you to get crafty with your kids and take advantage of their hobbies (video games) to interest them in papercraft or any other thing that keeps them away from the screens.
Among Us is a video game that has become incredible popular . I know nothing about it but Emma is a fan.
These cards measure 3-1/2 " x 4-1/2″ inches ( 8.7 x 11 cm)
The idea was born when I received the comment below in one of my post on my instagram account.

I thought it was hilarious and I told my family about this comment. Emma is a big fan of the game and she said: "mummy we have to make them"…
So here we are!!
AMONG US HANDMADE CARDS VIDEO
In the short video above, we are using the Spellbinders Platinum 6 die-cutting machine, an amazing tool that will allow you to die-cut infinity shapes and silhouettes using dies in time record.
As I/m a papercraft artist, I got several specialized supplies to do this but please know that to make this you might need basic shapes templates, cardstock, scissors, and glue.
So we tried different things and ways to cut the crew-mates using different dies and tools I have available.
We decided that the best shape to make this possible was an oval.
So we used an oval die from Shimmer Oval die set to create an oval-shaped card base.
Then we used the gift bag punch board to punch out the card base creating the legs.
To make the bag, we used a rectangular die from Mr. and Mrs. Wedding Cake.
For the eyes, the part we die-cut light blue and black cardstock using the smaller oval die from Candlewick Oval die set.
We also made accessories using any die that was suitable ( leaves – flowers).
The party hats were totally DIY using scissors and we embellish them using little circles we made using a circle punch.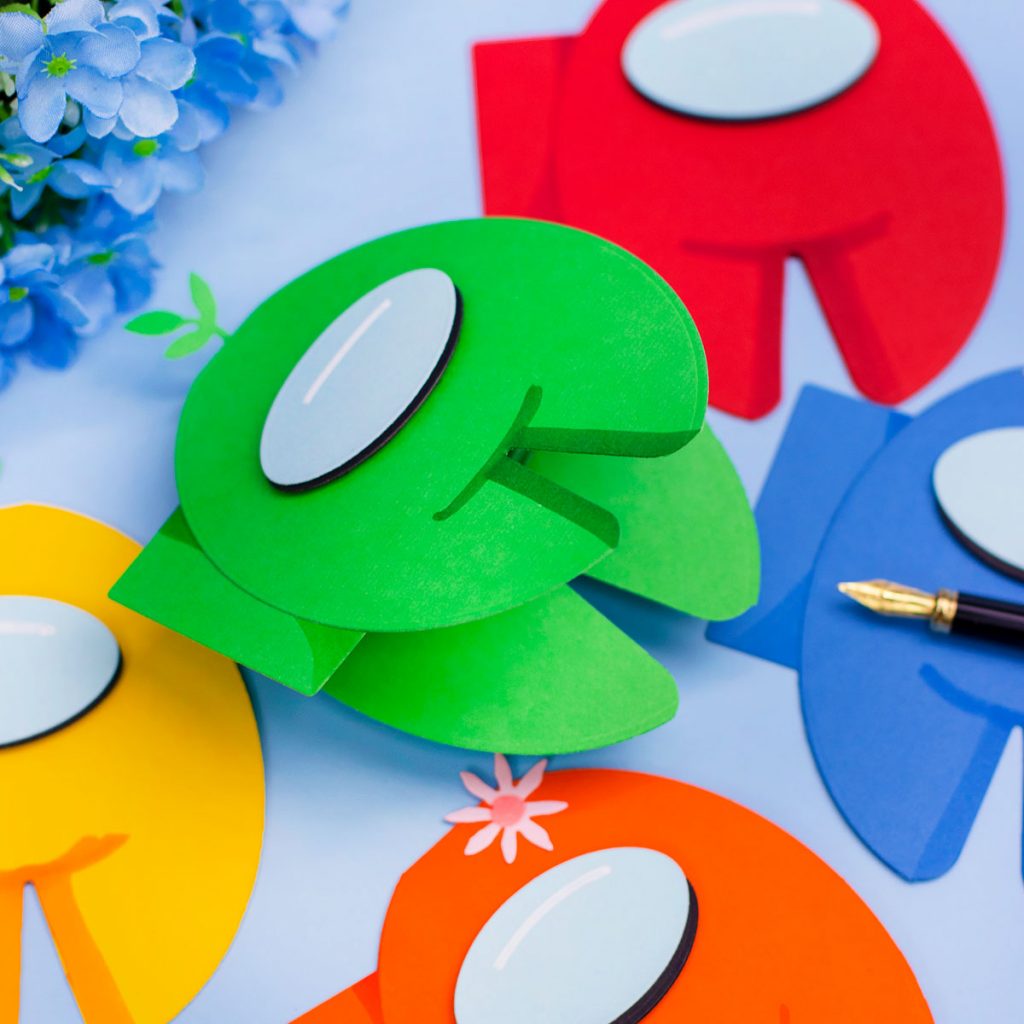 PIN ME
THIRSTY FOR MORE?
Here is another project made in the company of my little Emma.
That's all for today.
We hope you have enjoy this post and also to encourage you to create with kids around you.
Happy Crafting.
Emma & Bibi
supplies