Oh my! This post is a bit long… I know! So grab a cuppa and relax while I walk you through the new White Wonderland Colour Trend by Tonic Studios.
This is the second of three color trends by Tonic for 2020. It includes over 20 products in the Nuvo Range in different sades of blue, also white, grey, and silver.
I was inspired to create Christmas themed projects but you can use any of these supplies all year round.
*****Find supplies list at the bottom of this post ****
new craft perfect colours
Mirror, Pearlescent, textured and luxury embossed Craft Perfect cardstock are now available in beautiful new colours:
Misty Grey ( textured)
Turkish Turquoise ( Gloss Mirror)
Silver Pinstripe ( Embossed card)
Caribbean Sea ( pearlescent)
These colours coordinates beautifully together.
white wonderland 6×6 paper pad
This is a great addition to this collection.
Ideal to create backgrounds or die-cut panels for your projects, also great to make small embellishment or die-cut words.
This paper pad contains 24 sheets. 4 different cardstock colours. Six sheets each colour.
Craft Perfect Inspiration
Incredible, beautiful, and excellent for die-cutting, Craft Perfect cardstock aims for perfection. It can be used for card making, scrapbooking or to create amazing 3D projects using innovative Tonic Studios die sets.
To feature the new paper colors available, I used "Winter Wonderland" a 29 pieces die set that I consider a masterpiece. It will allow you to make the stunning box below.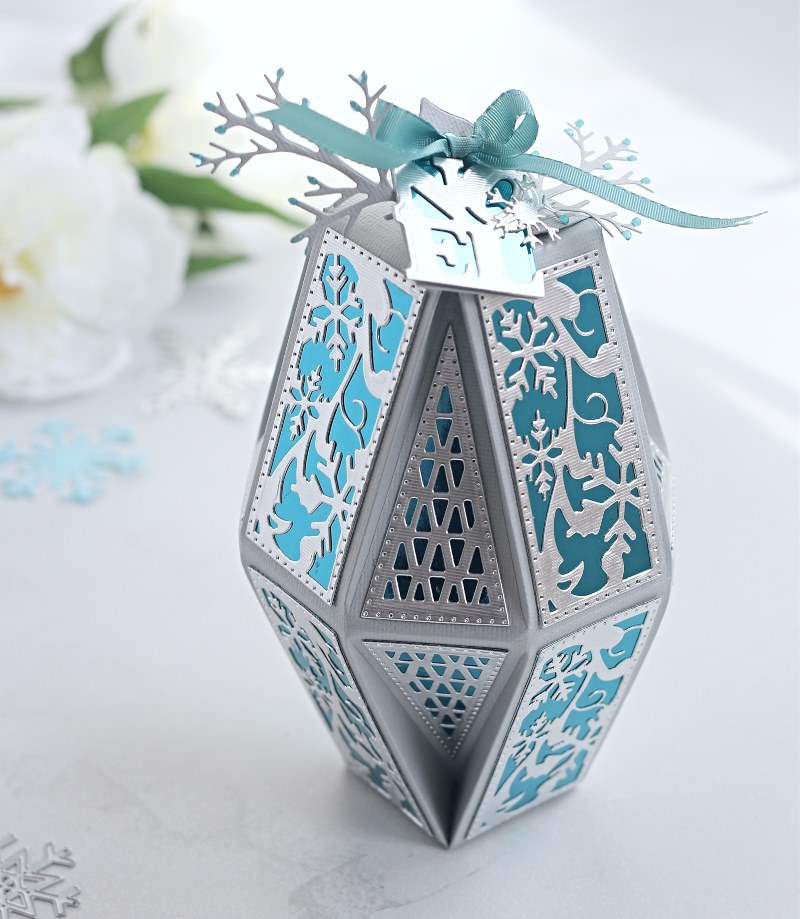 Craft Perfect Tips
This large box has demanding folds and several panels with intricate details. It is a work of art!
The die set does all the work. However, it is essential to identify the right paper to be used for each part of this project to easily assemble it.
For the body of this box, I used Misty Grey textured card. Easy to fold and sturdy.
To die-cut the intricate detail I used Metallic Silver Pinstripe card.
For the backing panels, I used Turkish Turquoise Mirror Card.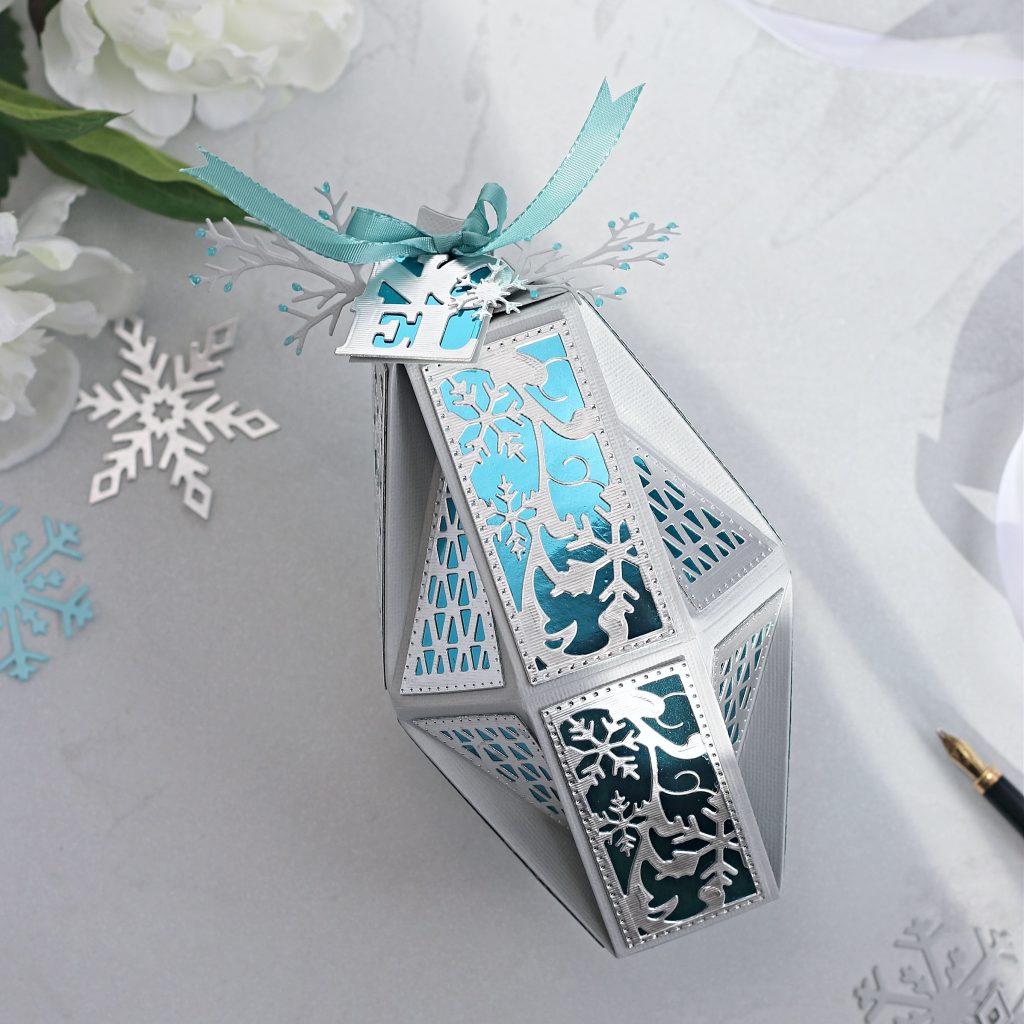 Craft Perfect mirror card is not double-sided. There is no plastic coating on the back so that it is easy to adhere to other papers.
This cardstock is ideal to create decorative panels or accents for your projects.
You can also go a little further and use mirror cardstock to create the background of decorative/ intricate panels or even the base of your boxes.
However, this type of cardstock is thick and tends to crack if is not handled with care. Adhering any material directly on mirror cardstock can be also time-consuming and you might need to use the right adhesive or your project could get disassembled.
I used Nuvo Deluxe Adhesive and I allowed it to dry for a little while before putting the pieces together. You can easily wipe any excess of glue with a slightly wet towel.
new nuvo drops colours
I received three of the four new colours and below you can see swatches of them.
In the picture, you can see the opacity and transparency of these drops as well.
There are four new Nuvo drop colours in the White Wonderland colour trend.
Iceberg Blue Jewel Drops ( Transparent)
Frosted lake Nuvo Dream Drops ( Pearlescent)
Blue Ice Crystal drops (Opaque and shiny)
Morning Fog Nuvo Stone Drops ( textured – rough)
new iced aqua expanding Mouse
The new Iced Aqua Expanding Mousse colour is undoubtedly stunning.
I applied this Expanding Mousse with my fingertips over the die-cut shape made using Tonic watercolor paper and the Enchanted Forest Silhouette Tag & Wallet Die Set.
Then I applied heat to make it expand and finished it with the Snow Storm Embellishment Mousse to create highlights over the texture.
I sprayed the background paper of this tag using the new Peacock Plume Sparklec Spray.
Below there is another sample made using the new Nuvo expanding Mousse colour and I also applied Nuvo Snow Storm over the texture.
To make this box I used A Little Something Gift Box Die.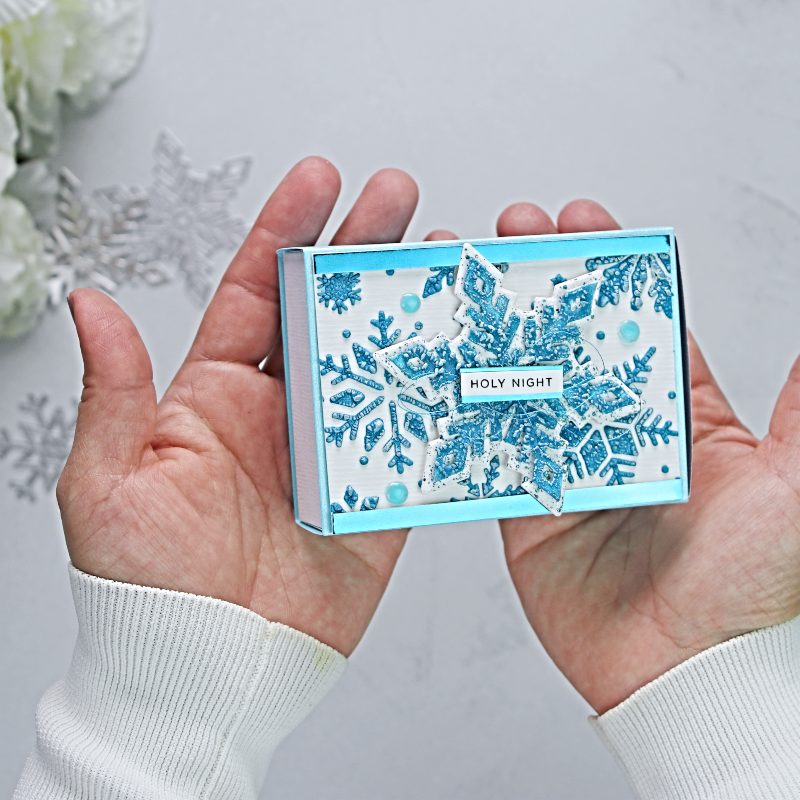 I added Iceberg Blue Jewel Nuvo Drops and I also used the new paper colours.
You can apply Expanding Mousses on paper or wood with brushes, spatulas, palette knife in thin or thick layers.
Then, you can heat set the mousse using a craft heat tool to make it expand creating a beautiful texture.
If you want the mousse to stay shiny and smooth allow it to dry naturally ( do not use a heat tool).
Nuvo embesllishment mousses
We will also have two new colours of Nuvo Embellishment mousses.
Snow storm (white)
Polar Wind (blue)
To make the box above I used an old Kaleidoscope die set and Peony Parade Stencil.
nuvo glacier paste
White Wonderland includes two new colours of glacier paste
Iron Frost Glacier Paste ( petroleum blue)
Winter White Glacier Paste ( white)
Below you can see a swatch of the new Iron Frost Glacier paste.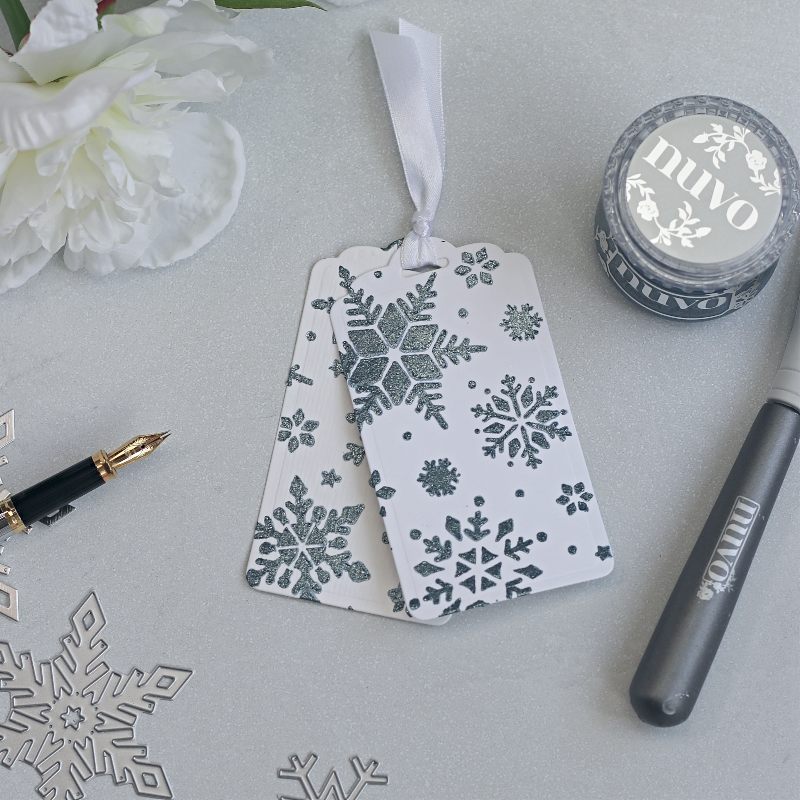 Below a swatch of the new Winter White Glacier Paste over a piece of watercolor paper fully covered with Peacock Plume Sparkle Spray.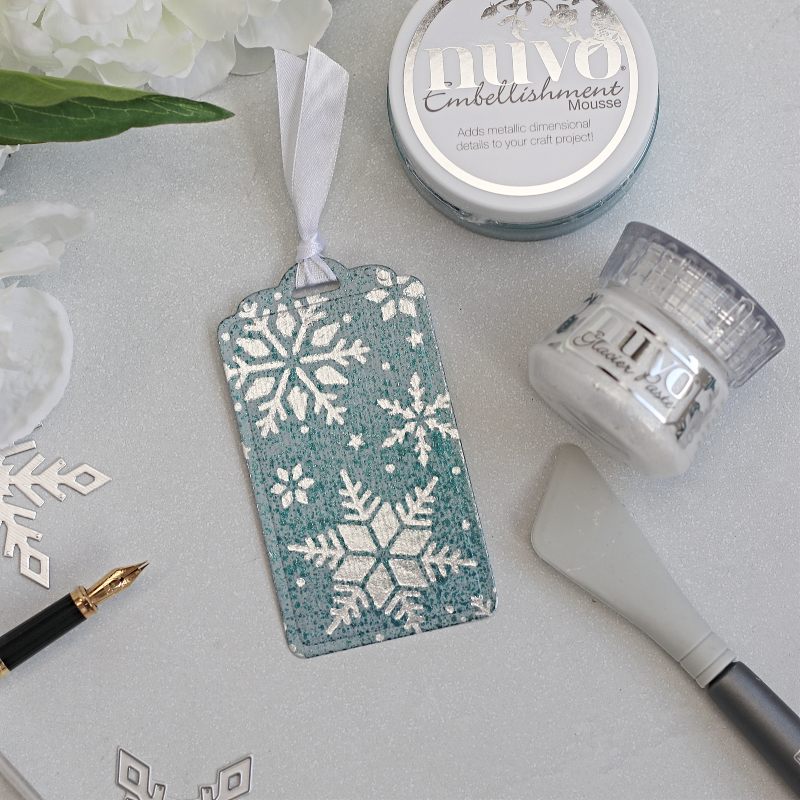 peacock plume sparkle spray
You will love the shimmer of the new Peacock Plume Sparkle Spray.
This is a beautiful deep metallic blue colour and as any of the Sparkle Sprays by Tonic Studios, this is ideal to add texture and shine to your projects.
For this card, I used the Tonic Studios Square Stitches and Falling Snowflakes Trio die sets.
To make the background I simply placed the Sparkle Spray bottle away from the watercolor paper so when spraying over it I got a soft texture that resembles falling snowflakes.
This simple touch will enhance the beauty of any composition and you can mix and match sprayed panels with elements made out of the new Craft Perfect cardstock colours.
I used Turkish Turquoise Mirror Card to create a backing panel for this card.
For the card base, I used Caribbean Sea Pearlescent Card.
The snowflakes were cut out of papers included in White Wonderland 6″x6″ paper pad.
Sparkle Sprays can be used to:
Spray a light sparkling mist over the paper or any other surfaces such as wood, metal, fabric, cardboard, paper, and polystyrene.
To completely cover any of these surfaces.
Can be applied over Nuvo Expanding Mousses to alter the colours and to create interesting textures and colouring effects as well.
You can spray panels or accents for projects in any size.
Below are a couple of projects using the same supplies.
For the card above I heavily sprayed the top left corner of the paper with the Sparkle Spray. The snowflakes die cuts were colored with different Nuvo Mousses in the White Wonderland colour trend and I also used different Nuvo drops in this collection.
For this tag, I used a piece of paper also sprayed with Peacock Plume to add an accent to the background.
I also used the new cardstock colours and a die from Enchanted Forest Silhouette Tag & Wallet Die Set.
thirsty for more ideas?
Visit my post here to see more ideas using products from this colour trend or have a look at some bunos projects I have for you today.
bonus projects
That's all for today.
I hope you enjoy this post.
x
Bibi
Supplies
Affiliate links apply. This means that when you click on any link on this post and make a crafty purchase I earn a small commission at no extra cost to you. Thanks for your support.

bundle and save