Hello there, Tonic Studios White Wonderland – Craft Kit 33 pre-order is available now.
This is a Christmas themed kit !!
Watch the video below to see the kit's contents and products in action…
Get Tonic studios kit 33 UK Shop Here | USA Shop Here
White Wonderland Kit 33
The kit includes Festive Frame die set ( 12 PCS), Stamp ( 7 PCS), a Stencil, paper, Nuvo mediums and sponges.
The mediums included in the kit will allow subscribers to try some products from Winter Wonderland's new Nuvo Colour trend that will be available at the end of the month.
I'm very excited about White Wonderland, new colour trend.
I can't wait to fully reveal other projects I made using products from this trend in the next edition of Tonic Magazine and here in my blog.
For now, let me show you some ideas while featuring products included in the tonic Craft Kit 33.
Craft Perfect
Craft Perfect is a high-quality paper. It is great for die-cutting and demanding folds.
Now it will be available in gorgeous blue and grey colours and in different textures and qualities.
These are the main colours in White Wonderland the 2nd Nuvo colour trend for 2020.
I made a DIY gift bag to show you the different pape qualities.
The Poinsettia die set used to embellish this gift bag if from the kit here!
Sadly not available in the market but you can get similar die sets listed at the bottom of this post
Mousse Texture and Shine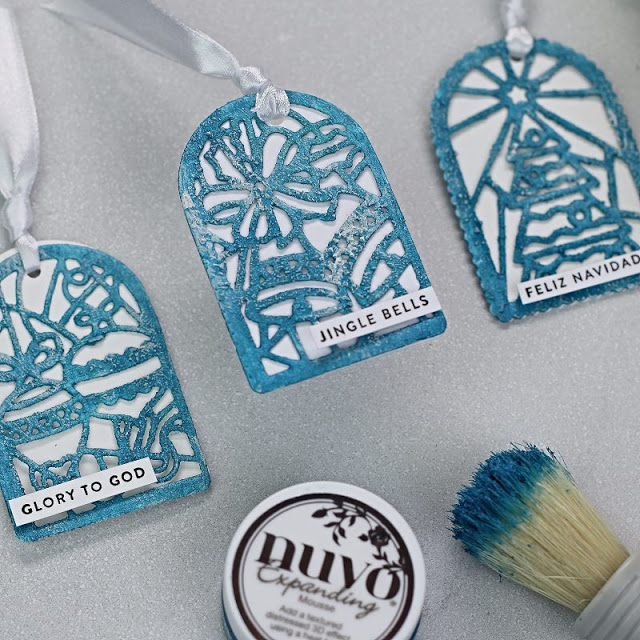 Nuvo Mousses are a great medium to transform raw porous materials. They will add character, shine and texture to any project.
These are water-based, blendable but permanent when dry.
Expanding Mouse texture Technique
Apply Nuvo Expanding Mousse on any die cut
Heat Set and watch it expands.
Rub white, gold or silver Embellish Mousse over the activated Expanding Mousse with your fingertip to accentuate the texture.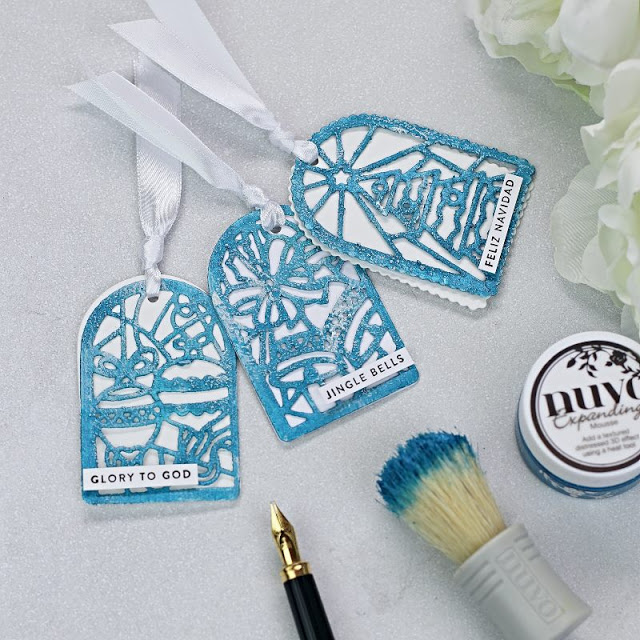 These tags measure 2-1/4″ x 1-1/2 " inches.
The tiny sentiments were made using Tiny Christmas Words stamp set here!
This poinsettia was made using the die set here!
I also listed in supplies below similar die sets.
The stamped sentiment is from Winter Birds by Tonic Studios available here!
Embellishments
Nuvo Drops, sequins and confetti will be also available in colours that evoke winter.
These cards are about 5-4/3″ x 5″ inches ( this is the size of the largest die in the die set)
For the card above I used images from Glorious Poinsettia Stamp set here.
The stamped sentiment is from Winter Birds by Tonic Studios available here!
Easy Mini Cards
Here is an idea to make easy and quick mini cards using dies and stamps in the kit.
These cards measure 2-3/4″ x4″ inches.
Once White Wonderland paper pad becomes available you can also use that paper to make envelopes.
I make envelopes in any size using the envelope punch board listed below ( see supplies list)
That's all for today
I hope you like these ideas
Happy Crafting!
x
Bibiana
Supplies
Just a note to let you know that when you buy through the links in my blog, I get a small commission at no extra cost to you.
Thanks for your support!