Happy Monday everybody, this week Global Design Project have a new challenge for you and the theme is "The Farm".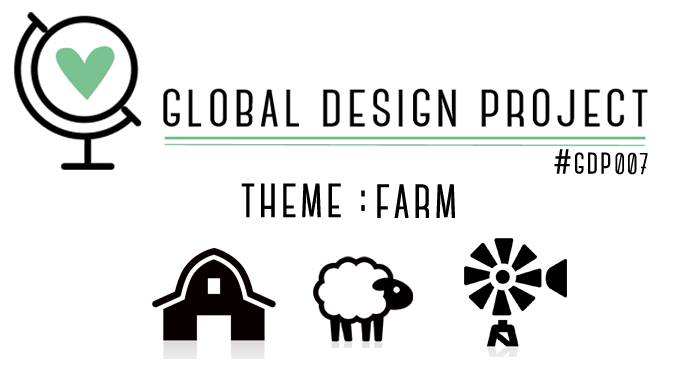 Don't worry if you don't own a farm-themed stamp set there are many things you can create for this week's challenge using a little bit of creativity.
I made a "Farm Fresh" eco- friendly shopping bag!
This is not a sewing project. I bought the bag at 50p at a local craft shop and the denim flower embellishments do not require sewing. This is a very affordable project and it is extremely easy and quick.
I have used Larger than Life Alphabet and Numbers Stamp set and Bouquet Bigz L die from Stampin' Up!
With Larger Than life Alphabet and Numbers Stamp set with 38 individual stamps you will be able to personalize any papercraft project or home decor – sewing projects.
You might need to use different inks or paints to achieve good and permanent results.
Stampin Up inks are water-based so they are not the best option for stamping on fabric. Yes, you could use them but for projects, you don't need to wash.
I also used the Bouquet Bigz L die from Stampin Up! to create some floral embellishments and I have attached them to the bag with brads.
Please use my blog search box anytime to find additional information about "stamping on fabric", you will find more projects and tutorials.
Remember: when crafting every detail matters.
I used threads to create a fun embellishment for the bag corners
Check Other Stamping on Fabric post:
Thanks for stopping by!
Do not forget to play along and join in too and make something and share it on the Global Design Project Challenge – click here to see instructions to participate in challenge #7
****If the stamp set and die set used for this project are discontinued, I'll add to the supplies list at the bottom of this post new similar stamps you can use to create this project.
Supplies List
Buy these amazing tools by click on the pictures below or to discover many more beautiful craft materials.
Just a note to let you know that when you buy through the links in my blog, I get a small commission at no extra cost to you.
Thanks for your support!