Happy Friday everybody, I couldn't resist sharing with you some pictures of the Night of Navy version of a leather necklace and a leather embellishment for a Harris Tweed case I made using the Bouquet Bigz L die from Stampin Up! in a previous post.
I think the necklace has a lot of personality and you can easily make your own using your big shot, the Bouquet Bigz L die, leather remnants and some basic jewellery supplies that you can get in your local craft store or online. The leather flower defo add an extra to any leather craft or sewing project.
Watch video tutorial to learn to make this necklace/ see this project in terracotta
The products today have been done for a friend that asked me to make them in blue and I thought that adding bit of black will give it contrast . She is golden blond with beatiful blue eyes and can't wait to see her wearing the necklace! I know she likes sparkle so I added real crystals gems in the center of the silver bead caps so they will shine with the light. I overlayed 2 flower die cuts instead 1 as in my previous post (1 black and 1 blue) .
This necklace remind me the old times when I used to make fashion jewellery as a complement to some fashion designers catwalk collections, my small creations used to go to Milano. I wish I had a big shot in those times to make draft projects in leather, affordable, chic and super easy.
How I do it?
Using the Bouquet Bigz L die from Stampin Up! I cut 5 leather flowers in black and 5 in blue, 6 leaves in blue and 5 pistils in the same blue leather. I noticed that the back of the leather looks like suede leather so I assembled the pistil the wrong side facing up, just to give a little bit of texture. watch the video tutor here to see how I assemble the necklace.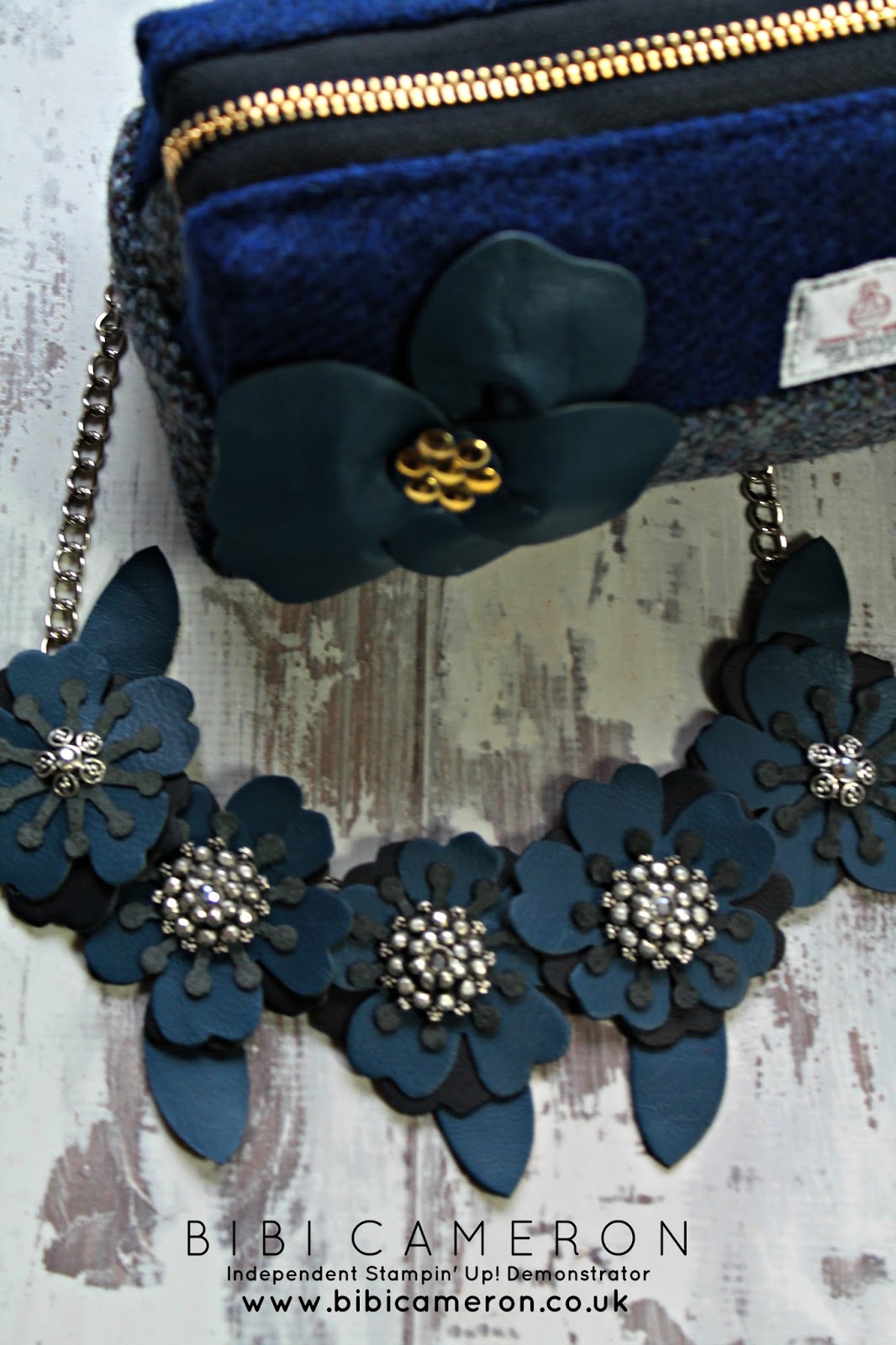 If you are thinking in make your own leather accessories to share, to sell, to gift, I strongly recommend placing the right side of the leather facing the die foam to avoid marks. The leather can easily get embossed with any mark in your embossing plates. Did you know that you can emboss leather using embossing folders? No? well, yes you can. it is just amazing what you can make with the tools in your craft room.
In the picture below the handcrafted items in 2 different colours.
You can also make a leather belts, key rings, scarfs with fabric accessories, flower pins, hair accessories, a cute leather flower as fast embellishment to transform your old leather shoes … endless projects made with this die and the good thing is anybody can make them.. They all are easy piece with a bit of imagination.
Thanks for stopping by! x Bibi
To order supplies to make this projects please click in the pictures below.
Built for Free Using: My Stampin Blog