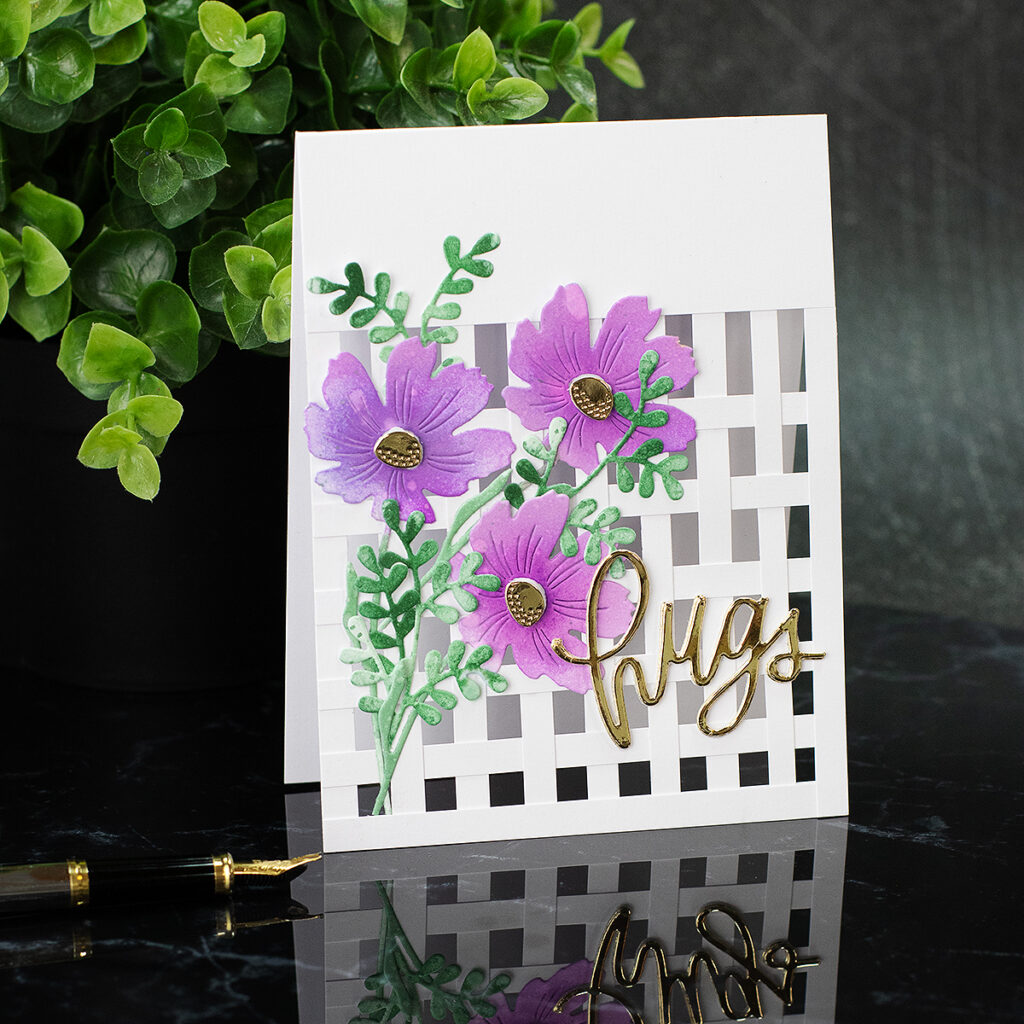 Hello crafty friends, I have a new Split Card Design for you! This is design #10 and I have called it -Woven Card Panels.
Yes! You can use this idea for a scrapbook page, a memory album cover, a box or any other papercraft project.
This is a variation of Design #7 – Baskets but it introduces a completely different way to assemble the card base.
I have 10 design split card ideas for you to choose from.

All of them invite you to incorporate papercraft ideas and techniques from times when we didn't have all the tools we have today.
I hope you like this new design idea!

VIDEOS – Split Card Design #10
Find a longer version of the video on YouTube, which includes the flower-making process.
Card recipe

This card measures 5-1/2″ x 4-1/4″. You can make it in any size.

Split Card Design #10
The process
To make the card base you need an A4 sheet of cardstock (300 grams).

A4 cardstock sheets have different lengths in different countries, regardless of this the process to cut the paper is the same.

Here is a visual of the pieces required to create a C6 ( A2) card base if using American standard cardstock ( 8-1/2″ x 11″)
1 STEP. Cut the A4 sheet in half along the longer side.

2 STEP. Use one of the halves to create a top folding card base. Then cut 1-1/2″ from the top fold.
Use the remaining piece to cut:
– 1-1/2″ x 4-1/2″ stripe of paper
– Two 1/4″ stripes of paper
3 STEP. Use the other half of the A4 sheet of cardstock to cut 1/4 "paper stripes.
Depending on your paper size these will be about 11″ to 12″ long

4 STEP. Assemble the card base as show in the video.
5 STEP. Add die-cut or stamped images and a sentiment.
Precision Tools
You might be wondering which are the cutting tools I use in my videos.
In the picture, you see the Maxi Guillotine and the Mini Trimmer. Both are a must!
I love Tim Holtz Guillotines, cutting tools, and mats. All these are made by Tonic Studios UK by
a team of expert engineers.

Years ago, I had the chance to meet them in person on a short trip to Tonic Studios Head Quarters in Whales. These people are incredibly passionate about the quality and functionality of each precision tool they develop.
These are some of the very best cutting tools you can get and they last forever.
My Maxi Guillotine is about 5 years old. It has fallen down on the hard floor countless times and it doesn't even have a chip.
I also wanted to share with you a new fav. The new Misti Precision Glue Press … wow!!
If you have the chance to try it you will understand how wonderful this little gadget is. I love it 100% and I highly recommend it because:

It is included or created to use with my very favourite liquid glue ever: Nuvo Deluxe Adhesive by Tonic Studios.
It is lightweight.
Soft grip.
The glue never stops flowing.
Include a glue bottle and also an empty refillable bottle that you can fill with your favourite liquid adhesive.
No more blocked nozzles ever.
Amazing precision glue tip.
Glue saver.
Gentle for your hands.
No more missing glue bottles or lids.

I give it 20 out of 10. It is a fantastic treat for crafty hands.
That's all for today.
Thanks for stopping by.
X
Bibi

Thirsty for more?

Supplies
Affiliate links apply at no extra cost to you. Thanks for your support