Hello crafty friends! We are celebrating the beginning of the 13th edition of STAMPtember® with a blog party and I'm featuring the new "Flourishing Bloom Plate" together with the new " Gracias Wafer Die" by Simon Says Stamp.
I hope you like the very simple ideas…
Flourishing Bloom Plate Acetate Card Ideas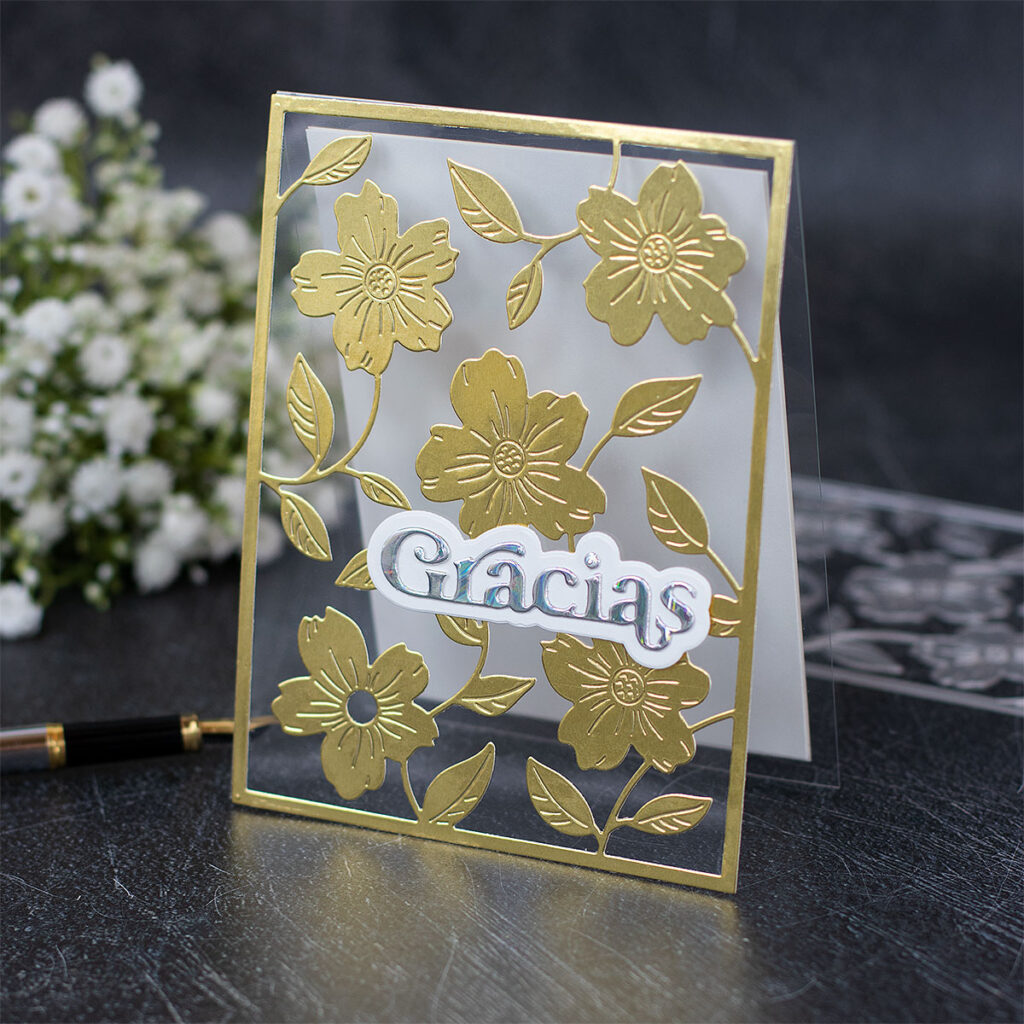 The die-cut background measures 5-1/2″ x 4-1/4″ inches.
It is beautiful so I just stick it on a clear background and I used gold and silver cardstock as in my opinion they are eye-catching and make simple things look a lot more complex.
So these cards are super easy to make and on my Instagram, I'll be sharing a video to show you the super process and a 360° view of these cards.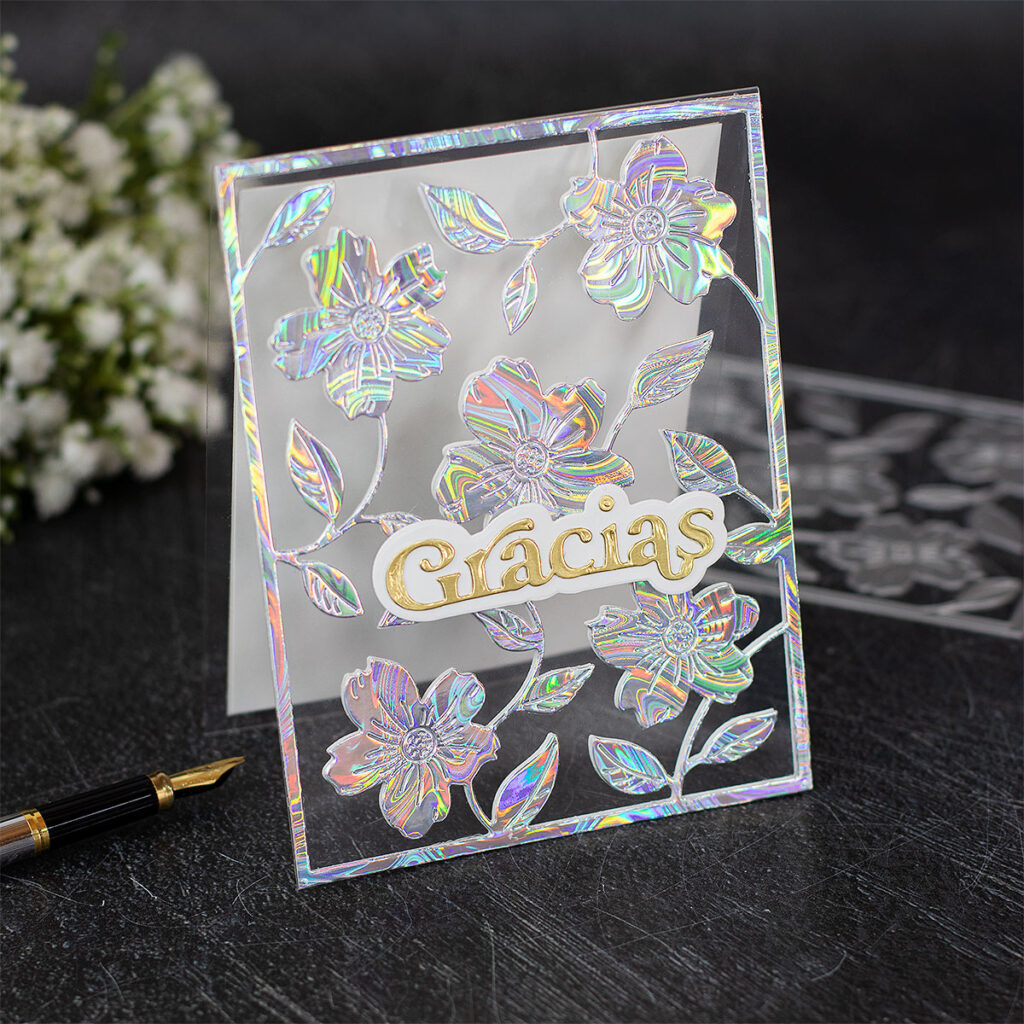 The card bases measure 5-1/2″ x 4-1/2″ inches. the inner panels measure 5 "x 3-3/4" inches.
Cards Recipe
*** Find the complete supplies list at the end of this post.

This is all about the glue, I have to say…
I used Nuvo Deluxe Adhesive to adhere the die-cut over the acetate, if you use the same adhesive you won't need to cover the back of the front panel as the glue dries clear.
You will need to apply very little glue. Then wait for the glue to dry a little bit, and carefully place the die cut over the acetate ( avoid getting the glue all over it. Although it will be easy to clean it tho once is dried.
In the Instagram video, you will see that I also used the Dot Runner Tape because I wanted to get it done quickly while filming but then I had to cover the back because the tape was visible.
There is no right or wrong, just 2 easy ways to stick the cardstock on the acetate. This task is not always easy.
In the video, you will see that I'm adding a panel to the back. It has the purpose to hide the adhesive used to stick the inner panel and it also provides extra room for another message.
Oh!! I used Simon Says Stamp Dot Runner Tape Adhesive to stick the inner and back panels. This tape is super strong. Love it.
Bonus Project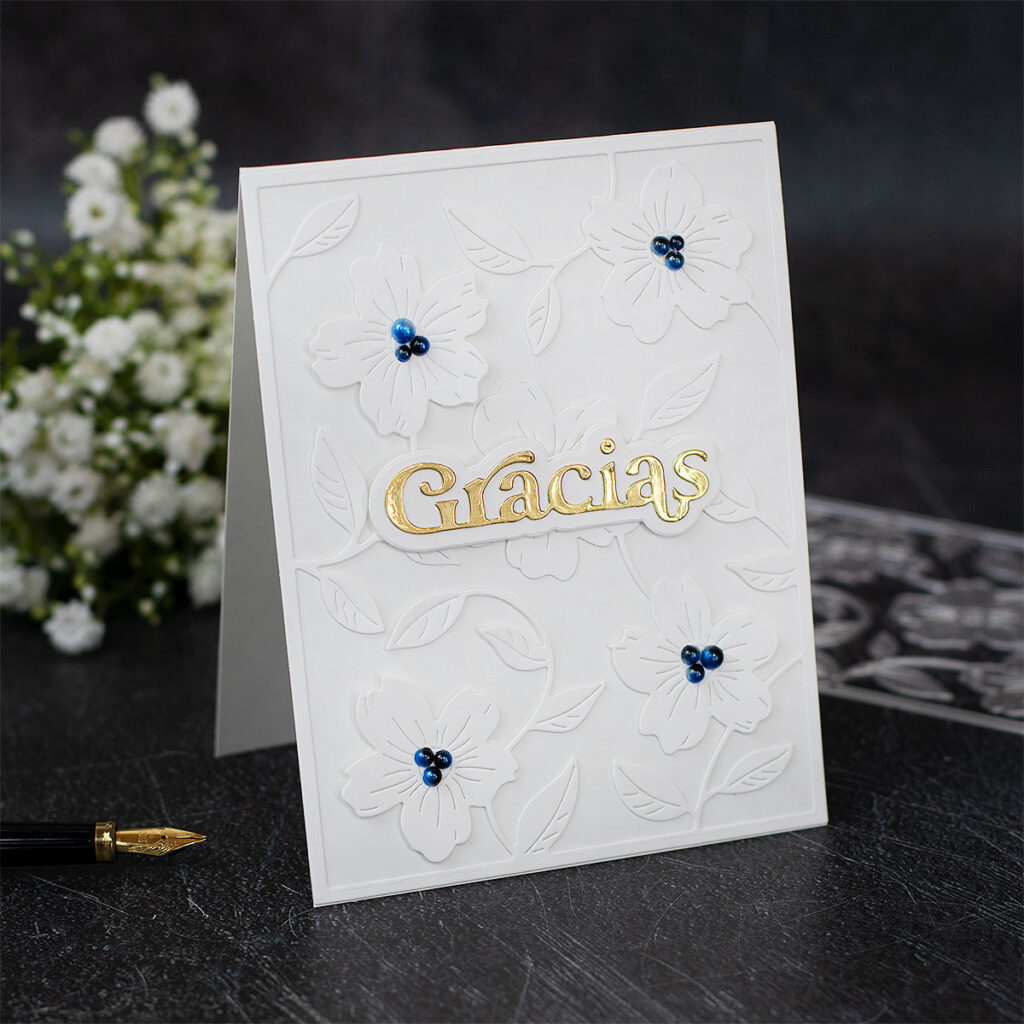 I also made a card all in white with a hint of gold for you.
Stamptember Blog Party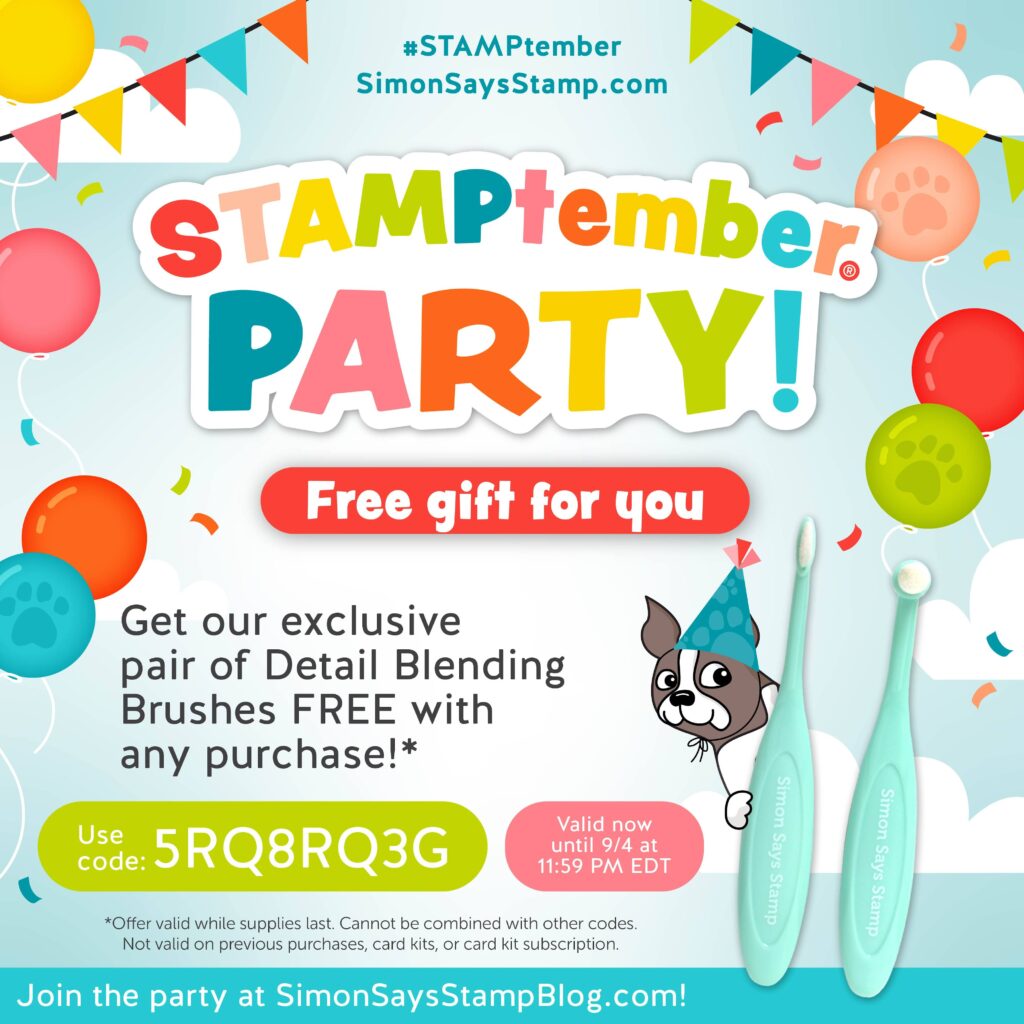 If you are new to STAMPtember® you might be wondering what it is so here is a brief explanation with clickable links for your convenience.
Free Gift With Any Purchase
Visit the Simon Says Stamp Shop here and use the CODE: 5RQ8RQ3G.
Valid until supplies last. Not valid on card kits or subscriptions.
GIVEAWAY!!
Simon Says Stamp (SSS) is also giving away 5 Golden Bones to win an assortment of SSS branded products from every release for an entire year.
This means happy mail every month!!!!
SSS will place a Golden Bone in 5 random orders during the month of September.
If you get one you will need to email reed@simonsaysstamp.com with a picture of you and your golden bone to claim the prize + your home address.
That's all for today.
Happy Crafting
x
Bibi
Thirsty for more?
Supplies
Affiliate links apply at no extra cost to you. Thanks for your support.