Hello crafty friends, Today I'm featuring the new Slimline Snow Globe Pop Up Card with Interactive Spinner by Scrappy Tails and I made two easy projects to share ideas and inspiration with you all.
Scrappy Tails is a small family business run by mother and daughter! I love that.
Kirsten and Sabrina Leavell are behind scenes making things possible and I wanted to join those helping to spread the voice about their crafty products.
Love their pop-ups!
Watch the Video Tutorial
In case you are wondering, in the video above I showed a sneak peek of a project I'll be sharing next week. It was made using a Pop-Up Box die and the Slimline Christmas Tree Spinner.
Top Tips
Use thick cardstock or up to 3 stacked die cuts for the front and back panels of the Slimline Snow Globe Card.
For the parts that require sharp folds ( accordions) use 240 grams cardstock as this is easier to fold plus the paper won't crack.
Do not stick embellismnets around the frame that could stop the spinner motion.
It seems that thiner twine might works best for the spinner.
Dies used on this post:
***Find complete clickable supplies list at the bottom of the post
Slimline Snow Globe + Snowman Spinner
This card measures 8″ x 3-1/2″ inches.
To make it, I used Slimline Snow Globe Pop Up Card with Interactive Spinner and Slimline Snowman Spinner.
The pinecones and foliage were made using dies from Assorted Christmas Leaves and the bow is a small die included in Pop Up Card die set.
For the little banner on the front of the card, I used a pre-printed sentiment included in Simon says Stamps Sentiments Strips Slimline Christmas.
The blue frame on the front of the card was die-cut out of a piece of acrylic paper that I previously painted using Fairy Tale blue Arteza Iridescent Paint.
To add a texture over the card front panel, I applied Tim Holtz Crackle Paste, using Nuvo Media Spatulas through SSS Ramsom Dots and Stars stencil.
For additional contrast, I applied Black Soot and Walnut Stain Distress inks over the foliage and the front panel before adhering all the pieces together.
Cardmaking Process
I die cut all the pieces using the Spellbinders Platinum 8″.
To die-cut the frames, I used Neenah Classic Crest 110 LB, and to die-cut the accordions I used Neenah Classic Crest 80 LB.
Instead of using coloured cardstock, I also die-cut all the small details such as the gloves, scarf, hat, candy cane, buttons, and foliage out of Arteza Acrylic Paper previously painted using Arteza Iridescent acrylic paints.
The acrylic paper is 300 grams and its textured also add an organic look to die-cuts. It looks like a canvas… so pretty
You can check my video post about Arteza Iridescent Paints here to see the gorgeous look and feel this paint adds to your projects.
Slimline Snow Globe + Nutcracker

This card measures 8″ x 3-1/2″ inches. It was made using the Slimline Snow Globe Pop Up Card with Interactive Spinner and Slimline Nutcracker Spinner.
To make the hoit foiled sentiment, I used a glimmer plate from Holiday Floral Background Glimmer Set by Spellbinders.
The small Snowflakes are from Winter Essentials die set by Scrappy Tails.
To add small accents, I used Fashion Gold embellishments.
Here is a list of the cardstock used to make this card:
The Envelope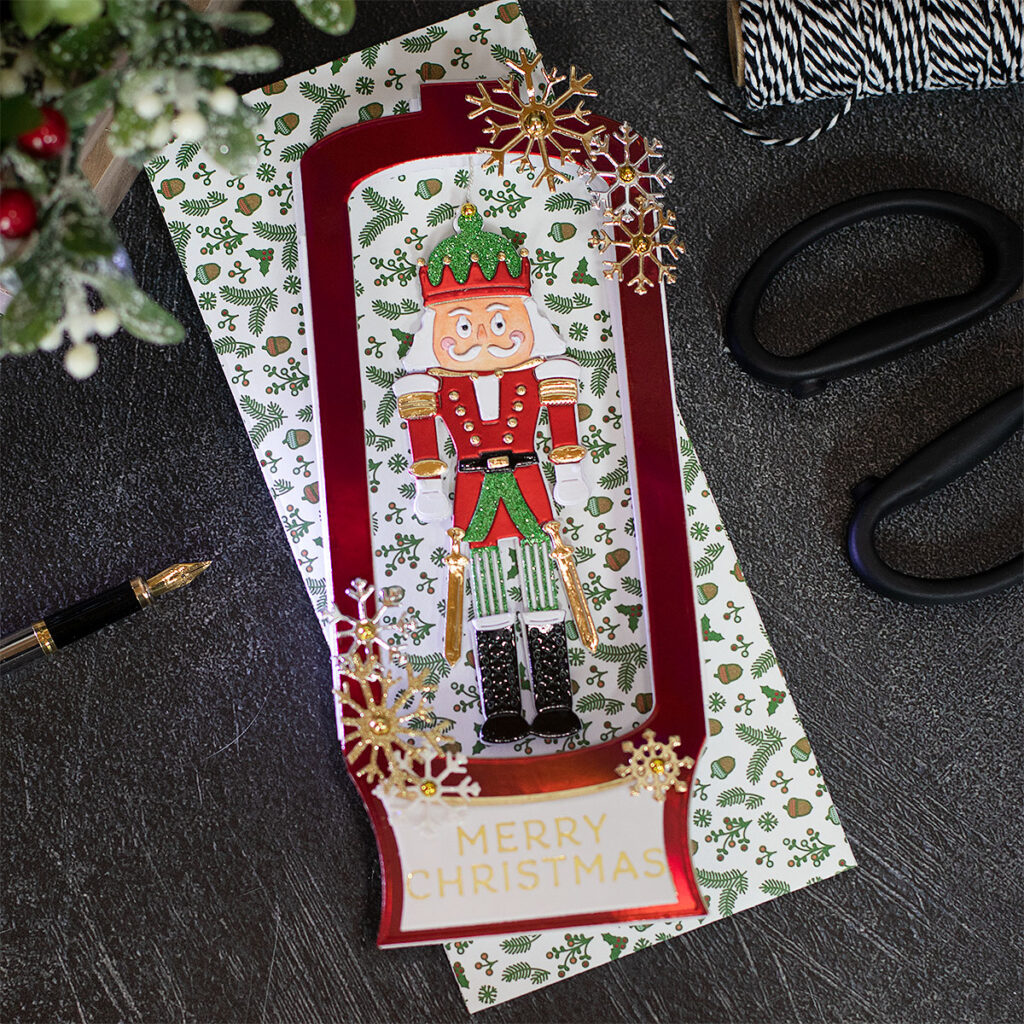 Due to the size and dimension of these cards, you might need a large envelope.larger than usual slimline envelopes.

I found that the Simon Says Stamps Slimline Envelope die set will create envelopes for these cards as shown in the video here at minute 10:00.
That's all for today.
Thanks for stopping by!
X Bibi
Supplies list
Affiliate links apply at no extra cost to you. Thanks for your support.