Hi there, for today I really wanted to highlight the raised areas created by the new gorgeous Magnolia Branches Embossing Folder by Simon Says Stamp.
So I tried several things BUT I couldn't achieve that look and feel I was looking for…
I used the Magnolias Branches Embossing Folder on different paper qualities and using different inks.
Then, I remembered a very old failed crafty session using photo paper and water- based products.
Hmmm… Why not using photo paper and add to the equation some dry embossing ?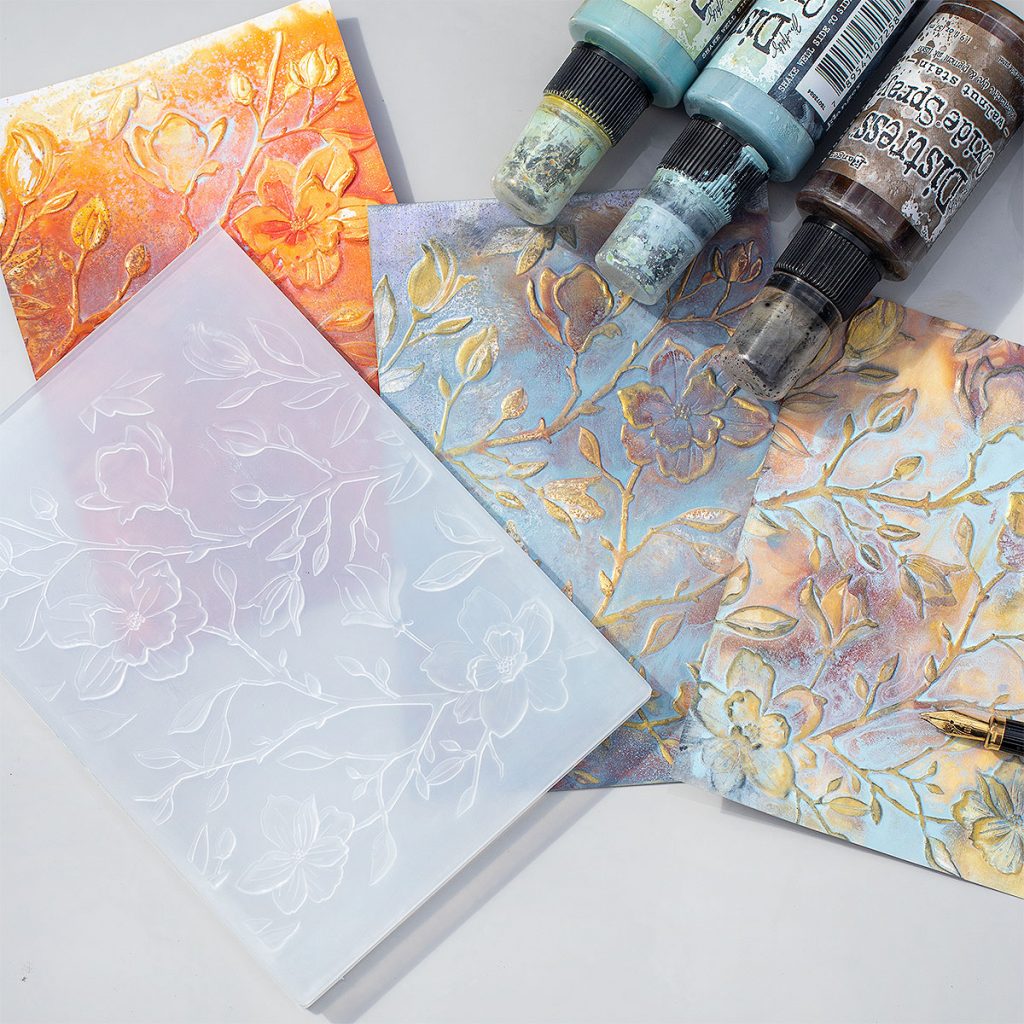 Nailed! Sprayed Embossing was born… at least to me.
Sprayed Embossing Video
I love it!
Dry Embossing really added a whole new dimension to any technique that involves water-based products and photo paper. Especially those available on sprays.
Several years ago, I found that any water-based ink or watercolour paints will stain permanently the photo paper and they won't wash off.
Perhaps many other crafters made this discovery as well but back then I didn't know what to do with that knowledge. I was unable to create with the colored photo paper so I never shared anything.
Until yesterday, I still din't know what to do about it. lol
MAGNOLIA BRANCHES SPRAYED EMBOSSING
4 Simple Steps
Step 1.
So here is the trick. We first need to apply colour to the debossed area of the panel.
Apply ink directly on the Magnolias Branches Embossing Folder ( you can spray it or use an ink pad to do this)
Spray a bit of water.
Place the glossy side of the photo paper over the inked area of the embossing folder.
Close the folder and emboss the paper using a die-cutting machine.
Done!
The debossed area of the panel is covered with some color and the embossed areas should be looking bright white.
You can stop right there or move forward to step 2.
Step 2.
Apply a dark Distress oxide ink over the raised areas of the image using a blending brush and spray water immediately.
Allow drying.
Step 3.
Once the panel is dry spray a very opaque and light colour of Distress Sprays.
I like to use Old Paper, Speckle Egg ( or both together).
For a dramatic look, I like to use Walnut Stain.
Spray a generous amount of water and wait for the ink to sink on the crannies of the embossed image.
Allow drying.
Step 4 .
I found this to be the only ink pad that actually does a very neat job highlighting the embossed areas.
To make the white boxes you need two 8″x8″ inches pieces of cardstock.
One for the box lid and one for the box body.
Next, you need to trim 1/16″ of an inch( both sides) of the piece to make the base.
Then, score at 2″ all around the edges.
Trim the corners to create flaps.
Glue and shape the box.
For the blue box below, the lid is thinner so I used a 6″x6″ piece for the lid.
I scored a 1″ inch around the edges.
The Butterflies
I used images from Beautiful Butterflies stamp set by Simon Says Stamp. This is a stunner!
First, I inked the photo paper using sprays or ink pads.
For some butterflies, I stamped the butterflies using Versamark ink and I applied Gold Perfect Pearls.
Others were stamped using distress inks and I spray water for a distressed look.
To finish I cut the images using scissors and I layered them
Using thick black tread, I secured the layered butterflies and I made a knot at the top to create antlers.
The Little Banners
These are hot foiled using Yana's Tiny Sentiments Glimmer Plates and other Spellbinders supplies ***listed below.
That's all for today.
I hope you enjoyed this post!
Happy Crating.
X Bibi
Supplies List
Affiliate links applies at no extra cost to you thanks for your support.