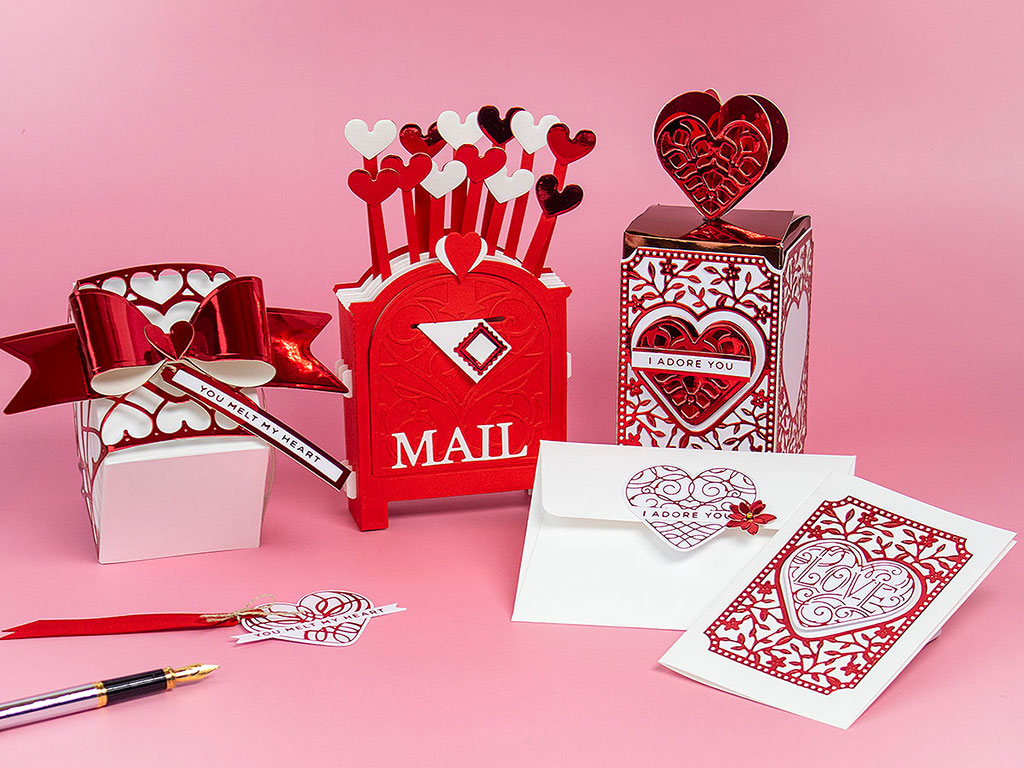 Happy new year! I'm saying hello to 2021 with 11 San Valentine's papercraft projects made using the Spellbinders Club Kits from this month ( January -2020).
In this post:
SAN VALENTINE'S DAY PAPERCRAFT IDEAS
I couldn't help myself . I had to use red mirror cardstock and red hot foil for today's projects.
These materials are incredibly difficult to photograph but I did my best to show you their shine in pictures and video.
I think these are some of my fav for San Valentine's Papercraft Projects in 2021.
LARGE DIE OF THE MONTH – san valentine's SLIMLINE KALEIDOSCOPE CARD
The Large Die includes 10 dies.
The larger die in the set will cut an 8-3/8″ x 3-3/8″ background panel. This is the size of a slimline card.
The "heart dies" will create a kaleidoscope that is very pretty.
Sadly pictures here don't make justice.
LARGE DIE OF THE MONTH GIFT BOX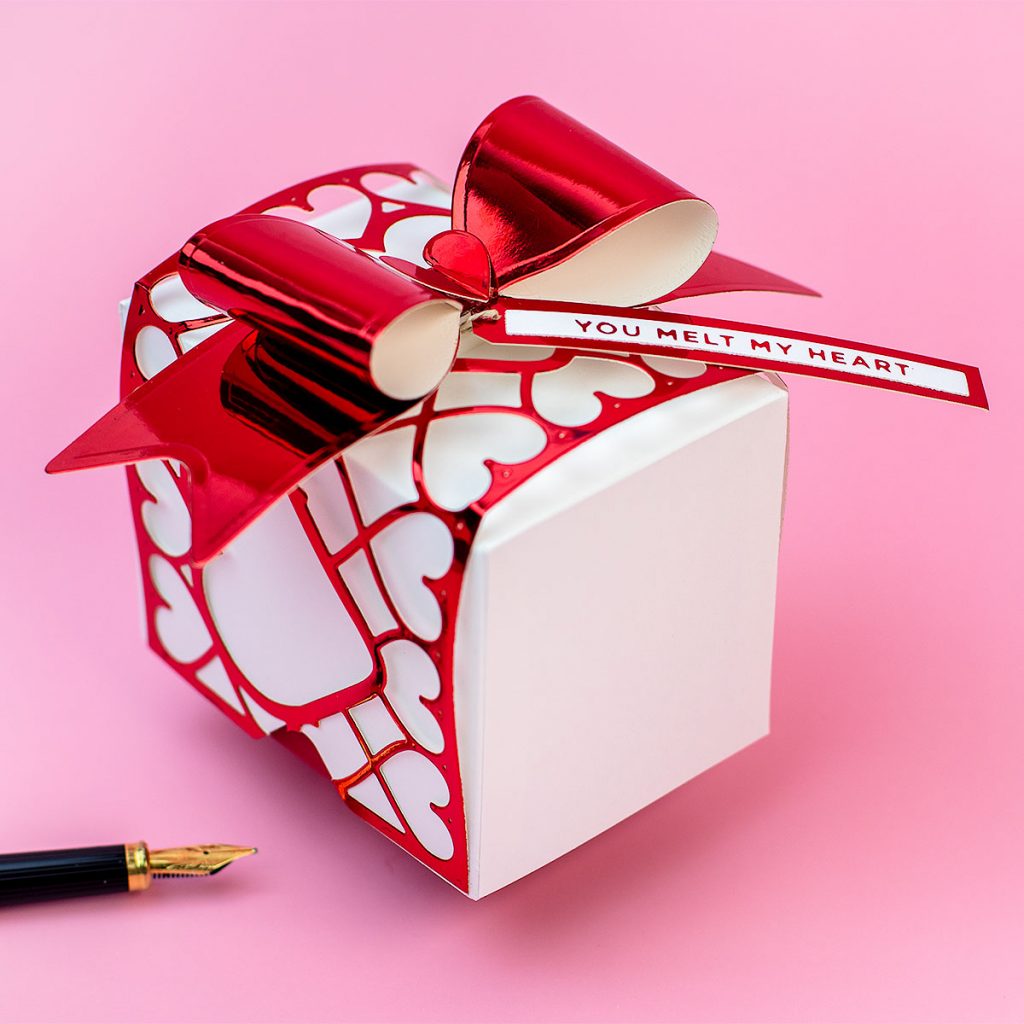 As I love using supplies in a non -traditional way, I made a topper/band for a box using the Slimline Background panel made using the Large Die of the Month.
This box is 2-3/4″ deep x 2-1/2″ width x 3-1/2″ inches length.
This is a perfect size if you want to create a topper using slimline background dies.
As I mentioned in the video you can create toppers for jars, candles or anything else using slimline background dies.
Yes, it is not the first thought you might have in mind when looking at this kind of dies but I found incredible necessary to have some packaging ideas for San Valentine's.
To make this super super easy box you are going to need:
2 pieces of cardstock that measure 9″x8″ inches.
Then you need to trim 1/8 "of both sides of the piece you will use for the box base ( this is to guarantee a perfect fit of the box lid).
Score both pieces at 2-3/4 all around the edges.
Trim the corners to create the box flaps and glue in place as shown in the video.
Decorate with the slimline die-cut, a bow, and a banner.
SMALL DIE SAN VALENTINE'S GIFT BOX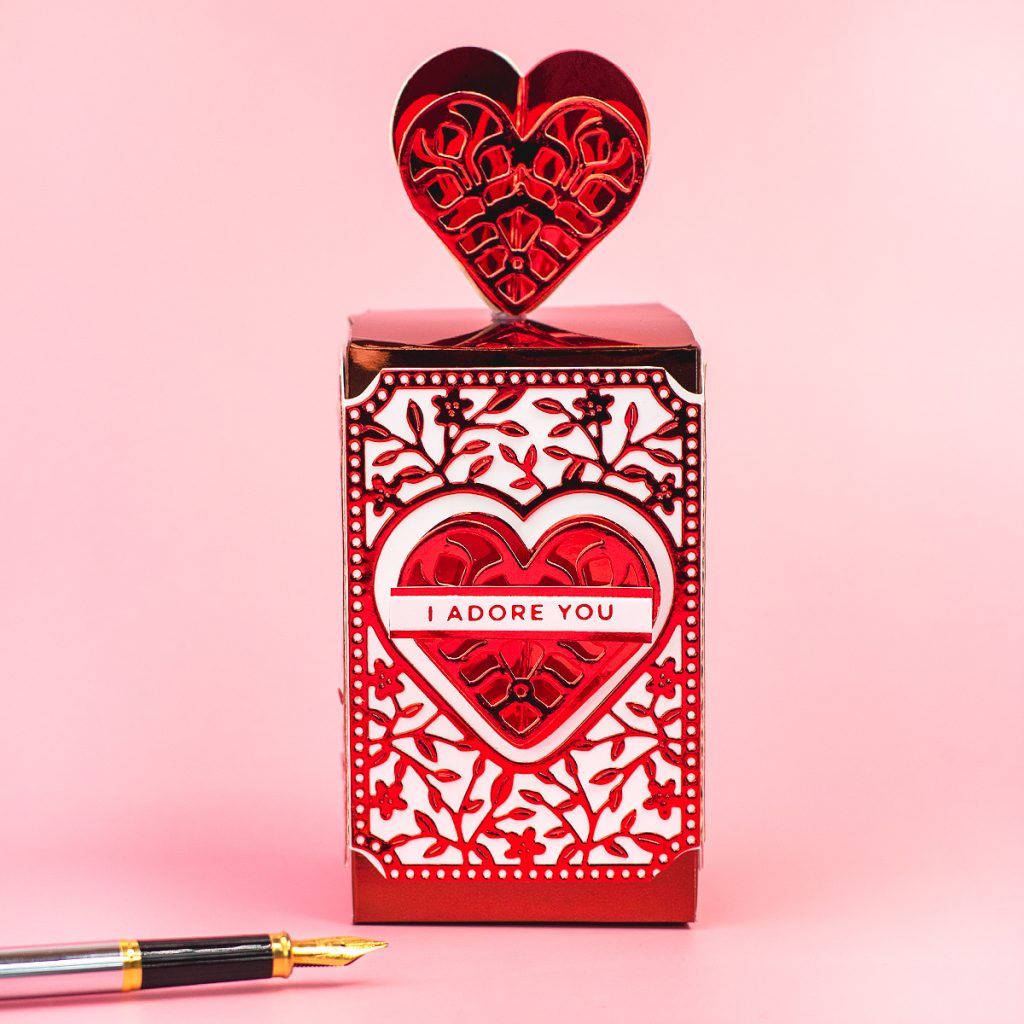 The small die of the month includes 4 dies. Again I wanted to create an alternative, bold and easy project to share with you using dies from the small die of this month.
So I made glossy gift boxes using Red Ruby and Rustic Dusk.
To make this boxes you will need a piece of mirror cardstock that measures 8″x 11-1/2″ inches
Score every 2-3/4″ over the larger side of the paper ( 2-3/4″, 5-1/2″, 8-1/4″, 11″)
Turn the paper around and score at 2″ inches from both ends of the shorter side of the paper t create the box flaps.
Trim the corners and glue them in place.
You can adhere die-cut panels made the medium size die included in the small die this month or create a sleeve for the box as I did for the box in the pictures.
Decorate the boxes with the 3D die-cut hearts. I made these ornaments using dies from the Large Die of the Month ( January 2021) and I adhered them to the top of the box using hot glue.
Add tridimensional embellishments and hot foiled banners to add interest to your projects.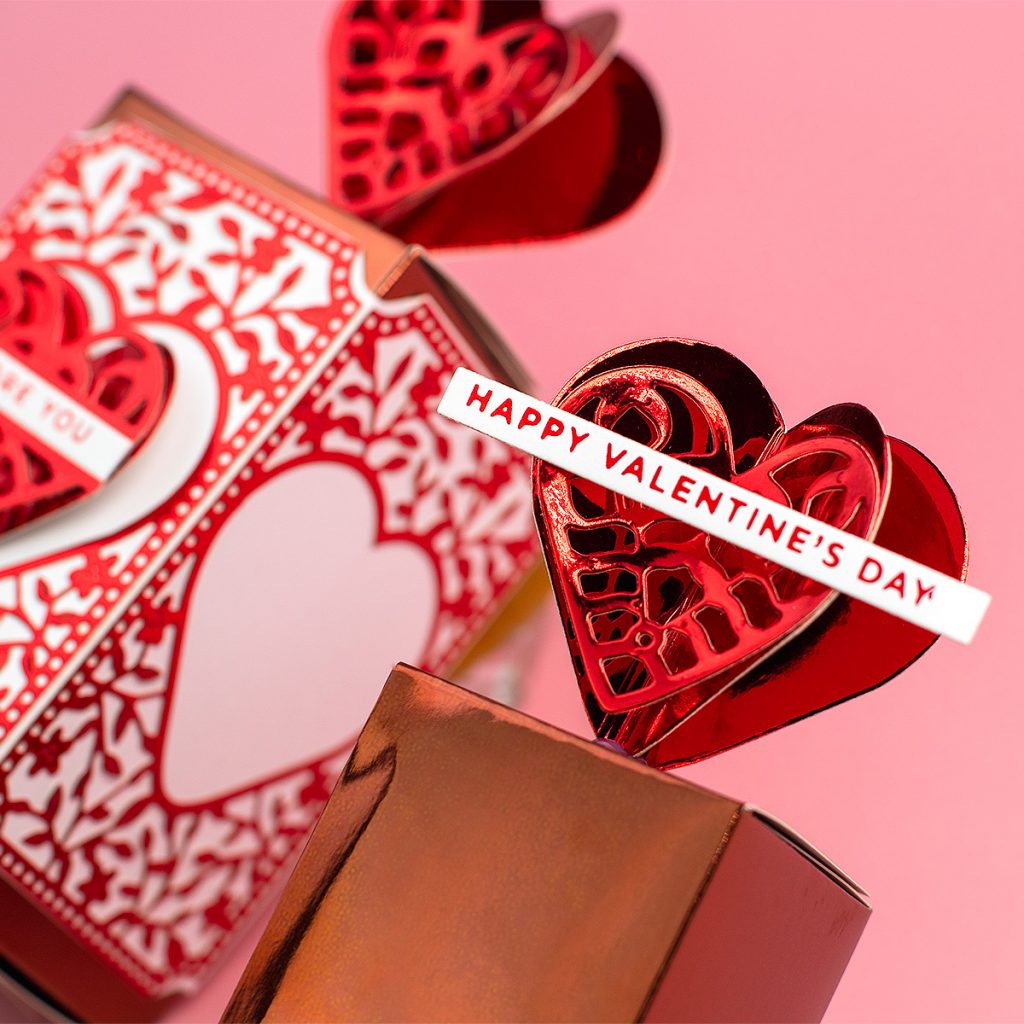 CALLIGRAPHY HEART GLIMMER HOT FOIL
I made 3 clean and simple little San Valentine's projects to feature "Calligraphy Hearts" – Glimmer Hot Foil of this month.
This kit includes 8 glimmer plates, 3 hearts, and 5 sentiments, plus 5 dies to cut the heart's outline, banners, and a small flower.
You can see the 3 heart designs in the projects above, banner samples, and the die-cut flower as well.
I used the die here to make the envelope that measures 5″ x 3-1/2″ inches and the card is slightly smaller.
To make the card, I used a die-cut made using the small die of this month and a foiled heart.
AMAZING PAPER GRACE – mini 3d vignette valentin'es mailbox
The Amazing paper Grace this month will create a super cute Mailbox 3D Vignette.
The mailbox alone measures 4-1/2″ x 3-1/2 and it is 1 " deep.
When folded flat it measures 4-1/2 x 4-1/2″
If you add the hearts on top of the mailbox, this project measures 6-1/2″.
You can stamp or die cut the inner panels to create a completely different project.
You can see a 3D Xmas Vignette in the video post here for additional information and instructions and how to assemble this kind of project.
SPELLBINDERS CARD KIT
I made 6 easy projects using the Card Kit this Month.
The cards above features the die set, the stamp set , paper and die cut shapes, stickers, embellishments included in the kit.
" Lucky Love", the Spellbinders Card Kit of this month includes:
11 PCS die set.
25 PCS stamp set.
6×6 inches paper pad ( 40 sheets – 20 designs, 2 sheets each design).
Cardstock.
Adhesives.
Card bases and envelopes.
Sequins.
3D Stickers.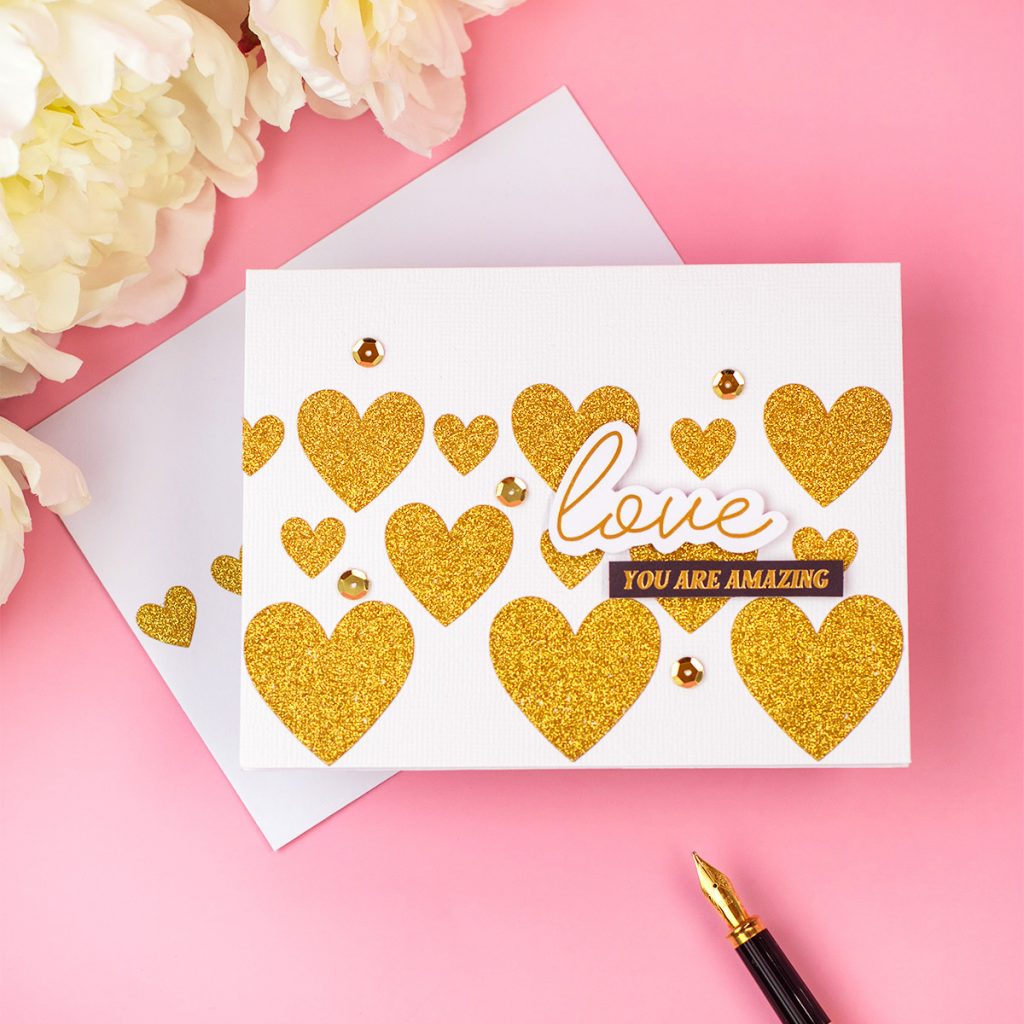 This card was made using card blanks and stickers included in the kit.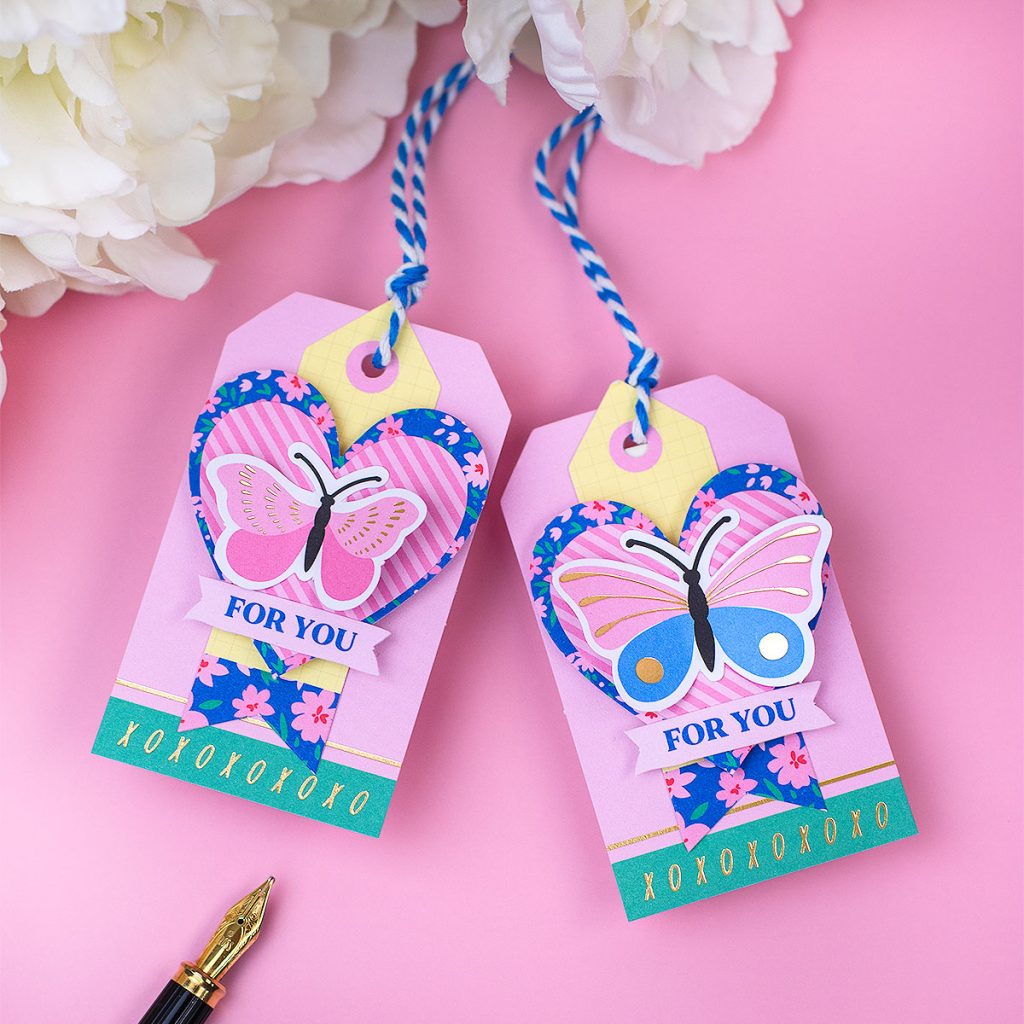 You can also enjoy scrapbooking and I made tags using different die cut shapes in the kit.
Phew! That's all for today. I hope you have enjoyed this post.
Happy Crating
Bibi
SUPPLIES LIST
Affiliate links apply at no extra cost to you. Thanks for your support.