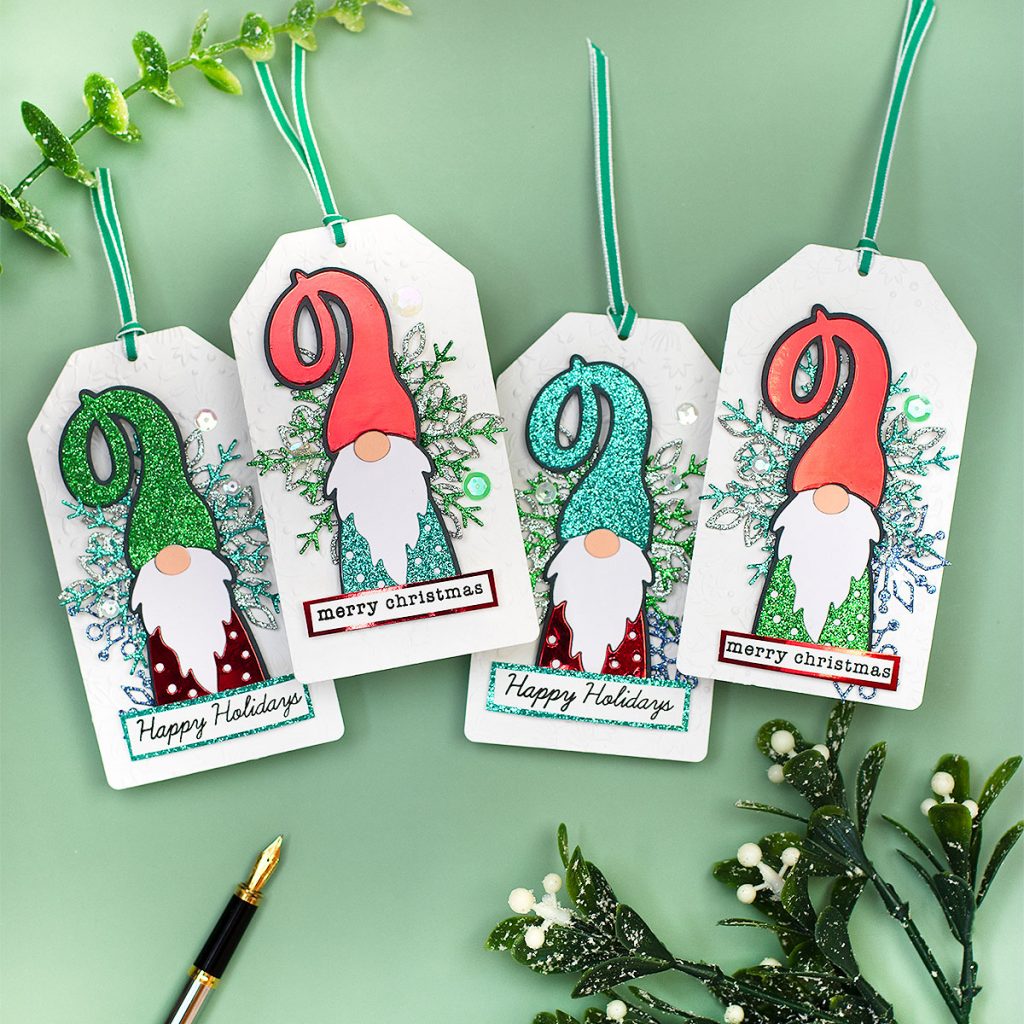 Hello, I made quick layered Gnomes and Snowflakes Christmas tags to share with you today using Large Gnome, Marie Snowflake, Dainty Snowflake, and Snowflakes Borders die sets by Simon Says Stamp.
I used the larger tag die from the Nested Tags die set, and I added loads of sparkle to these projects using mirror and glitter cardstock.
GNOMES AND SNOWFLAKES tags
In the picture above you can see some of the die sets I used to make these projects.
I used :
MIRROR AND GLITTER CARD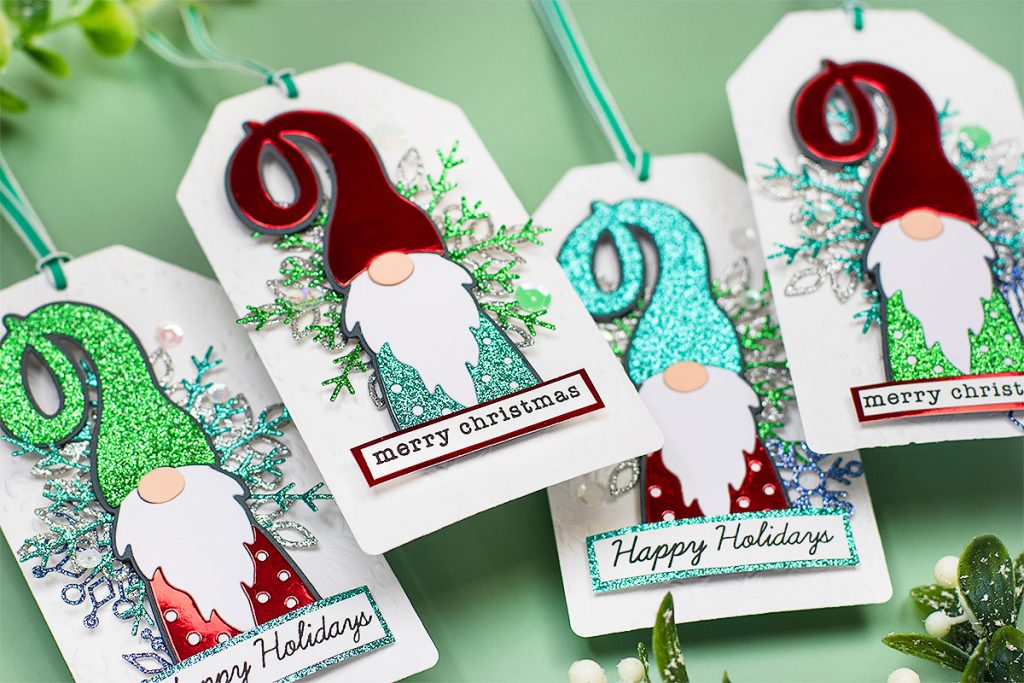 Christmas is one of those occasions in which you can get crazy with mirror and glitter cardstock.
So to add interest and festive sparkling touch to these tags, I mixed 5 different mirror and glitter card colours by Tonic Studios.
These papers are easy to die-cut and after die cutting the paper preserve a very sharp edge. Very little glitter comes off the paper as well.
MIRROR AND GLITTER CARDSTOCK TIPS
These stunning papers are great to create layering elements and to add a sophisticated touch to any papercraft project.
As the back of these papers is smooth it is easy to glue or to adhere to any project but is another story when you need to adhere the front of the paper to another surface.
The glossy side of the cardstock will repeal the glue. Once the glue dries over the glossy paper you can even carefully wipe it clean and the paper will shine again. This is great when you don't want the glue to show up on the surface of the paper.
If you want to use mirror or glitter cardstock to make 3D projects, you need to make sure to use a liquid adhesive or a very strong double-sided tape that grantee a permanent bond.
Although Tonic Studios glitter and glossy cardstock are amazing quality, they aren't great for sharp or intricate foldings as the paper could crack over the scoring lines if this is not done with care.
I would refrain from using a scoring tool over mirror/ glossy cardstock to avoid scratching the beautiful paper and you need to make sure that when die-cutting there is nothing on the machine as little pieces of paper, glitter that can get embossed on the plastic coat that covers the paper.
1-minute video gnome xmas cards
That's all for today.
Happy Crafting
X Bibi
SUPPLIES
Affiliate links applies at no extra cost to you. Thanks for your support.