Hi there, today I made paper coffee cups using Tonic Studios "Special Blend Gift Box – Designer Choice 11″ and I also have a bonus project for you.
Designer's Choice by Tonic Studios is an exclusive limited edition and it has been released today. It never last 2 days in stock so I hope you can gran yours before is too late!!
PAPER COFFEE CUP TUTORIAL
Special blend gift box die set
This die set includes 16 individual dies.
It will allow you to create a super fun tridimensional and realistic paper coffee cup.
Suitable to use with any die-cutting machine ( fits in standard  6" inches die-cut machines).
The paper cup assembled measures  4-1/2" inches tall by 3-1/2" width.
The size of this box is the size of a real coffee cup. 
You can make it in any paper colour.
Great gift box for any occasion.
Also great packaging for small snacks or ice cream.
what paper should i use?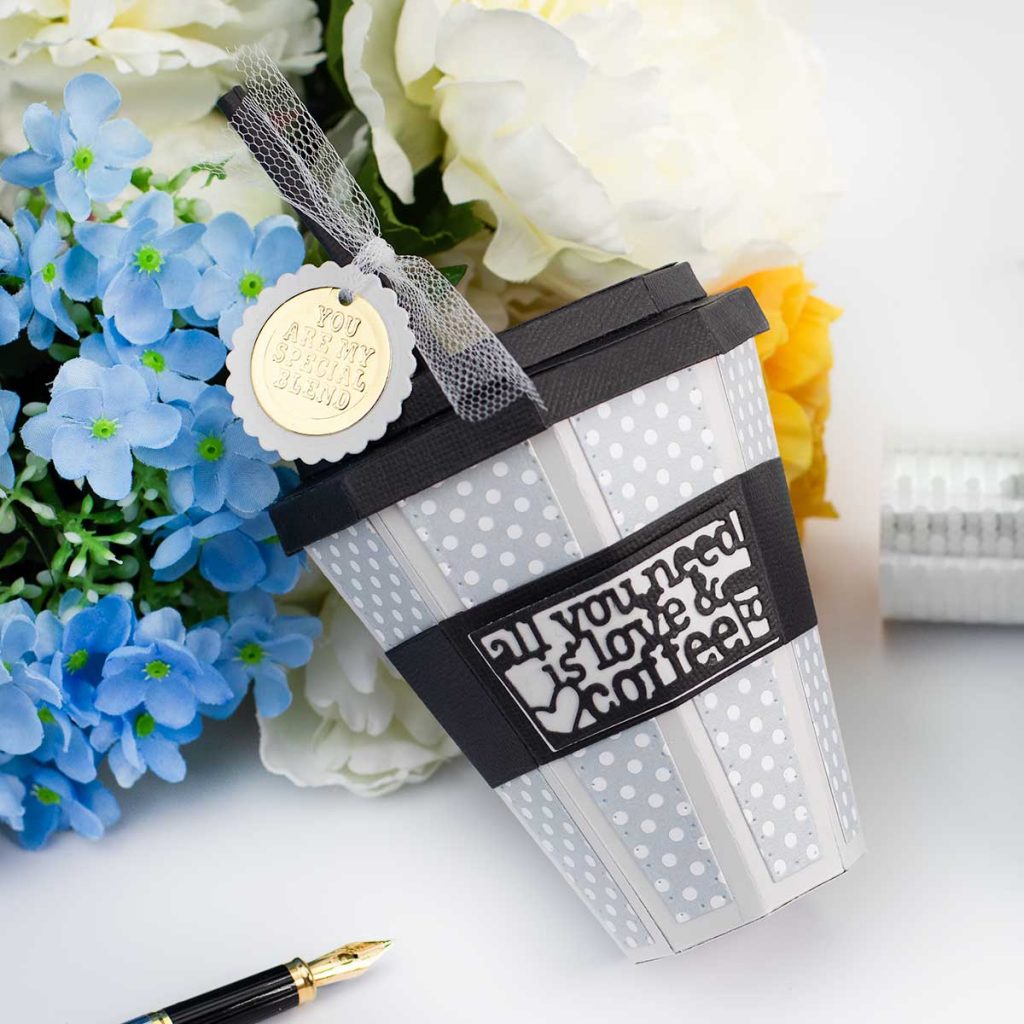 To make the body of the box you can any cardstock up to 300 grams or also use thick scrapbook paper.
For the lid of the box I  won't use paper up to 240 grams. 
You can make these paper coffee cups in any colour for any ocassion.
paper coffe cups halloween treats
Special Blend Gift Box Bonus Project
While creating with the box many ideas crossed my mind but there was one I feel strong about it.
I decided to use the box as a stand for a Christmas ornament.
You can use the body of the box or the cup alone without the lid to do this but the lid can add additional support and sturdiness to your project.
From here the sky is the limit!
To make this angel I used:
Canvas fabric for the head.
Mermaid dies by Tonic Studios to make the dress and accessories
A circular piece of silver fabric  and wire to make the wings.
Silver trimming 
2 black rhinestones for the eyes
Blue wool. 
thread and hot glue to keep the pieces together.
That's all for today. I hope you enjoyed this post.
Happy Crafting
Bibi Cameron
Supplies
Affiliate links apply at no extra cost to you. Thanks for your support.