Hi there, welcome to my blog. I hope you are doing well !
Today I have two card ideas to get crafty with Ornamental Floral Card Creator – Spellbinders Small Die of the Month – July 2020.
This month, you will receive a 4 pieces die set that includes:
Three beautiful floral dies.
One decorative die that will allow you to cut two pieces to create an intricate frame or texture on the background of a card, a box, a memory album, or any other papercraft project you might have.
die cut background textures and embellishments
So the main idea for today's cards is to create fun background textures and embellishments using dies in the Spellbinders Small Die of the Month – July 2020.
die cut background
I started by die cutting a white panel of cardstock, using the decorative die in the set.
My intention was die-cutting two identical pieces as you will need them to create a whole frame… However, just when I was about to cut the second piece out of that same piece of cardstock, I noticed that I could actually cut a fun background for a card. So I decided to explore this die-cutting option.
This also enabled me to create a whole piece with a central area to stamp a sentiment. I used a sentiment from Altenew Crafty Friends stamp set using dark grey ink.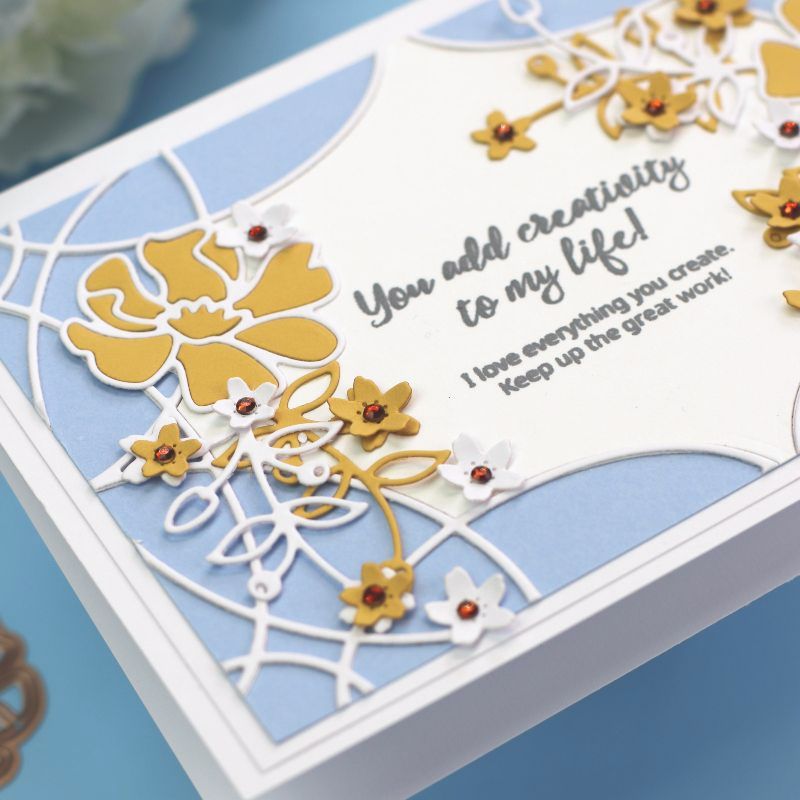 After die cutting the white background panel the piece measured about 7″ x 4-1/2″ inches.
I then glued a piece of blue cardstock behind and I trimmed down to 6-1/2″ x 4″ then I added a white backing panel to then glue this onto a 7″x4-3/4″ card base.
I know this is not a standard size card but I never worry about the card size as I made envelopes with the envelope punch board.
Textures and floral clusters for cards
For this card, I used a background panel that I have previously stamped using Big & Bold~Anemone & Alium stamp by Colorado Craft Company.
I used a die from Splendid Trilliant Etched Dies to cut a white decorative piece to add to the back of the floral cluster.
I also added a hot foiled banner that I previously made using the Spellbinders Hot Foil System and some of the new Becca Feeken glimmer plates.
I'm quite in love with those glimmer plates. they works so nicely and the sentiments are beautiful.
Top Tips…
For easy die-cutting, I used Neenah solar crest 80lb cardstock and 240grams coloured cardstock and the Spellbinders Die-Cutting Machine.
You can make any size projects with the dies included in the Spellbinders Small Die of the month . Here are also ideas to :
Do easy paper piecing with the floral dies in this set.
Create fun die-cut backgrounds.
Create small floral embellishment for your projects.
Have a look of more heat foiled banners in the post below:
I also added some blink to this cards using Raw Honey Gemstones stickers by Honey Bee stamps.
Supplies
Affiliate links apply at no extra cost to you. Thanks for your support.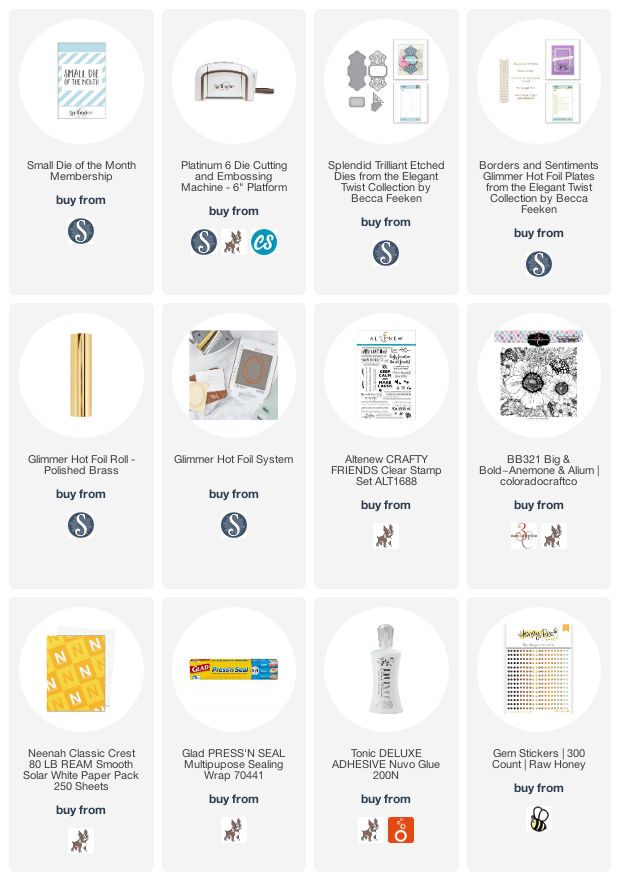 watch Paper piecing tips in 3-MINUTES VIDEO
That's all for today.
I hope you like this project.
Happy Crafting!
x
Bibi