Hi from the very north of Scotland, I hope you are doing well.
Today I'm sharing a couple of cards made using dies from Wedding Season by Nichol Spohr for Spellbinders.
Wedding Season by Nichol Spohr is a small collection of four die sets and Wedding Wishes glimmer plates.
Wedding Dress and Tux Card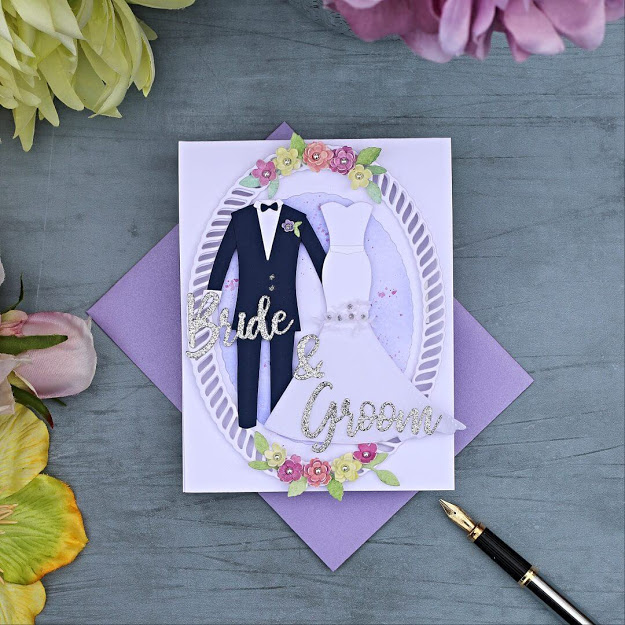 Once again I feel like playing dolls with a die set.
Wedding Dress & Tux contains 10 dies. I was surprised by the size of some dies in this set they are really tiny but in spite of the size, I found it easy to work with the die cuts and to effortlessly put this scene together.
For the large sentiment, I used Bride & Groom Die set and silver glitter paper. To give dimension I stacked a couple of extra die-cut behind it.
I also used Elegant Twist Ovals by Becca Feeken to frame this scene.
With the Elegant Twist Ovals dies, I also die cut the card base and a smaller oval frame that I placed behind the dresses.
I used a Blending Brush to apply Distress Oxide Ink over the oval piece behind the dresses.
I then applied a little bit of seedless preserve Oxide Ink on a clear block and I blended it with a little bit of water to ten splattered it over the oval piece. I also splattered over this piece the ink od a Nuvo Shimmer pen.
Details
To add details to the bride dress I used vellum but it was hard to capture this on the pictures.
I die cut the skirt of the dress out of vellum and then used the Bright Days embossing folder to emboss it.
For the Tux, I decided to use navy blue cardstock. I think Scottish gentlemen will choose that kind of colour if they don't choose to wear a kilt at their wedding plus it looks a lot better with this card colour scheme.
To make the little flowers, I applied watercolor paint over watercolor paper and I die cut out of it the tiny little florals from Mr & Mrs Wedding Cake Etched Dies.
Below a video, I shared on Instagram to share the process of making the flowers.
Ver esta publicación en Instagram

Una publicación compartida por Bibi Cameron (@bibicameron) el
Mr & Mrs Wedding Cake Card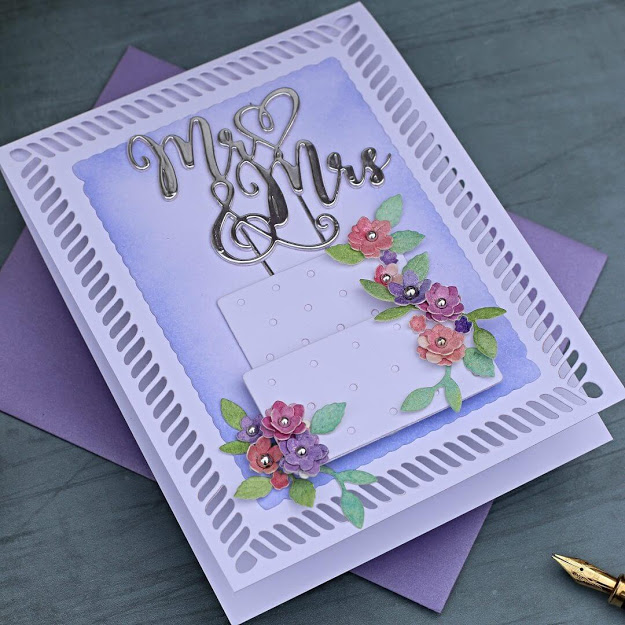 For this card I used Mr & Mrs Wedding Cake Etched Dies Wedding Season by Nichol Spohr.
This is a 13 piece die set that also includes small flowers and leaves die that I also used for the two cards in this post.
This die-cut cake is stunning and it can be used for birthdays, first communions cards.
The florals can be used all year round to embellish any craft projects.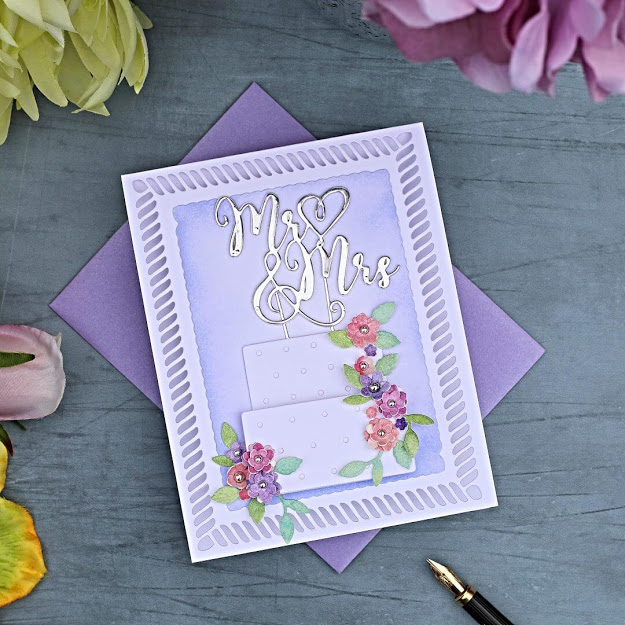 To add interest to this 5-1/2 'x 4-1/4″ inches card, I also used Elegant Twist Rectangles Etched Dies from the Elegant Twist Collection by Becca Feeken to die cut the edge of the card base.
You can see through the die-cut border!
I think this is a very beautiful and easy way to add a special touch to any card.
For the card base, I used pure white thick ultra smooth cardstock (300 grams) and I run the intricate die-cut four times in the Spellbinders die cutting machine to cut it perfectly.
That's all for today.
I hope you could find in this blog post ideas to get crafty with beautiful Spellbinders' supplies.
Happy Crafting
x
Bibi
Supplies List
Just a note to let you know that when you buy through the links in my blog I get a small commission at no extra cost to you.
Thanks for your support!