Hi there, today I'm sharing six easy projects and ideas to get crafty with Chunky Flower Die and  Happy Days Stamp Set by Simon Says Stamp.
Welcome to my blog and to Simon Says Stamp Send Happiness Release Blog Hop Day 1!
Chunky Flower die by simon says stamp
For the cards in the picture above, I used Inca Gold and Marina Mist iridescent mirror cardstock.
chunky flower
Kaleidoscope Die-Cut Background 
One of the first ideas I had with Chunky Flower Wafer Die, was overlapping the floral die cuts slightly offset to add a different look and extra dimension to the flowers.
For this C6 card, I simply overlapped two flowers and I framed the background although this isn't necessary.
You can make similar backgrounds in any color.
chunky flower
Partial Die Cut Gift Card
The flowers can be used to create a pull-up tab or to decorate the edges of mini cards or envelopes.
This mini card measure 3-1/2 x 6″ inches.
The easiest way to create this tag is to cut a rectangular piece of cardstock for your tag ( any size), then glue the flower over the border.
To finish you can adhere a solid die-cut behind to have a nice finishing a the back.
You can also apply a partial die cutting technique to get half of the flower die cut at the border of the tag and then glue the flower over.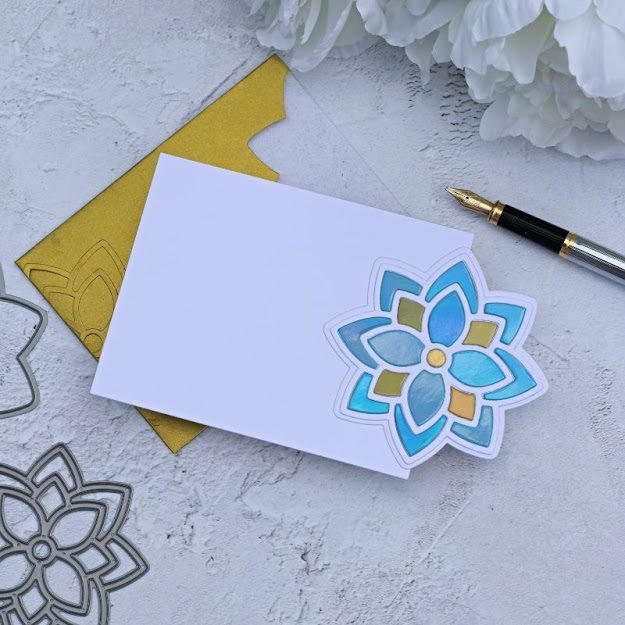 For the envelope/pocket, I just wrapped a square piece of thin gold paper around the tag, folded, and then cut it to the size. I was eyeballing this. Once you have one done you can use it as a template.
Before gluing the pocket, I placed the tag inside just to find the right placement for the die to partially die cut it.
Then I die cut the front side of the pocket (I used a large format die cutting machine but there are ways to do this using a standard die-cutting machine).
After die-cutting. I used double-sided tape to put it together.
I placed the tag inside and folded the bottom of the pocket to create a flap to seal this part, I trimmed any excess of paper and cut the corners of the flap in a diagonal to then adhere it at the back. T
This provides a nice finishing.
chunky flower Shaker Cards
Chunky Flower Wafer Die would also allow you to easily create shaker elements for your projects.
Box Topper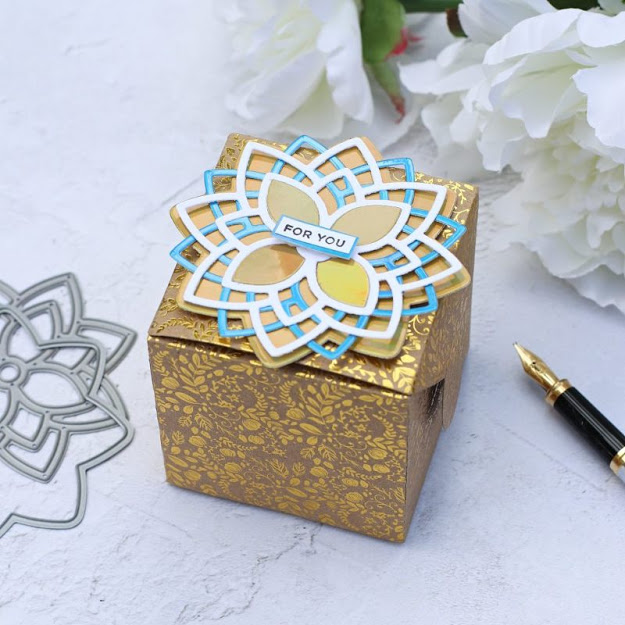 You can also use the floral die cuts to embellish gift boxes, bags, or tags.
It will make great Christmas tags as well.
Watercolour Die Cuts
I was keen to show you another colour option. Lately, I seem to use loads of blue.
I simply applied watercolor paint on watercolor paper and when dried, I die cut it.
For this C6 card, I also used a new rectangular die by Becca Feeken to die cut the edge of the card base. I think this added a lot of value to this minimalistic composition.
Bonus Project
Kaleidoscope Spinning Tags
So I had the idea to use Chunky Flower Wafer Die to make a kaleidoscope kind of thing that also spins.
This was super easy to do and I know they might not look fun until you see them move!!
Blog Hop
The next in the hop is the talented Barb Engler keep hoping to see what everyone is making!
For more inspiration please visit Simon Says Stamp Send Happiness Gallery Here!
Giveaway
Simon Says Stamp is giving away a $25 coupon to every stop on the hop from the blog's comment section.
Winners will be chosen over the weekend and post on our Simon Says Stamp blog on Wednesday, the 1st of July (Canada Day!).
That's all for today.
I hope you could find in this blog post ideas to get crafty with beautiful Simon Says Stamp supplies.
Happy Crafting
x
Bibi
Supplies List
Just a note to let you know that when you buy through the links in my blog I get a small commission at no extra cost to you.
Thanks for your support!