Hello there, I hope you are doing well and stay safe.
Today I'll be introducing you to the new Nuvo Shimmer Pen colours… I think you are going to love them. They are gorgeous!
I bet you might know the very popular Glitter Gloss Shimer pen. For me, it replaced the Wink of Stella no only because it got a lot more mica on it but because the price is unbeatable.
Last year Tonic also released the Midas Touch. A pen that adds a beautiful gold sparkle over your artwork.
Now we got new colours!!!
Blush Rosette – Rose Gold
Available at Tonic Studios UK | Tonic Studios USA | Simon Says Stamp
Sunlit Sienna – Cooper
Available at Tonic Studios UK | Tonic Studios USA | Simon Says Stamp
Opal Quartz – Iridescent
Available at Tonic Studios UK | Tonic Studios USA | Simon Says Stamp


About Nuvo Shimmer Pens
These pens are designed to add shimmer and elegant finishing touch to any papercraft project.
They are translucent and do not affect the colour of your artwork.
They add a metallic shine over projects made using different colouring mediums.
I got a video for you!
I joined Tonic Studios TV this weekend with this short video to share about the new colours of Nuvo Shimmer Pens.
So as I show in the video these pens are:
Water-soluble.
Non-permanent.
Translucent.
They activate with water or waterbased mediums.
Blendable.
Each pen is labelled with colour reference and colour name on the barrel.
Non- Toxic product ( ASTM D-4236 Certified).
Contains mica.
Nailon brush nib.
Non-drip valve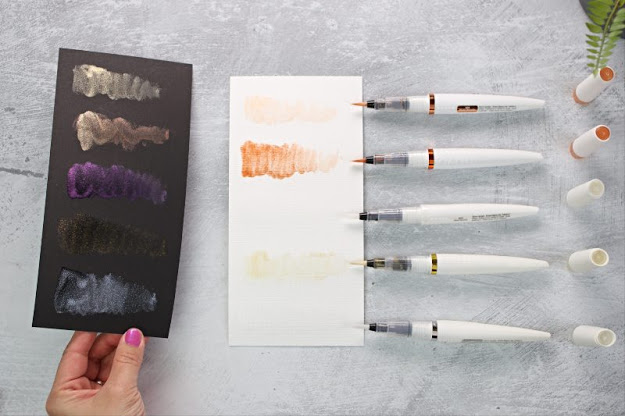 From the top to the bottom: Blush Rosette ( Gold Rose), Sunlit Sienna ( Cooper), Opal Quartz (Iridescent), Midas Touch (Gold), Glitter Gloss (Silver)
Colour Swatches
As the ink of these pens is translucent you could only appreciate the colours on pictures when applied on dark.
It is hard to see the ink colour of Midas Touch, Glitter Gloss and the Opal Quartz but those colours are incredibly beautiful when added over coloured images.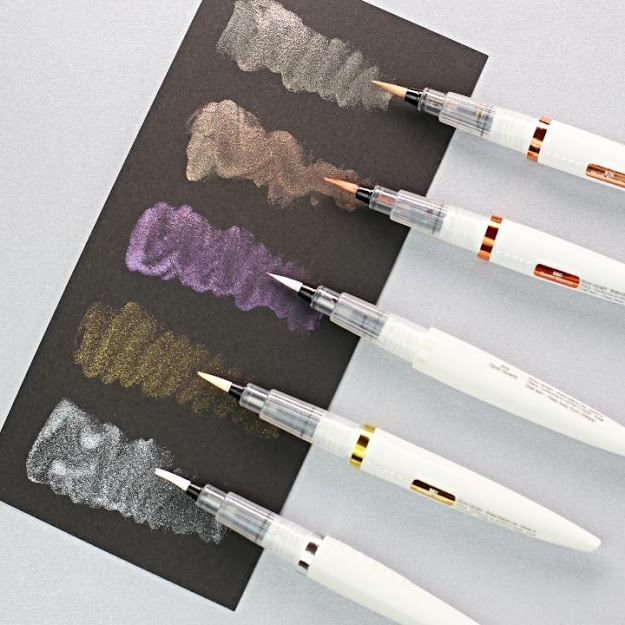 The main purpose of these pens is merely decorative. However, finishing touches are so important as anything else on a project and these pens are capable to add a lot of value to your projects.
The shimmer is subtle and it doesn't overwhelm the images when a thin coat of the pen is used.
You could apply a thick layer of these pen ink to add colour stamped images on dark cardstock or white if you use cooper and rose gold colours. Although I would recommend to use them always over a coloured image. they look a lot nicer that way.
That's all for today.
I hope you are loving the new shimmer pens as much as I do.
Hugs
Bibi Cameron
Supplies
You can get the pens individually but there are also packs and bundles available in the links below.
Affiliate links apply. This means that when you buy through the links in my blog, I get a small commission at no extra cost to you.
Thanks for your support!