Hello everyone, Tonic Studios is releasing today a beautiful 28 Pcs die set designed to create easy and effortless Floral Peek-a-Boo Cards.

It is called Peek-A-Boo Time to Shine.
Peek- A- Boo Time To Shine die set is on promo this week
35% Off at:
Tonic Studios UK Shop Here | Tonic Studios USA Shop Here
I made a 6-1/2 x 4-1/2 inches card to share a video tutorial with you and a 5×7 inches card to share step by step pictures.
Peek-A-Boo Die Set Includes:
2 sets of decorative dies that will allow you to create endless compositions by combining different dies within the set.
2 flower designs + 1 backing plate
a pair of intricate corner dies.
2 Triangular corner dies designs + 1 backing plate
2 leaves design + backing plate
2 sentiments + 2 backing plates ( 1 each)
Step by Step
Step1. Select paper and die cut all the pieces
Step 2. Identify main pieces to assemble the Peek- A- Boo and glue decorative die cuts over
Step 3.
Place the leaves holes facing down and align the first hole in each left with the hole in the pull-up tab.
Affix using brads.
Step 4.
Insert the pull-up tab in the peek-a-boo background panel as shown in the pictures.
Align the hole in the background panel with the second hole in each leaf
Affix using brads.
Step 5. Glue the flower and decorative die cut at the end of the pull-up tab.
Step 6.
To cover the mechanism use the large semi-circular decorative die-cut in the first picture below.
This die-cut has little flaps on the sides. Fold the flaps and add glue only over the flaps. Then adhere over the panel making sure the bottom of this die-cut is aligned with the bottom of the peek-a-boo background panel.
You can also glue the flaps to the back of the peek-a-boo panel if you prefer.
Step 8. Apply glue behind the panel. Avoid adding glue on the pull-up tab area.
Step 9. Add the peek-a-boo to your project.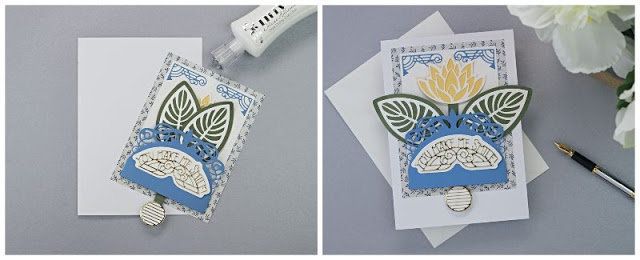 In the step by step pictures the final card measures 5×7 inches.
That's all for today, I hope you like these cute die set and ideas.
Happy Crafting!
Supplies
Just a note to let you know that when you buy through the links in my blog, I get a small commission at no extra cost to you.
Thanks for your support!