Hi everyone, Today I'm taking part in a new Spellbinders release!!!
Spellbinders will be releasing new products on the 10th of every month and in addition to the new product, they are also selling a Project Kit to celebrate the launch.
They have gathered some of the new products and created a fun crafting kit just for you.
Spellbinders Cutting Edge Project Kit
The kit includes everything you see in the picture below.
3 die sets.
1 clear stamp ( silicone).
Cardstock.
Fashion gold embellishments.
It has four pre-kitted cards, instructions, supply lists – the whole works! So, you can order this kit, get the box delivered and start creating right away!
They've taken the guesswork out; you can just have fun creating!
Be sure to check out theSpellbinders blog here, hereand here for more inspiration!
Kimono Dress Card
Kimono is a 6 pieces die sets designed by Lene Lok.
This is a very clever die set, allows you to cut the Kimono outline, the pieces and floral details that you can inlay on the die-cut panels of the dress or glue over.
With the small floral dies included in Kimono die set you can decorate any papercraft project.
In the sample below I create a whole background using only the floral dies.
I added an embossed texture by simply embossing the paper with Fiddle Embossing Folder.
Kaleidoscope Mini Gift Box
I decided to go 3-D with Kaleidoscope Tile die setto make easy mini gift boxes!
The die set includes 3 square dies.
All you have to do after die cutting the paper is overlap the die-cuts to create the beautiful kaleidoscope image.
You can use individual panels too, there is no need to overlap them always.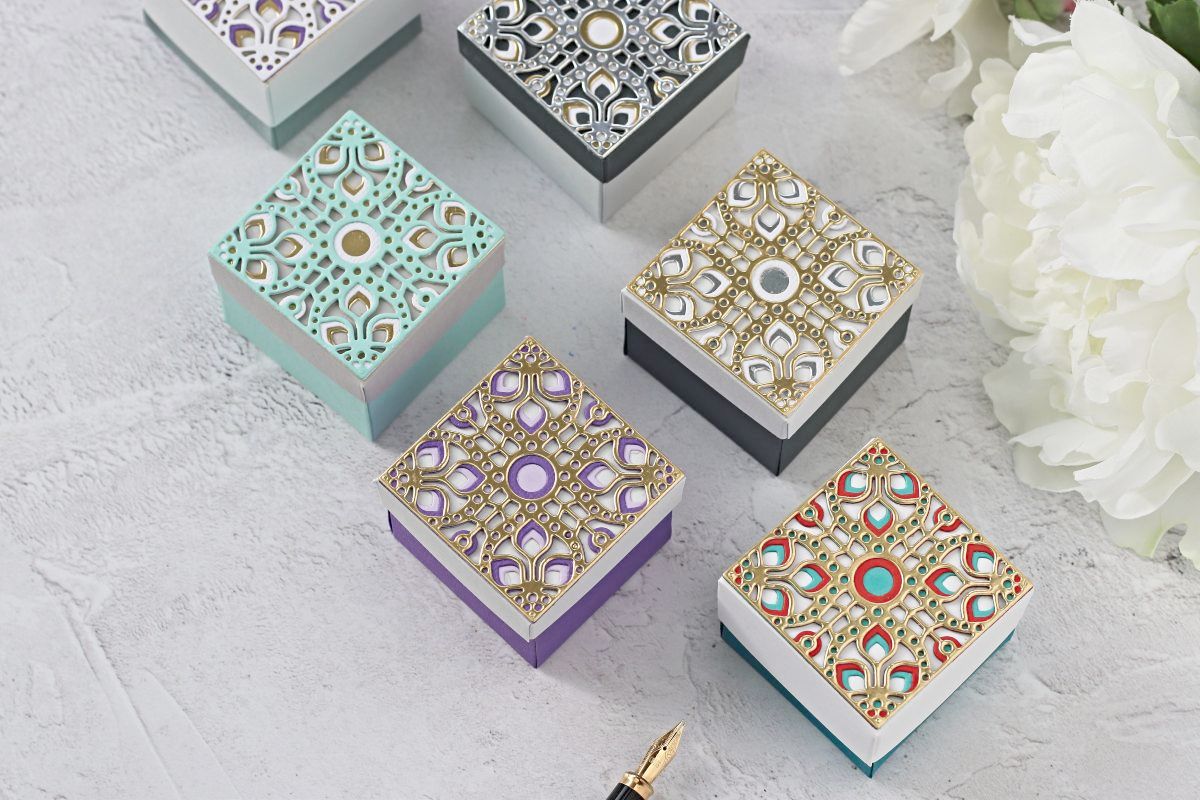 These mini boxes measure 2″x 2″ inches and they are 1-1/2 inches tall.
Box Body
As shown in the video above:
Cut a 5×5 inches piece of paper.
Then trim 1/16″ of an inch along 2 sides of this piece paper so that the lid will fit perfectly.
Score at 1-1/2 inches along the edges
Cut corners
Fold
Use double-sided tape to adhere the box side panels.
Box Lid
Cut a 3×3 inches piece of paper
Score at 1/2 inches along the 4 edges
Fold and glue in place.
Background Kaleidoscope Panel
You can also create any size background using the kaleidoscope tiles and depending on the cardstock colour you use they will look completely different.
That's all for today
Thanks for stopping by.
x
Bibi
Supplies List
Just a note to let you know that when you buy through the links in my blog I get a small commission at no extra cost to you.
Thanks for your support!