"Feeling Hoppy" is the latest Spellbinders Kit of the month(March 2020). It includes at least 200 + pieces to make up to 10 Easter themed cards!!
What if I tell you that you can make up to 40 boxes as well !!
You can buy supplies for under $10 / £10 to make 40 boxes if you want it too ( see below).
Watch 3-minutes Video
The box assembled this way is 4-1/2 tall and it is 1-3/4 wide at the top.
As is Easter time we need little treats for the little ones or crafts we can do with kids.
The paper and embellishments included in the kit are truly B E A U T I F U L and perfect for this purpose!
Get your Spellbinders Kit of the Month here!

Easy Carrot Shaped Boxes
So to make each box you will need a 6″x6″ sheet of the gorgeous paper pad, die-cut shapes, stickers, the die set, double side tape included in the Spellbinders Kit of the Month.
All come in coordinating colors!
The paper pad included in the kit has:
40 sheets.
20 different paper patterns.
2 sheets each.
Feeling Hoppy Die-cut shapes include 132 pieces.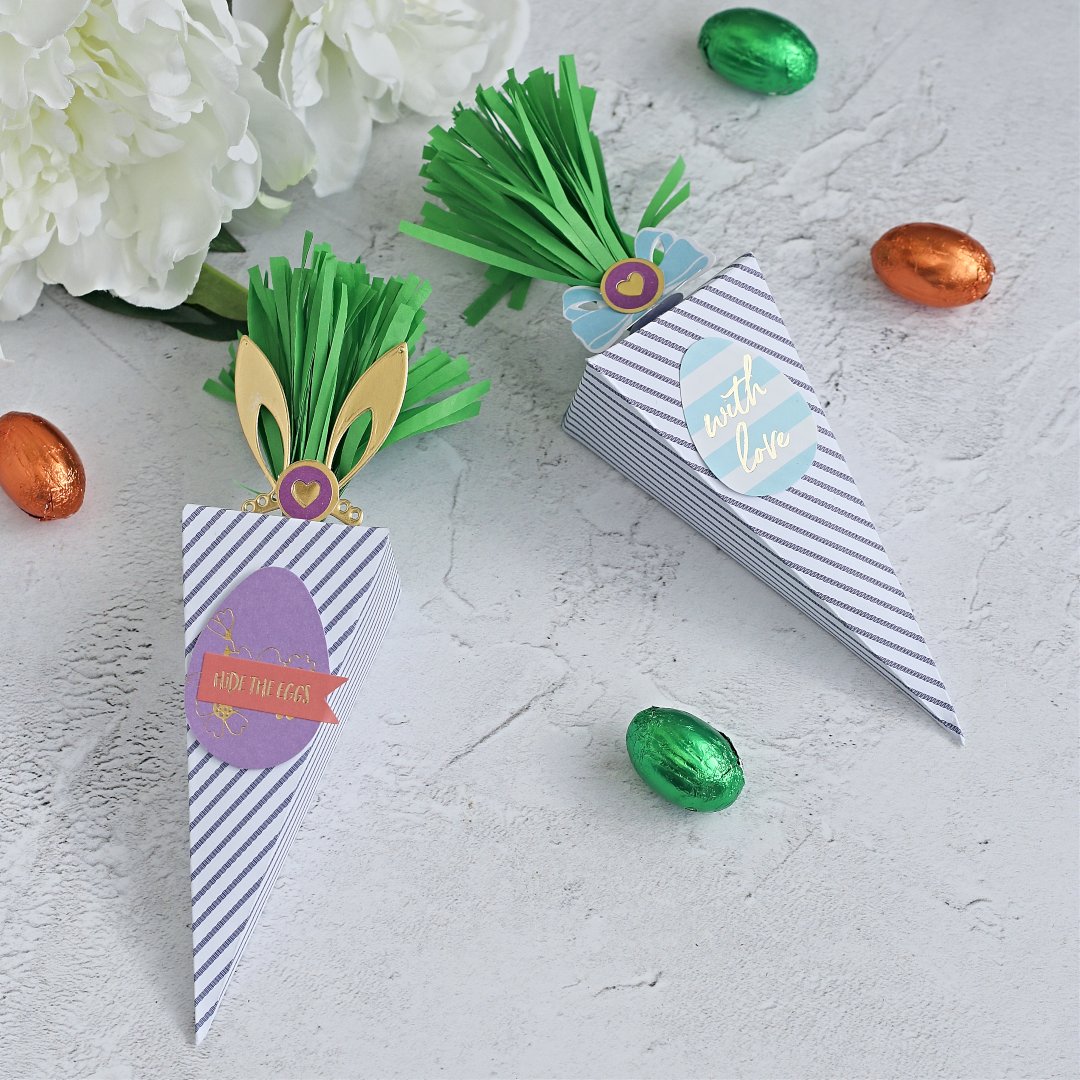 The only thing used not included in the kit is the green paper use to create the carrot stem.
The paper used is similar to tissue paper but you can also use crepe paper or anything alike.
40 Boxes Under $10/£10?

Saving Tips
I didn't make 40 boxes for my post today you could defo do it using any of the Spellbinders 6×6 paper pads.
All the pads have 40 sheets. 20 designs, 2 sheets each design.

This is a VERY NICE affordable paper for your projects (under $5 ).

Many of the sheets have foil.

Pictures don't make justice to the paper on the Spellbinders website BTW.
You can also buy several different die-cut shapes packs separately.
So if you only add the paper + die-cut shapes cost. 40 of these quick and easy carrot-shaped boxes can be well under $10 USD!! PLOP
Box Making Tips
You can use any thin but sturdy scrapbook paper.

All you need is a square piece of paper. No measurements required.

You can also and make them smaller or bigger if you want.

You can alter the top of the box by creating larger flaps as well when using larger pieces of paper.
Carrot Box – Triangular Box 3-minutes video here!
PIN ME
That's all for today I hope you like this idea and the Spellbinders Kit of the month
Happy Crafting
x
Bibi
Supplies List
Just a note to let you know that when you buy through the links in my blog I get a small commission at no extra cost to you.
Thanks for your support!