Happy Friday everyone, I hope you have a great weekend ahead. I have a new addition in my craft room and I'm loving her! Her name is Alexa and I know many of you might have her centuries ago but I just got her and it's the best thing ever.
So I asked her for Shakira's music and I was listening to a fantastic playlist while making this bright birthday card using Big Birthday Greetings by Simon Says Stamps.
My hands were in auto mode as I remembered my younger years and at the same time, I was feeling nostalgic as my husband 50 birthday is next week. I can't believe it !!!! Time fly!!! I meet him when he was 36.
He has been moaning about how old he is etc.. He is not old at all but he is defo getting deft and blind for his convenience -lol
So Shakira is Colombian and so I am. We are the same age, same generation and her music in Spanish remind me of my friends, my school, my first love… my country!! Her music always makes me smile. What a blessing!
Anyway, I heard about 6 songs and I was done, so this card came together in about 20 – 25 minutes!!! Time record.
Music and crafting is defo a great combination. I guess if you allow yourself to think about what you love in life and have happy thoughts while crafting you don't need to put a lot of effort into your colouring or thinking in a specific design.
How I did it without thinking …
Using my Tonic Maxi Guillotine, I cut 300grams watercolour paper to create a 4-1/4″ x 5-1/2″ panel.
I stamped the first layer of balloons using Antique Linen Distress Ink on the watercolour paper. I tried not to get a perfect stamped image BTW.
I apply the ink of the Zigs directly on the paper and on the base of each balloon.
I spread and blend the ink using a water brush.
I repeat the colouring process for each balloon using a darker shade of the same tone to add shadows.
I allow the ink to dry.
Then, I stamped another layer of balloons trying to overlap the balloon just a little bit.
I coloured the new balloons in the same way I colour the first layer.
I allowed the panel to dry.
Using a yellow glitter marker and SSS Confetti stencil, I stencilled the confetti image over the balloons.
I used a white paint Posca marker to add highlights on the balloons and confetti.
To add a little bit something to the balloons, I used a black coloured pen to add dark areas on the base of each balloon. This is barely noticeable but it makes a difference.
With the help of the Tim Holtz Stamping Platform, I stamped the sentiment 3 times using Simon Says Stamp Clear Ink . I then sprinkled black Fine Detail Nuvo embossing powder and I heat embossed the sentiment.
I trimmed the watercolour panel a little bit and I added a black backing panel.
Although I thought of making a C6 card. I cut the card base to 4-1/2″ x 5 -3/4″. I know is not a standard card size but I liked the white edge around.
Oh dear! that's sound like a lot but believe me, is a long thing to explain but it was a quick thing to do.
By overlapping layers of stamped balloons is very easy to create the effect of transparencies in the areas when the balloons intercept and you don't need to do anything fancy.
All you have to do is to allow the first wash of colour to fully dry and then stamp and colour the other balloons as if nothing were underneath.
The only thing I'll advice is using very little water to avoid lifting the first wash of colour and blending the ink in those areas in which the balloons intercept.
The large bold sentiment covered most of the artwork so for a copy of this card I won't worry too much about the balloons colouring.
Pin Me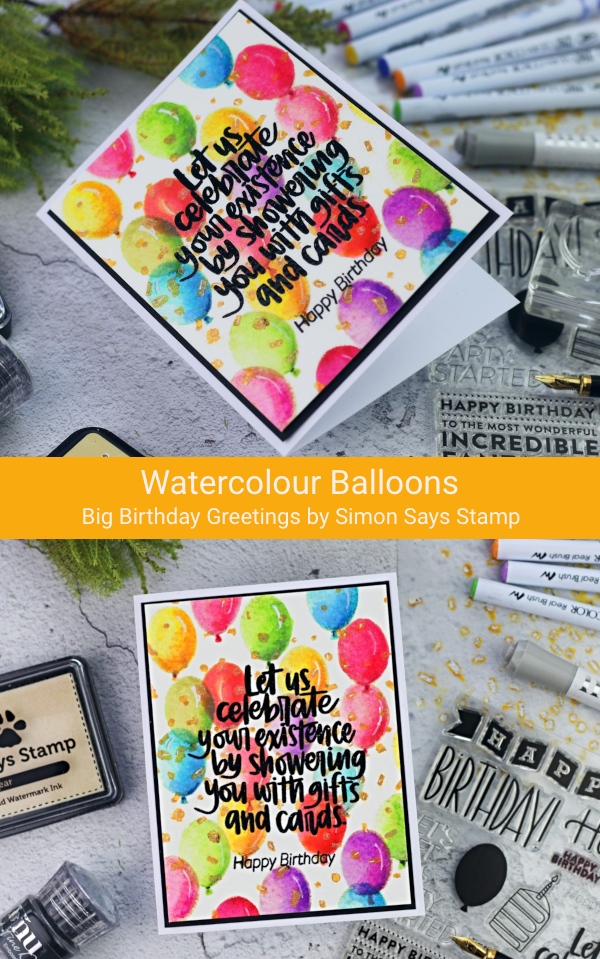 That's all for today and Happy crafting!
If you wish to receive my blog post or videos directly in your inbox please Subscribe to my blog here! or my Youtube Channel here!
Any questions? please ask. 🙂
x
Bibi
Supplies List
Just a note to let you know that when you buy through the links below I get a small commission at no extra cost to you. Thanks for your support.