Hi there, after a previous play with glitters in the post here… I decided to try a technique I learn from my friend Tracy Freeman and I have a cool video- post today to share with you today.
I have called this technique "Masked Glitter Backgrounds" and I made a contribution to Tracy's technique as I used the double-sided adhesive sheets backing paper to make masks that work just like stencils !!!
So this technique will allow you to create your own – easy and quick – DIY glitter patterned paper using stencils and die cut masks.
You will need: Cardstock, double-sided adhesive sheets, glitter, intricate stencils or any die to do this and you might also need a Nuvo Sweep Brush to clean the surface of your projects.
For today I usedHarvest, Confetti, Bouquet of Rosesand Folk Dancestencils and a couple of dies from Big Birthday Greetings Die set by Simon Says Stamps.
Here is a 5- minutes video to show you how I do this …
Step by step
Apply the double-sided adhesive on a piece of cardstock
Remove the backing of the paper ( keep the backing of the paper – with this you can create a mask using dies to apply the same technique )
Carefully place the stencil or mask (made using the backing of the double-sided paper)on the exposed adhesive. Do not apply pressure on the stencil just make sure is correctly placed on the adhesive.
Apply the glitter over the stencils. Gently spread the glitter over the stencil using your fingertips or a brush. The glitter will adhere only on the exposed adhesive.
Before removing the stencil or mask. Clean any excess of glitter from them.
Remove the stencil or mask
Apply your second layer of glitter.
If you have multilayer stencils this will be fab too! Don't be afraid to experiment!
Applying the Technique using Stencils
This technique works better with intricate stencils such as Folk Dance and Harvest stencils by Simon Says Stamp for example.
However, you can also make it work with ANY kind of stencils even using stencils with small gaps and large solid areas that will tend to stick to the exposed adhesive. To do this you need:
Help yourself using the "backing paper of the double-sided adhesive sheets" behind wide or large solid areas of the stencil to avoid the stencil to get stuck to the panel.
Be gentle when placing the stencil on the adhesive. Do not press it down with strength.
Be light handed when applying the glitter as this will cause the stencil to get stuck on the panel too.
Below some card samples made using the panels but the sky's the limit …
For these first samples, I used Harvest Stencil. Applying the technique with this kind of stencils is a joy .. they make things super easy.
I also use Sunny Side and Night Fever Nuvo glitter and you can use your glitter patterned paper in different ways when creating your cards or boxes. That's golden glitter is stunning.. so vibrant and pretty!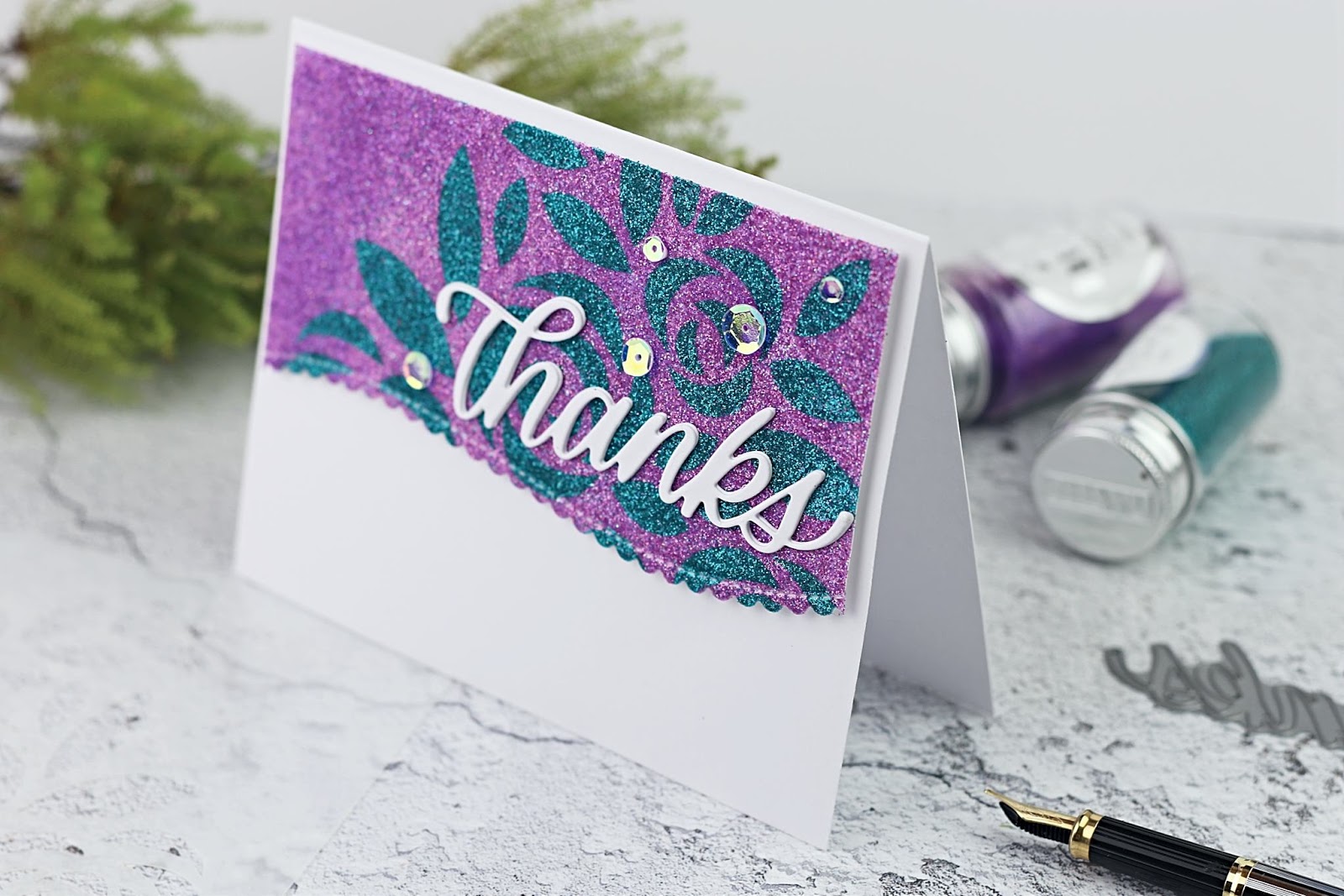 Next, I used Bouquet of Roses Stencil. This is a moderate intricate stencil and to apply this technique with it you will need to place a tiny piece of the backing paper of the double-sided adhesive sheet between the stencil and the adhesive in those solid areas around the florals… Just like I'm showing in the video. This will take a few seconds but it is a necessary step to avoid the stencil to stick to the panel.
The backing paper has a right side so if you decide to give this technique a go, please make sure to use the correct side facing the adhesive because if not it will get stuck on your panel! Nooo.I used Mermaid Parade and Night Fever glitters and I also decided to cut the panel using Wavy Scallop Stitches wafer dies by Simon Says Stamp.
I finish the card by adding the sentiment "Thanks" and Iridescent sequins.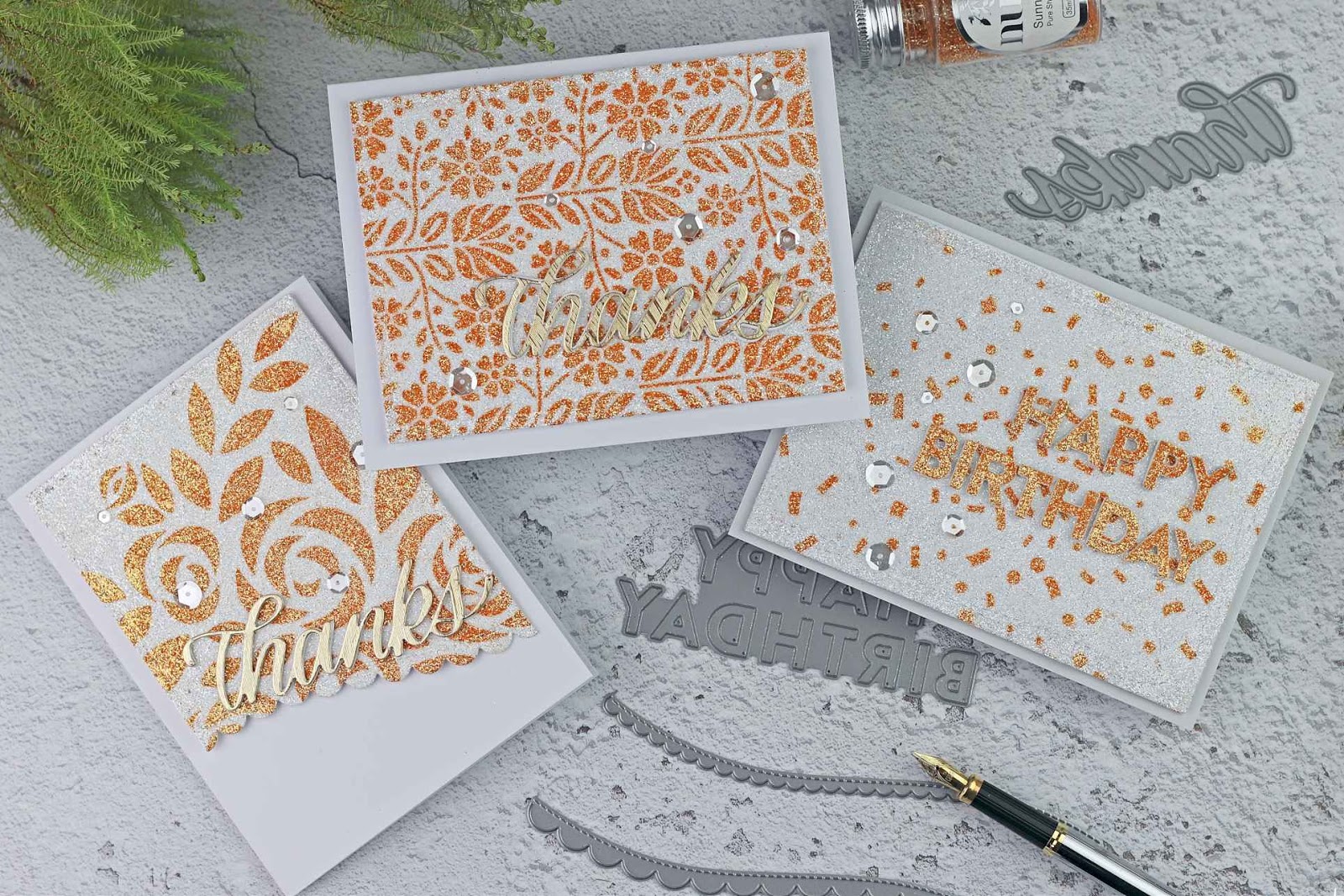 Here you can see three different cards. I used Sunny Side Glitter and White Ice Nuvo Glitter to make these backgrounds but most importantly, I used different stencils to teste the technique: a very intricate one (Falk Dance), a moderate intricate ( bouquet of Roses) one and a non-intricate at all ( confetti).
Folk Dance is the kind of stencil you might be looking to apply this technique for example. It will be easy to remove from the exposed adhesive of the double-sided adhesive sheet.
I used Bouquet of Roses stencil and for the card below again. As I mentioned above this is a moderate – intricate stencil and it requires to use a little piece of the backing paper of the adhesive sheet behind solid areas of the stencil to avid the stencils to get stuck on the adhesive.
I love love love this stencilled image so I made various panels using it.
I also used Confetti Stencil. The stencil is gorgeous but sadly is not the kind of stencils you might need to use to apply this technique. The first time I tried it, I placed it on the paper and made pressure down and after applying glitter I couldn't remove the stencil!!! Nooooo. As a result, I tear the paper.
This is because this stencil has small gaps ( the tiny confetti) and large solid areas.
However, I took the technique to the extreme and I made it work the second time I tried.
So things are possible with a little bit of tactic. I didn't press the stencil down on the paper, I just leave it to fall on the exposed adhesive and I worked with a very light hand to apply the glitter. I was almost blowing the glitter to avoid the stencil to get stuck on the paper. Removing this stencil was a little bit harder so instead 5 secs it took me maybe 25 – 30 seconds? I was being careful to avoid warping the paper.
This proves that you can apply this technique with ANY stencil you have BUT I think is better to keep it simple.
Use Dies to Create Masks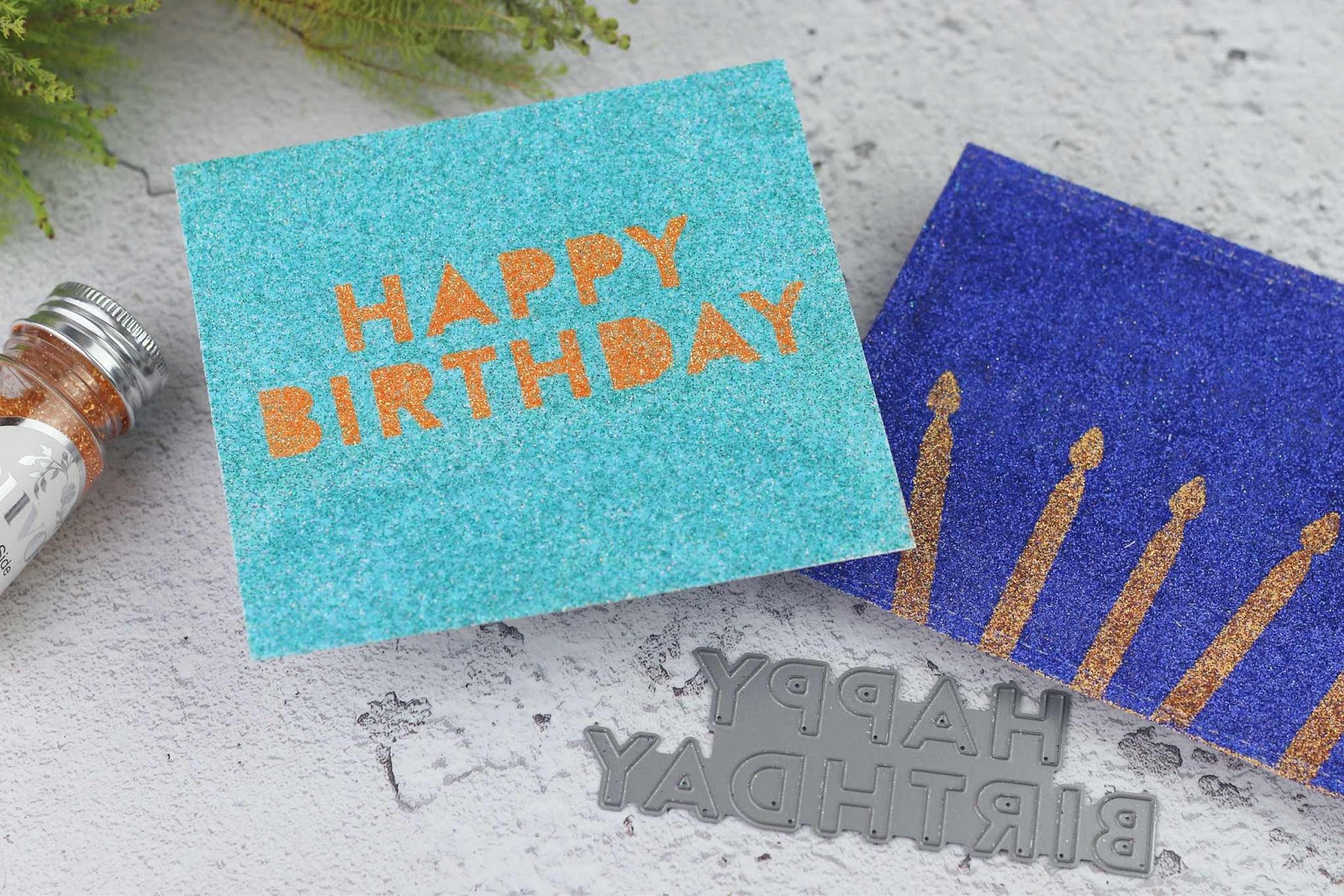 When I was trying my friend Tracy technique I also wanted to make my own thing to give you extra ideas and you know what? You can also create a masks/ DIY stencils using the backing paper of the adhesive sheets!
I used a die set called Big Birthday Greetings and I die cut the double-sided adhesive sheets backing paper to make masks!!! they work just like stencils and even better!!! LOVE IT!!
I then grabbed loads of different dies to try more things .. seriously the sky is the limit!!
Below you can see a picture of things to avoid or to improve when using masks.
I was using individual small circular masks to make a geometric pattern but I was getting wrong glitter colour on the exposed adhesive… This could be a super cool background but it will require more time and patience.
Below I was using a small single mask too. I wanted to create a panel filled with stencilled butterflies in different glitter colours. Very very ambitious right? BUT very very possible toowith the right technique and a right analysis of how to get it done.
I wasn't succeeding with my first attempts …
So I cut a whole mask but just before even keep trying I left the experiment to a side.
Perhaps I was a bit tired as I craft late at night when the children are in bed and I like to try different things so it takes me hours to finish something. However these last experiments I leave behind can give you extra ideas.. for sure I'll try them later on.
That's all for today and Happy crafting!
If you wish to receive my blog post or videos directly in your inbox please Subscribe to my blog here! or my Youtube Channel here!
Any questions? please ask. 🙂
x
Bibi
Supplies List
Just a note to let you know that when you buy through the links below I get a small commission at no extra cost to you. Thanks for your support.