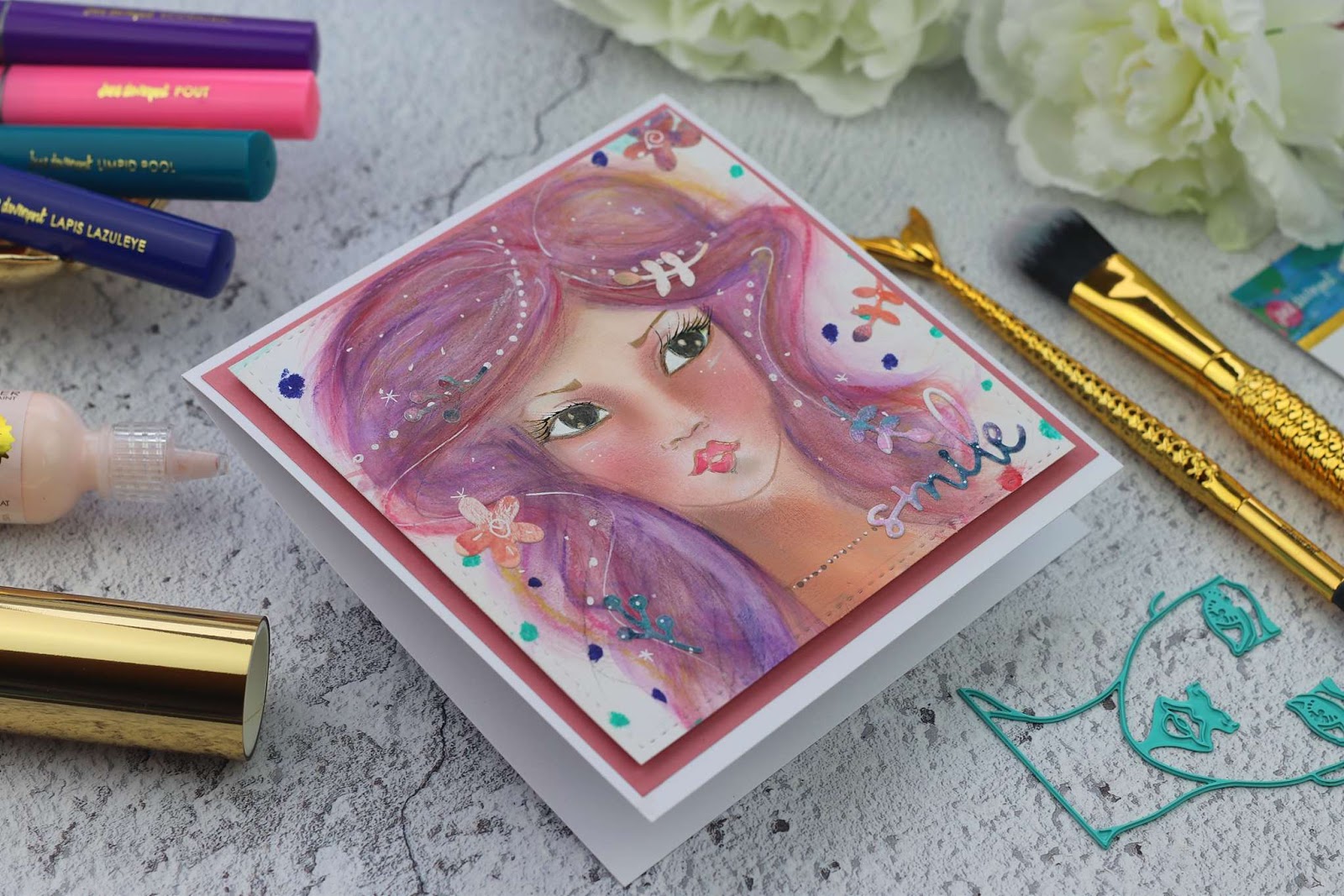 Hello everyone, I'm a special guest over the Spellbinders blog here and I had an exciting week trying for the very first time some of the new products from the new Artomology release by Jane Davenport here. that was love at first sight!!!
I made three projects using "Charisma Glimmer Plate" and as I was experimenting with the products I got something different every time.
Colouring foiled images using Jane's pastels, acrylic paints and Colorsticks is terrific!!! and in the video below I show you my process with more detail…
How I did it in 3 steps
Sound easy right? and it is as easy as you want it to be. I felt the most challenging part was drawing the hair. I'm an avid stamper because I never developed skills to draw. Drawing is intimidating to me so this was an adventure and trying these supplies took me out of my comfort zone.
You start with a foiled image as a blank canvas and from there the sky's the limit.
I used the Spellbinders Glimmer Hot Foil System together with Charisma Glimmer plate and Glimmer Hot Foilto get the beautiful foiled silhouette on mixed media paper.
Although I worked with very little water. I found that Darwent mixed media paper, Strathmore Bristol paper, or hot press watercolour paper ( 270 – 300 grams) will be great to do foiling and to apply different mediums because these papers have a smooth surface and they are designed to absorb water with minimal warping.
The foil will resist the pastels, light washes of Coloursticks and it will resist acrylic paints too! Magic!
By applying different mediums over the foil, it will remain subtle on the background but you will still be able to see it shining in the back.
The picture below shows better the foil shine…
I also found that when priming the paper using Jane Davenport acrylic paints or gesso, I could use the Colorstick pigments just as I use watercolours. The Colorstick glide nicely over the acrylic paint. They deliver a stunning mat finishing and the colour becomes permanent when dry.
However, you can useJane Davenport pastelsdirectly on the paper without priming it, as this is a completely chalky – creamy and different medium.
The card below is an example of this so you can see a remarkable difference between the look and feel of the skin in this card and the other two cards in this post.
Her face looks more chalky and of course, you can try different pastel colours to achieve different looks.
To create the hair in all my cards today I primed the area around the face using white acrylic paint. I used Colorsticks to draw lines and I then used the mermaid brushes in flicking motion to move the pigments around.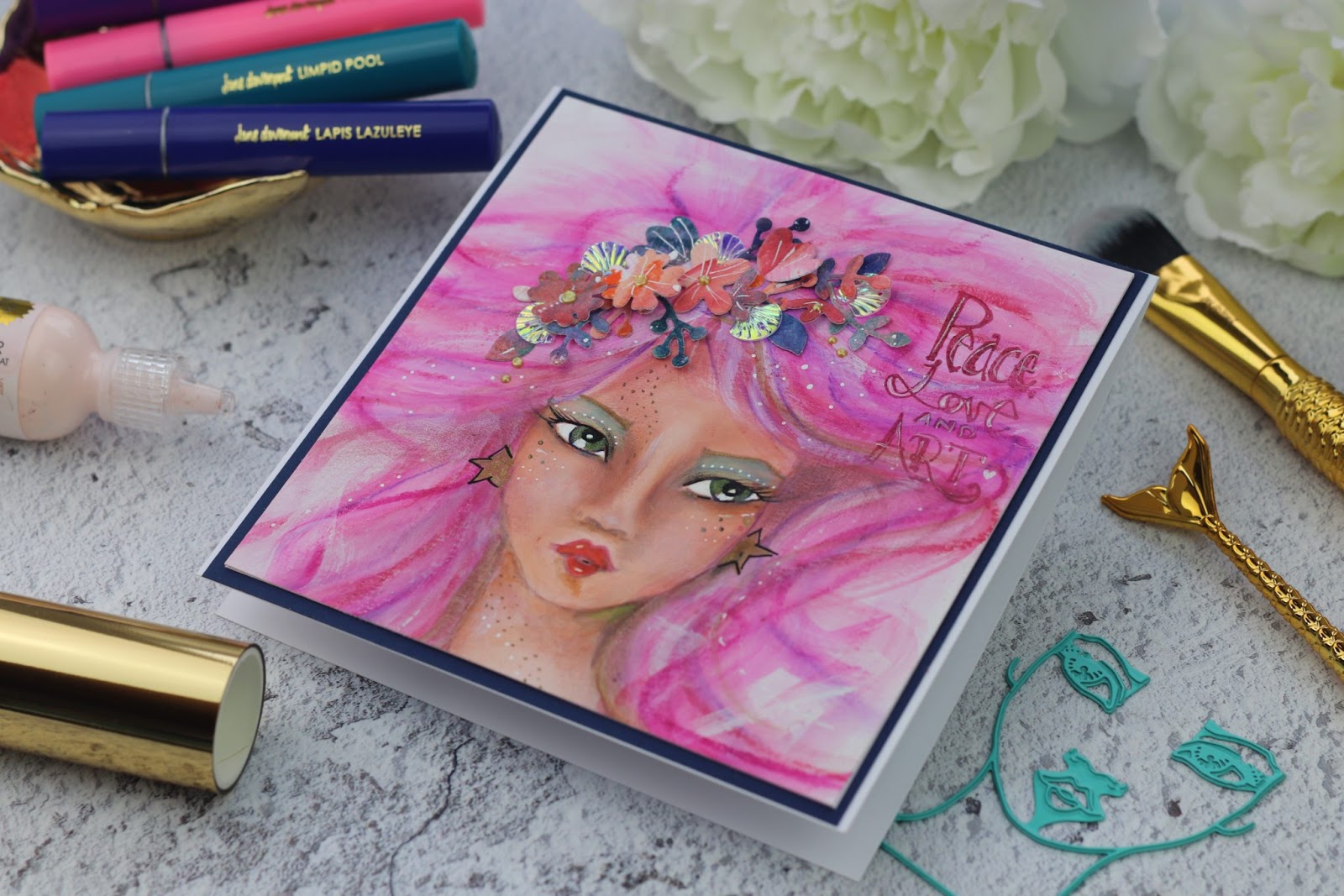 The little floral die cuts on all the cards today are from Marcia's Make Over die set. I die cut a piece of paper in which I was testing the colour sticks and those die cuts looks gorgeous.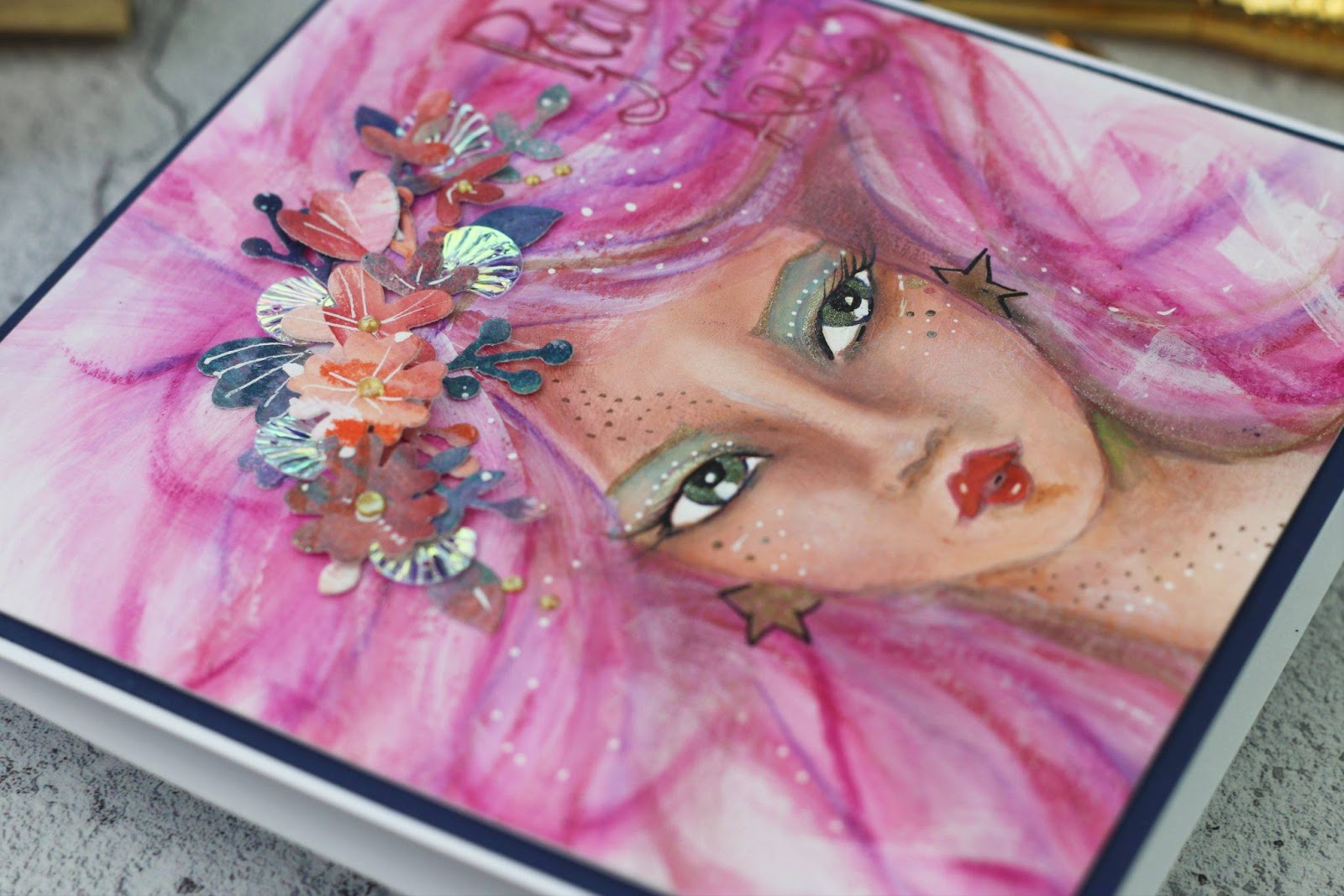 So you can use foiled images as a base to create a whole composition but of course, you can foil on top of paint, fabric, chipboard, leather or any other work to add beautiful foiled images as accents to your artwork,
I think the Crown and the Seahorses glimmer plates in this release would go perfect on artwork created using the Charisma glimmer plate. These are products I really missed!
A crown a hat or some kind of embellishment or accessory to cover the hair area will be a great aid for a newbie like me as it can hide a wee bit the hair!!
I hope my video and this post to be helpful. I learn than watching videos on Youtube is a good first step to understand these products but is when you use them, when you touch them and when you try them when you will discover a whole new universe.
The colours in Jane Davenport product range are to die for.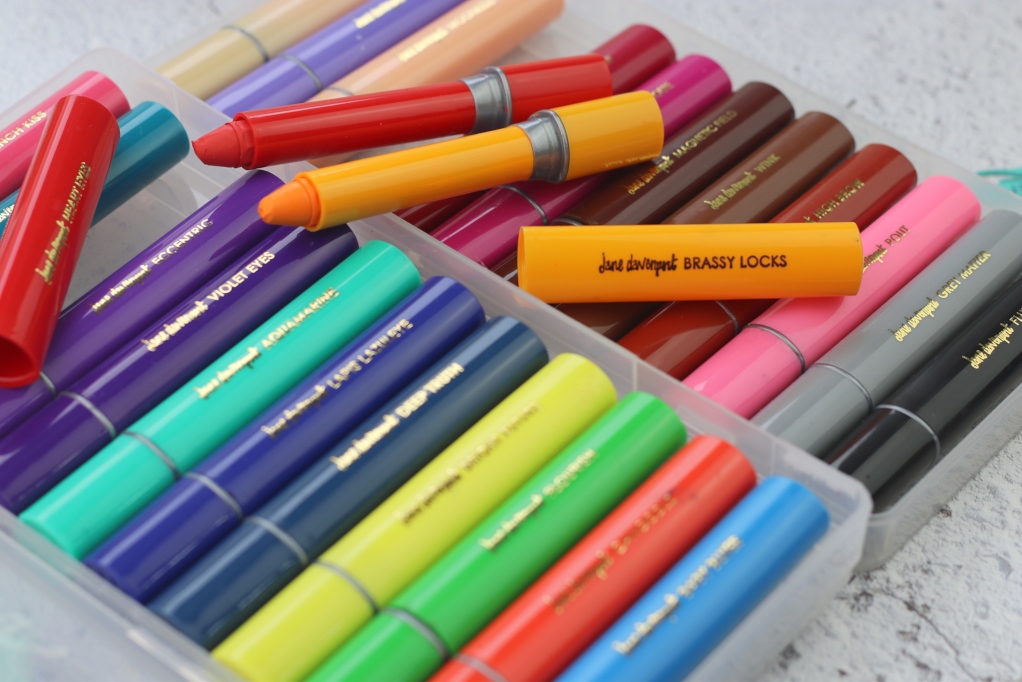 The Mermaid brushes are awesome. They are soft and they do not leave strokes or marks of paint over the paper surface providing a smooth finishing when using any medium.
So in my opinion, these products are something to love from the beautiful packaging to every single result delivered.
I want to thank Spellbinders and Jane Davenport for this chance to try amazing products. I really enjoyed working with them and Jane got a new fan! Me!!!
Enjoy 40% off selected products from Artomology product range by Jane Davenport at the Spellbinders shop here
That's all for today I hope you enjoy these projects!
Thanks for stopping by and for your kind comments. I'm always happy to read and to answer any questions.
If you wish to receive my blog post or videos directly in your inbox please Subscribe to my blog here! or my Youtube Channel here!
Many hugs and happy crafting
x
Bibi
Supplies List
Just a note to let you know that when you buy through the links below I get a small commission at no extra cost to you. Thanks for your support.