Hello everyone, It was a lovely sunny day here in the north of Scotland and for the very first time in a long time I could go to the garden to take pictures of a couple of cards I want to share with you today.
I normally use huge soft light lamps to take pictures so a little bit of sun is not only good for the soul, for the body but also for blogging.
So I was enjoying the sunshine while adding colour to a couple of images from Suzy's Picked Just For You Prints, these come in a pack of 12 different printed designs made out of Tim Holtz Watercolour paper and they are awesome solution for those who only want to enjoy colouring without the need of having stamping supplies but for stampers like me they also give me the chance to relax and just apply colours.
Some of the prints include sentiments so this is amazing for last minute projects as well
Explore Suzy's watercolour prints range here!
Below you can see the images included in Suzy's Picked Just For You Prints
I used purple, red, green, dark blue, white and yellows shades from Kuretake Gansai Tambi Watercolour Paints to apply an easydrybrush technique.
I started by applying a light pinky-purple wash of colour over the flowers and I used a warm green colour on the leaves.
Then I dabbed the brush on watercolour paint. I slightly dried it using a paper towel and then I applied strokes of colour using the whole length of the brush bristles.
I repeat the same process using different paint colours and I allowed to dry the paint before applying the next colour.
I 'm also sharing on Instagram 1-minute video to give you a better idea of how I did this.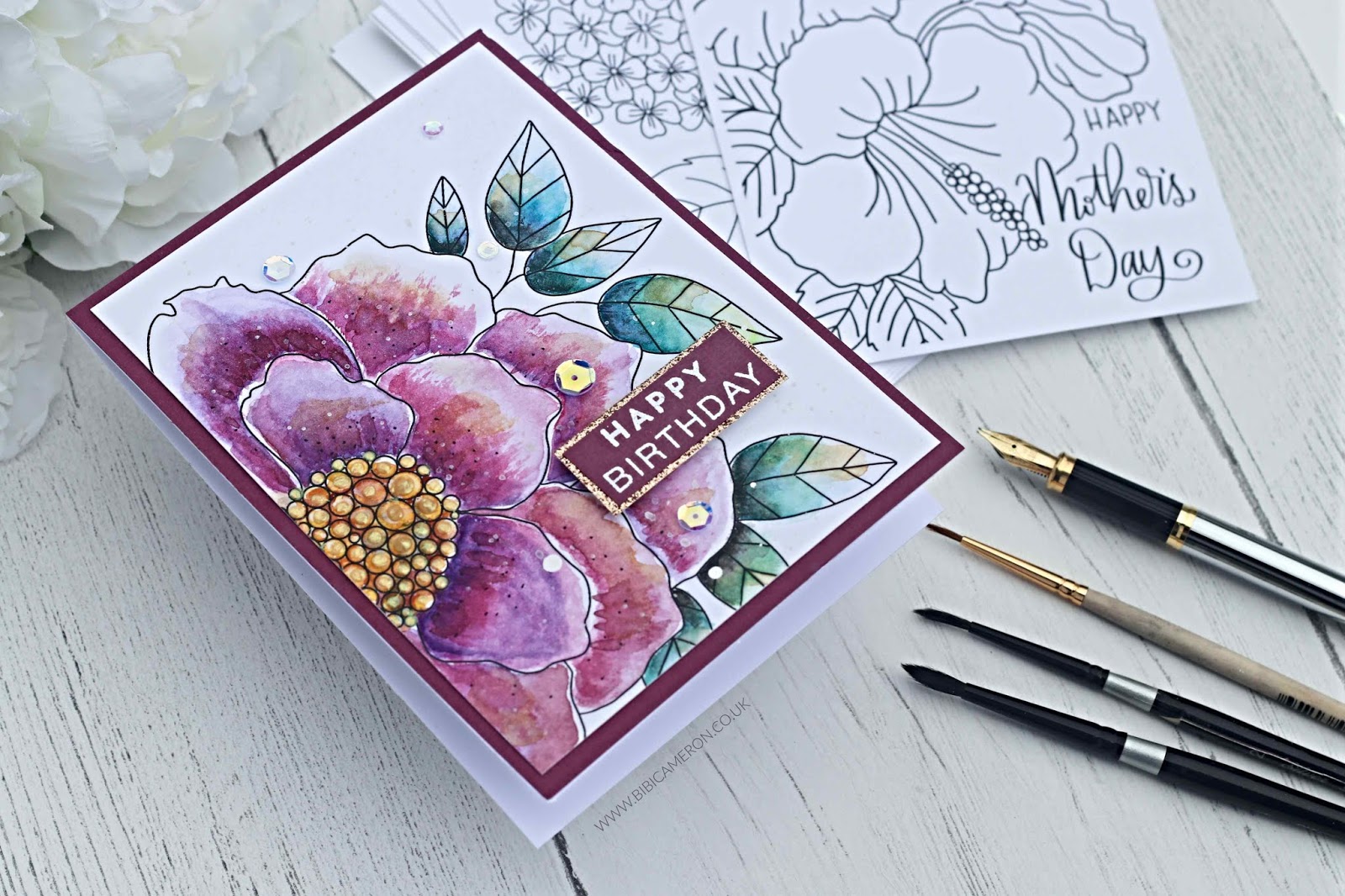 The sentiment is from Beautiful flowers stamp set. I heat embossed it on purple Craft Perfect cardstock using Nuvo Clear ink andNuvo Glacier White embossing powder.
I also applied black and white dots to add accents and to embellish I used Gold Luxe Nuvo Dream Dropsand sequins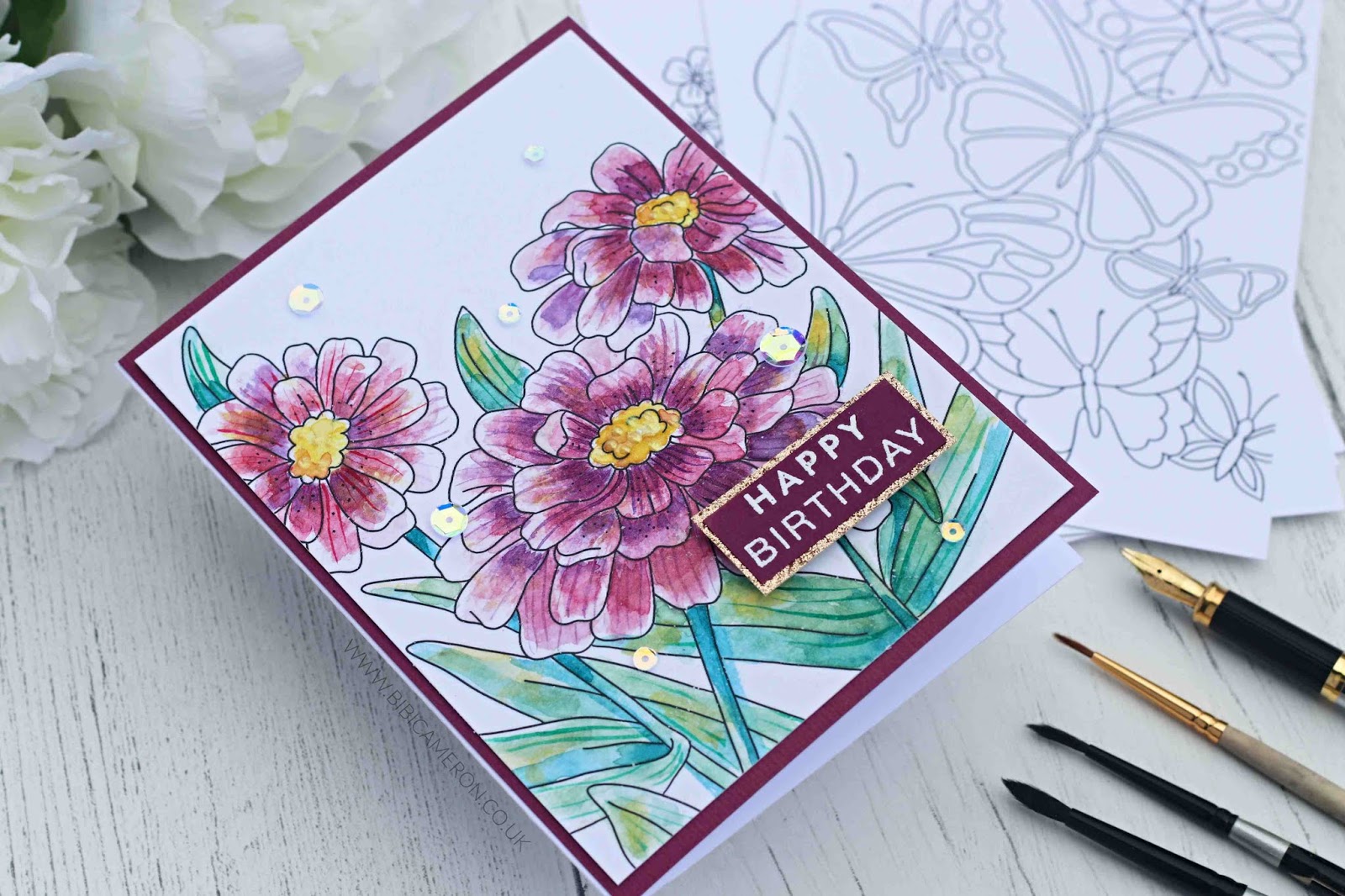 That's all for today I hope you enjoy these projects!
PIN ME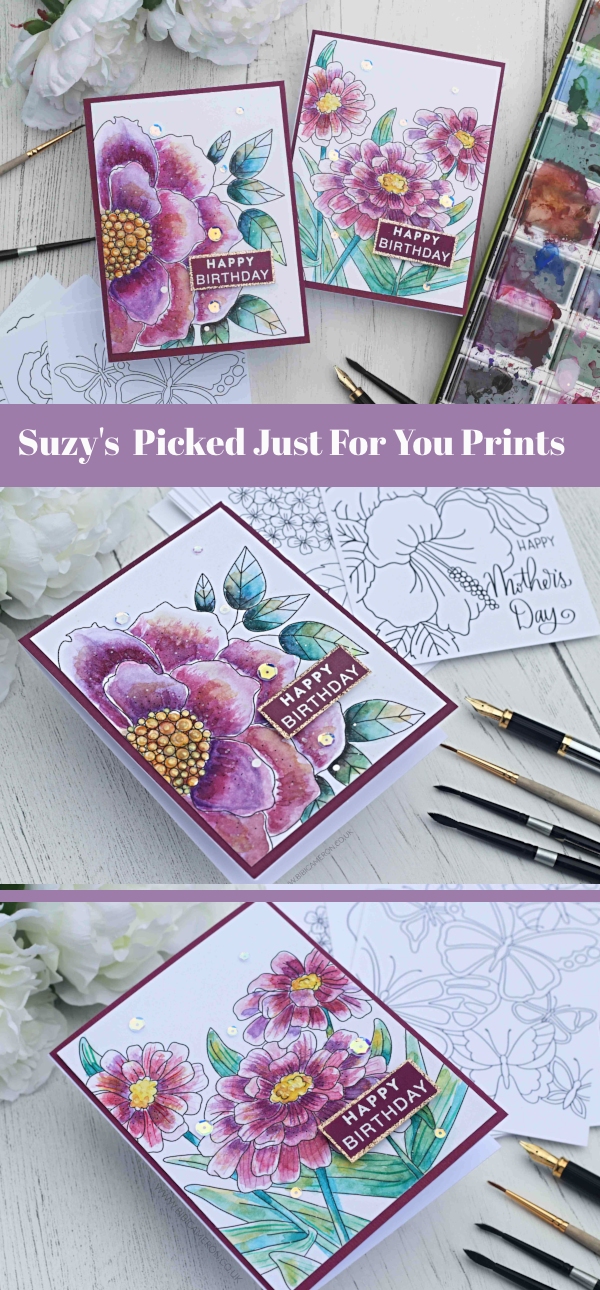 Thanks for stopping by and for your kind comments. I'm always happy to read and to answer any questions.
If you wish to receive my blog post or videos directly in your inbox please Subscribe to my blog here! or my Youtube Channel here!
Many hugs and happy crafting
x
Bibi


Supplies List
Just a note to let you know that when you buy through the links below I get a small commission at no extra cost to you. Thanks for your support.