Hello everyone, I love the look and feel of coloured pencils on dark cardstock, especially on raspberry blue or navy blue cardstock.
So today I used Floral Mix Background stamp by Simon Says Stamp and Faber Castel Polychrmos to share this Mother's Day handmade card with you and a few tips to easily use colour pencils for card making.
I live in the UK and Mother's Day here is celebrated in March but in my country: Colombia, where my mum lives, is celebrated in May so for this kind of celebrations I'm still aligned with that side of the word.
The sentiment is from Mom Flowers Stamp Set .
I while ago I share a video here to show you in detail what I do this. The process is very simple and you don't need any special colouring skill to do this.
For the card today. I first heat embossed the background on the dark cardstock using clear ink and WOW Rich Gold Embossing powder.
I then used a craft knife to extract the power from a white soft pastel stick. I sprinkled the powder and rubbed it all over the heat embossed image using my fingertips and I sprayed fixative.
Once the fixative was dried I applied pencils colours.
When working on dark cardstock you can skip the soft pastel step and instead of that you can use a white pencil colour to lay down a light base of colour first but I found easier and quicker to use soft pastels.
Make sure your pencils are sharp and avoid applying pressure on the heat embossed lines when applying colour as you could lift the embossing powder. Work carefully around the lines. This seriously won't take a lot of time.
To add contrast you can use a navy blue, a brown, a purple or a black coloured pencil over the edges of the stamped images.
To finish I used Nuvo Shimmer Pen to add sparkle and I also used a white marker to add little dots and white lines over the flowers.
The pictures do not show well the shimmer but it is very pretty in real life.
This card is slightly larger than a C6 standard American card. It measures 6″ x 4 -1/2″ inches so I also made a coordinating envelope using the envelope punch board by Memory Keepers and a piece of paper from a magazine. I thought that colour goes quite well with the card.
PIN ME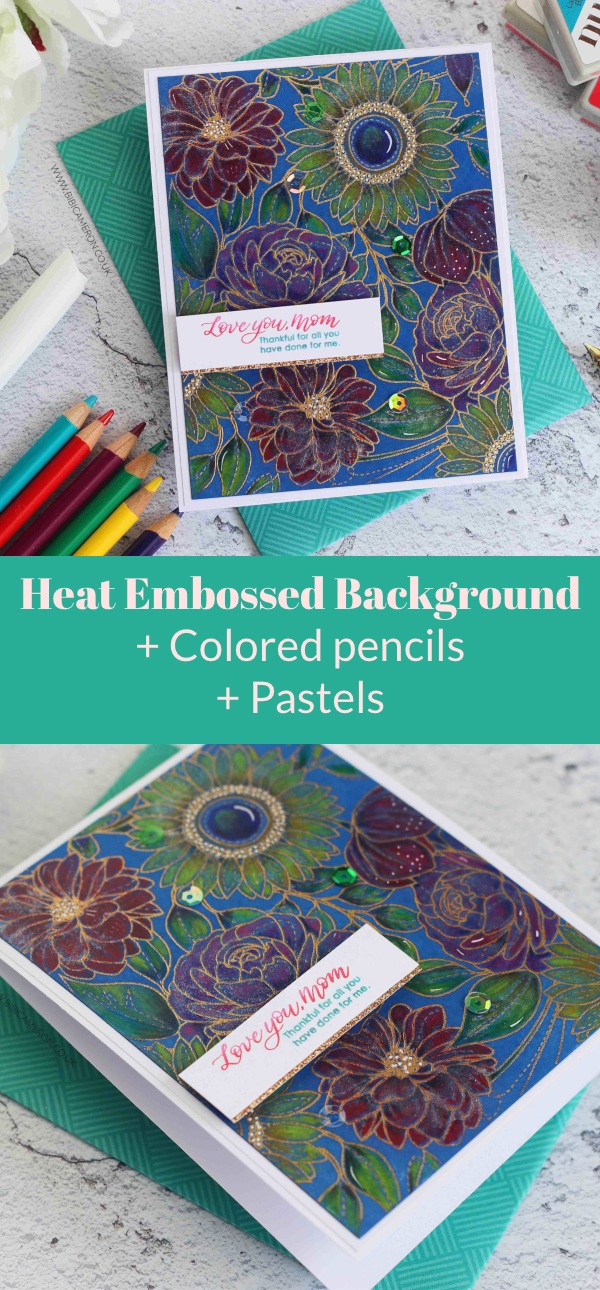 oh! if colouring pencils are not your thing have a look at my previous post here using Floral Mix Background stamp in a completely different way… make sure to check it out!
That's all for today I hope you enjoy these projects, ideas and technique!
Thanks for stopping by and for your kind comments. I'm always happy to read and to answer any questions.
If you wish to receive my blog post or videos directly in your inbox please Subscribe to my blog here! or my Youtube Channel here!
Many hugs and happy crafting
x
Bibi


Supplies List
Just a note to let you know that when you buy through the links below I get a small commission at no extra cost to you. Thanks for your support.