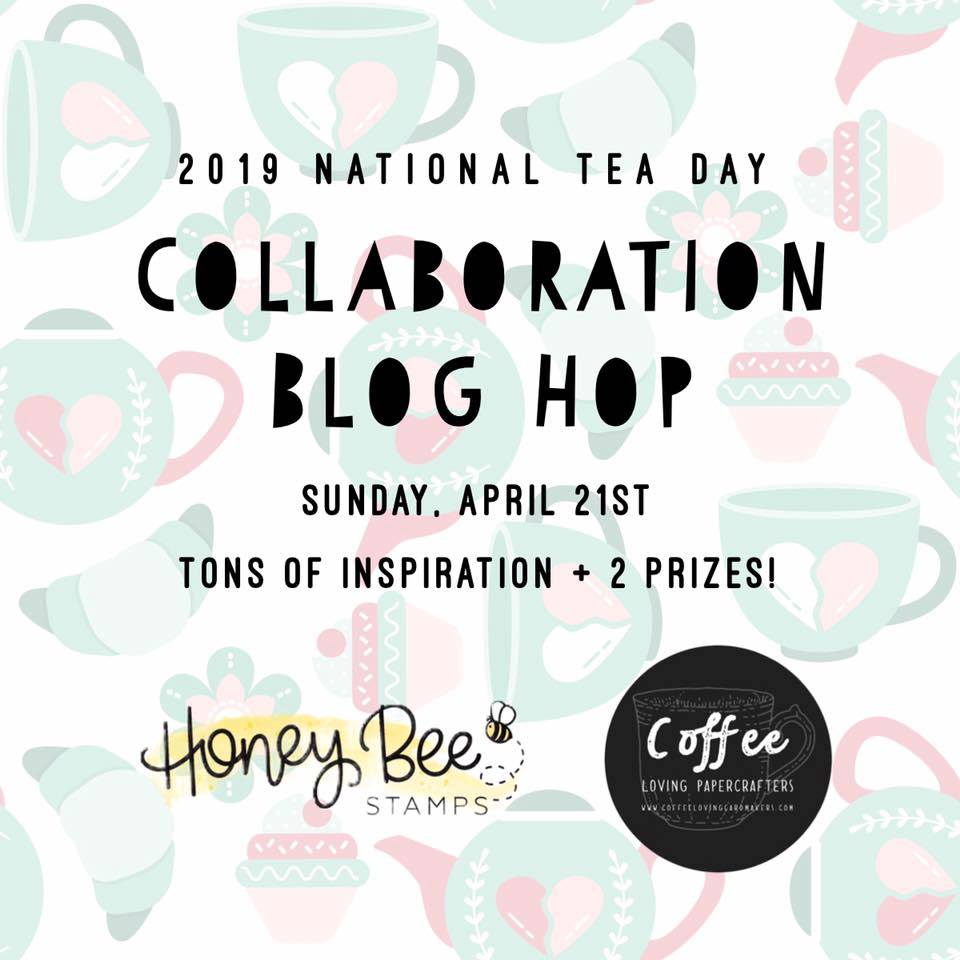 Hello everyone! welcome to my blog. It is National Tea Day and here in the UK is celebrated across the country in tea rooms, hotels, pubs and cafés through special events and charitable fundraising events, including a tea 'Fes-Tea-Val' at Chiswick House & Gardens in London.
Honey Bee Stampsand Coffee Loving Cardmaker'sgather together 23 papercraft artist from different countries to celebrate this day and I'm amongst those who joined the celebration! Yay!!!!!
For my card today I usedMae the Mouse stamp set by Honey Bee Stamps, the sentiments is from"Perfect Blend Stamp set", I also used Bee Bold Alphabet Honey Cuts ( die set) and Double Stitched Square Honey Cuts.
The teacup in the mice hands is from Pinky the Pig stamp set and the little tea bag is from Tea Time stamp set.
Ok so for today I went a bit crazy. I wasn't fussy about my colouring and this is my first distressed brownish background ever. When thinking about tea I just couldn't think of any other colour.
I used Strathmore Bristol Smooth paper (217 grams) because it is awesome to use with water-based markers.
To add colour to the background,I applied an easy technique called "ink smooching" and I used a selection of brown and yellow Distress inks.
I first applied the ink directly from the ink pad on a piece ofclean film, I sprayed water over and then I smooched the ink on the already stamped and die cut panel. I simply tapthe creased and inked clean film over and overthe paper using different ink colours.
I allowed each layer of ink to dry before repeating the process with the next colour and I was being careful of not covering the stamped images with the ink. I didn't mask the images.
I added colours to the images using Zigs and I then die cut the panel using Bee Bold Alphabet Honey Cuts ( die set) and Double Stitched Square Honey Cuts .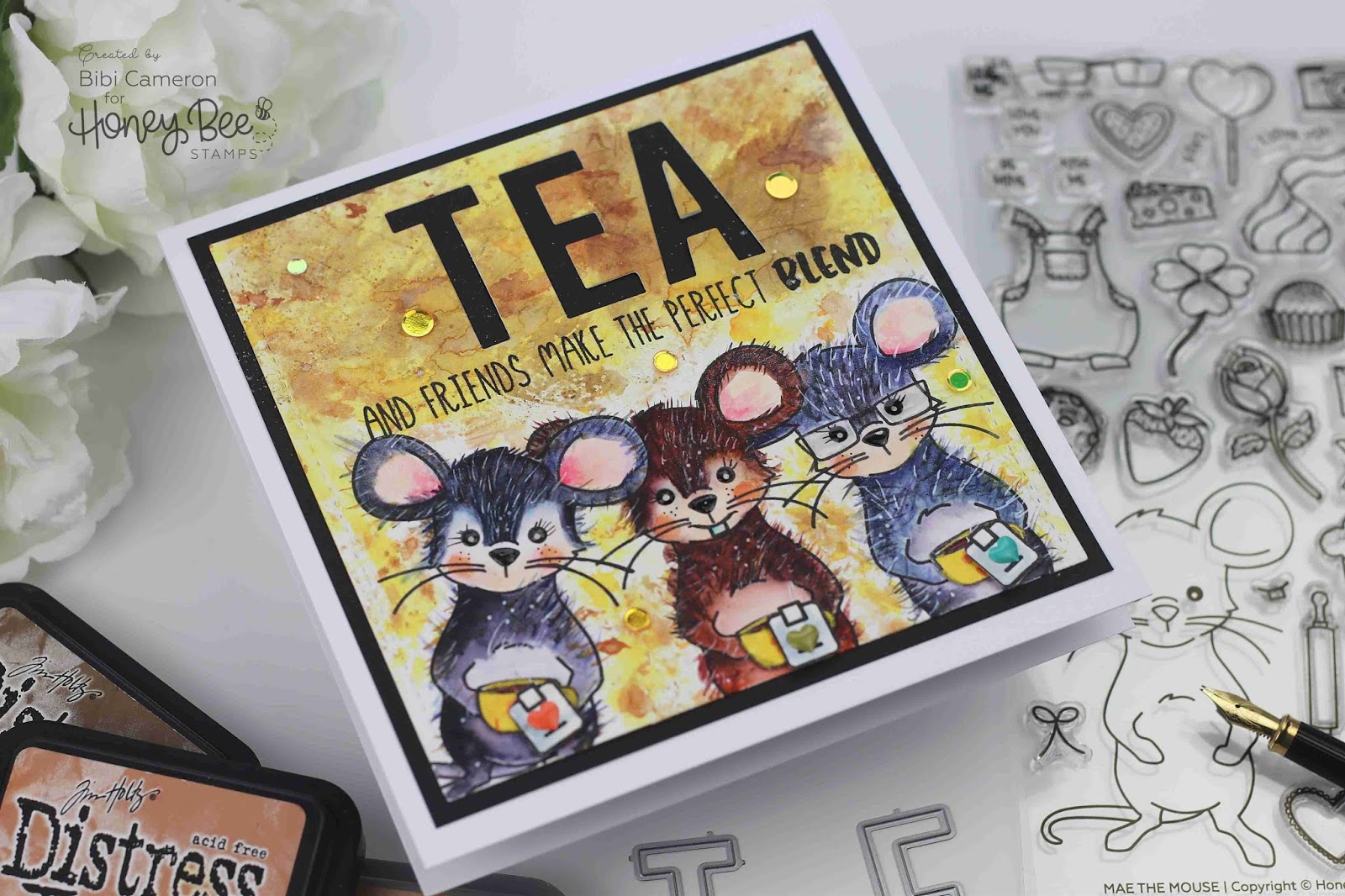 I embellished with Gold Lights Confetti Mix and Nuvo Crystal Glaze .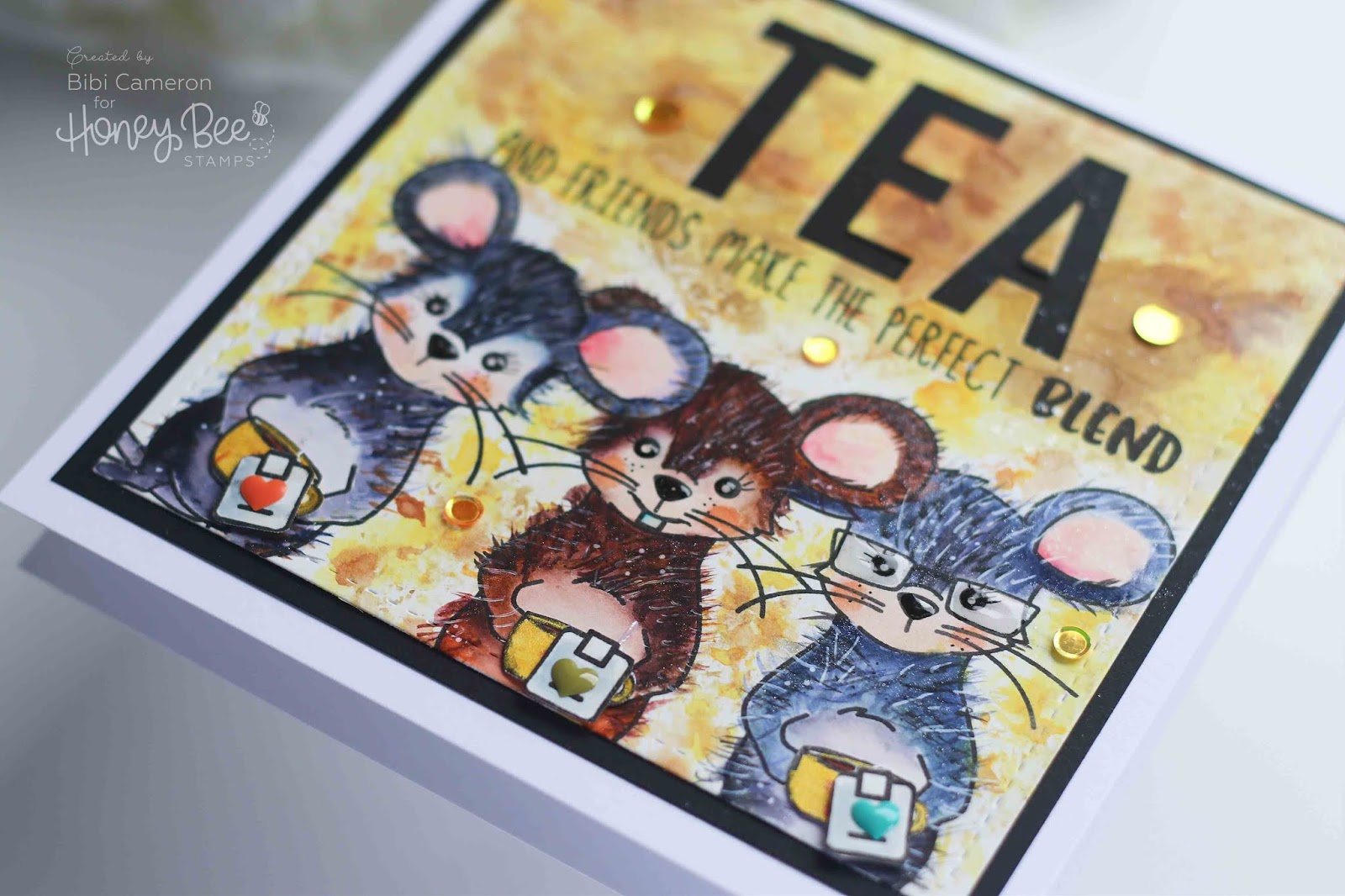 GIVEAWAY
Honey Bee Stamps is giving a $30 gift card on the Coffee lover's blog post hereand the HBS Blog here. All you need to do to enter the giveaway it is too leave a comment along the way to win.
BLOG HOP
Coffee Loving Cardmaker's Blog
Bibiana Cameron You are Here!!!

That's all for today I hope you enjoy these projects and the hop!
Thanks for stopping by and for your kind comments. I'm always happy to read and to answer any questions.
If you wish to receive my blog post or videos directly in your inbox please Subscribe to my blog here! or my Youtube Channel here!
Many hugs and happy crafting
x
Bibi


Supplies List
Just a note to let you know that when you buy through the links below I get a small commission at no extra cost to you. Thanks for your support.