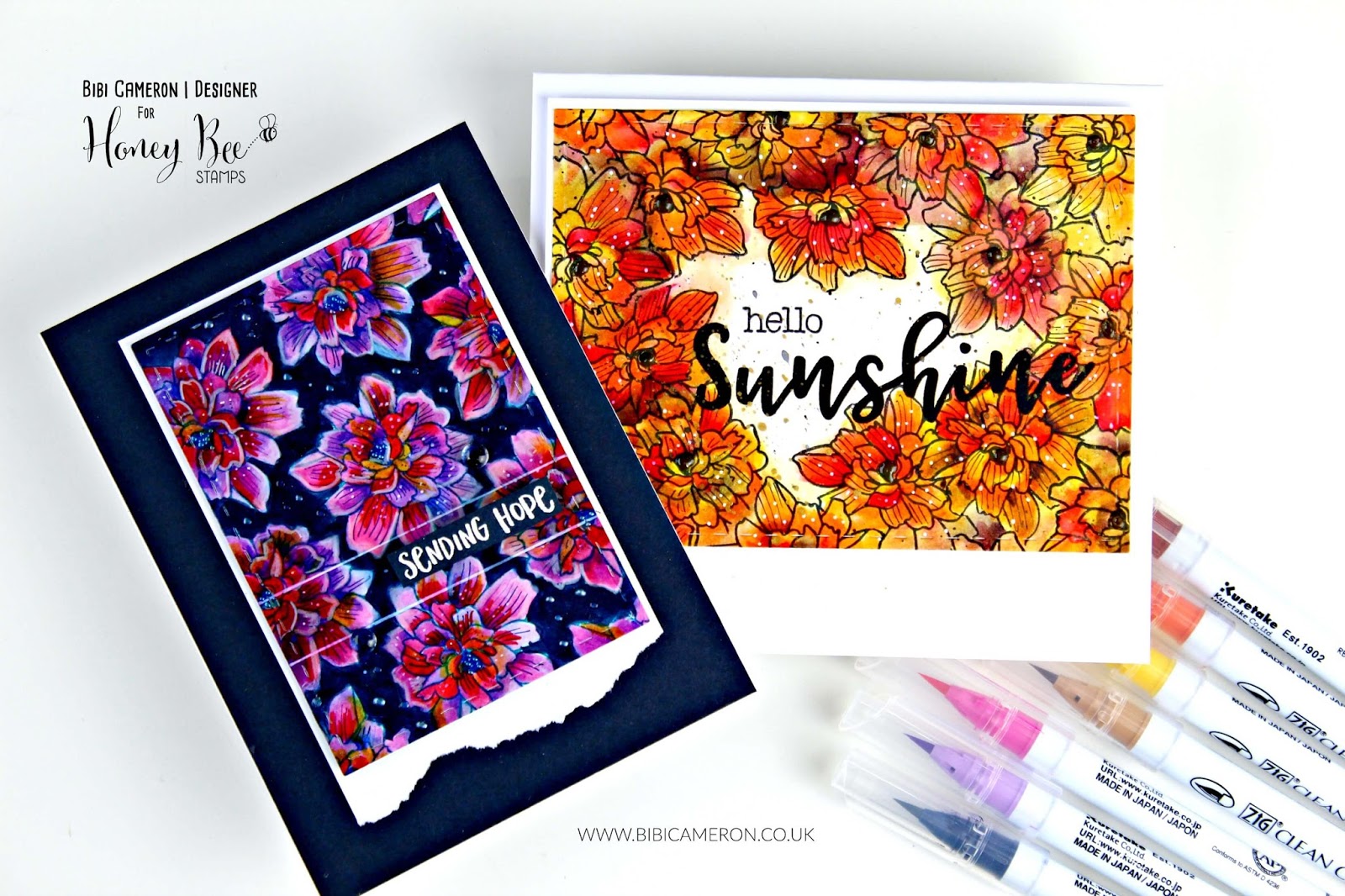 Hello everyone, I hope you are doing well. It is Sunday for Honey Bee Stamps and today I'm sharing 2 card background ideas using Lotus Blossom 2×2 Stamp by Honey Bee and Kuretake Clean Color Real Brush Pens.
It's incredible what you can create using 1 single stamp like Lotus Blossom!
I applied a bunch of small and easy details to create the card below.
First I stamped the flower several times on a piece of white Bristol smooth paper using Denim Adirondack ink by Ranger . You can use instead any water based navy blue ink. This ink will bleed and blend when applying the water based makers on top so that you can think in advance which colour you want to achieve after blending. e.g . I wanted my flowers to be pinky – violet so I stamped the flowers using a blue ink and then I applied a pink Zig pen first to get a combination of those colours.
Note: I applied the Zig pen directly on the paper on the base of the petals and then I blended and moved the ink towards the edges of the petals using a clean Nuvo Aqua Brush.
Then I kept applying layers of colours pink, yellow, purple, red allowing the ink to dry between colour application.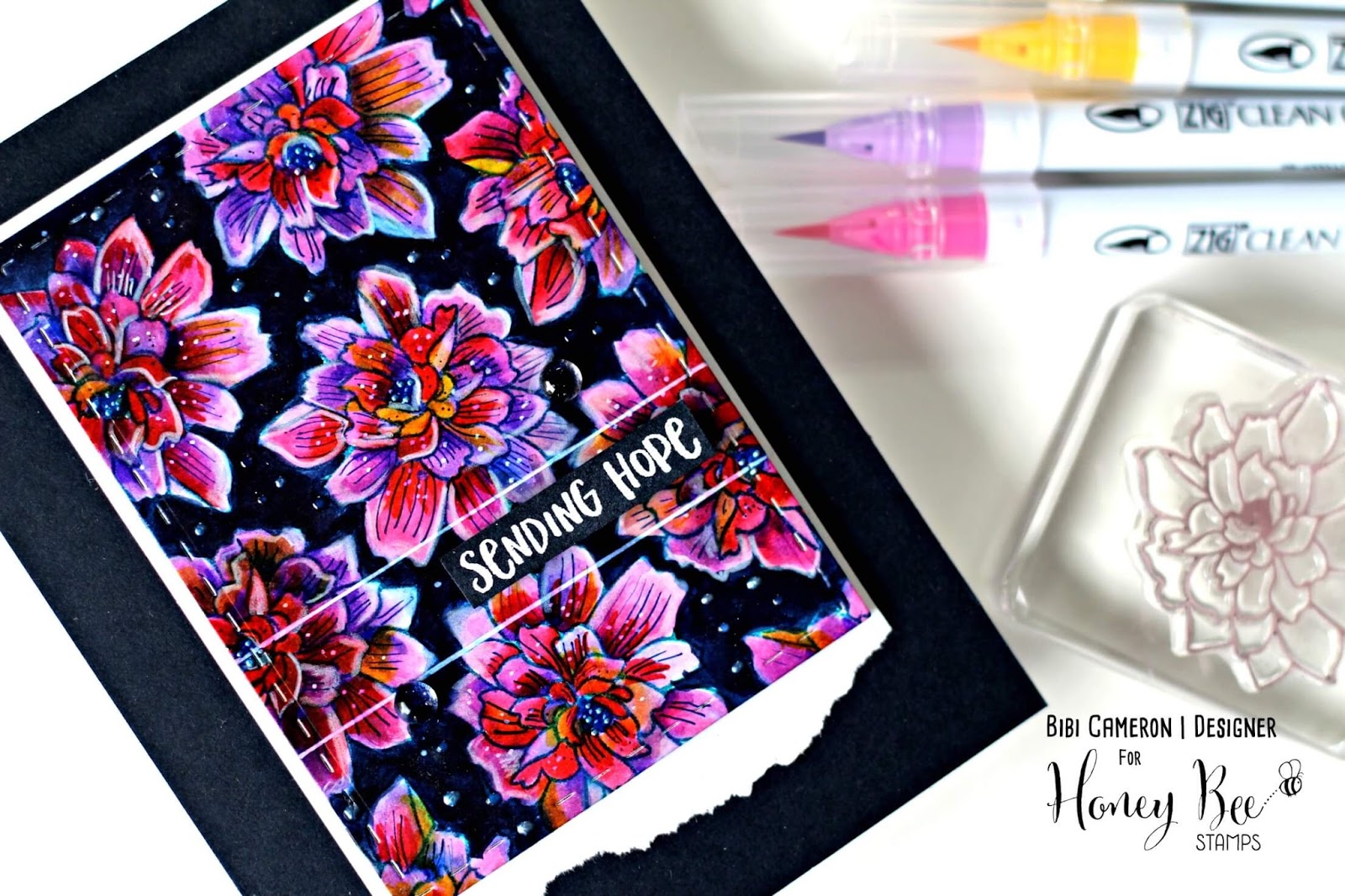 I completely covered the blank spaces between flowers with the ink of a navy blue Zig pen and using a White Faber Castel Polychromos Pencil I highlight the edges of the petals (This pencil is very similar than a Prismacolour creamy white pencil).
I used a micro fine navy blue pen to trace lines from the center of the flower's petals towards the edges just to give a little bit of texture and I also applied white and black dots over the images.
Using a ruler and a white gel pen I traced a couple of lines in horizontal to frame the sentiment and to embellish I appliedWhite and Raspberry Nuvo drops.
Oh! and I also added a couple of Small Clear Dew Drops by Honey Bee
The sentiment is from Prickly Sentiments stamp set (51 individual Stamps)
For the next card I stamped the flowers using Versafine Onix Black Inkand I made a mask using a post it note to be able to overlay the stamped images.
Using Zigs in autumnal colours such as orange, yellow, brown, I applied randomly the colours here and there to cover the area in which the flowers were stamped and I blended them all using a slightly wet Nuvo Aqua Brush.
Then I stamped the sentiment "Hello" from Bee-You-tiful stamp set (65 individual Stamps) and "Sunshine" from Ray of Sunshine stamp set ( 2 large stamps).
I'm kind of enjoying mixing and matching sentiments from different stamp sets!
Note: I used Simon Says Stamp Black Ink and the Tim Holtz Stamping Platform to stamp the sentiments several times and get a crisp and deep black colour.
I splattered Indian Gold Nuvo Mousse reduced with water and I also splattered the ink of a Black Nuvo Aqua Flow Pen reduced with water as well.
I applied white and black dots and I used a ultra fine black pen to trace lines on the petal just like I did in the card above.
To embellish I used Nuvo Dark Walnut Crystal Drops on the center of the flowers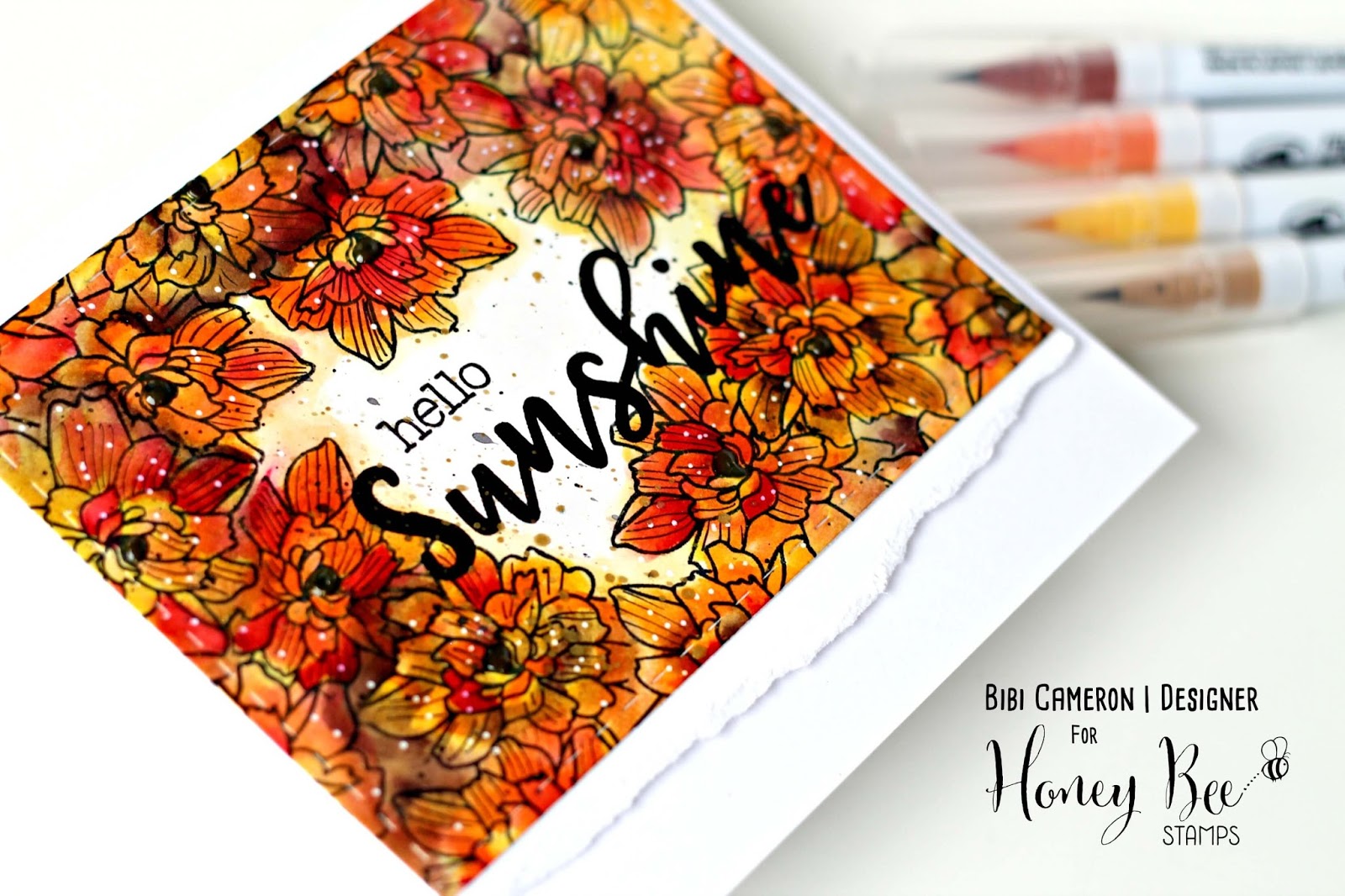 Oh!! Last weekend I shared a Christmas card using a reindeer and a penguin images from Honey Bee stamps and I also coloured them using my new Zigs. I'm loving the colouring results on floral and critters and the versatility of Honey Bee Stamps. They have stamps for everyone!!
That's all .for today. Thanks so much for stopping by and I really hope you like the projects today .
Sending love and hugs!
x
Bibi
Pssss…. Do not hesitate to ask any questions or leave a comment I would love to hear from you and do not forget to Subscribe to my blog! to receive via email my latest blog posts and news. All you have to do is to click here add your email, and confirm subscription from an email you will receive immediately.
If you would like to place an order for any of the products used in this post or any other craft supply simply click on any of the images below to go direct to online shops 24/7. Affiliate links apply. I get a small commission when you buy through these links at no extra cost to you.
Thanks for your support.
x
Bibi